The concept for this series originated in the beauty found in the simplicity of drawings created by using a single continuous line. Additional inspiration came from minimal and understated 'Botanical drawings' by Ellsworth Kelly.
Ultimately, this pattern's main distinguishing feature is its mark-making technique. The result presents free hand, linear, slightly abstract and expressive modern florals, which are loosely based on wild poppies in bloom.
This project was a part of my ongo­ing col­lab­o­ra­tion with Kidspat­tern. If you'd like to learn more about them please vis­it their web­site HERE. Alter­na­tive­ly, view the archive of our pre­vi­ous projects HERE, in which I dis­cuss in detail the his­to­ry and nature of our work.
All cloth­ing-mock­ups pre­sent­ed here are pro­vid­ed cour­tesy of Kidspat­tern and are used for visu­al­i­sa­tion pur­pos­es only.
Drawing Element
The brief for this pat­tern was a lit­tle chal­leng­ing for me as I usu­al­ly draw using quite a metic­u­lous, clean out­line. How­ev­er, I pur­pose­ful­ly shook things up here, exper­i­ment­ing with adopt­ing a loos­er grip on my sty­lus to get the desired effect. These draw­ings lat­er became the core repeat mod­ule for the designs in this series.
In order to add a pop of colour I lay­ered sep­a­rate out­line draw­ings, in two dif­fer­ent colours, on top of each oth­er. Addi­tion­al­ly, you can view the intend­ed palette com­posed by tal­ent­ed colour-spe­cial­ist Kidspat­tern.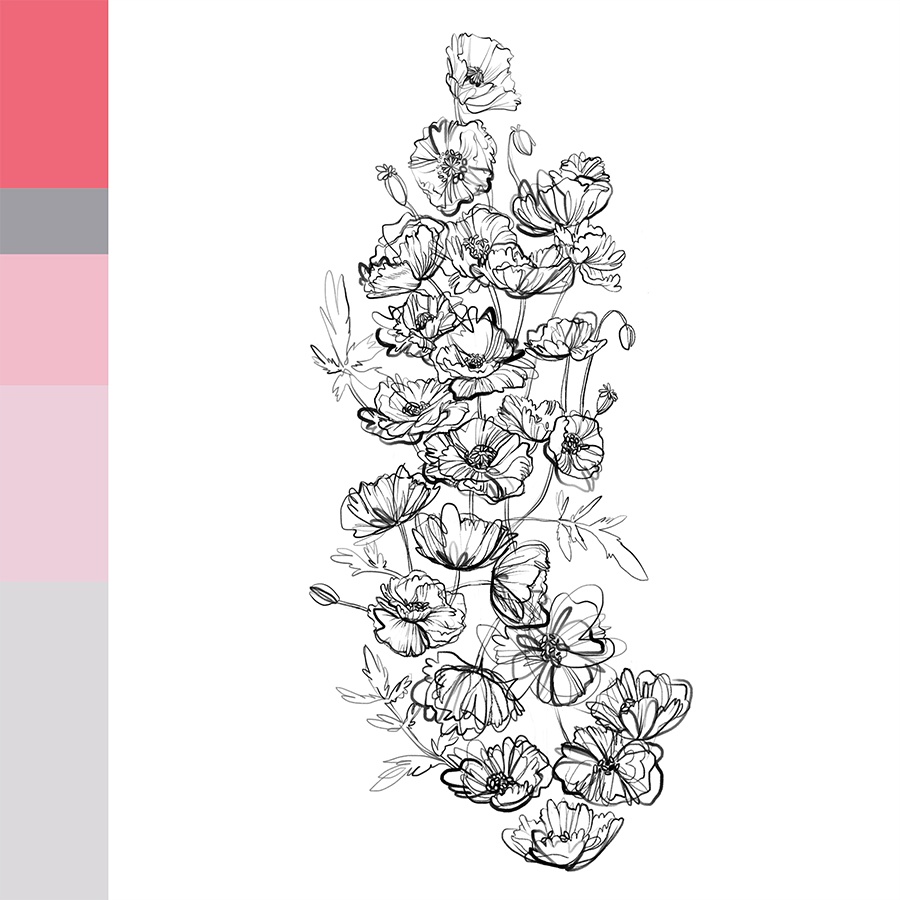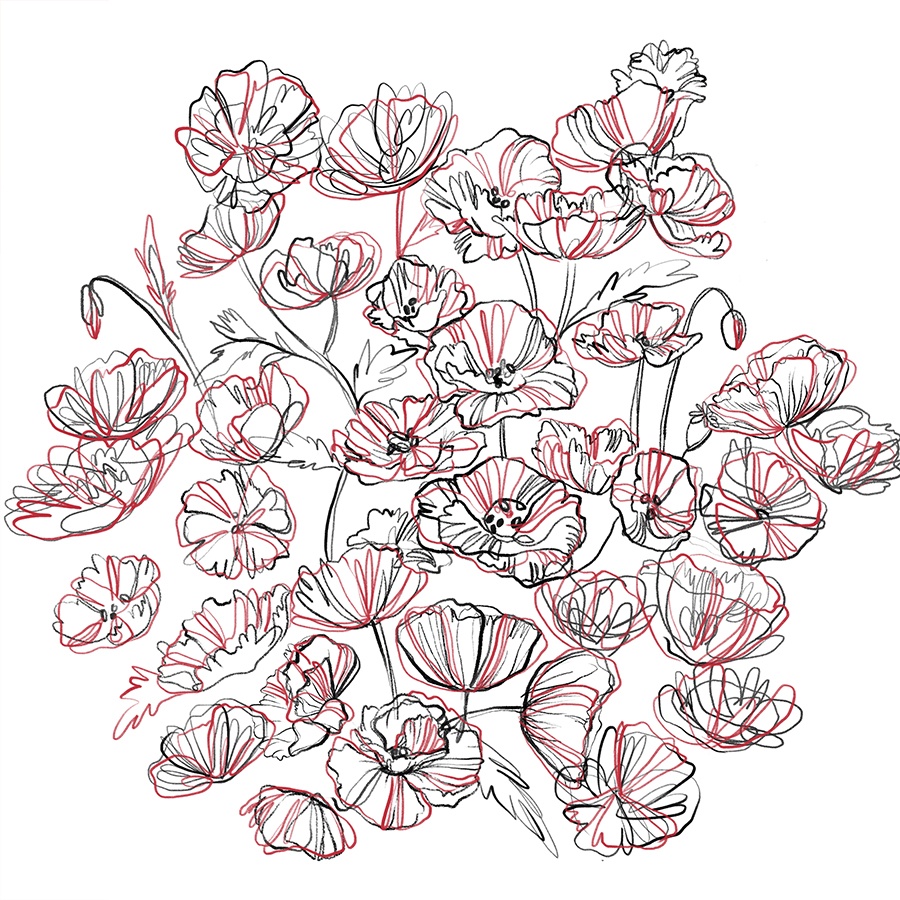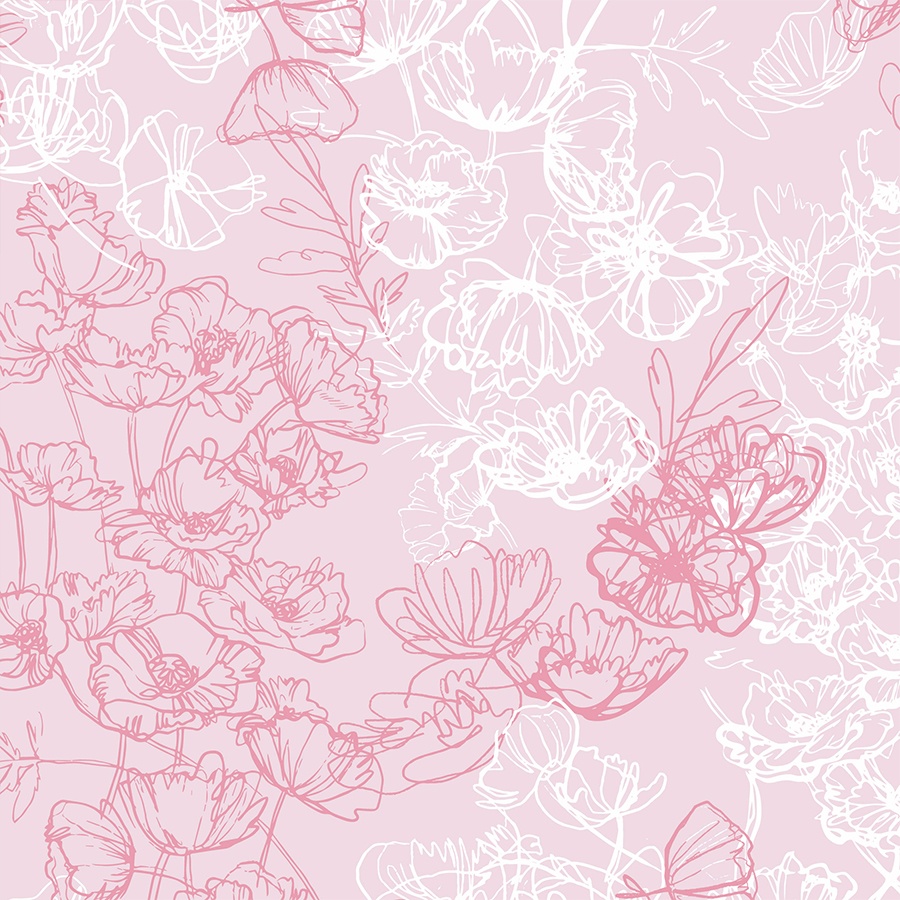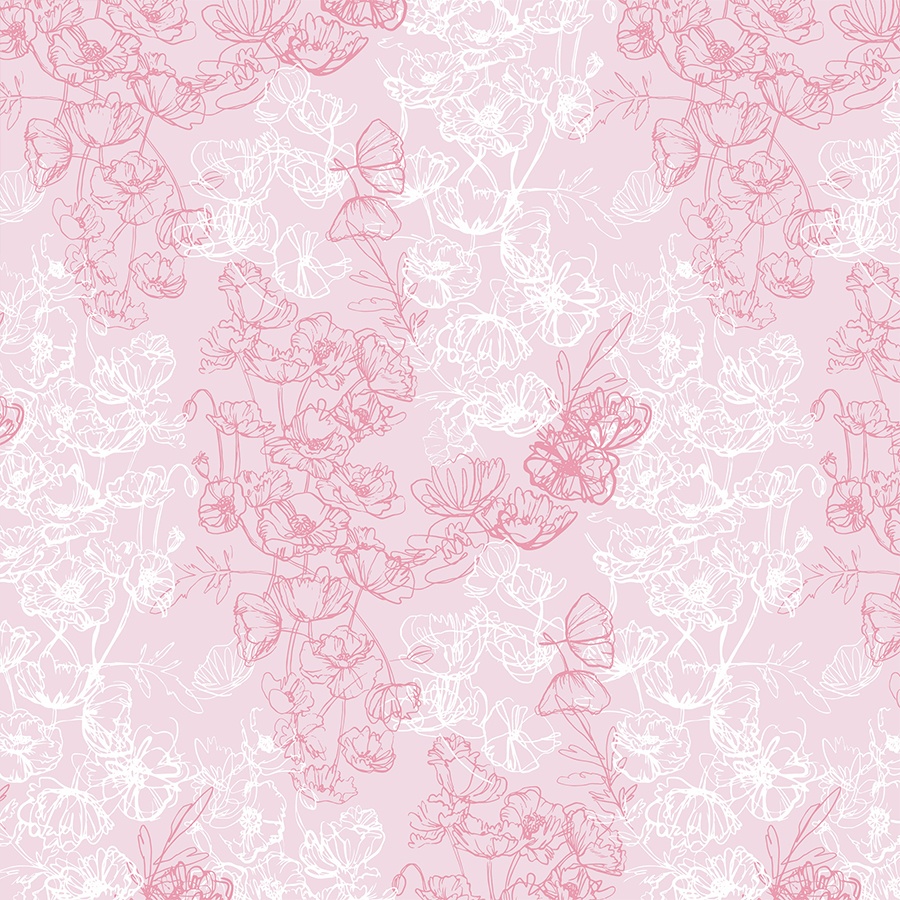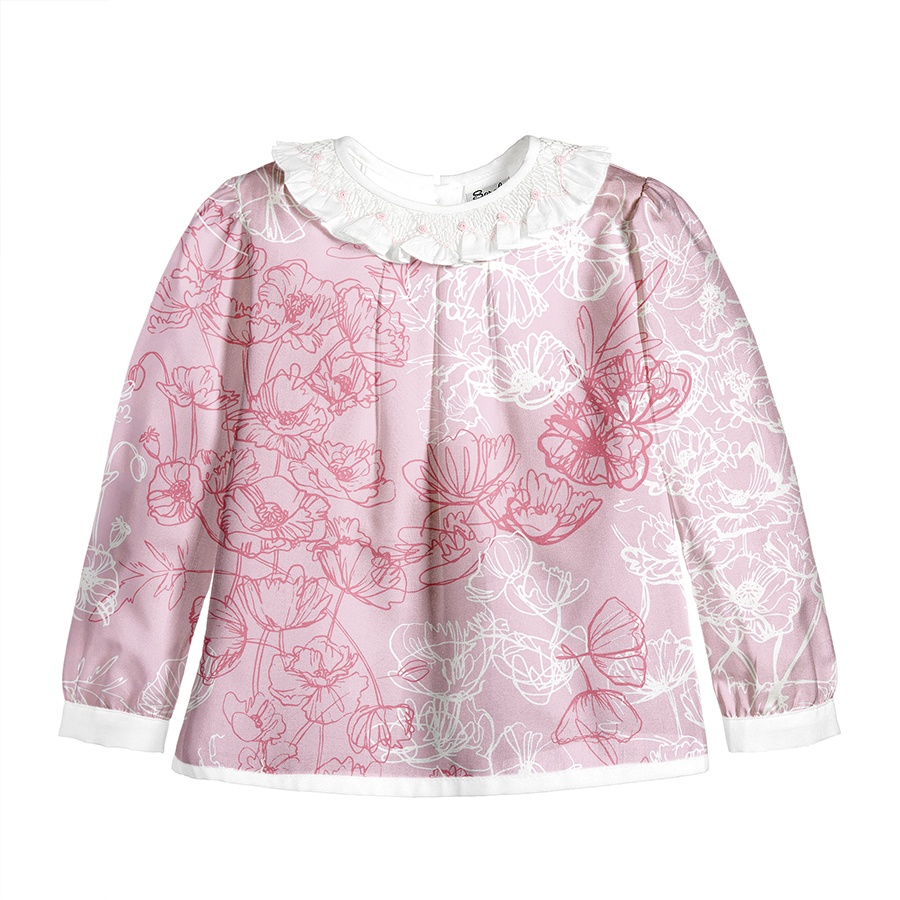 Alternative Version
In this addi­tion­al ver­sion of the pat­tern I have used two pan­tones but sep­a­rat­ed them, one apiece, into dif­fer­ent areas of the over­all mod­ule. One of them blends into the back­ground, whilst the oth­er one stands out, cre­at­ing an inter­est­ing dynamic.
This arrange­ment has become much fuller, with almost all the space being filled up with vibrant and expres­sive lines of the flo­rals cre­at­ing a tex­tured look.
Additional Solutions and Placement Ideas
As Kidspat­tern we sup­ply our clients with ideas of alter­na­tive solu­tions and arrange­ments for the com­mis­sioned designs. Feel free to browse through the selec­tion of these attached below.
This assort­ment includes options aimed at the New­born Col­lec­tion, which are typ­i­cal­ly basic, sim­ple, one-colour prints. In this instance, the designs were inten­tion­al­ly spa­cious, over­sized and a lit­tle abstract­ed. I've includ­ed both colour ways: greyscale and in two shades of pink.
The strength of this design lies in the con­trast that is cre­at­ed by the dynam­ic and bright line cut­ting out from the neu­tral back­ground. The arrange­ment embraces the high vol­ume of neg­a­tive space sur­round­ing the expres­sive lines, which con­tributes to mak­ing this print very light, fresh, mod­ern feel­ing, and thus very apt for a Spring-Sum­mer Col­lec­tion.
Addi­tion­al­ly I've attached poten­tial solu­tions of how the flo­rals might be used as a place­ment print.
First, in form of a dec­o­ra­tive pan­el placed along the mid­dle sec­tion of a top. In this exam­ple the recolour­ing of the line-draw­ing into white makes it blend into back­ground more and gives the impres­sion of a strip of an abstract tex­ture.
Sec­ond one, has the flo­ral mod­ule arranged as a bor­der that rings the hem of a girl's dress. It was visu­alised in a large size that empha­sis­es the expres­sive­ness of the line. I've also used 2 shades of pink, on top of each oth­er, to cre­ate some inter­est­ing lay­er­ing.
To con­clude, I've includ­ed a full-print, greyscale ver­sion of the final flo­ral pat­tern, where I took two lay­ers of out­lines and stacked them, one on top of the oth­er, in hues of the same colour. With the design being placed against a white back­ground it real­ly high­lights the lin­ear contrast.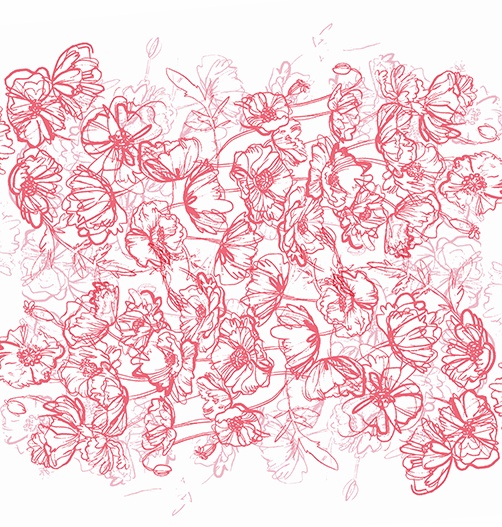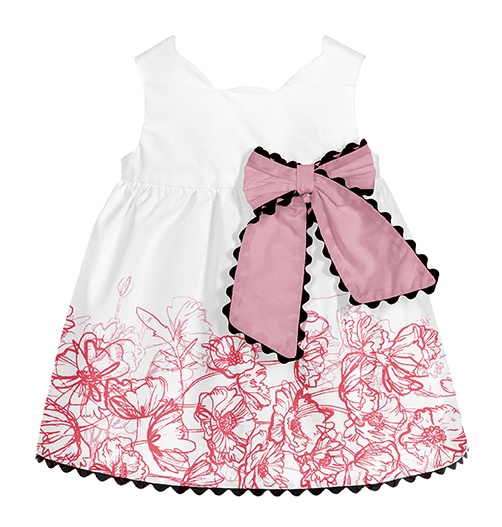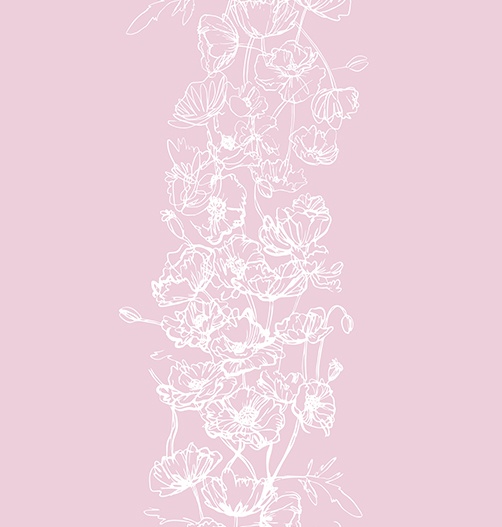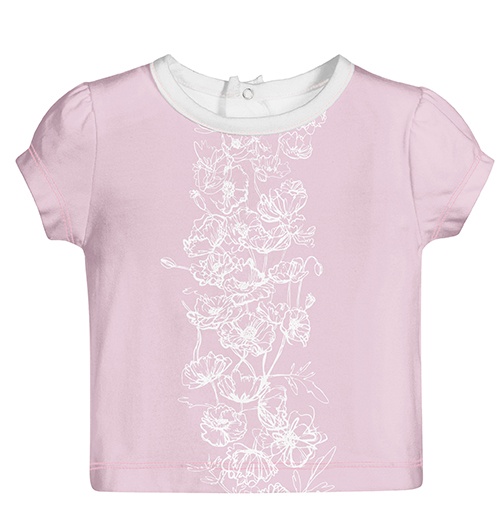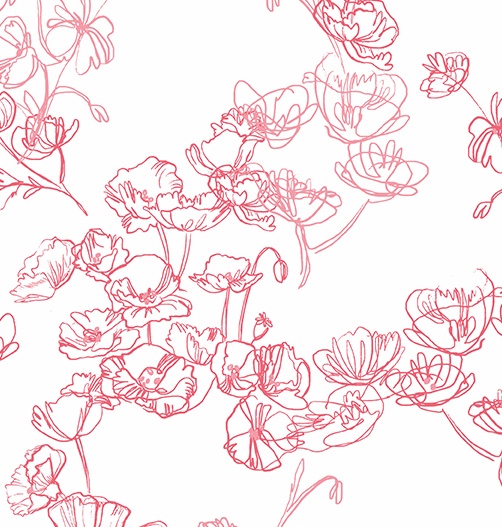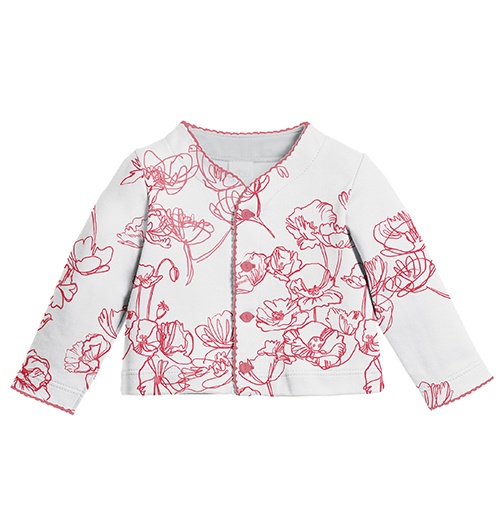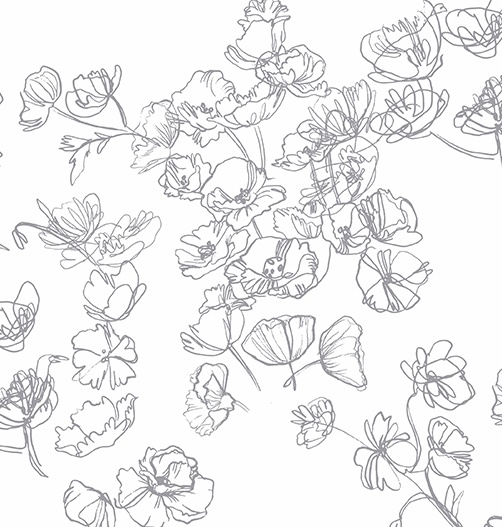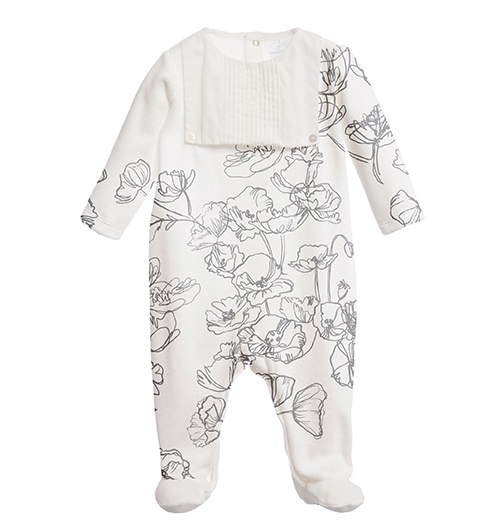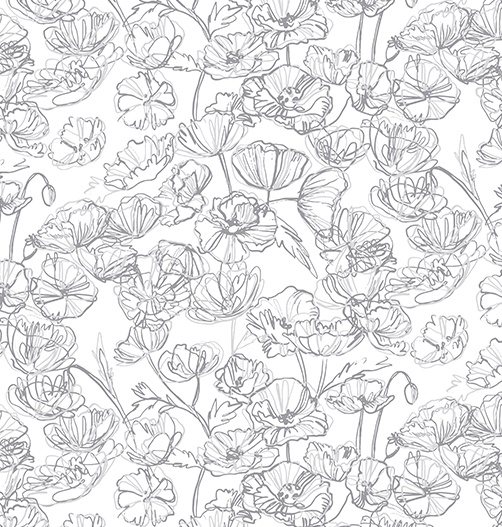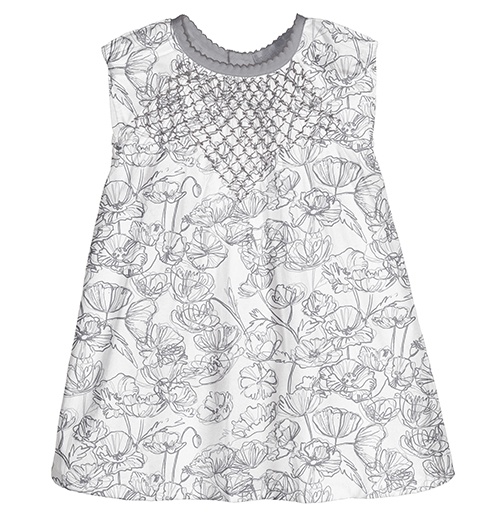 Pattern in Print
Here's a selec­tion of dif­fer­ent prod­ucts from this 'Flo­ral Out­line' pat­tern series, which incor­po­rate it in mul­ti­ple ways. These were some of our client's first sam­ples made to launch their Spring-Sum­mer Col­lec­tion at trad­ing fairs.
Please note that these images are pro­vid­ed cour­tesy of the client and Kidspat­tern and are used for port­fo­lio pur­pos­es only.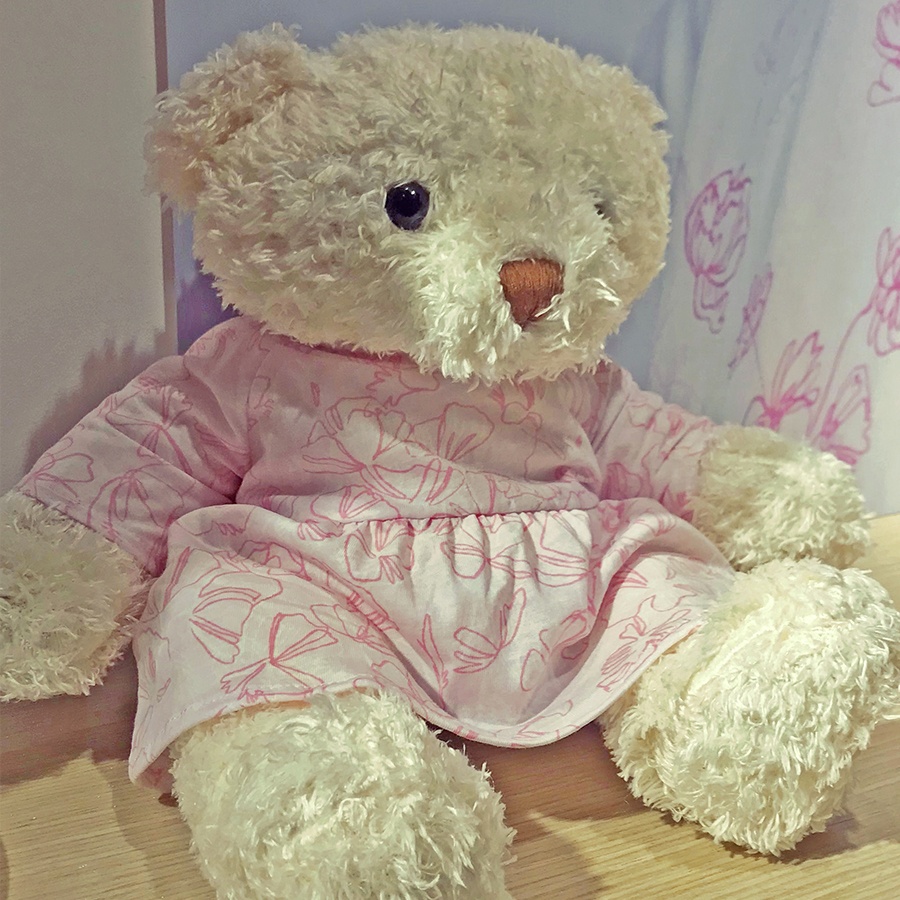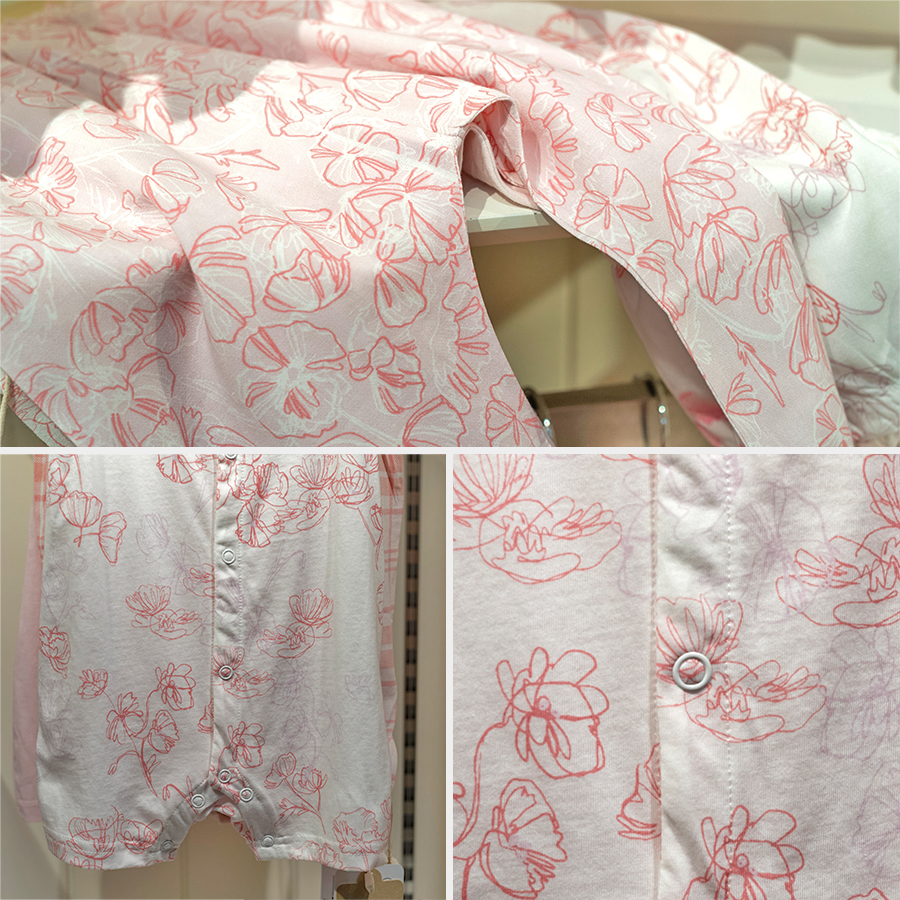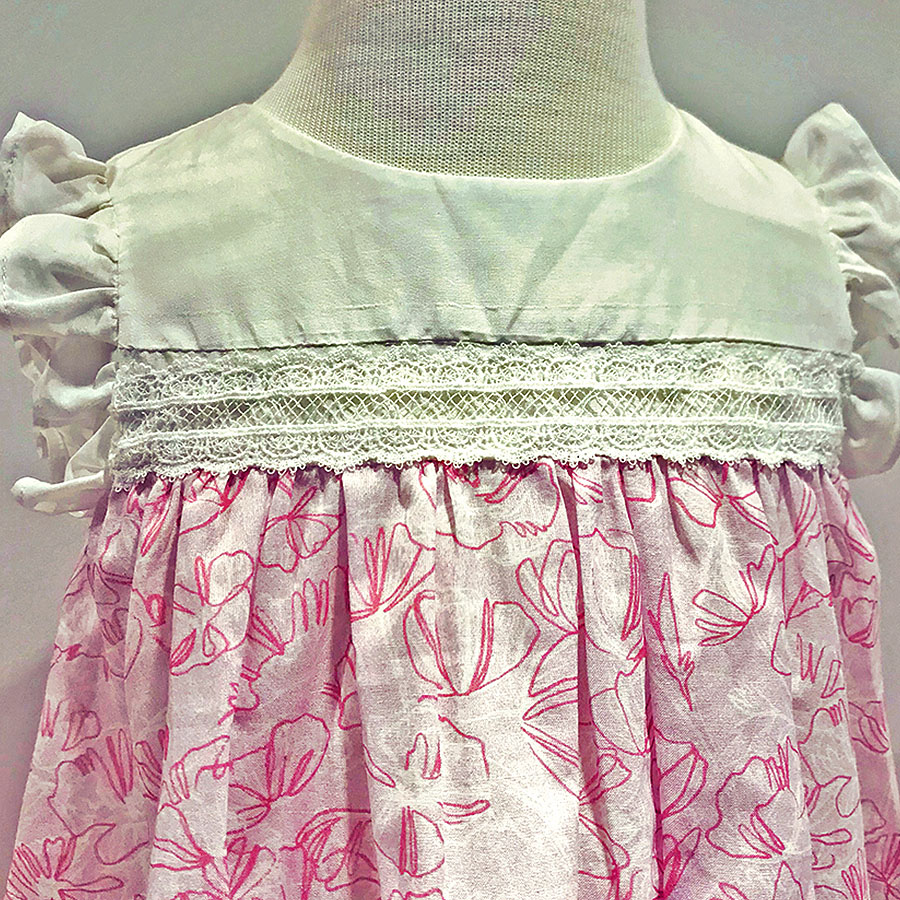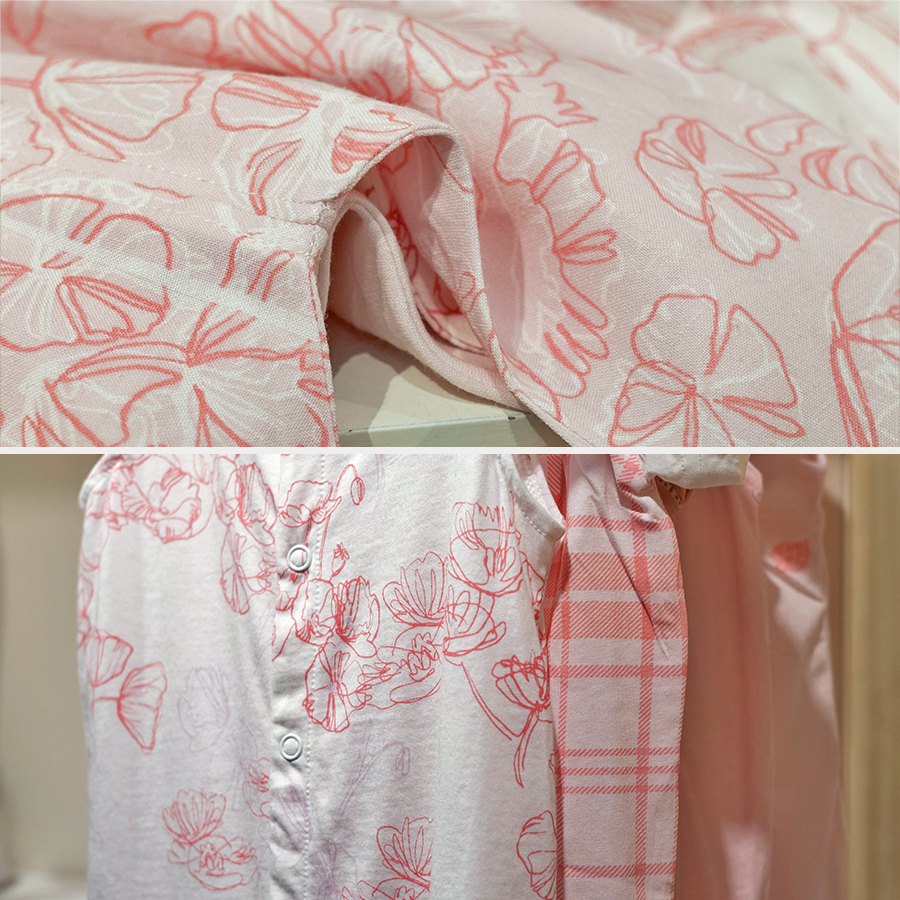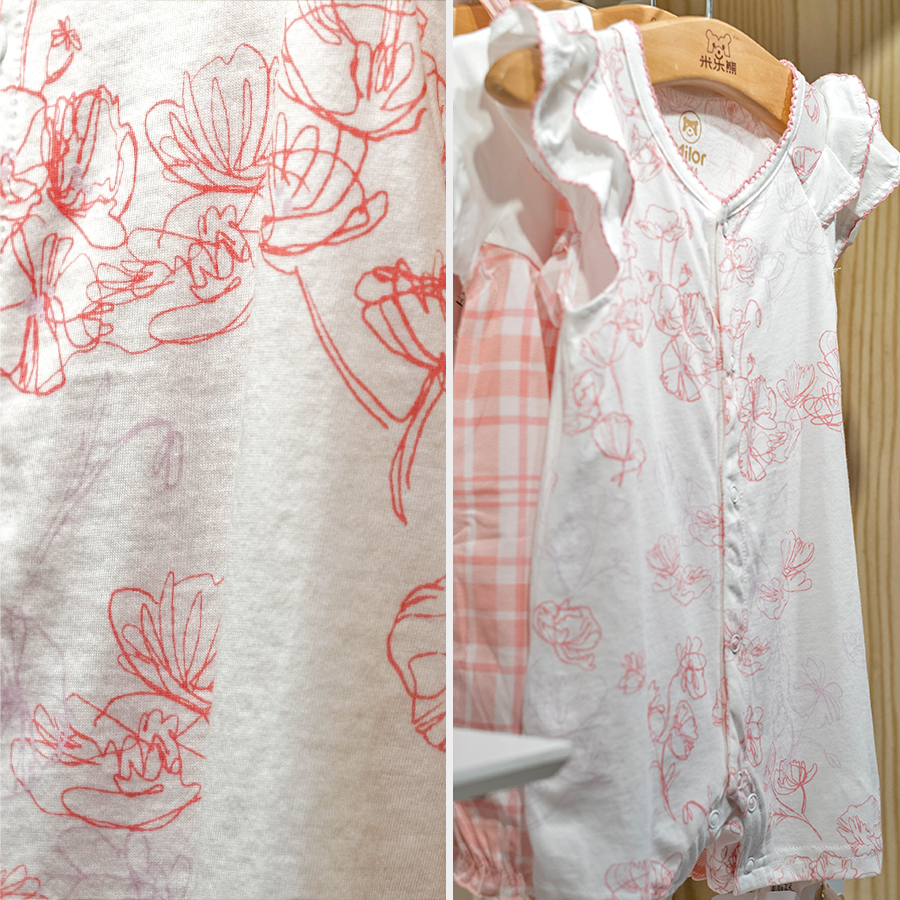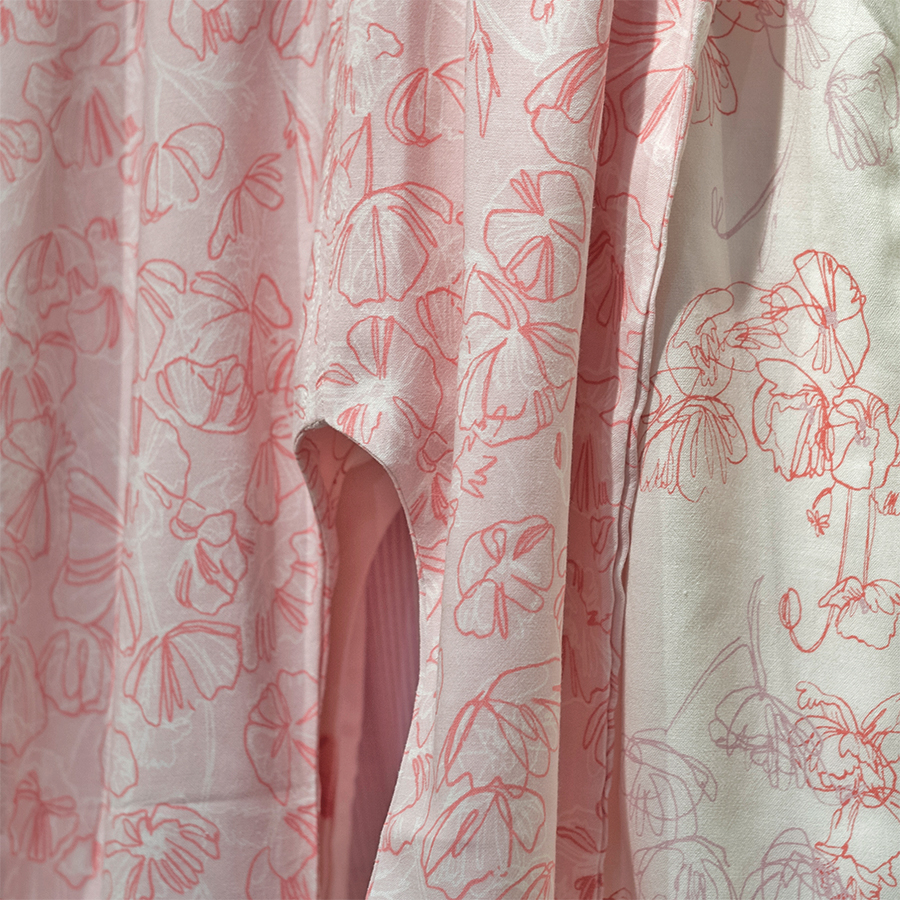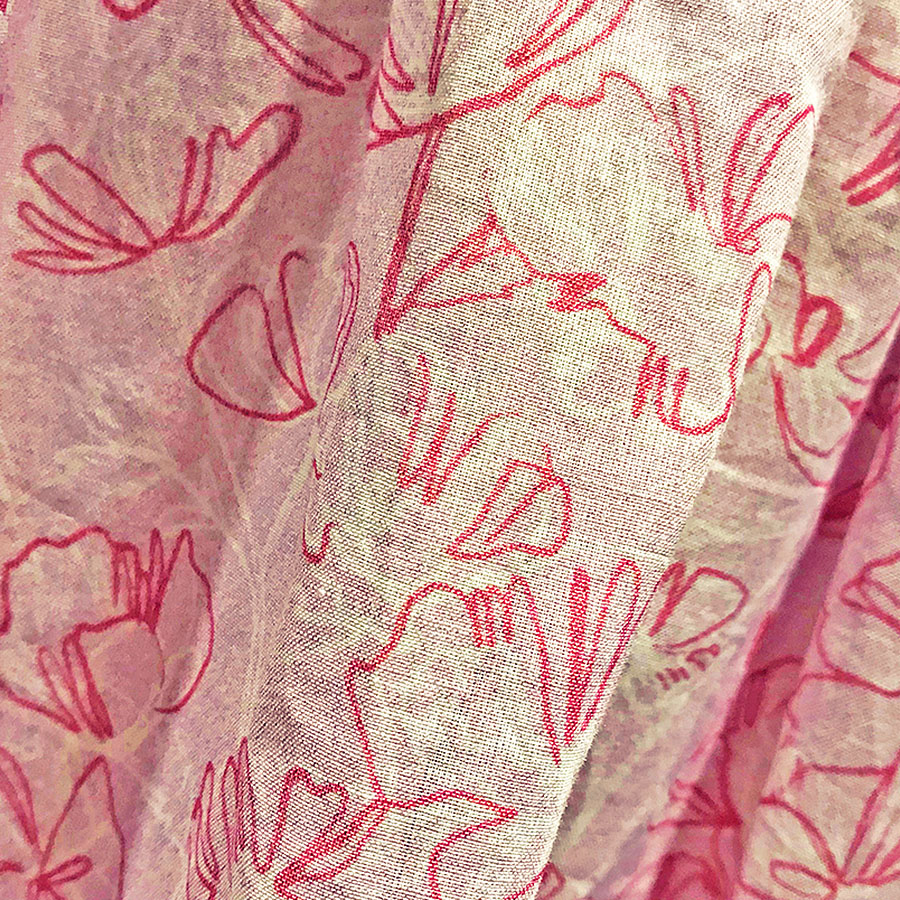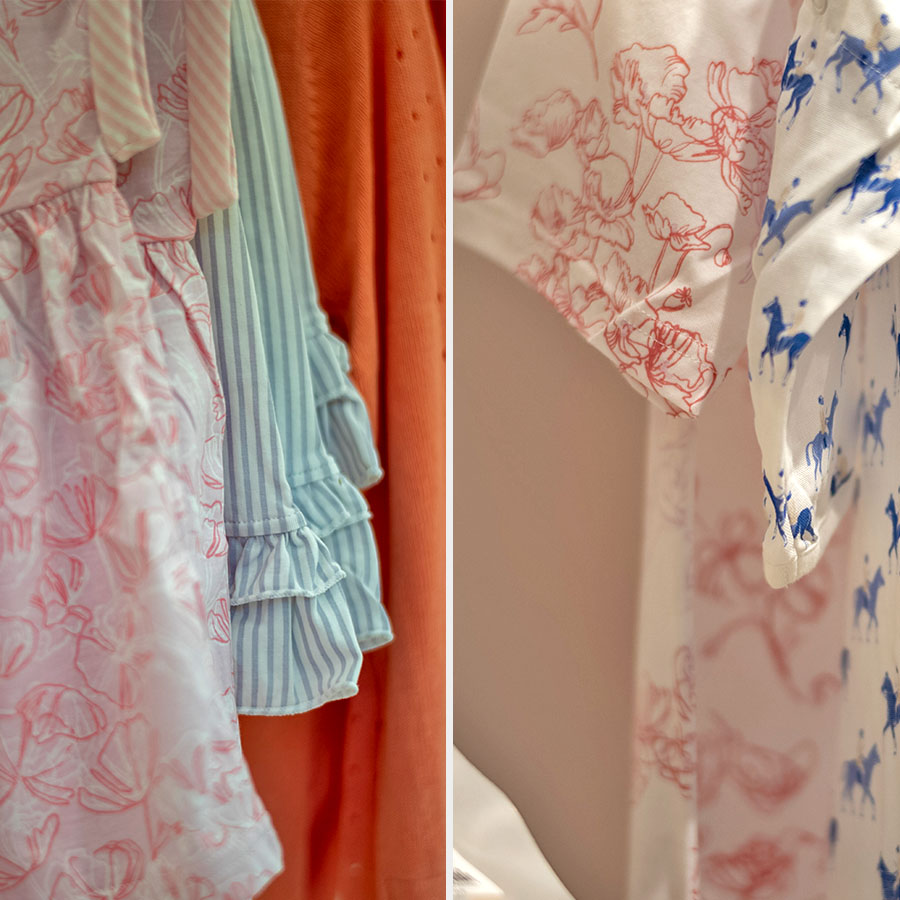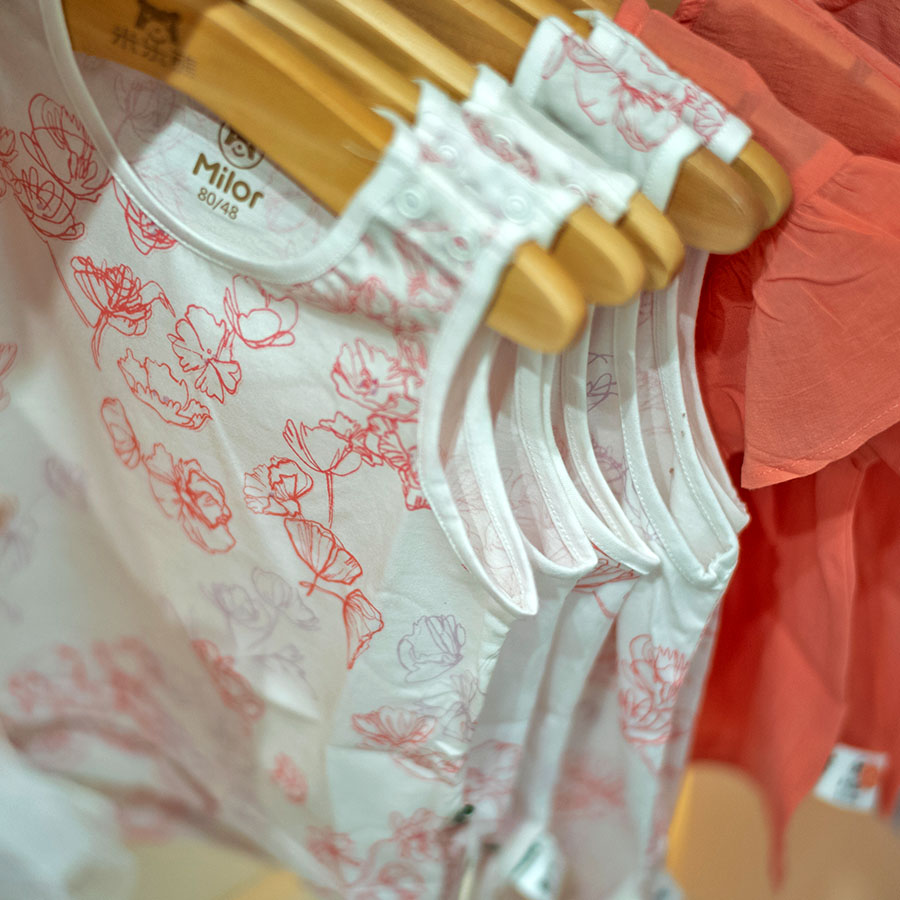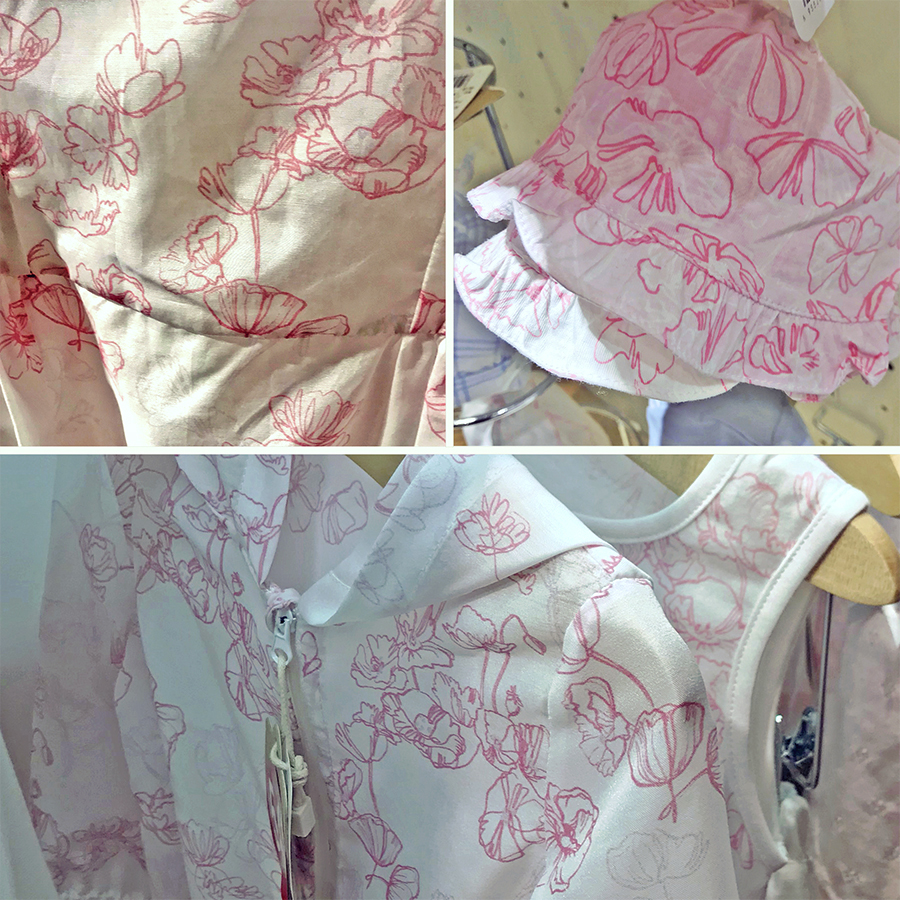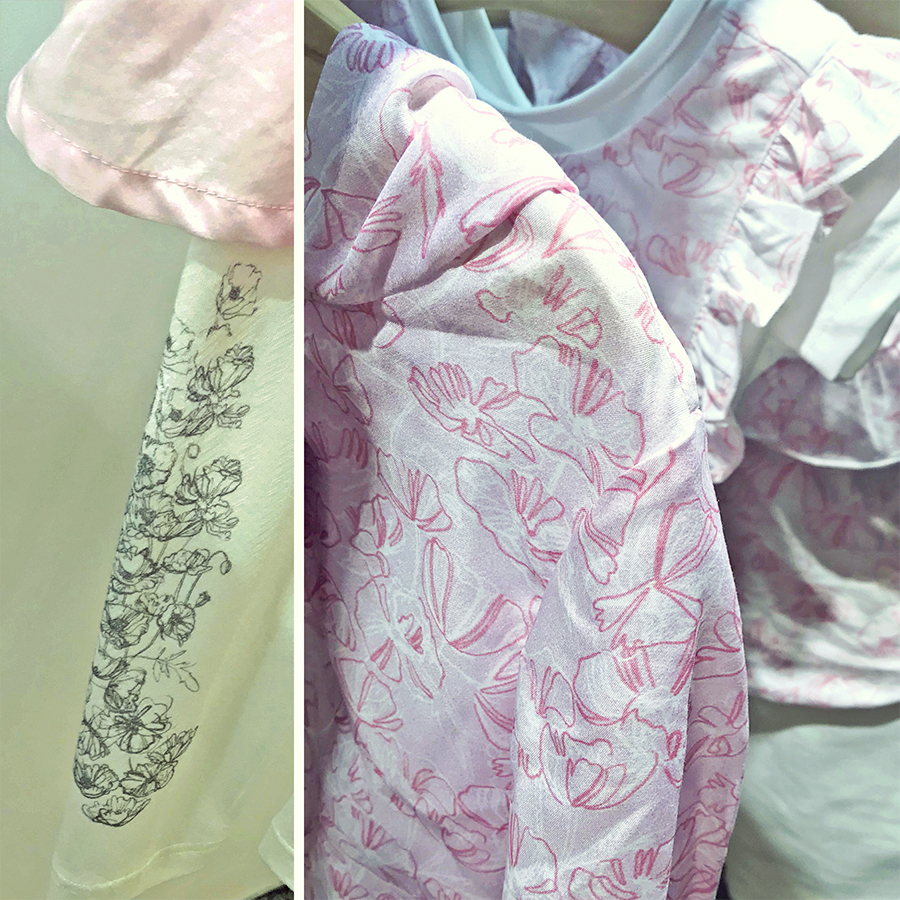 The ser­pen­tine line, or the line of grace, by its wav­ing and wind­ing at the same time dif­fer­ent ways, leads the eye in a pleas­ing man­ner along the con­ti­nu­ity of its variety
— from "Analy­sis of Beauty"