This pattern series was inspired by a vision of a homely back-garden in bloom. Commissioned for a Spring-Summer collection, as such, it offers a spectacle of humble, whimsical flowers that are bursting with creativity. As a full floral print it is a joyful celebration of the nature's awakening after winter slumber as it bursts into boundless new growth.
This project was a part of my ongo­ing col­lab­o­ra­tion with Kidspat­tern. If you'd like to learn more about them please vis­it their web­site HERE. Alter­na­tive­ly, view the archive of our pre­vi­ous projects HERE, in which I dis­cuss in detail the his­to­ry and nature of our work.
All cloth­ing-mock­ups pre­sent­ed here are pro­vid­ed cour­tesy of Kidspat­tern and are used for visu­al­i­sa­tion pur­pos­es only.
Starting Point
Ele­ments for this pat­tern orig­i­nat­ed on the pages of my sketch­book. In this dig­i­tal age, I delight in an oppor­tu­ni­ty to begin a design with real pen­cil or brush and actu­al paper. I don't usu­al­ly reach out for water­colours but this time I've decid­ed to make an effort to broad­en my tool vocab­u­lary. These sim­pli­fied gar­den flow­ers are most­ly imag­i­nary and were cre­at­ed by just let­ting myself doo­dle away and see­ing what bub­bled up. I tried to come up with a pletho­ra of shapes of the flow­ers, stems and leaves, so that the pat­tern had a nice vari­ety to it.
After­wards I scanned the pages, I cleaned it up dig­i­tal­ly and sim­pli­fied some of the ele­ments. To adapt the pat­tern to make it vec­tor-ready for easy screen print­ing, I live-traced the orig­i­nal design and recoloured it using Adobe Illus­tra­tor. You can view the fin­ished repeat mod­ule below. Addi­tion­al­ly, I have attached the brief palette con­tributed by colour and trend spe­cial­ist Kidspat­tern.
Main Pattern
This ver­sion is very uni­ver­sal and works equal­ly well in both large and small sizes. Plac­ing it against a white back­ground makes it seem very light and fresh. To recolour these sim­pli­fied shapes I used the four main colours from the brief's palette.
I feel the styl­is­ing of the var­i­ous flo­rals, gives them a love­ly, whim­si­cal­ly rus­tic feel. The lit­tle dots that I intro­duced also add to the design's play­ful­ness, as well as bal­anc­ing out the rhythm of the com­po­nents.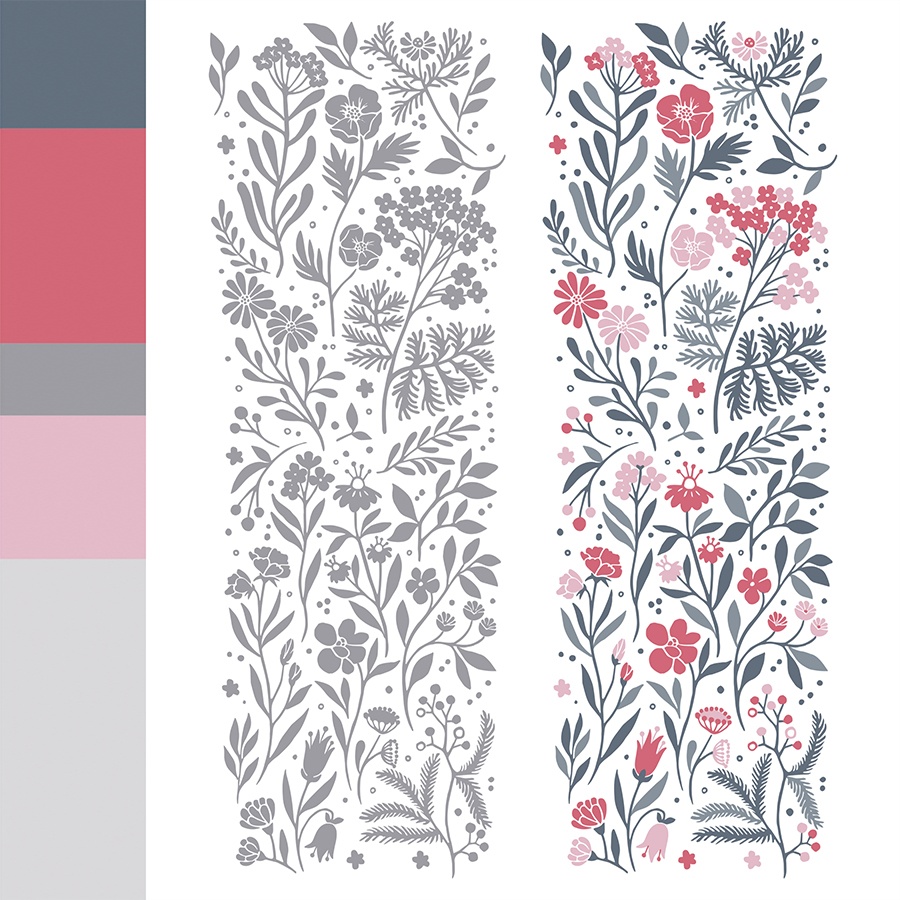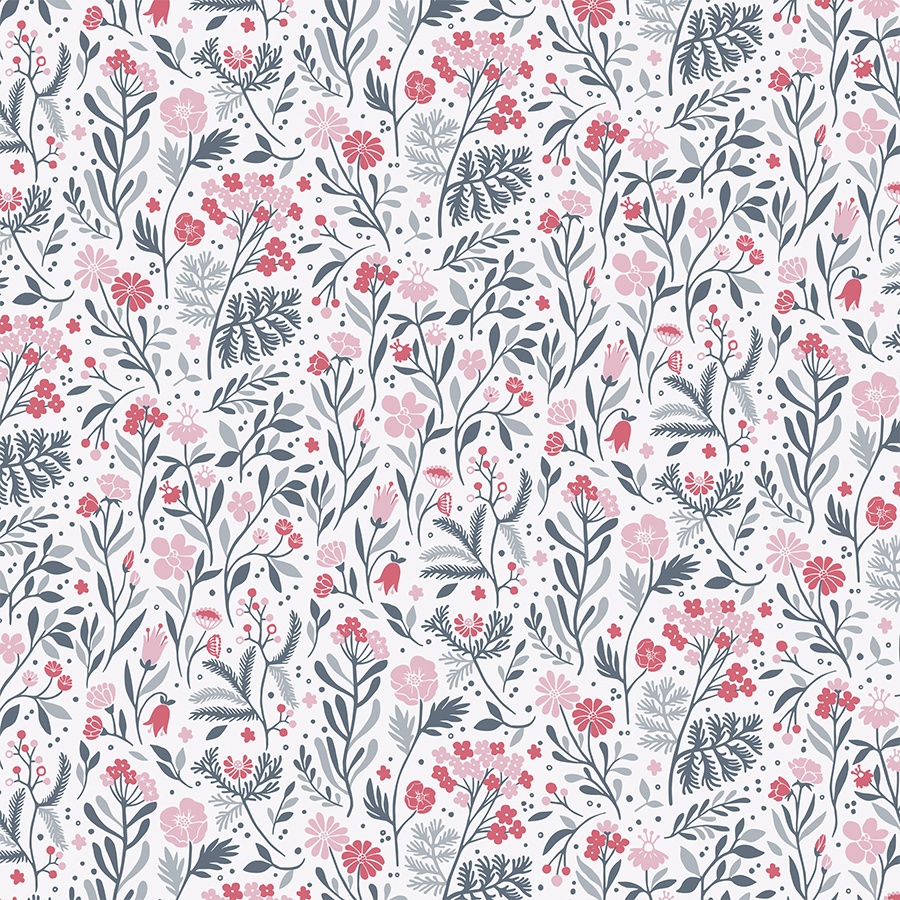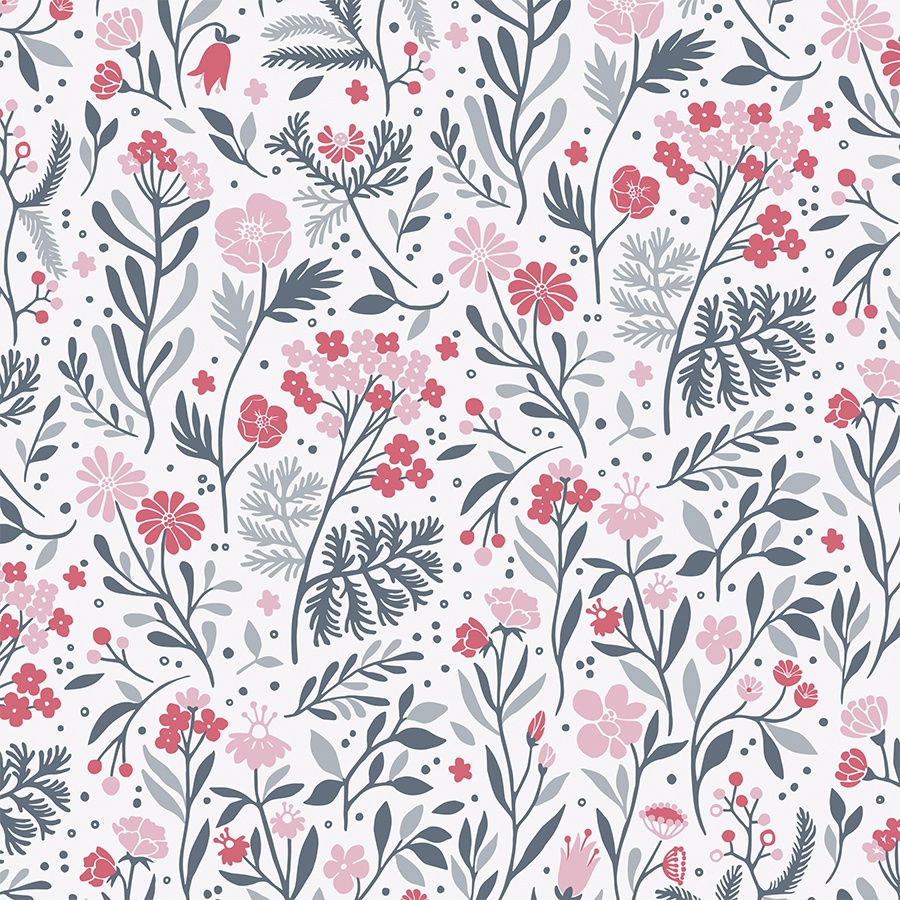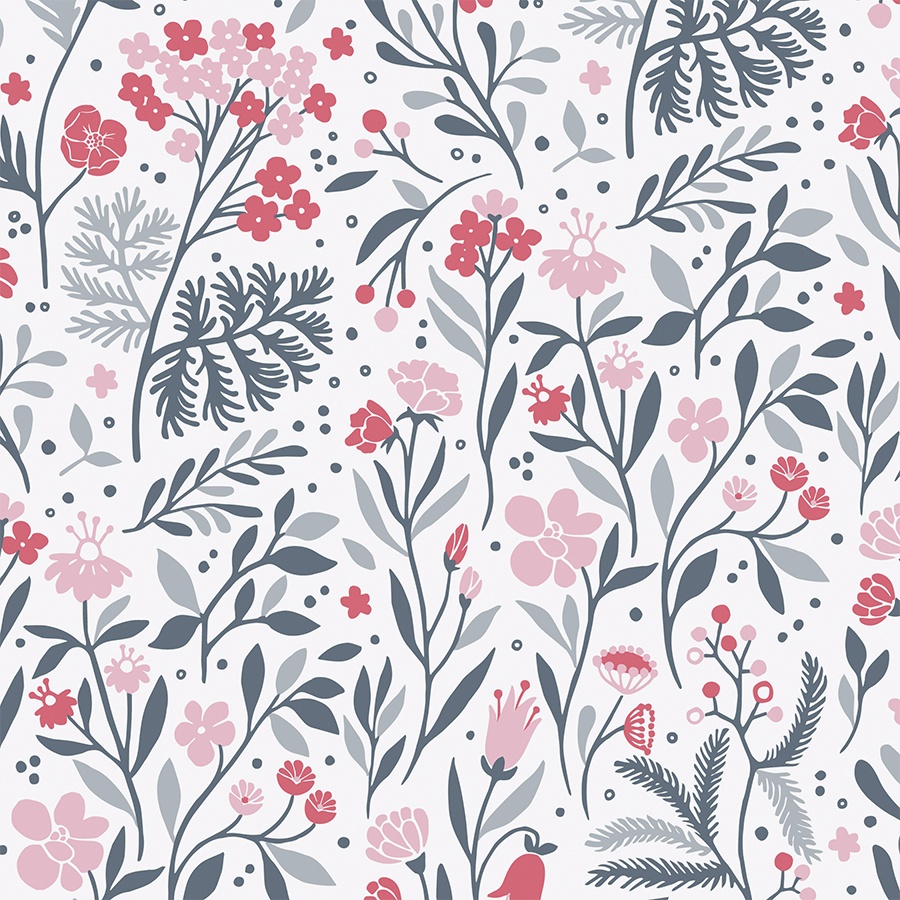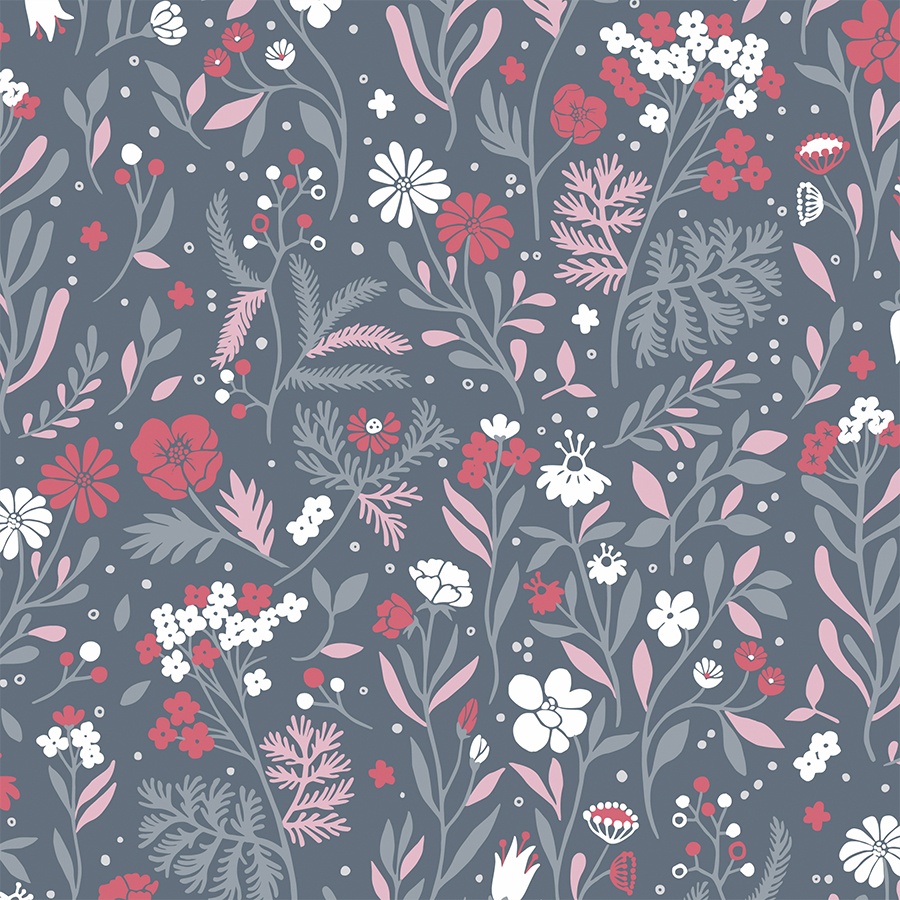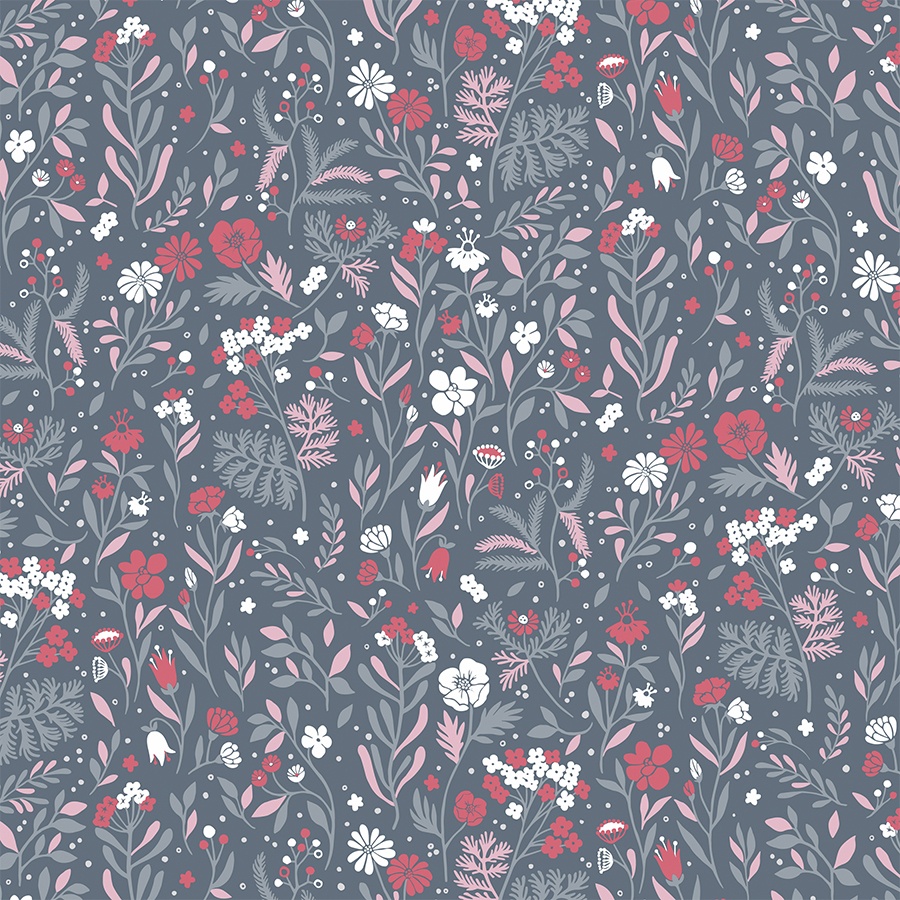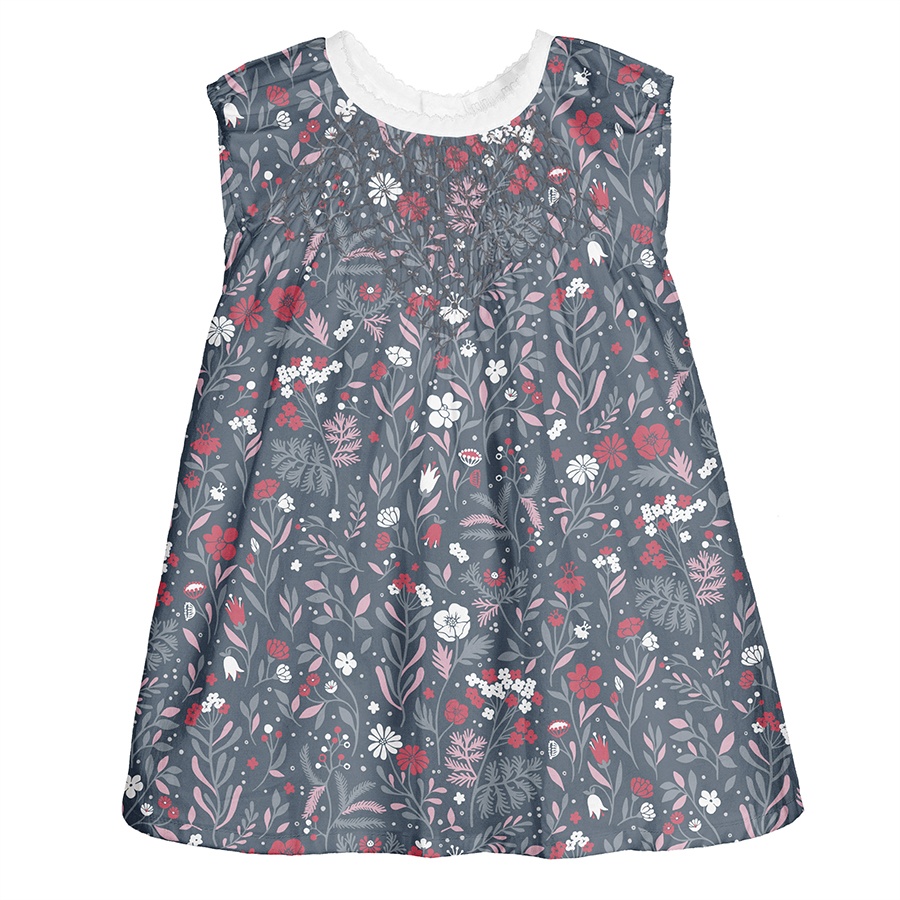 Dark Background
In this alter­na­tive colour­way, the only accents that break up the still­ness evoked by the dark-sage back­ground are occa­sion­al pops of white, blush and dark-coral flow­ers, pop­ping out as if from amongst the shrubs.
Pattern in Print
Here are few exam­ples of how this pat­tern turned out in print and was used across var­i­ous numer­ous first cloth­ing sam­ples. These were pro­duced to launch our client's Spring-Sum­mer Col­lec­tion and dis­play at trad­ing fairs.
Please note that these images are pro­vid­ed cour­tesy of the client and Kidspat­tern and are used for port­fo­lio pur­pos­es only.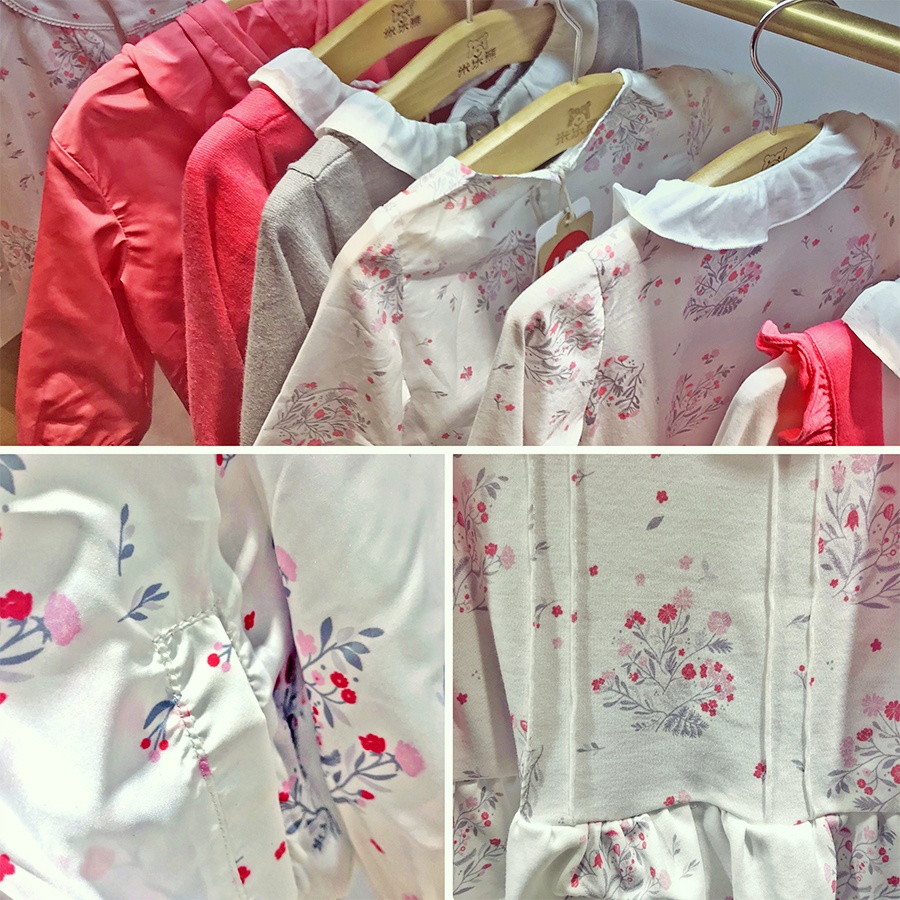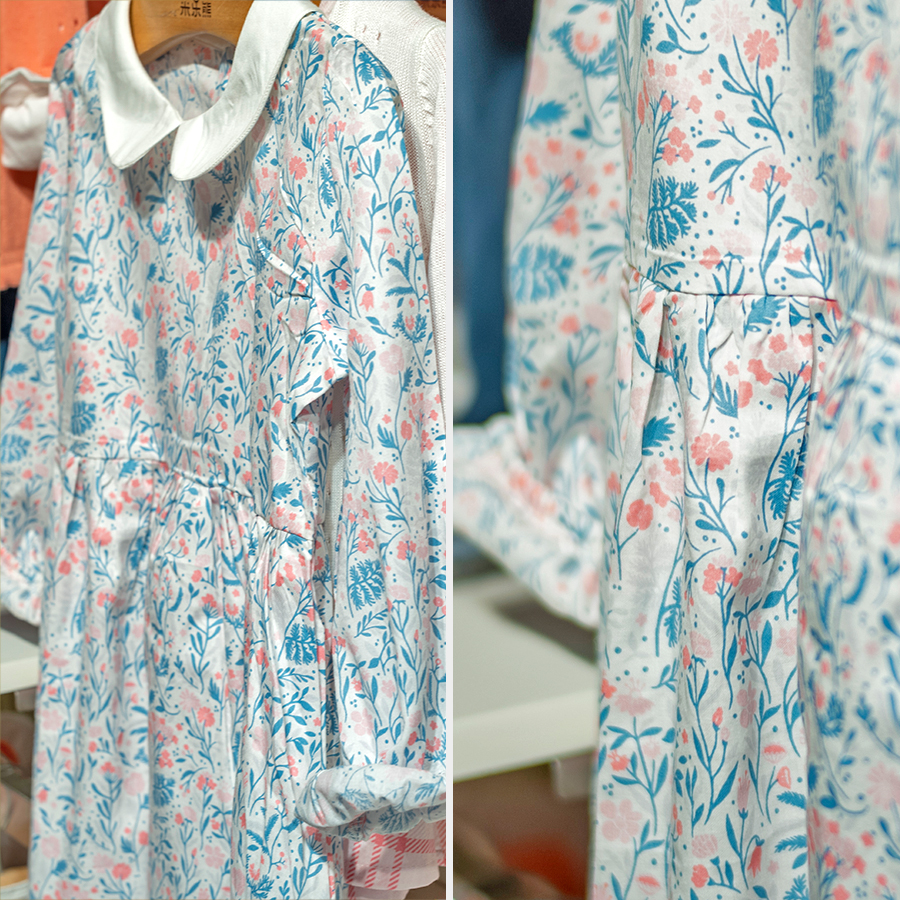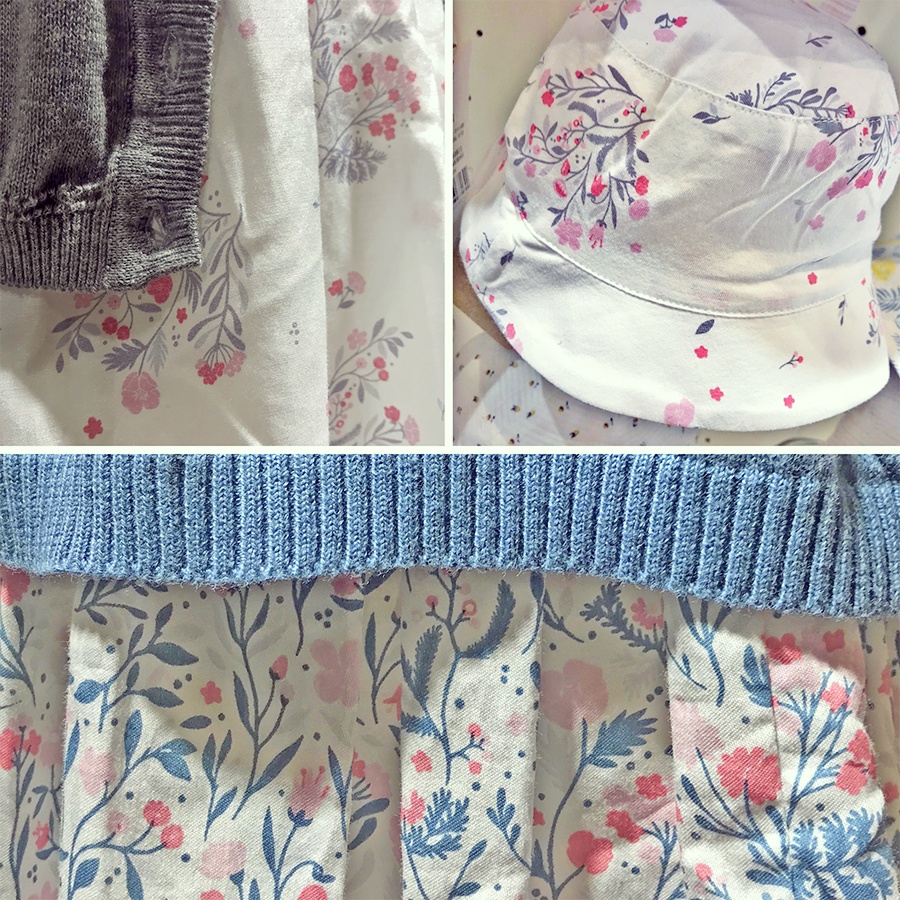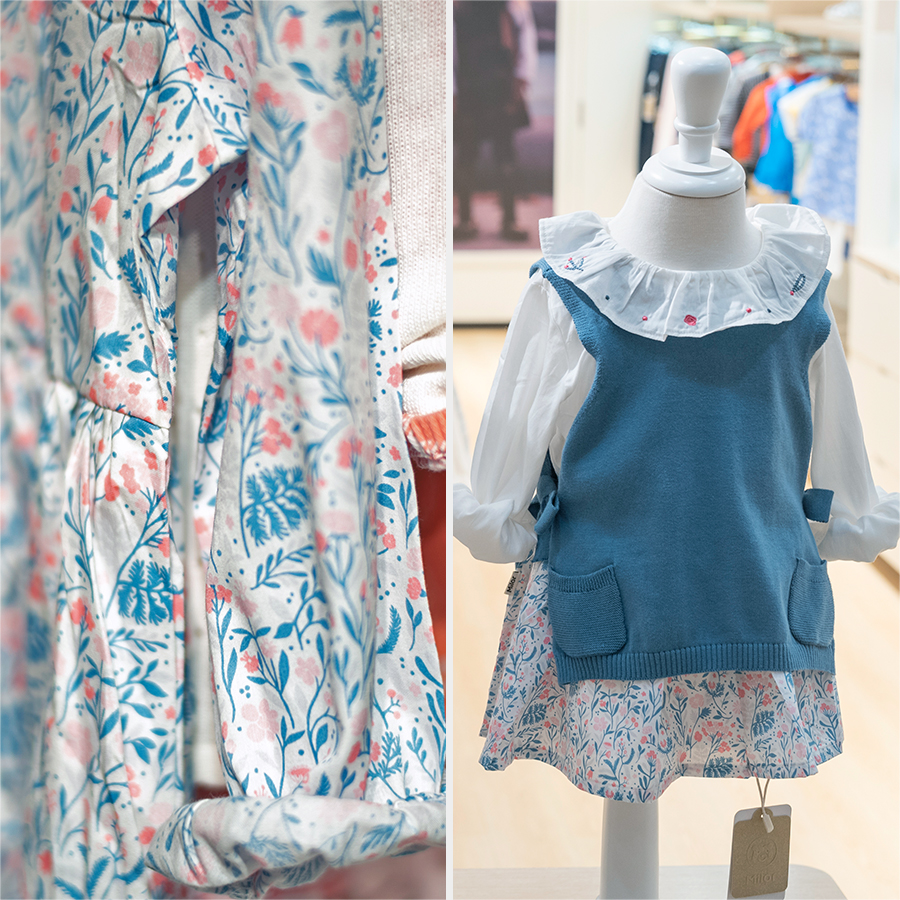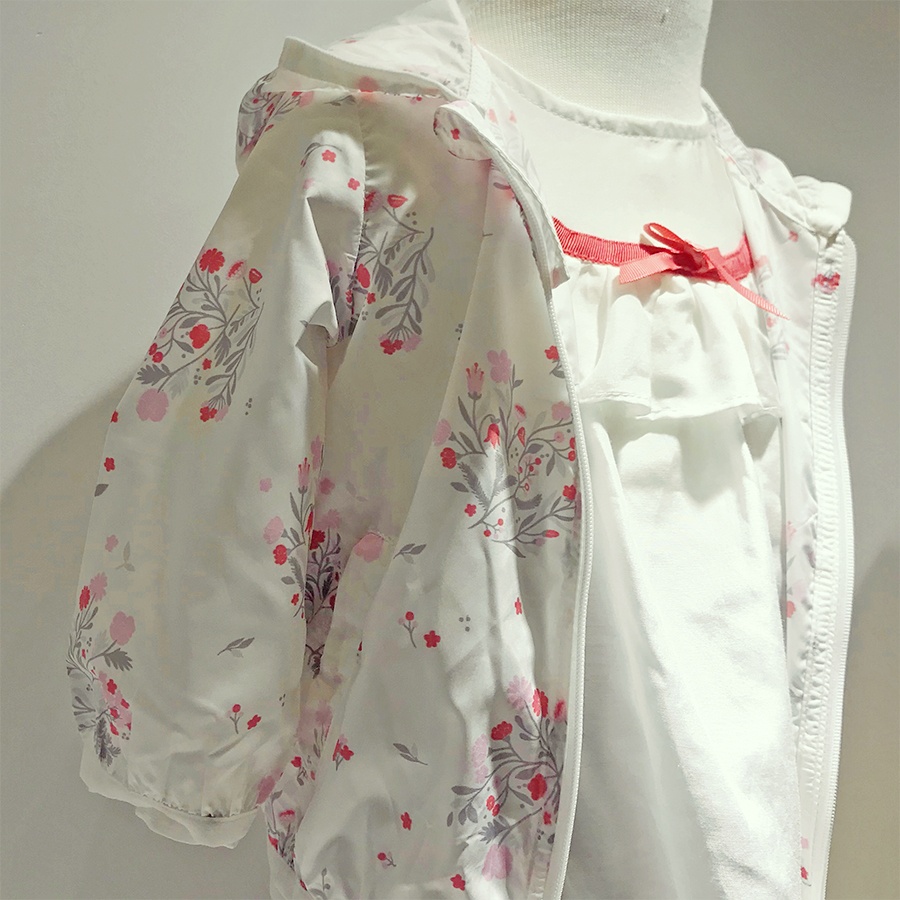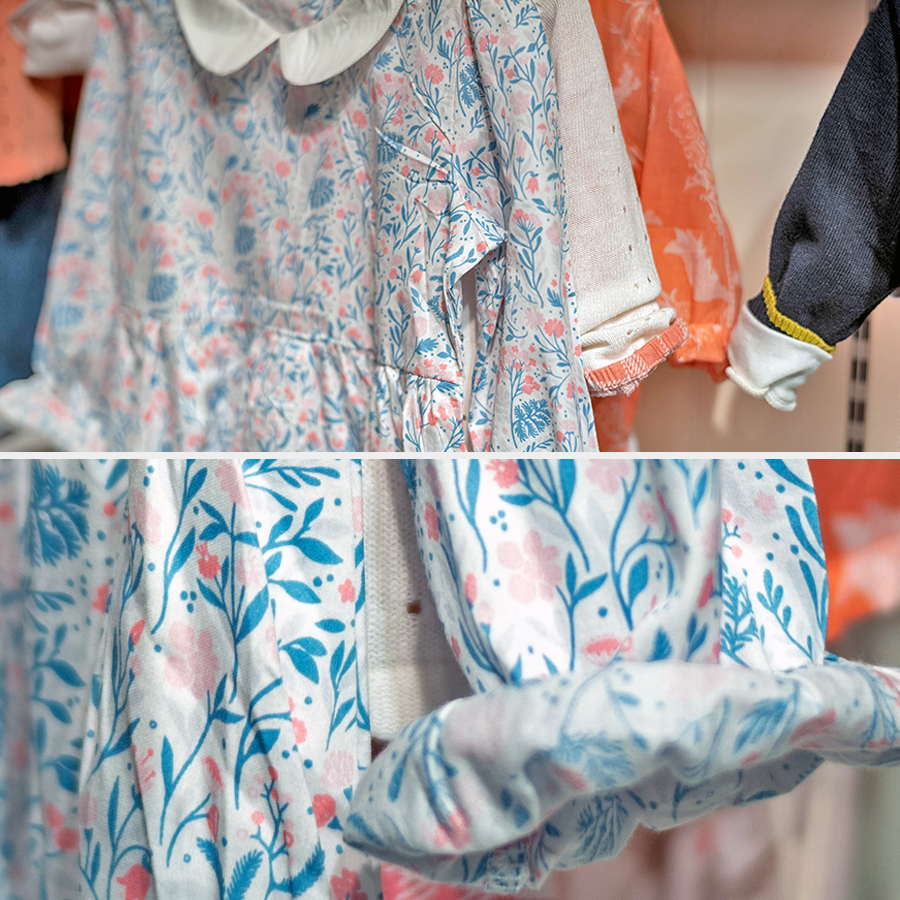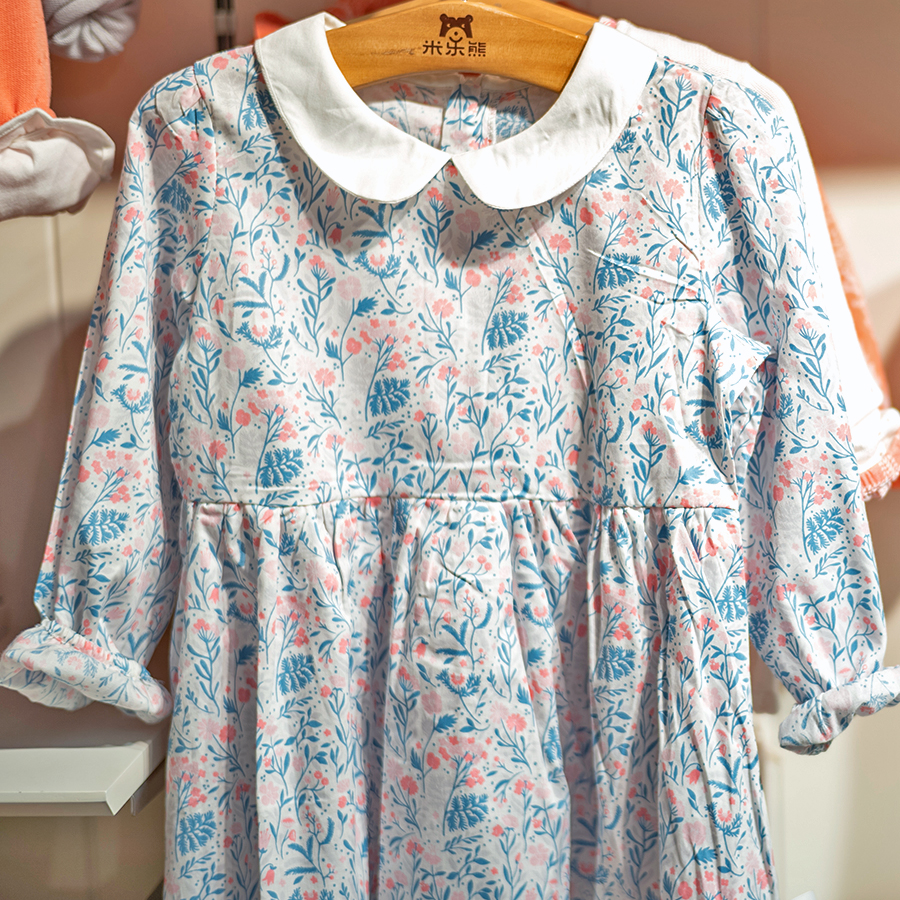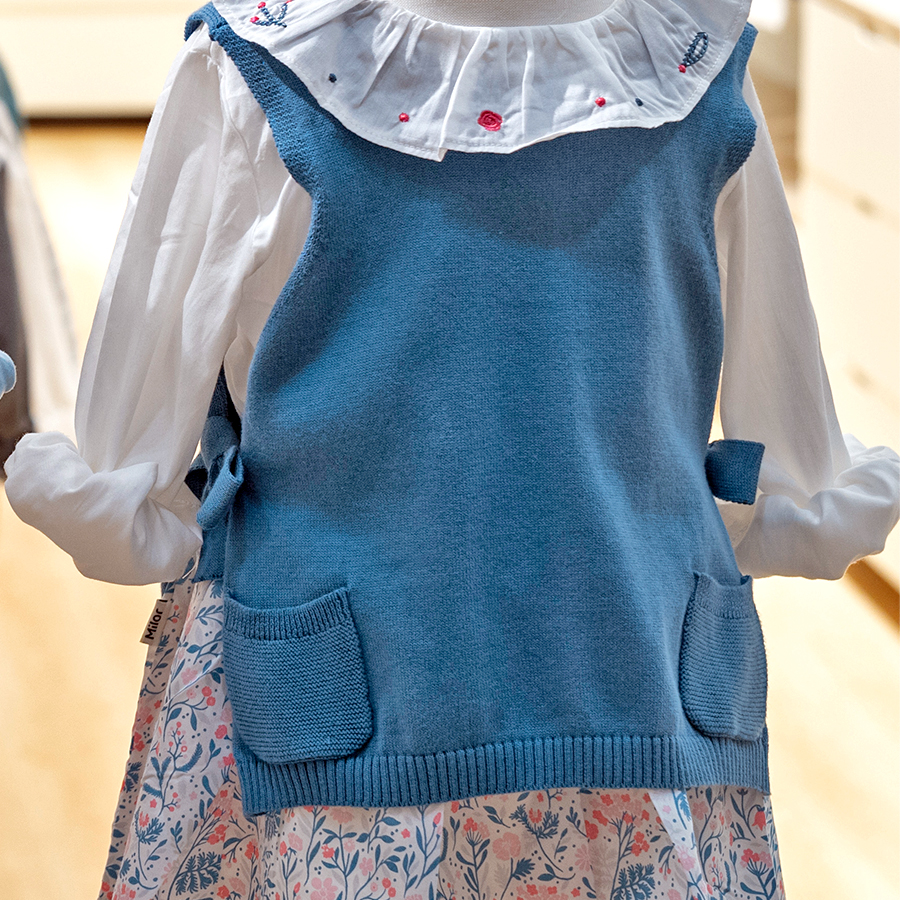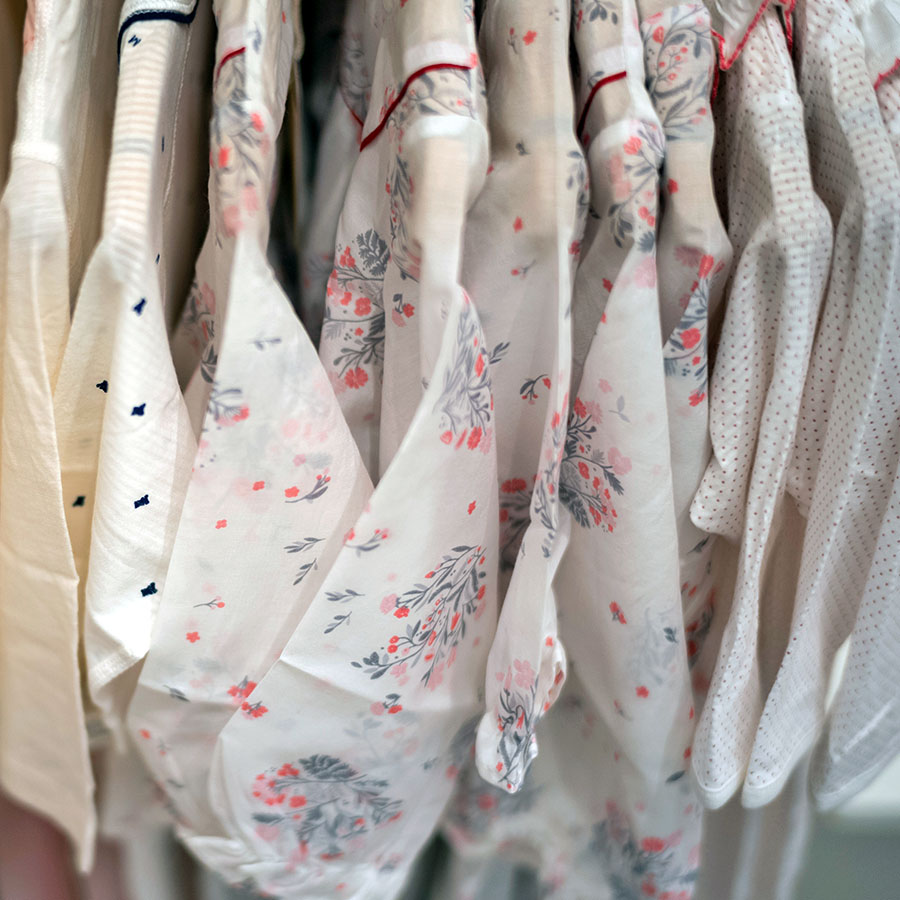 Alternative Colourways
The aim of this devel­op­ment was to try dif­fer­ent colour com­bi­na­tions, keep reduc­ing the num­ber of used colours and con­tin­ue sim­pli­fy­ing. "Coun­try Gar­den" pat­tern there­fore evolved as follows:
First­ly, re-imag­ined in much small­er size and only mono­chrome pinks.
Sec­ond­ly, aimed at New­born sec­tion of the col­lec­tion, hence recoloured into soft­er shades of grey and pink.
Third­ly, only as white sil­hou­ettes, posi­tioned against a grey back­ground. Hav­ing been desat­u­rat­ed, now it seems much more of a tex­ture, espe­cial­ly when used in this small size.
In addi­tion, I picked few sim­ple ele­ments to cre­ate a plain, sec­ondary pat­tern, which was meant to work as a petite print to com­pli­ment the more elab­o­rate ver­sion of it in a set. This also is more appro­pri­ate for the younger age group of the SS Collection.
"Gar­den­ing is how I relax. It's anoth­er form of cre­at­ing and play­ing with colors."