The underwater world holds many wonders and creatures, so extraordinary that they verge on being impossible. One of the more unusual is the jellyfish, which has no brain, heart, bones or eyes. Yet, with the rhythm of its pulsating bell it performs a truly mesmerising spectacle. The way they contract swiftly, then release, looks like a submerged beating heart. Deep in the abyss, these fascinating, almost sentient beings whisper alluring promises of the secrets of immortality.
This pro­ject was a part of my ongo­ing col­lab­or­a­tion with Kidspattern. If you'd like to learn more about them please vis­it their web­site HERE. Alternatively, view the archive of our pre­vi­ous pro­jects HERE, in which I dis­cuss in detail the his­tory and nature of our work.
All cloth­ing-mockups presen­ted here are provided cour­tesy of Kidspattern and are used for visu­al­isa­tion pur­poses only.
This design is a part of a mar­ine series inspired by the won­der­ful abund­ance of sea life. It cov­ers a total of 3 pat­terns com­mis­sioned for a client's Spring-Summer col­our group aimed at boys. Here you may view the oth­er two accom­pa­ny­ing designs : Seashore Skies and Underwater Landscape. Apart from the theme that runs across them, they're also uni­fied by the same water inspired palette. It was com­posed by the trend and col­our expert Kidspattern and con­sisted of a set of soft greens and blues con­tras­ted by a touch of rich, deep ultra­mar­ine.
Above, you can view the first ver­sion of the pat­tern, which has the ele­ments in two medi­um range col­ours, scattered on a plain, white back­ground in a slightly over­size arrange­ment. The draw­ings are arranged in a free flow­ing, spa­cious man­ner to reflect the jellyfish's pecu­li­ar, yet highly effi­cient way of loco­motion. The base ele­ment remains the same, how­ever, its size var­ies to sug­gest a sense of dimen­sion­al­ity. Alongside this addi­tion­al lay­er­ing of the tilt­ing out­lines hints at the jellyfish's trans­lu­cent appearance.
This ver­sion was pur­chased by the cli­ent and used in their Spring-Summer Collection in a group aimed at boys. Furthermore, this print was pop­u­lar enough to be used across all age groups includ­ing home­ware (blankets, bibs) and new­born (hats, baby grows). The col­our palette, thus, remained soft, calm and universal.
Version 1
Next in the devel­op­ment, the jelly­fish was recol­oured into white and placed on a medi­um, light blue back­ground. With this change the design now appears much more airy, effer­ves­cent and light. To mix it up, extra jelly­fish shapes have been added, which include a par­tial fill and an extra col­our.
This ver­sion of the pat­tern was visu­al­ised in a smal­ler size on a simple top. The arrange­ment has it in a trans­ition­al, dynam­ic and spa­cious man­ner with the jelly­fish gath­er­ing at the top and bot­tom of the gar­ment. The ele­ments con­tin­ue to rotate around and vary in size.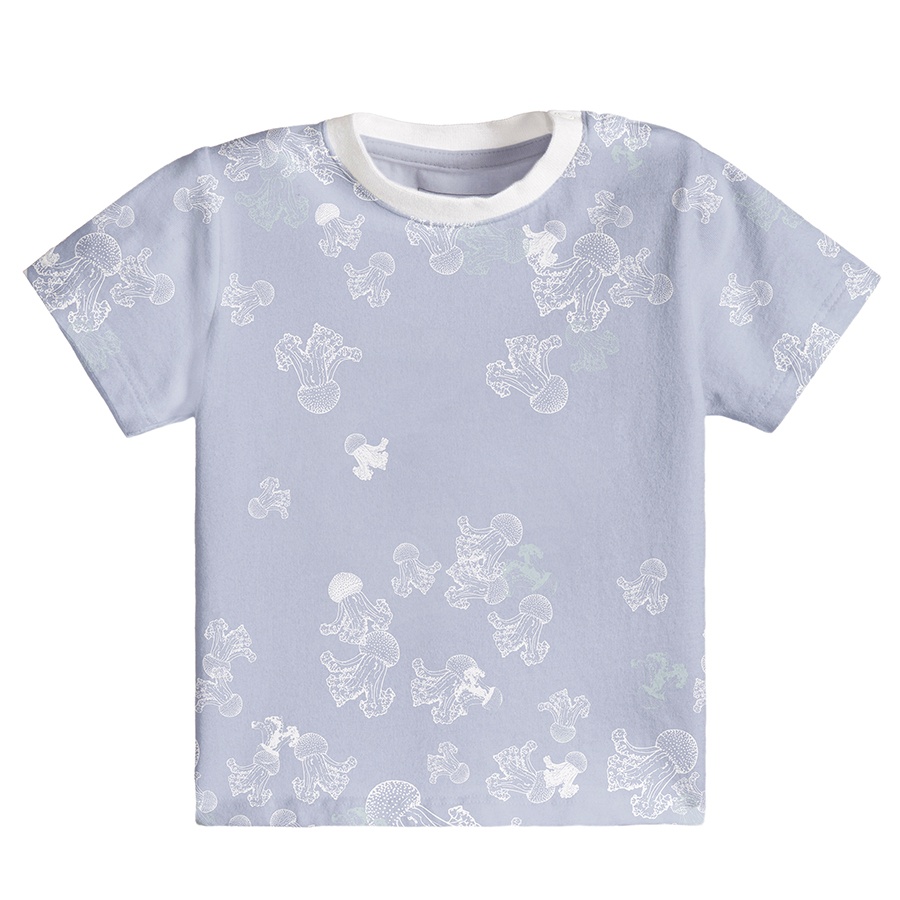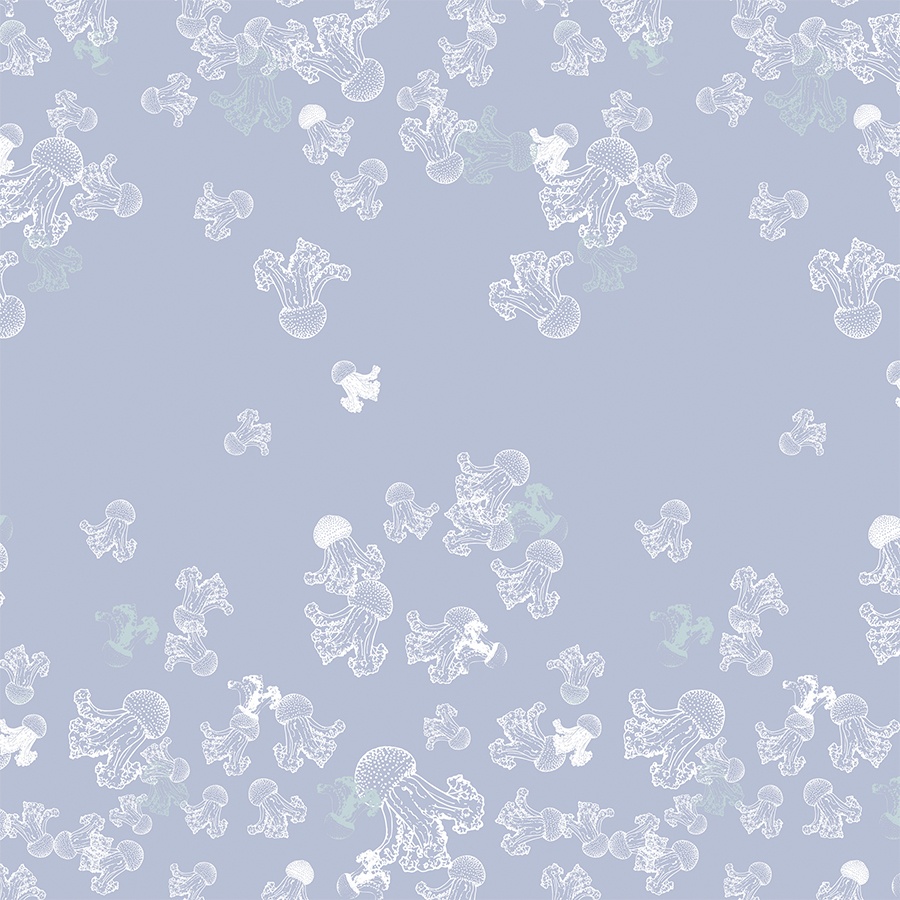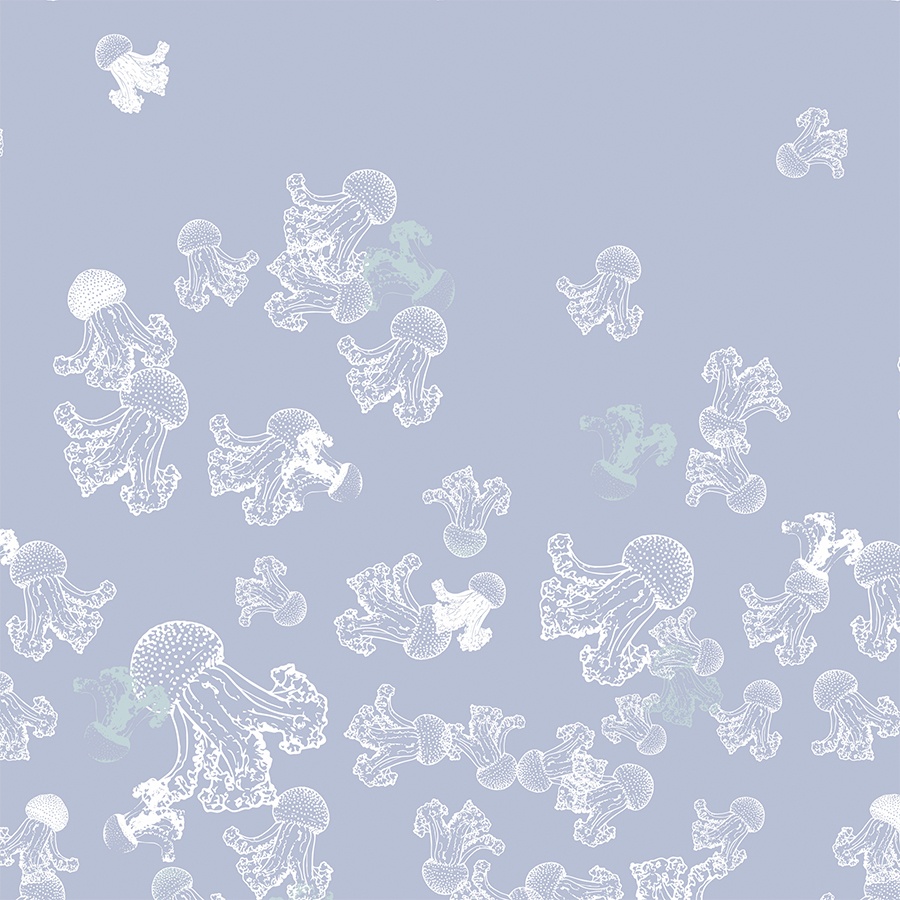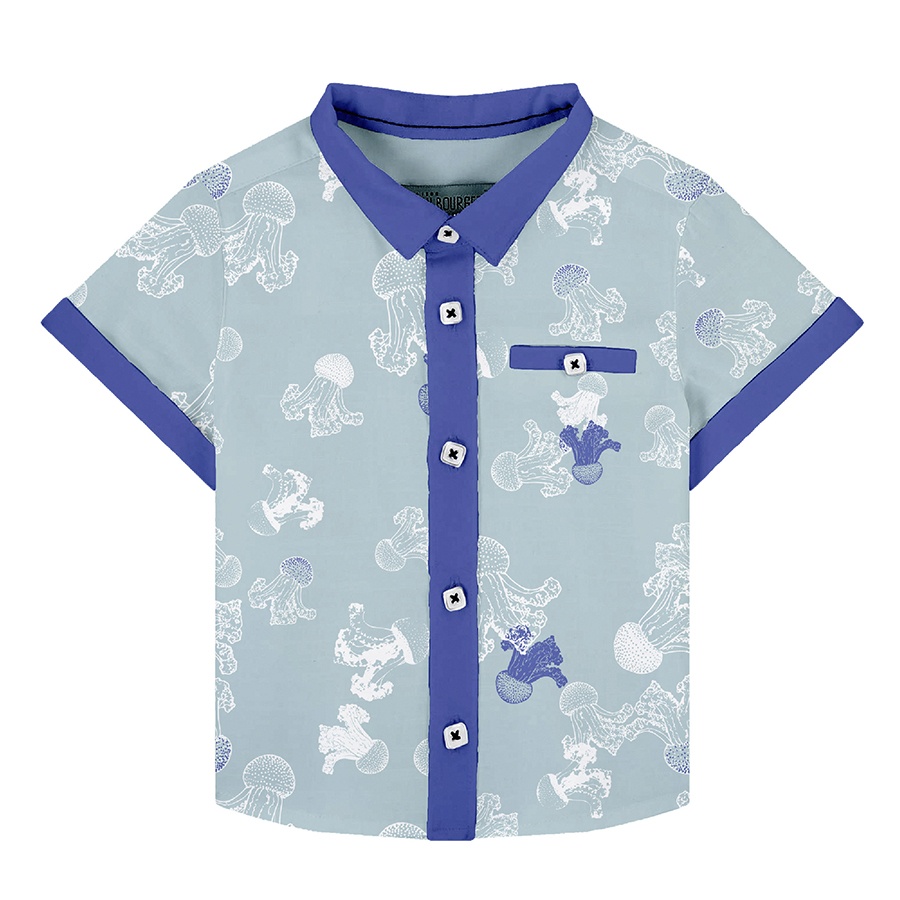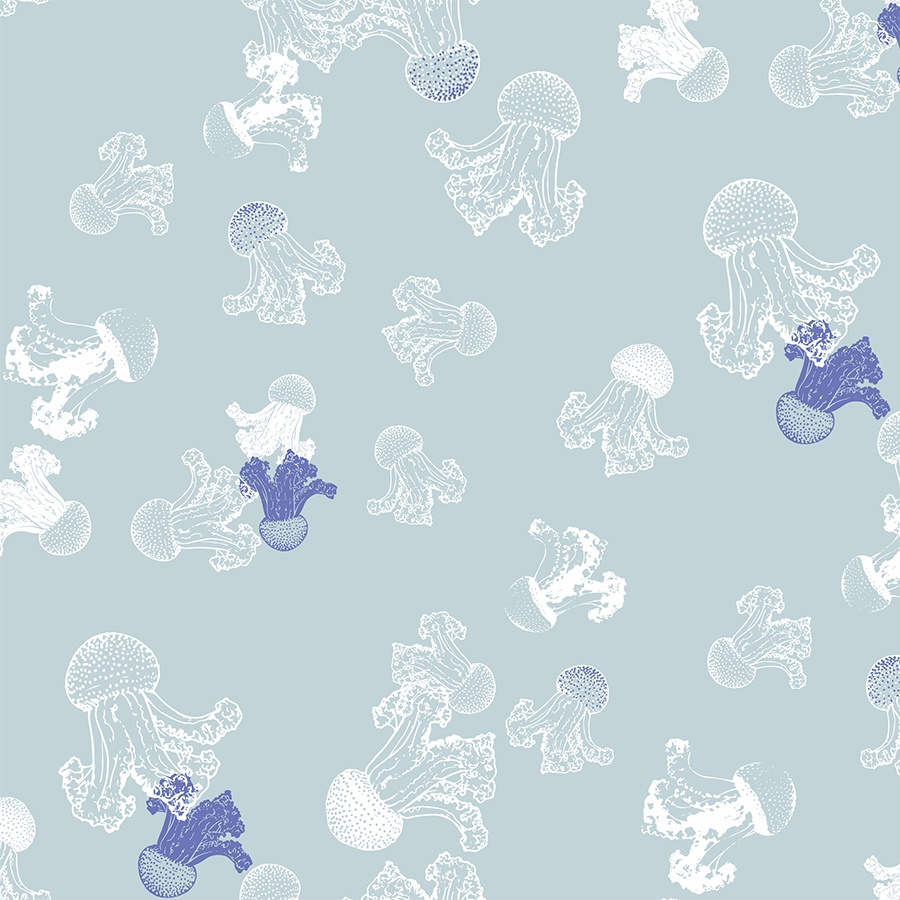 Version 2
This pat­tern explores the breadth of the col­our palette by set­ting the back­ground to medi­um light green. The jelly­fish remain in white, how­ever I've con­tras­ted this with the ultra­mar­ine accents. The arrange­ment is scattered and spa­cious.
The back­ground col­ours for this pat­tern con­tin­ue to darken and now take the col­our of this lovely tur­quoise blue from the palette. The jelly­fish were recol­oured into bold ultra­mar­ine. I also layered details in white and pur­pose­fully visu­al­ised it in an over­size man­ner.
Version 3
Lastly, it's import­ant that the design does work well on a dark back­ground, which in this case is ultra­mar­ine col­oured. With this ver­sion I kept the design plain and over­sized. White jelly­fish with their mush­room-like bells appear all but magic­al, wist­ful and ephemeral.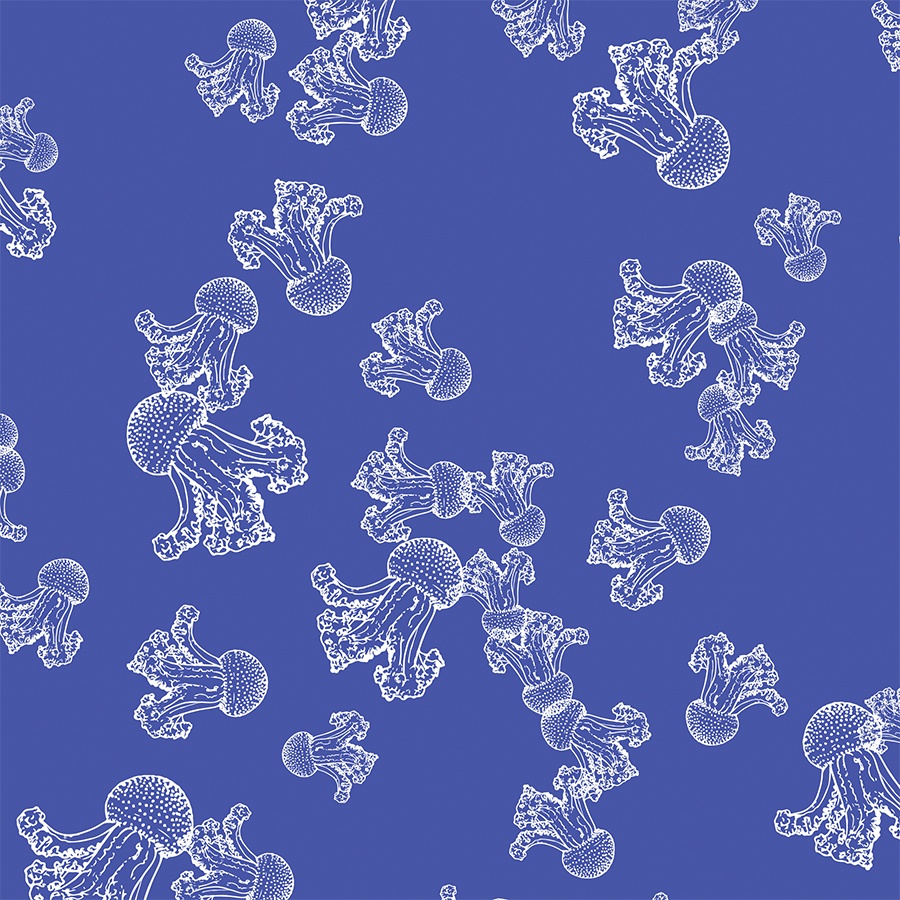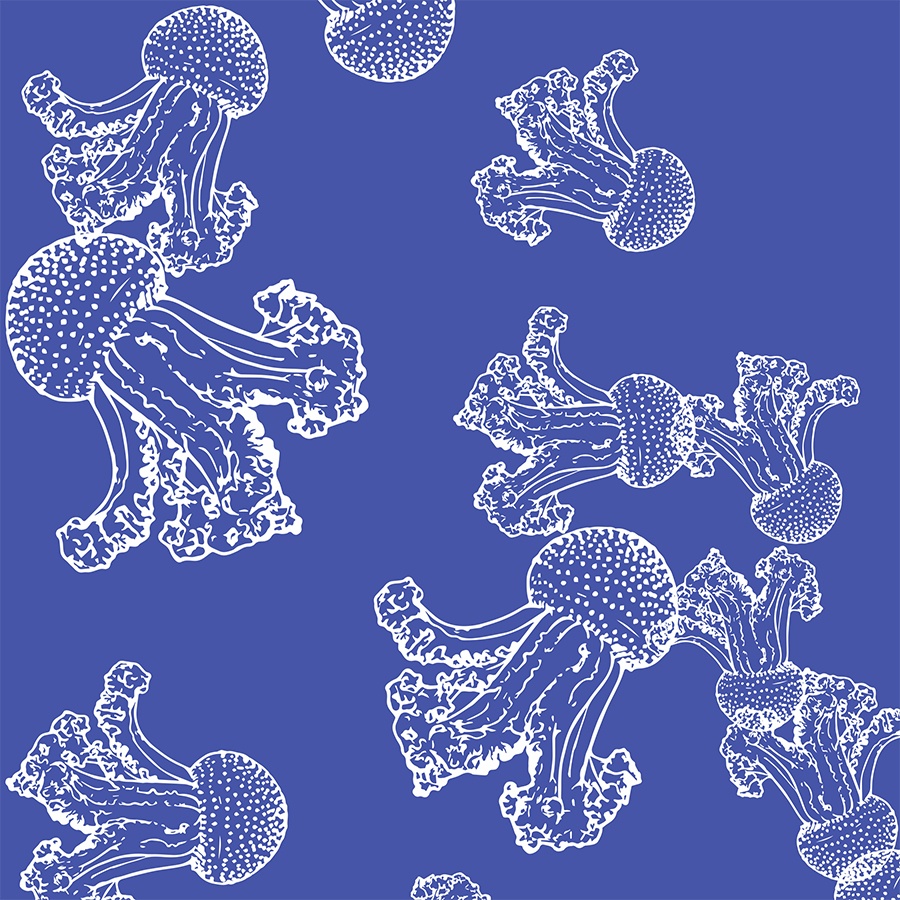 To con­clude this series, I'd like to share a col­lec­tion of quick snaps of the final use of this jelly­fish pat­tern in print. These items were pro­duced to launch the client's over­all Spring-Summer col­lec­tion and pro­mote it at trad­ing fairs.
On the left, please browse through client's first cloth­ing samples for their Newborn group. Apart from body­suits these include baby accessor­ies like blankets and bibs.
On the right, you may view examples of the jelly­fish pat­tern in print on clothes aimed at older kids (up to 3 years old). I've included a few close-ups of the mater­i­al and oth­er products like a hooded, light teal sum­mer jacket.
Please note that these images are provided cour­tesy of the cli­ent and Kidspattern and are used for port­fo­lio pur­poses only.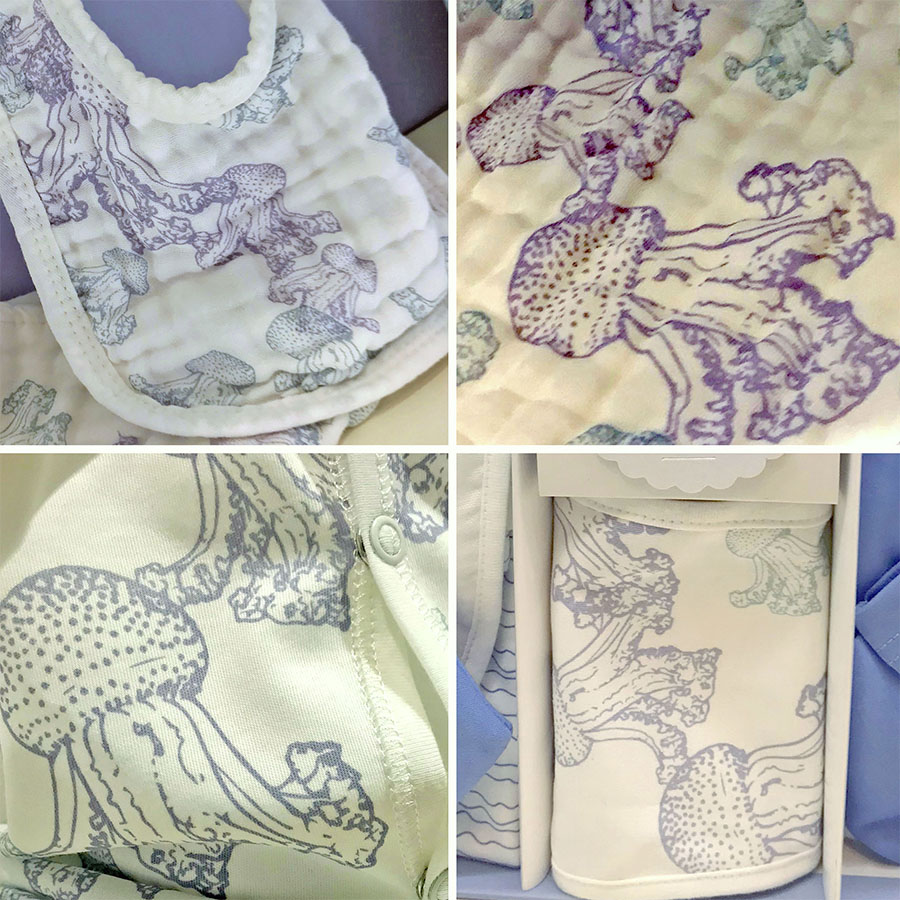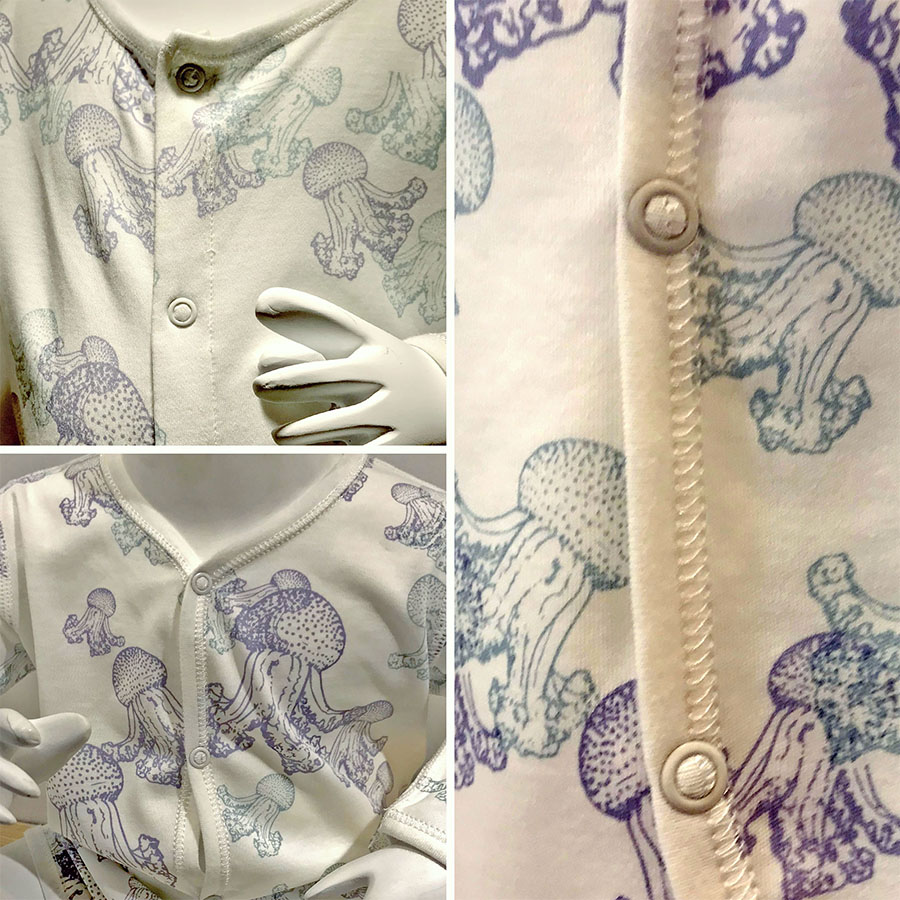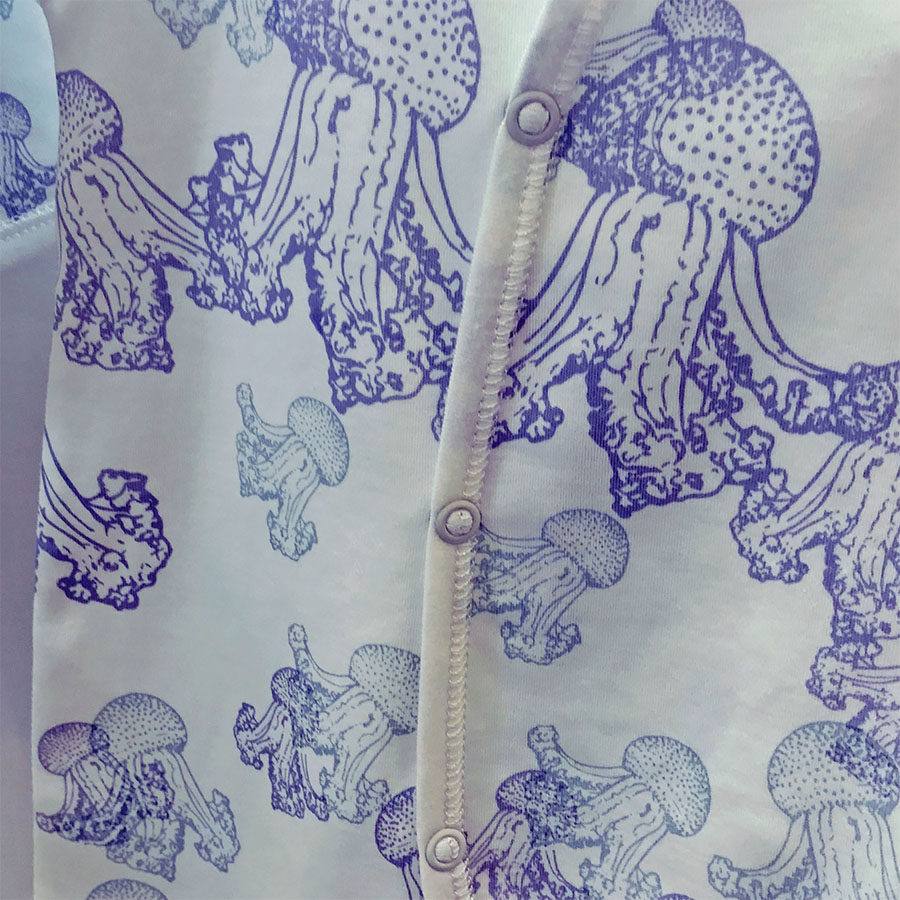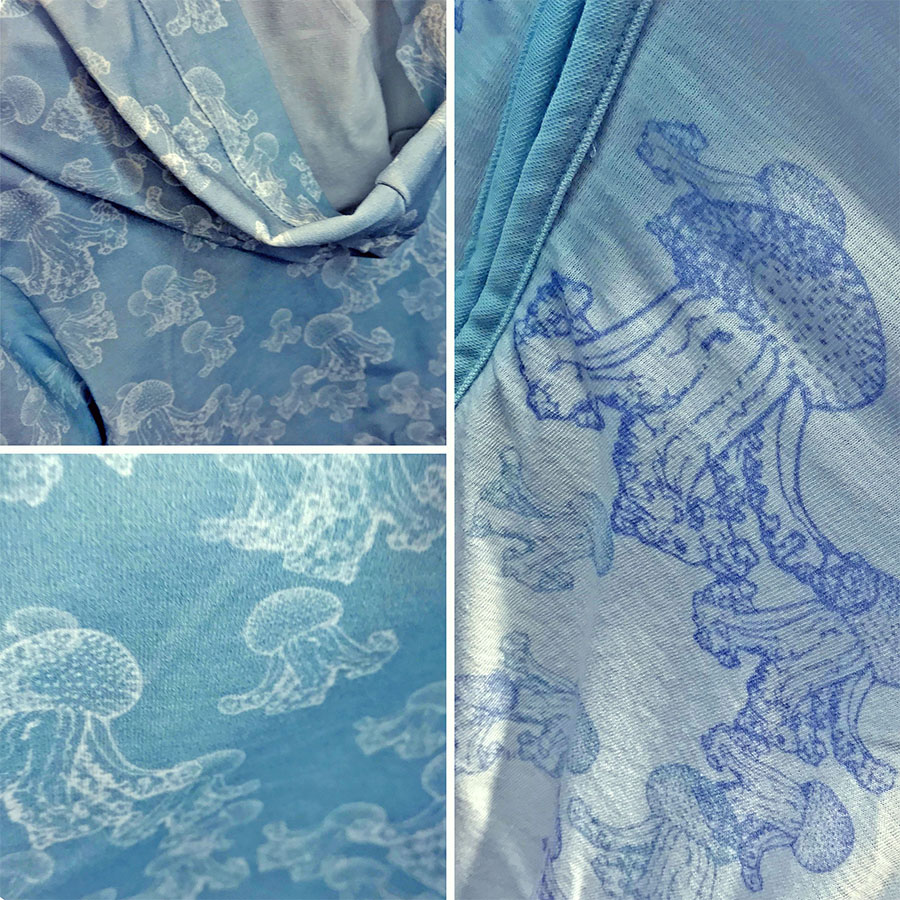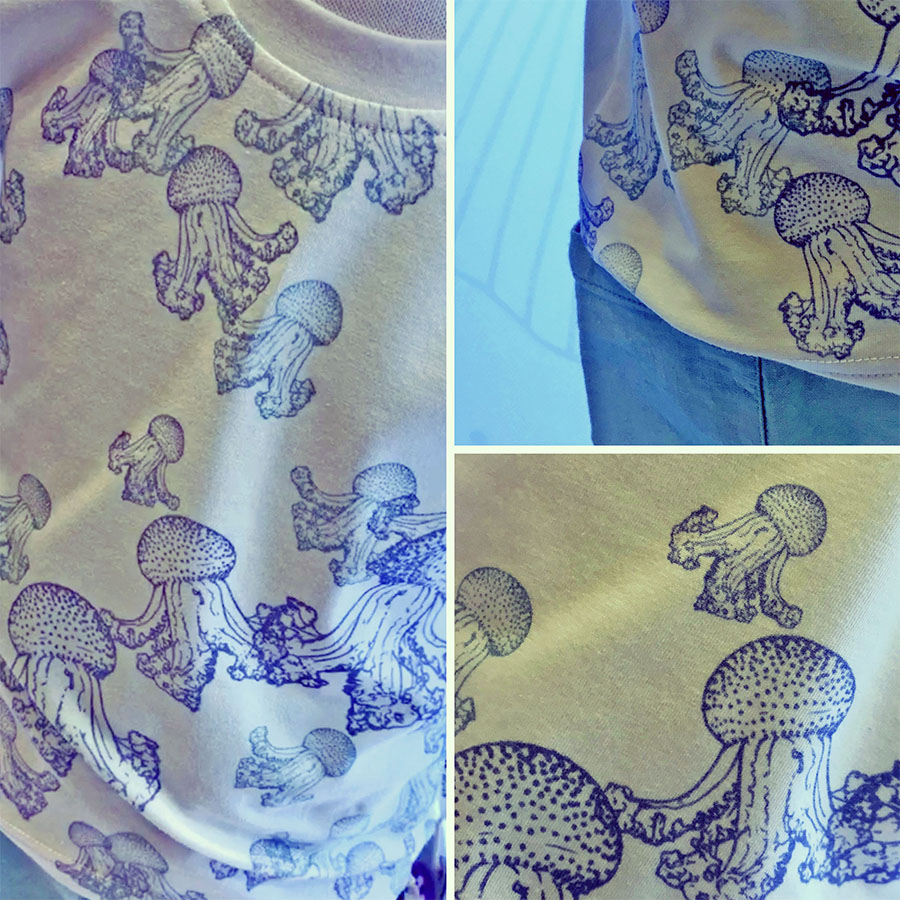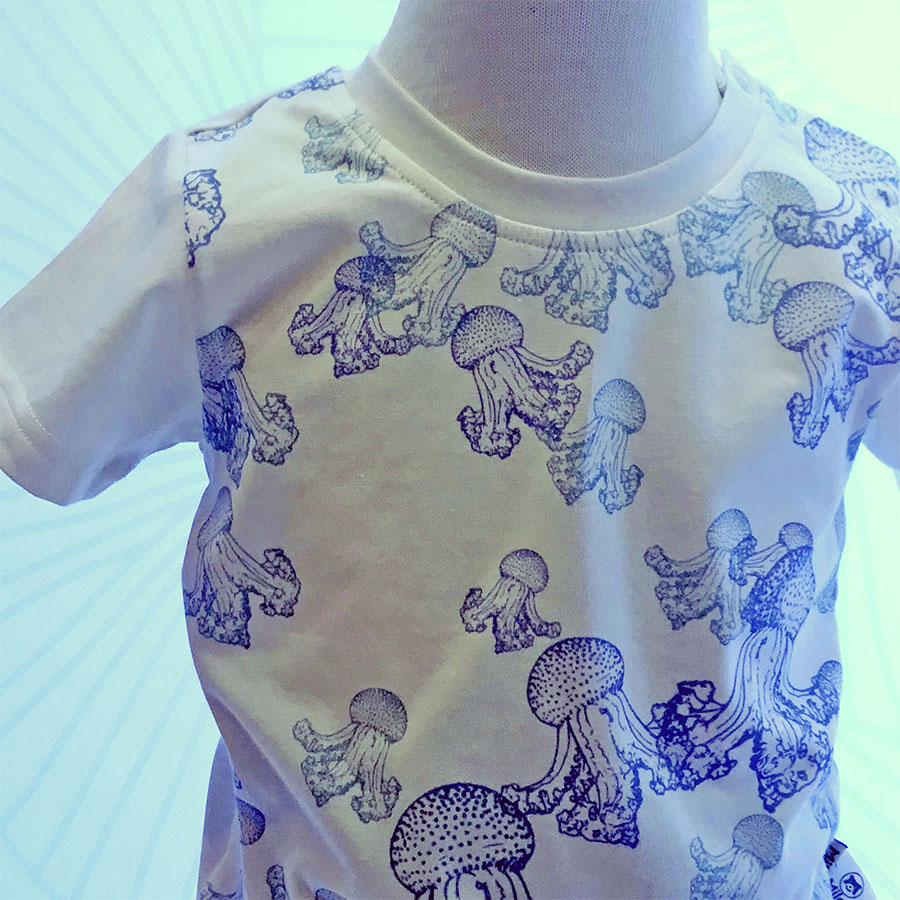 "The real world is in a much dark­er and deep­er place than this, and most of it is occu­pied by jelly­fish and things. We just hap­pen to to for­get all that. Don't you agree ? Two-thirds of earth's sur­face is ocean, and all we can see with the naked eye is the sur­face : the skin."

Haruki Murakami, The Wind-Up Bird Chronicle
writer