This series is inspired by a memory of a day spent at the beach, marvelling at the vastness of the sea and observing the moody sky reflected in the water's surface, carrying rolling, marshmallow clouds, threatening to burst into spits of rain at any moment. Saturated with the echo of the ubiquitous sound of squawking seabirds and the disheveling scent of salty, sandy wind.
This project was a part of my ongo­ing col­lab­o­ra­tion with Kidspat­tern. If you'd like to learn more about them please vis­it their web­site HERE. Alter­na­tive­ly, view the archive of our pre­vi­ous projects HERE, in which I dis­cuss in detail the his­to­ry and nature of our work.
All cloth­ing-mock­ups pre­sent­ed here are pro­vid­ed cour­tesy of Kidspat­tern and are used for visu­al­i­sa­tion pur­pos­es only.
Pattern Design Development
This design forms part of a marine series inspired by the won­der­ful abun­dance of sea life. It cov­ers a total of three pat­terns com­mis­sioned for a client's Spring-Sum­mer colour group aimed at boys. Here you may view the oth­er two accom­pa­ny­ing designs: Shoal of Jel­ly­fish and Under­wa­ter Land­scape. Aside from the theme that runs across them, they're also uni­fied by the same water inspired palette, which was com­posed by the trend and colour expert Kidspat­tern and con­sist­ed of a set of soft greens and blues con­trast­ed by a touch of rich, deep ultramarine.
This design was intend­ed to rep­re­sent a sum­mery, slight­ly over­cast day, hence the pat­tern focus­es on the por­tray­al of skies. Tech­niques used in this pat­tern involve a col­lage effect, which was achieved by adding pho­to­graph­ic images of clouds. I spread the clouds out against a light blue back­ground and wove in seag­ulls nav­i­gat­ing their way in between- which adds to the design's sense of airi­ness and dimen­sion­al­i­ty.
Drawing Elements
At the cen­tre of this series are two main, hand-draw­ings of seag­ulls, which are one of the most pop­u­lar marine birds. Full of char­ac­ter they bring a breeze of unapolo­getic independence.
I also used tex­tured, dig­i­tal brush­es to cre­ate the shad­ing, which was lay­ered on top of a plain, flat white sil­hou­ette. This assured that the shape would cut out from the back­ground and allow the ele­ment to be placed on dif­fer­ent coloured backgrounds.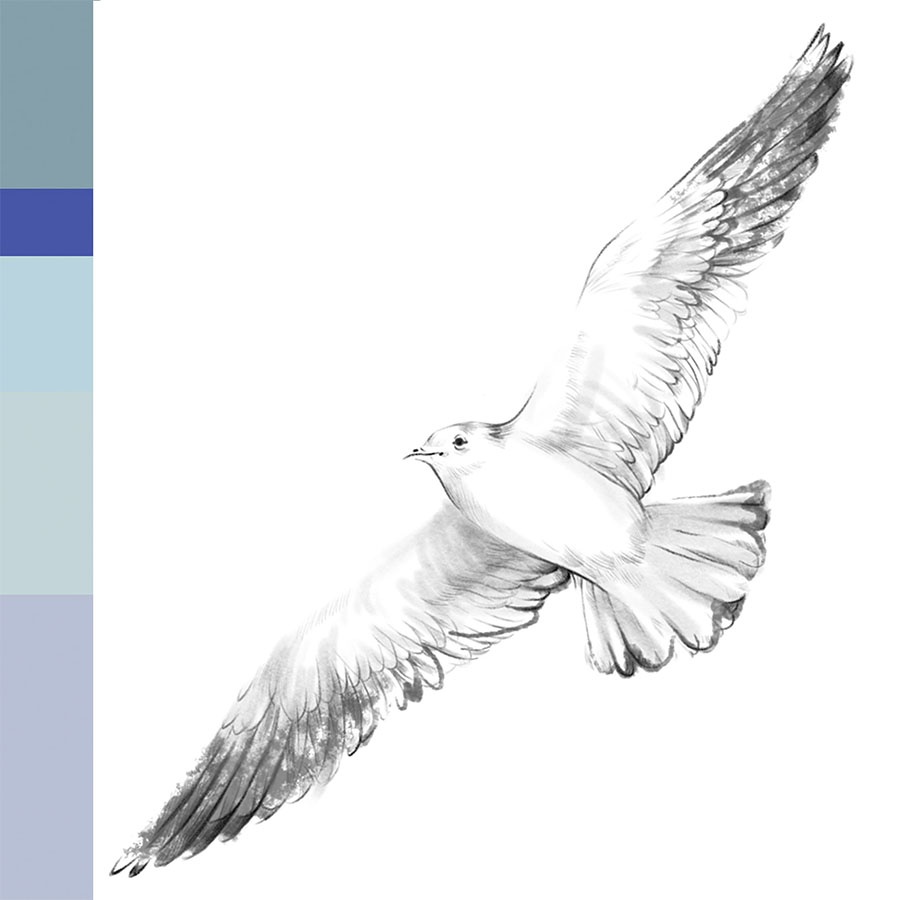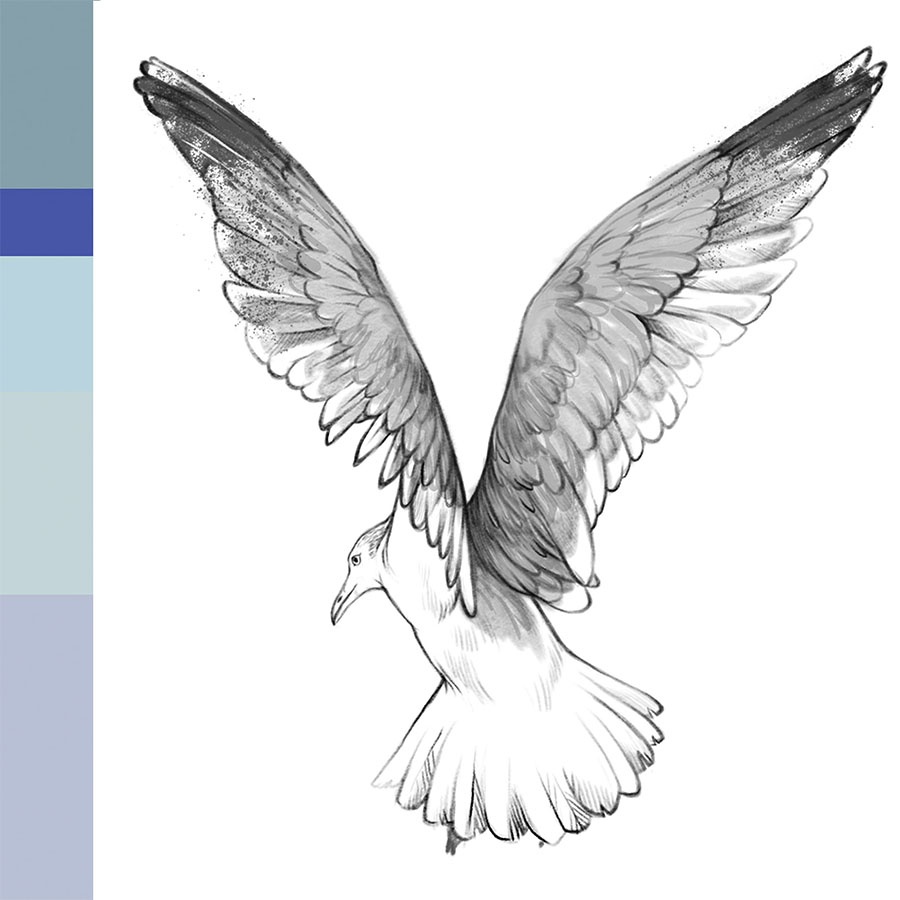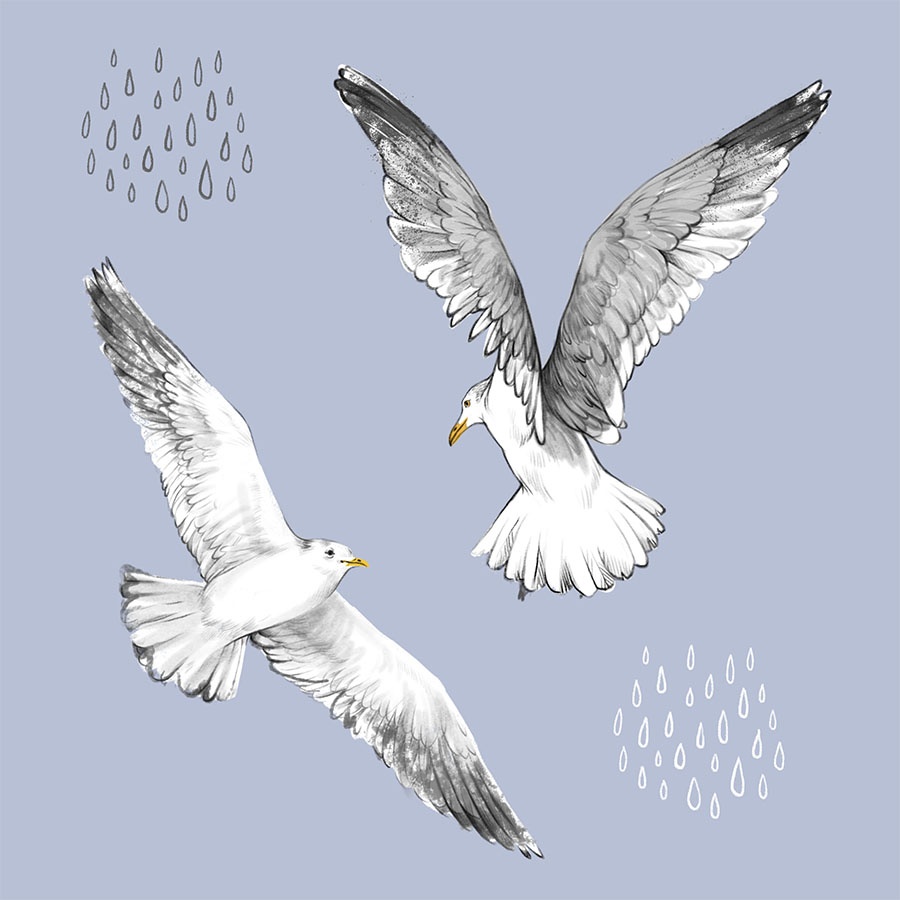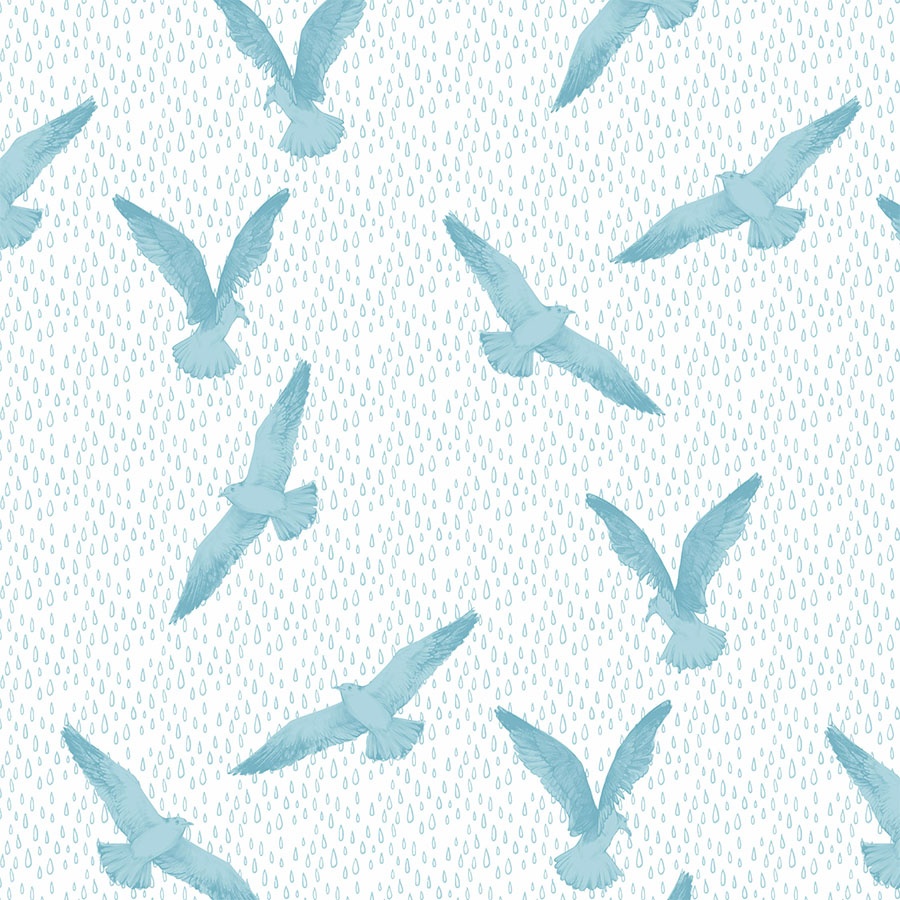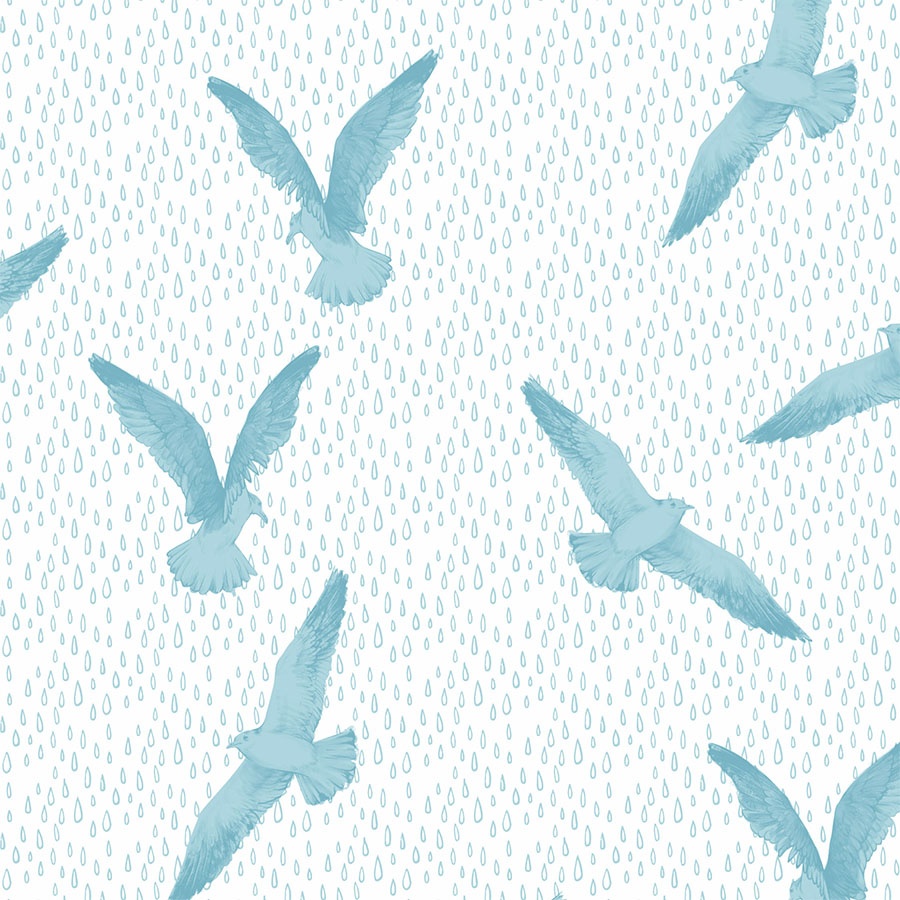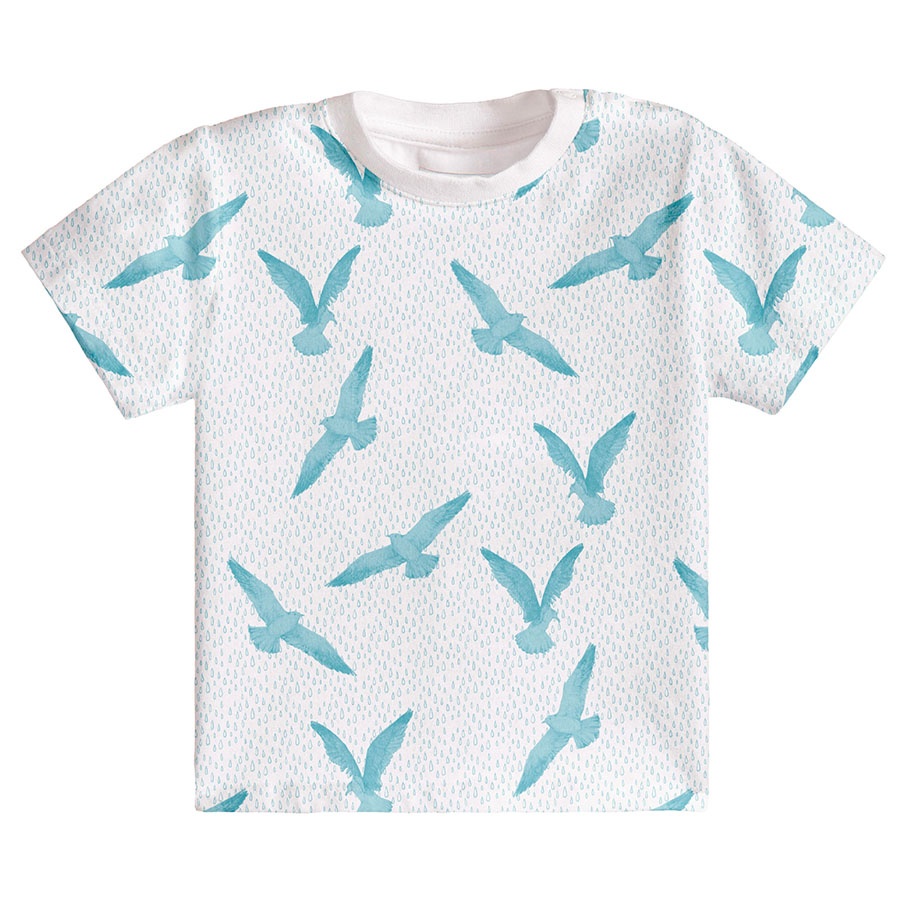 Alternative Colourways
To explore the turquoise side of the palette with this sim­pli­fied design, I removed the clouds and jux­ta­posed sat­u­rat­ed bird shapes against a tex­tured cur­tain of small rain droplets. This pro­vides an inter­est­ing con­trast and makes this design a great sec­ondary pat­tern.
Dark Background
The ultra­ma­rine back­drop makes this ver­sion the most strik­ing and bold. The remain­ing ele­ments are in much lighter shades, thus they firm­ly stand out against the dark blue. With this strong con­trast, they now read almost as cam­ou­flage shapes.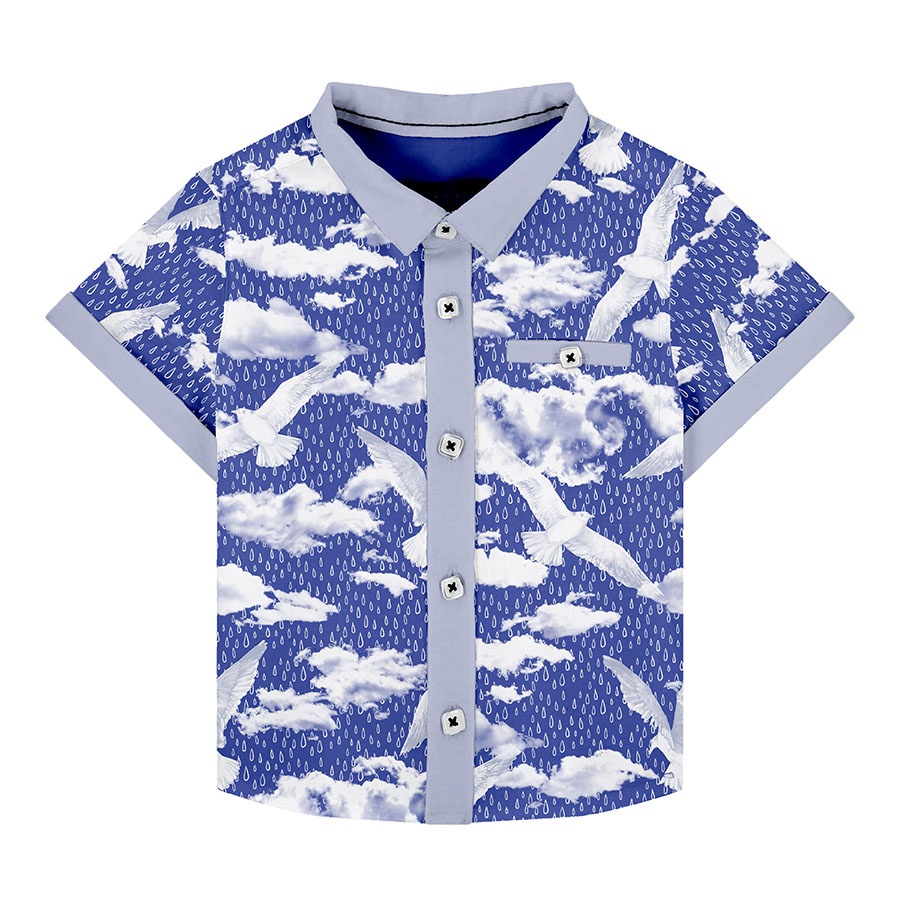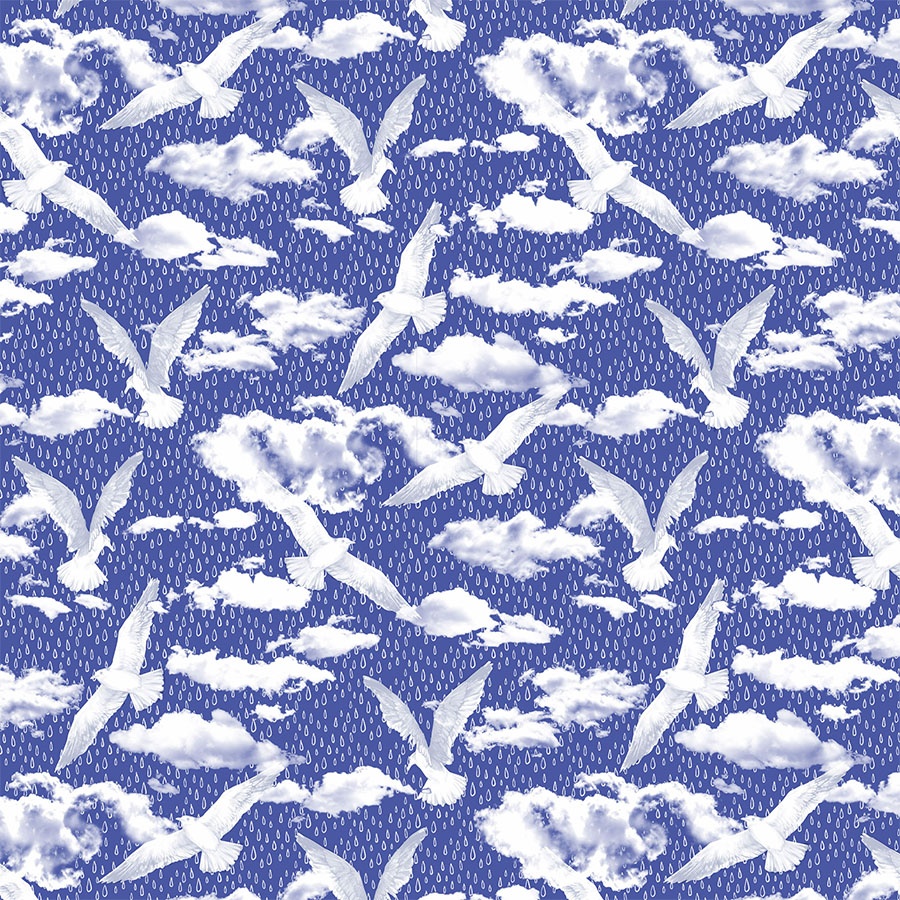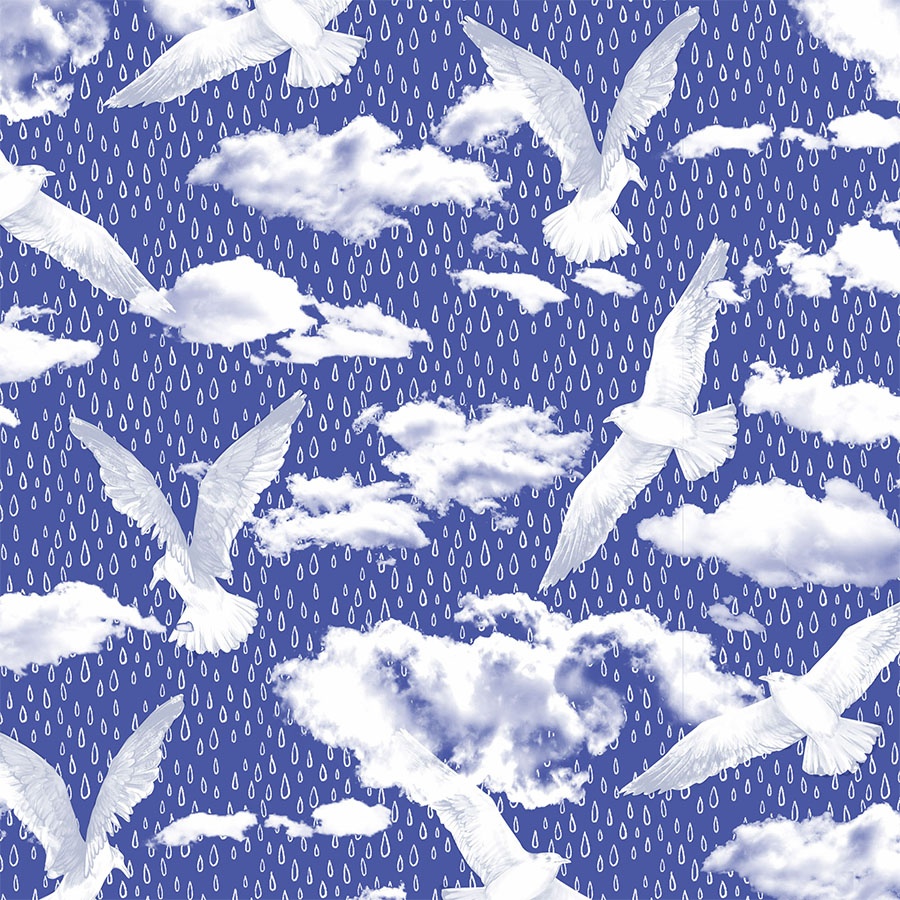 Below, please view images of the final use of this Sea­side Shores pat­tern in print. These are the client's first cloth­ing sam­ples, made to launch their Spring-Sum­mer col­lec­tion and dis­play at trad­ing fairs. On the right hand side, you may see exam­ples of this print used in their New­born Col­lec­tion as a bib and a baby grow.
Please note that these images are pro­vid­ed cour­tesy of the client and Kidspat­tern n and are used for port­fo­lio pur­pos­es only.
"Heavy hearts, like heavy clouds in the sky, are best relieved by the let­ting of a lit­tle water."