These are two forest-themed patterns I designed with Kidspattern as a part of a commission for a kidswear client's Autumn-Winter Collection.
I've chosen to present these pat­terns togeth­er because they were both inspired by the idea of an enchanted forest. They are quite dif­fer­ent inter­pret­a­tions of this shared theme though. The "Peacock Forest" design is aimed at kids and hence has a more elab­or­ate palette of deep greens, com­pli­men­ted by cream and an accent of pink. It evokes the idea of fol­low­ing magic­al but­ter­flies through tangled thick­ets of veget­a­tion, made up of plumage-like ferns. In con­trast, the "Woodland Scene" design is aimed at new­borns and hence its col­our palette is softer, more neut­ral and mono­chro­mat­ic. This time the forest is por­trayed as a fairytale home inhab­ited by lots of wood­land creatures, a per­fect set­ting for a bed­time story.
This pro­ject was a part of my ongo­ing col­lab­or­a­tion with Kidspattern. If you'd like to learn more about them please vis­it their web­site HERE. Alternatively, view the archive of our pre­vi­ous pro­jects HERE, in which I dis­cuss in detail the his­tory and nature of our work.
All cloth­ing-mockups presen­ted here are provided cour­tesy of Kidspattern and are used for visu­al­isa­tion pur­poses only.
This pat­tern com­bines images of large fern leaves and tall grass with more exot­ic ele­ments like pea­cock feath­ers and but­ter­flies. This com­pos­tion was meant to be illus­trat­ive of the exper­i­ence of explor­ing an enchanted forest, whilst mar­vel­ling at its› extraordin­ary fea­tures and creatures. The ren­der­ing of these ele­ments involved digit­al manip­u­la­tion of pho­to­graph­ic mater­i­al that were fur­ther touched-up with my hand-draw­ing. The aim was to sim­pli­fy the ini­tial image to arrive at a flat, vec­tor design that was able to be screen-prin­ted onto fab­ric.
This take on the "Peacock Forest" was inspired by images of lush mead­ows, hid­den away deep with­in the forest. For this reas­on addi­tion­al ele­ments such as reeds and long grasses were added. To dis­rupt and ener­gise the col­our palette occa­sion­al spots of bold col­our were intro­duced along­side the now famil­i­ar forest-greens. To bal­ance out the now con­trast­ing green and pink notes I also added some neut­ral creams. This pat­tern was inten­ded to be used as a place­ment print on a girl's dress. For this reas­on its arrange­ment is more free-flow­ing and organ­ic than oth­er examples.
Pattern 2
This altern­at­ive, slightly muted, ver­sion of the "Peacock Forest" reduces the main ele­ments in size, places them on a pale-green back­ground and arranges them into ver­tic­al stripes. This inter­twin­ing of the ferns, pea­cock feath­ers and but­ter­flies high­lights the sim­il­ar­it­ies between the forest foliage and the bird's plumage. This mim­icry cre­ates a depth that is fur­ther developed by using a spec­trum of blend­ing greens.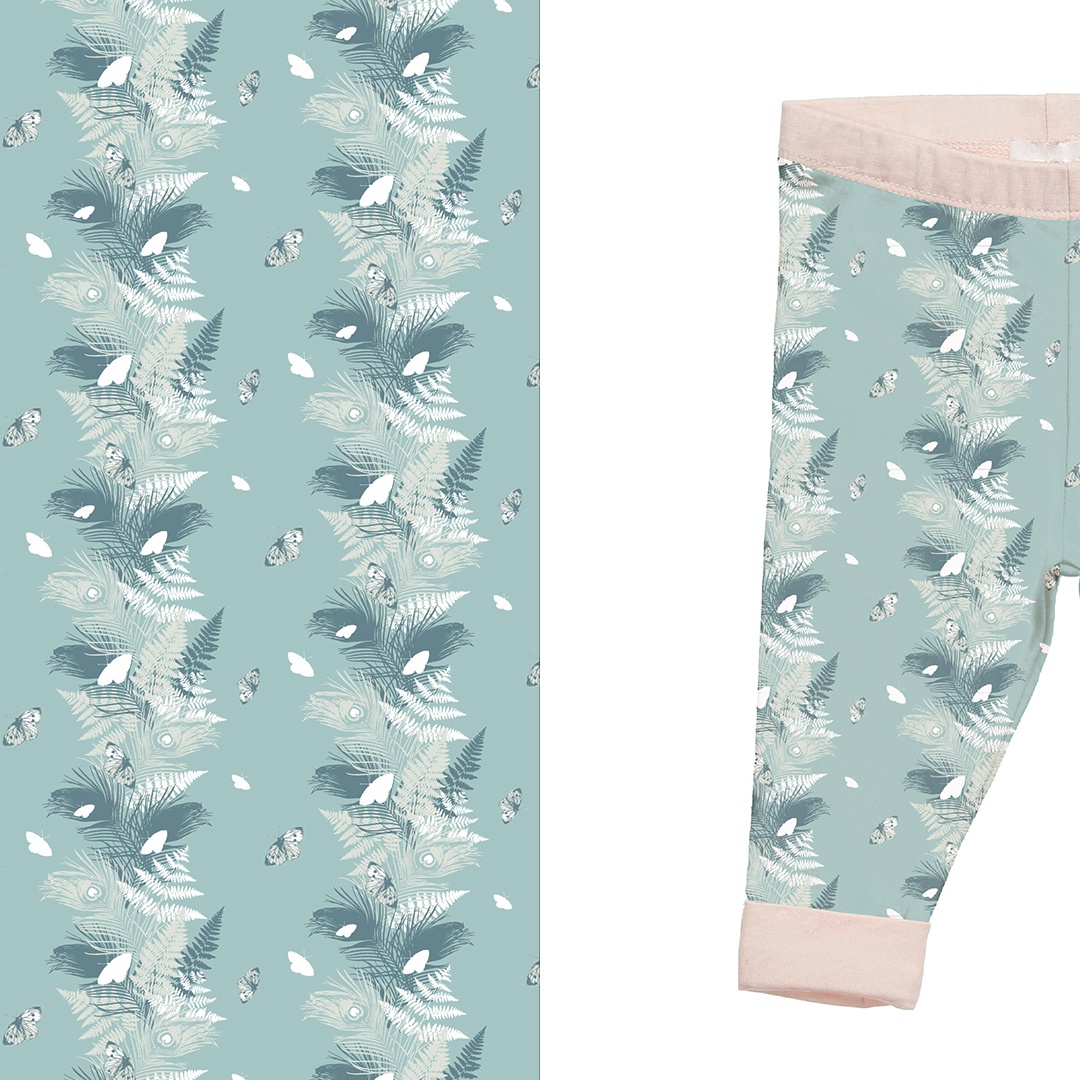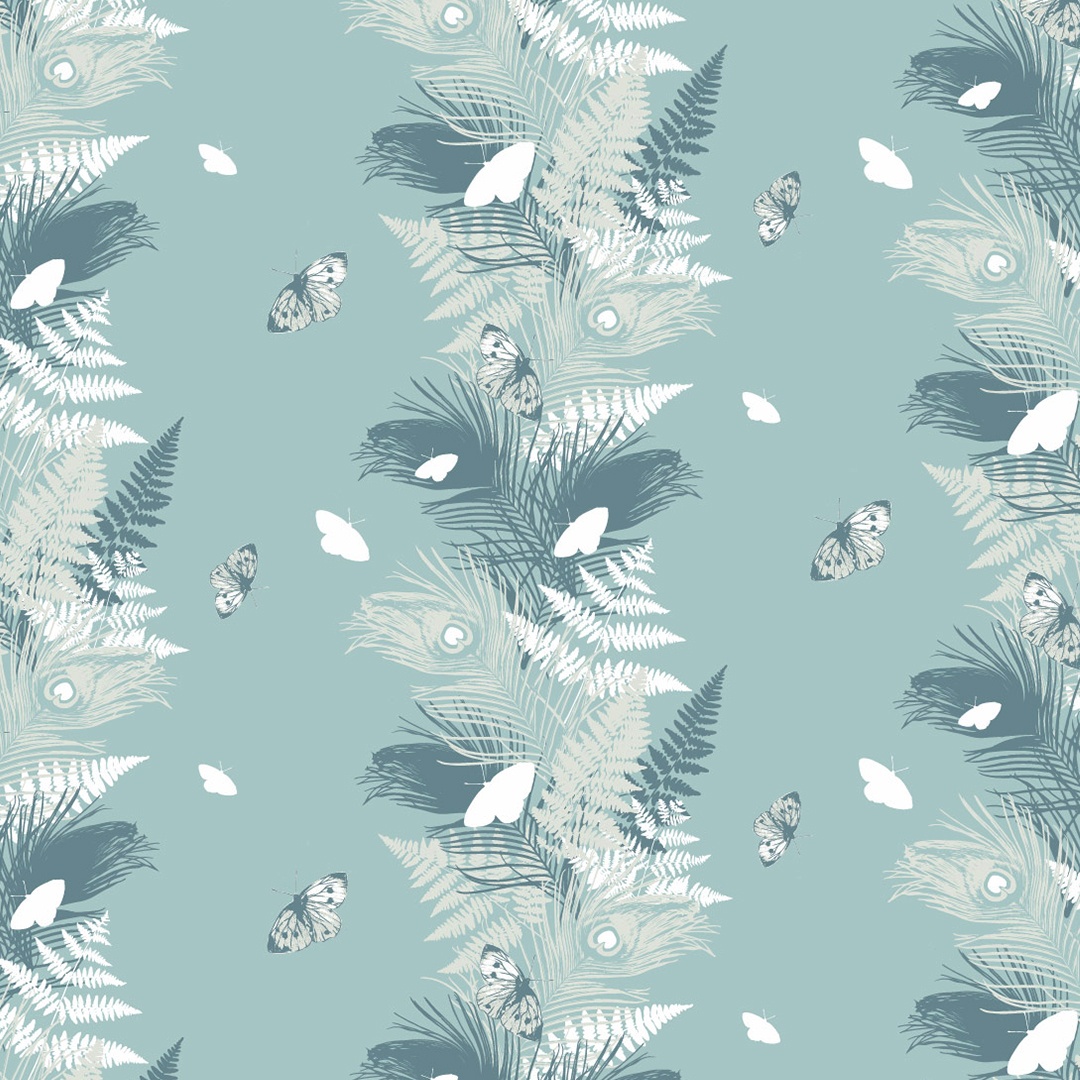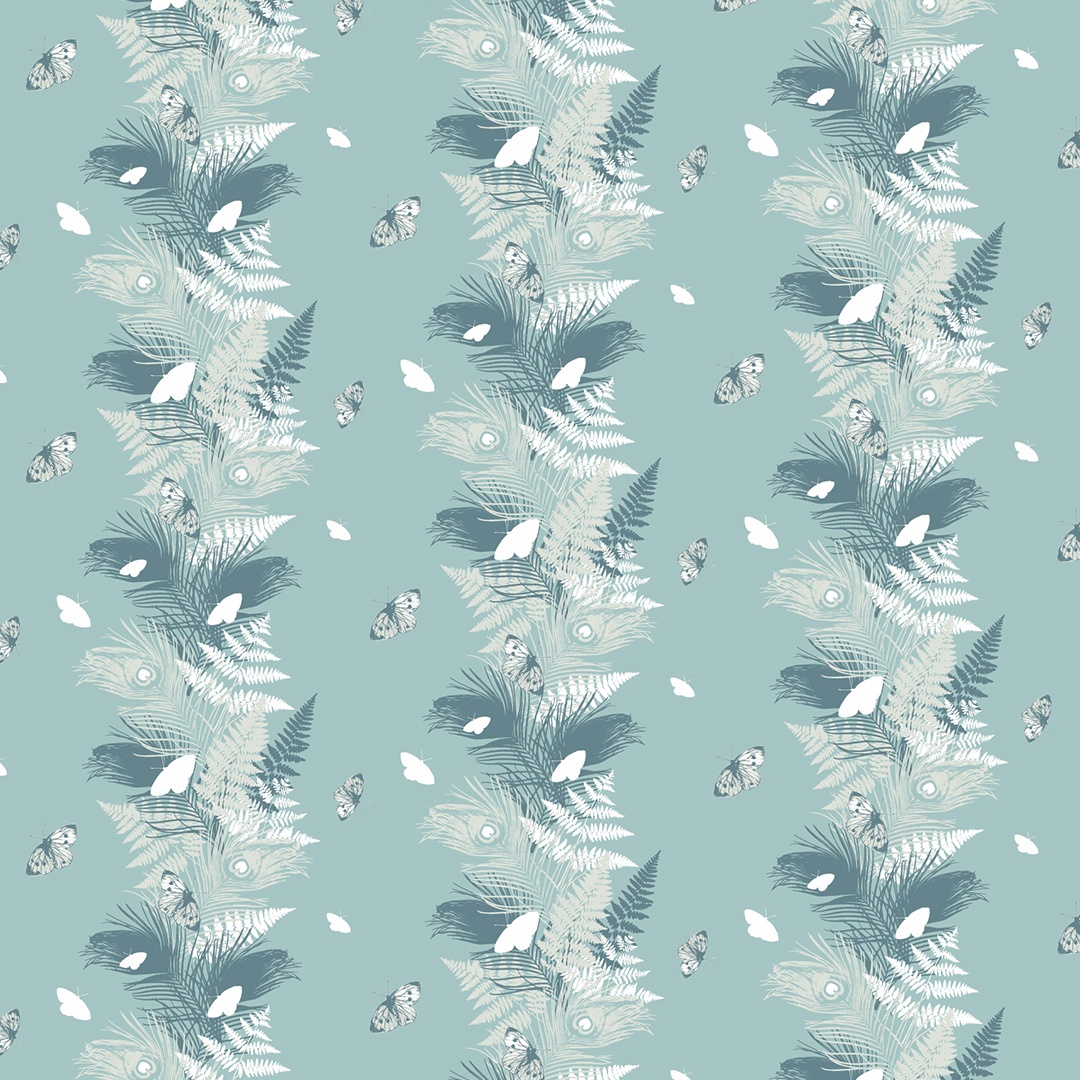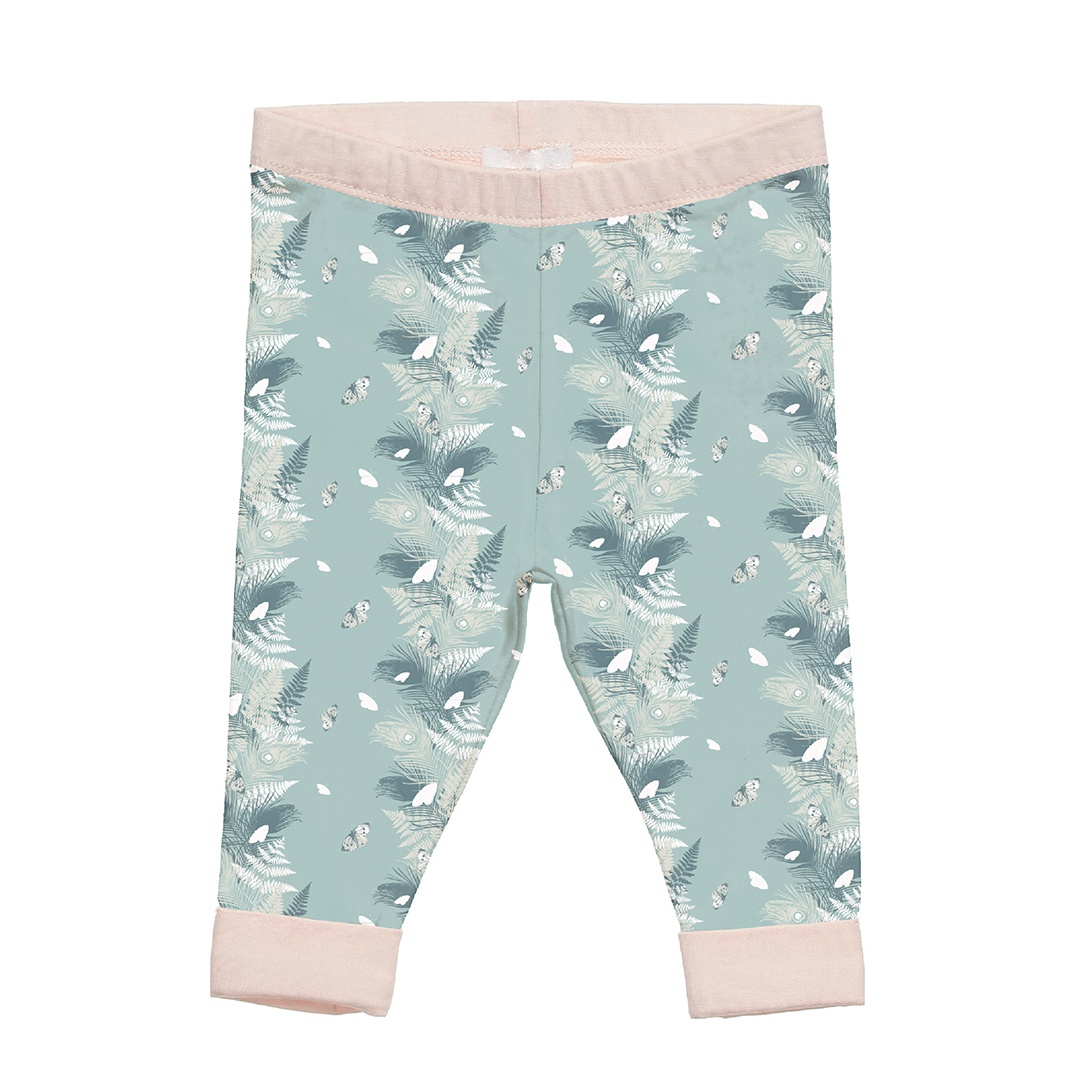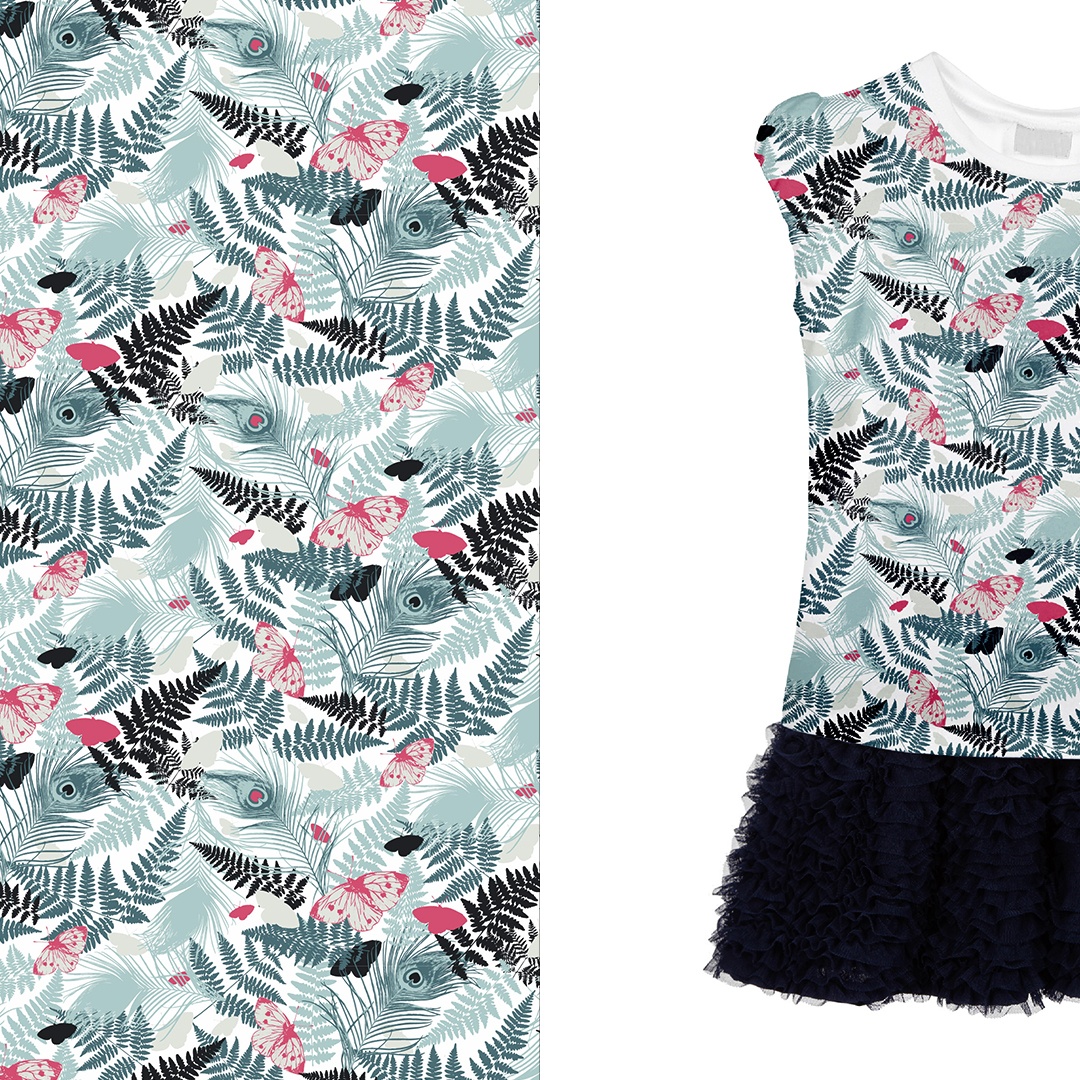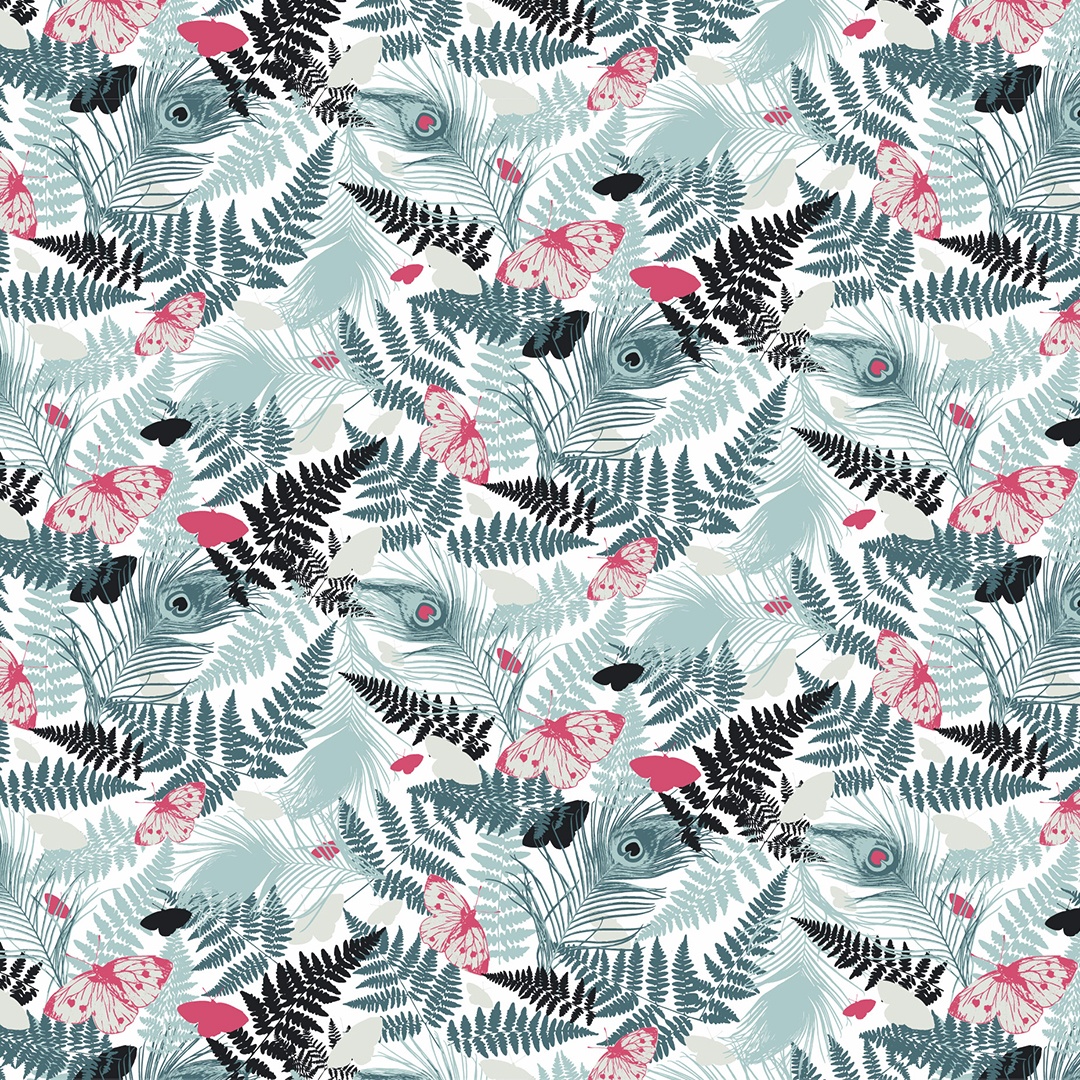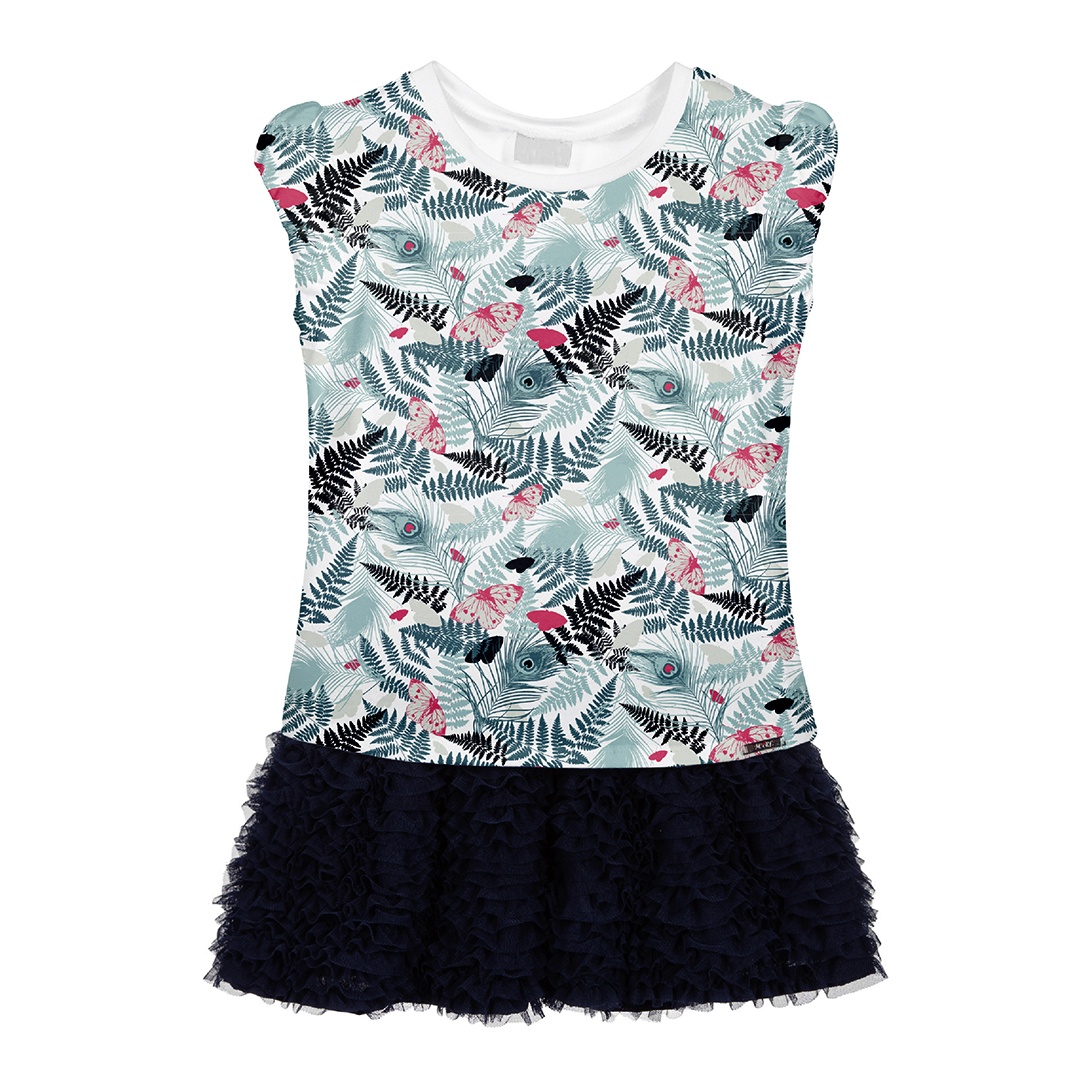 Pattern 3
This vari­ation on the "Peacock Forest" is a bold, full-print ver­sion that is built around a pro­fu­sion of forest foliage and plumage ele­ments. These ele­ments are medi­um size and arranged closely togeth­er. The pattern's green­ery is off­set and made more vibrant by bring­ing in the sec­ond­ary col­ours (pinks and cream) via the but­ter­flies. These over­lie the main ele­ments and thus appear to be 'flit­ting' across the verd­ant back­ground.
Pattern 4
By lay­ing the pat­tern over a much dark­er back­ground its mood changes entirely. Now it is more illus­trat­ive of dusk in a deep­er, wilder forest, thick with lux­uri­ant foliage, in which the pink flut­ter­ing but­ter­flies seem to act as allur­ing guides and draw the eye in. Here I've visu­al­ised the pat­tern in an enlarged size and dis­played it on an autum­nal jack­et.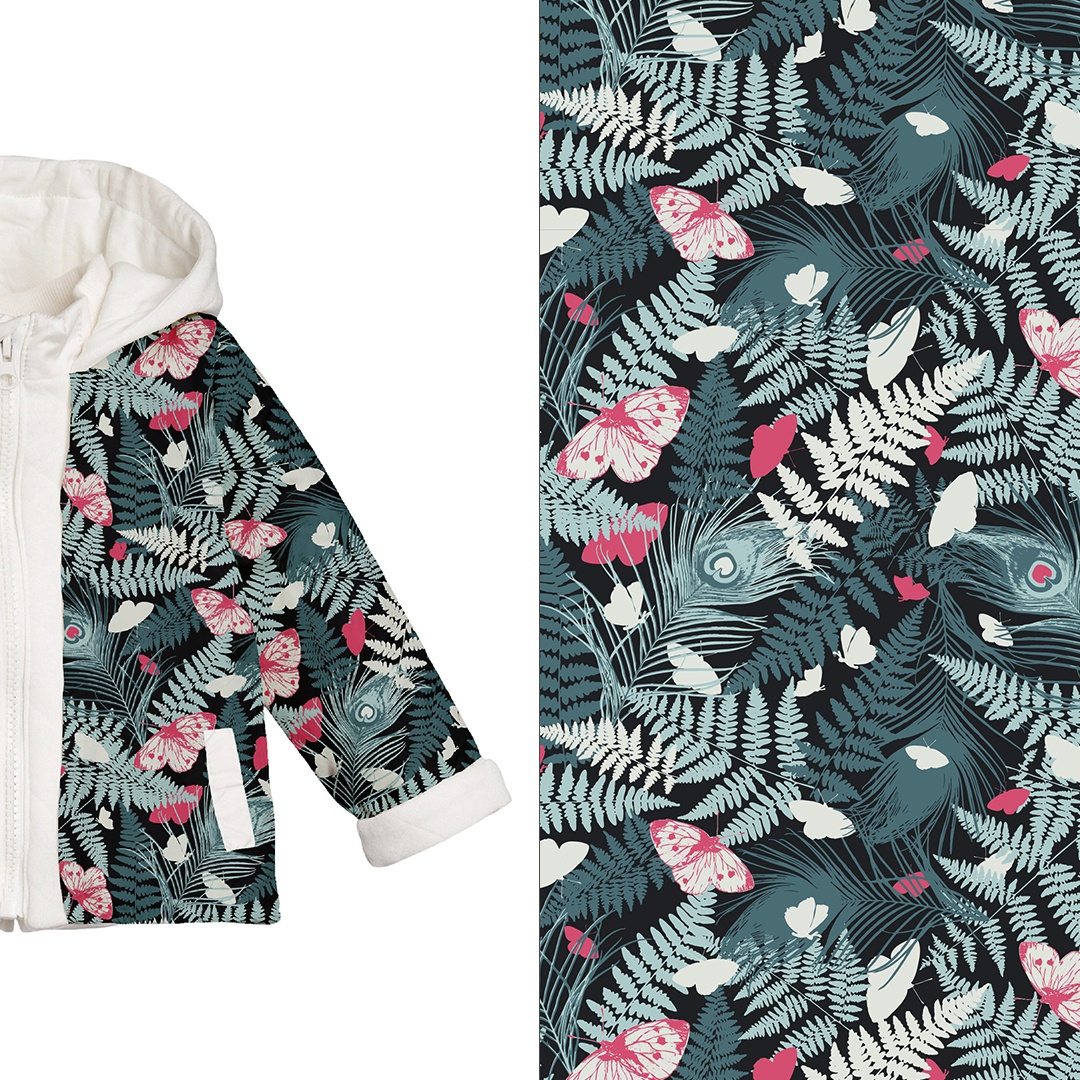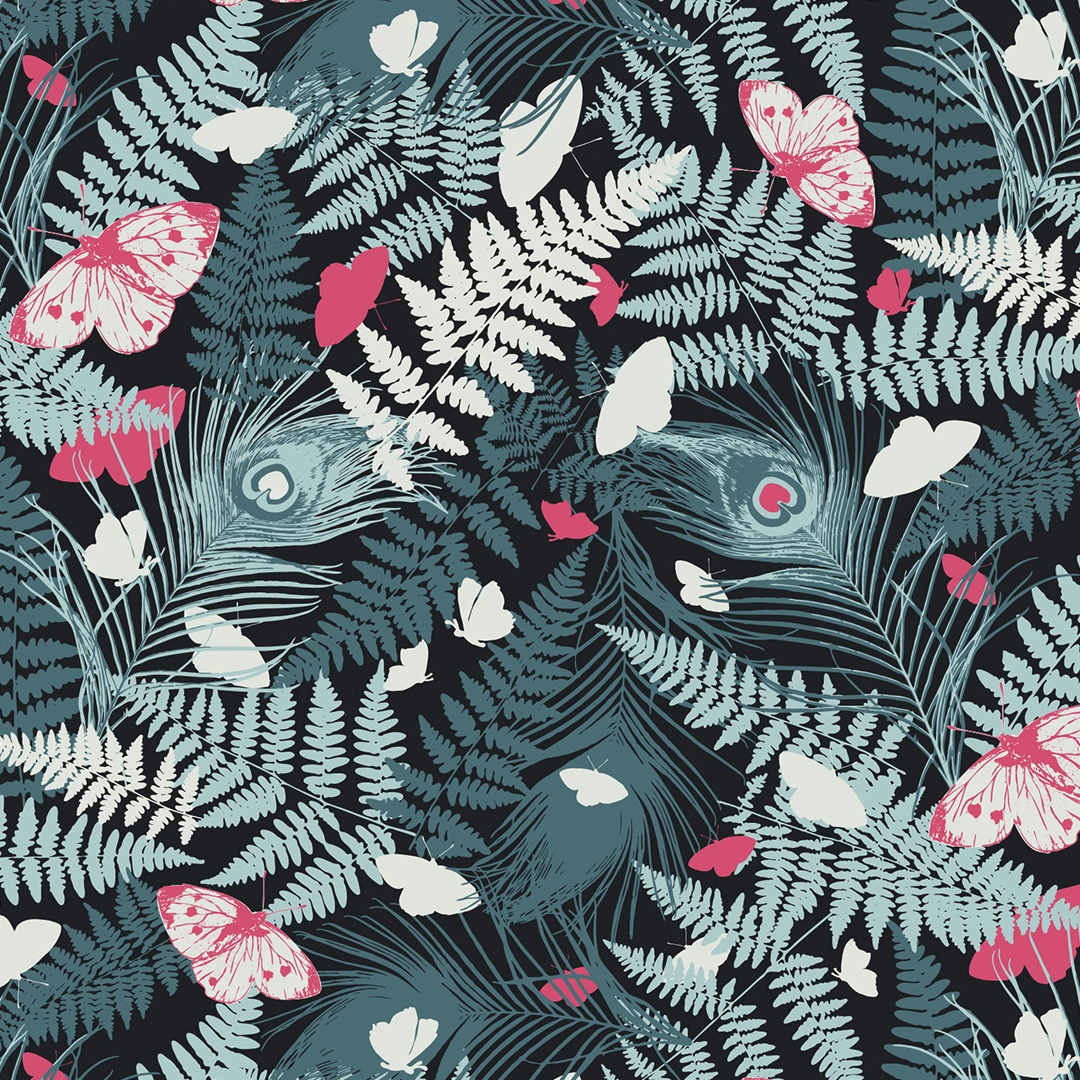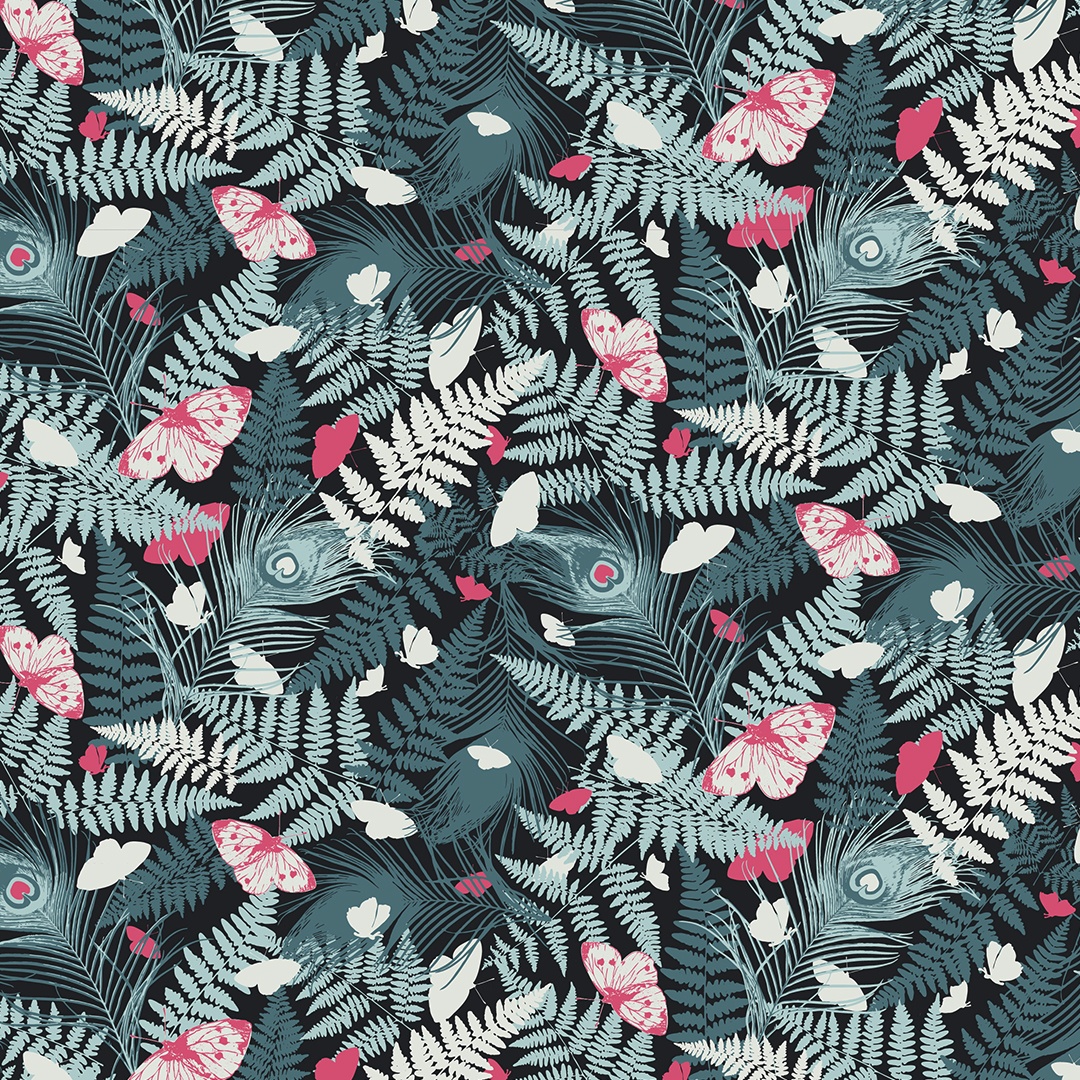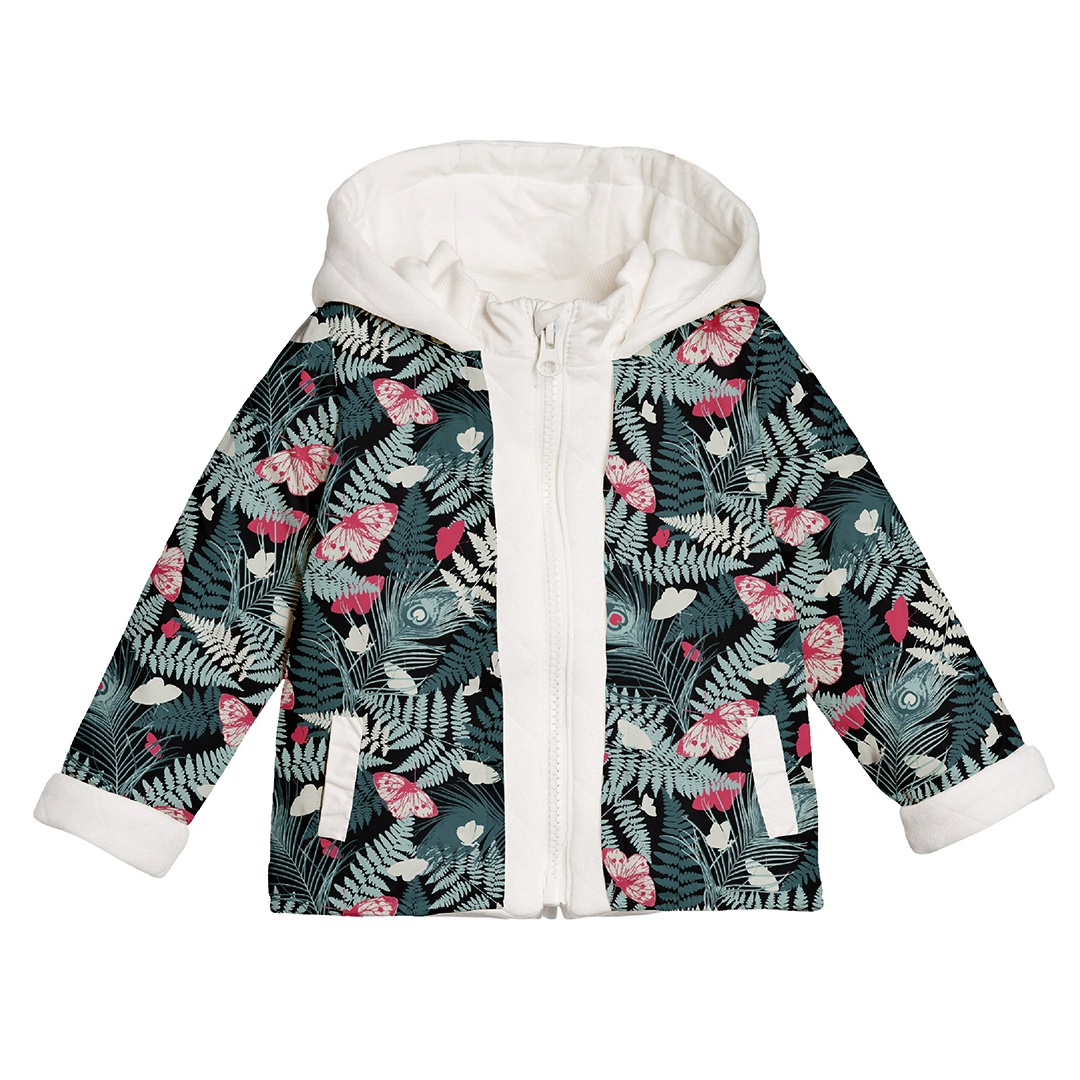 This pat­tern was inspired by an idyll­ic, ‹story­book-like› wood­land set­ting, in which the forest's trees and bushes are full of vari­ous wild inhab­it­ants. Due to this design being aimed at the new­born and baby age-groups it delib­er­ately util­ised sil­hou­ette, paper-cut-like ele­ments that are evoc­at­ive of the illus­tra­tions seen in tra­di­tion­al fables. I also opted for flat, sim­pli­fied draw­ings and kept the col­our palette quite plain : stick­ing to a set of neut­rals matched with blend­ing mono­chro­mat­ic yel­lows. Please feel free to browse through this selec­tion of some of the col­our and arrange­ment altern­at­ives.
Pattern 1 has the ele­ments arranged into reg­u­lar clusters, with plenty of space around each one. This made the design feel light­er and more del­ic­ate.
Pattern 2 is set against a rich, dark-yel­low back­ground. The sil­hou­ettes are posi­tioned along a more lin­ear nar­rat­ive, are lar­ger in size, but blend into the set­ting more.
Pattern 3 is a full-print, smal­ler-size pat­tern that focuses on the anim­als. They are high­lighted in a shade of deep-yel­low. They speckle the plain, white back­ground and the pat­tern is roun­ded-out with fur­ther com­pli­ment­ary arboreal ele­ments.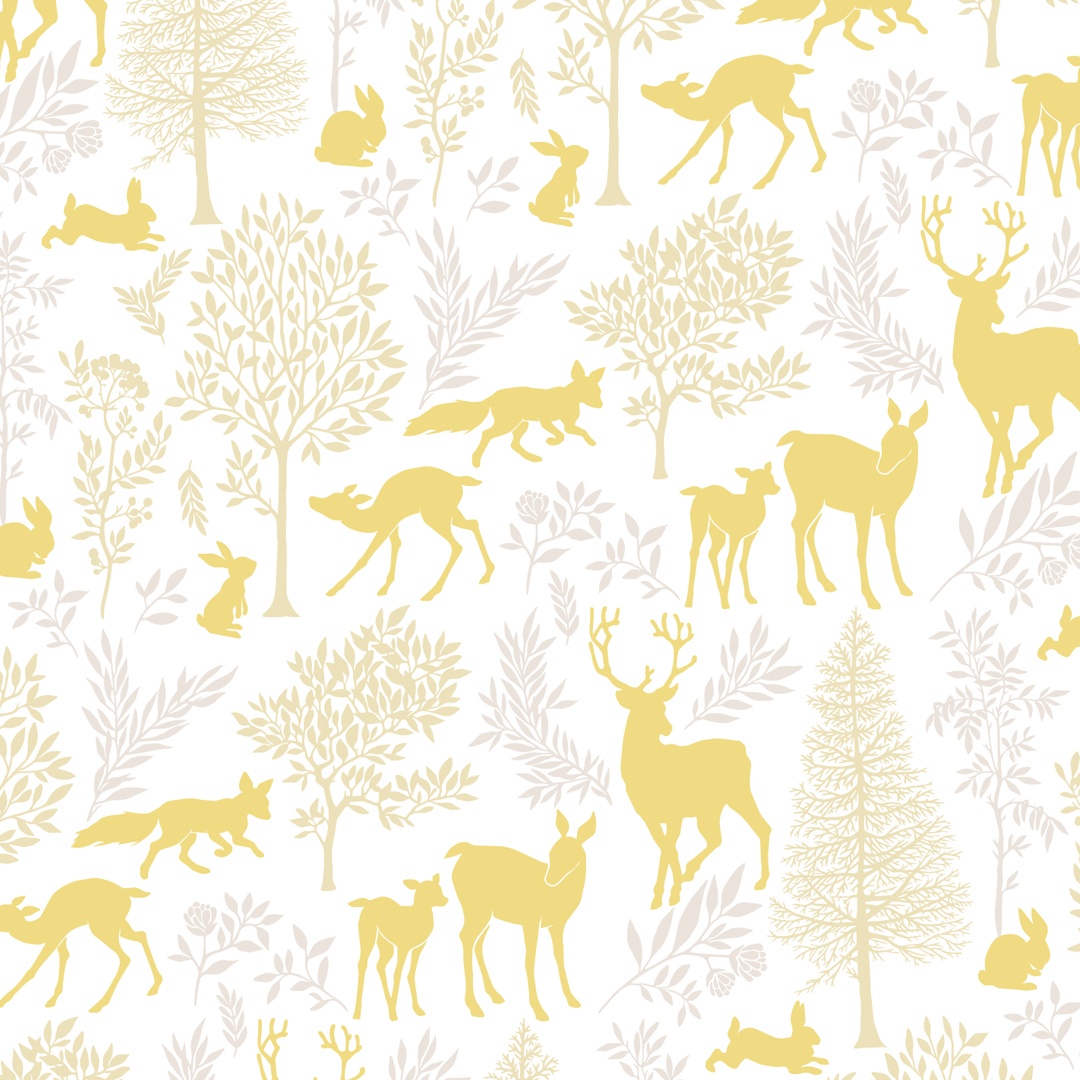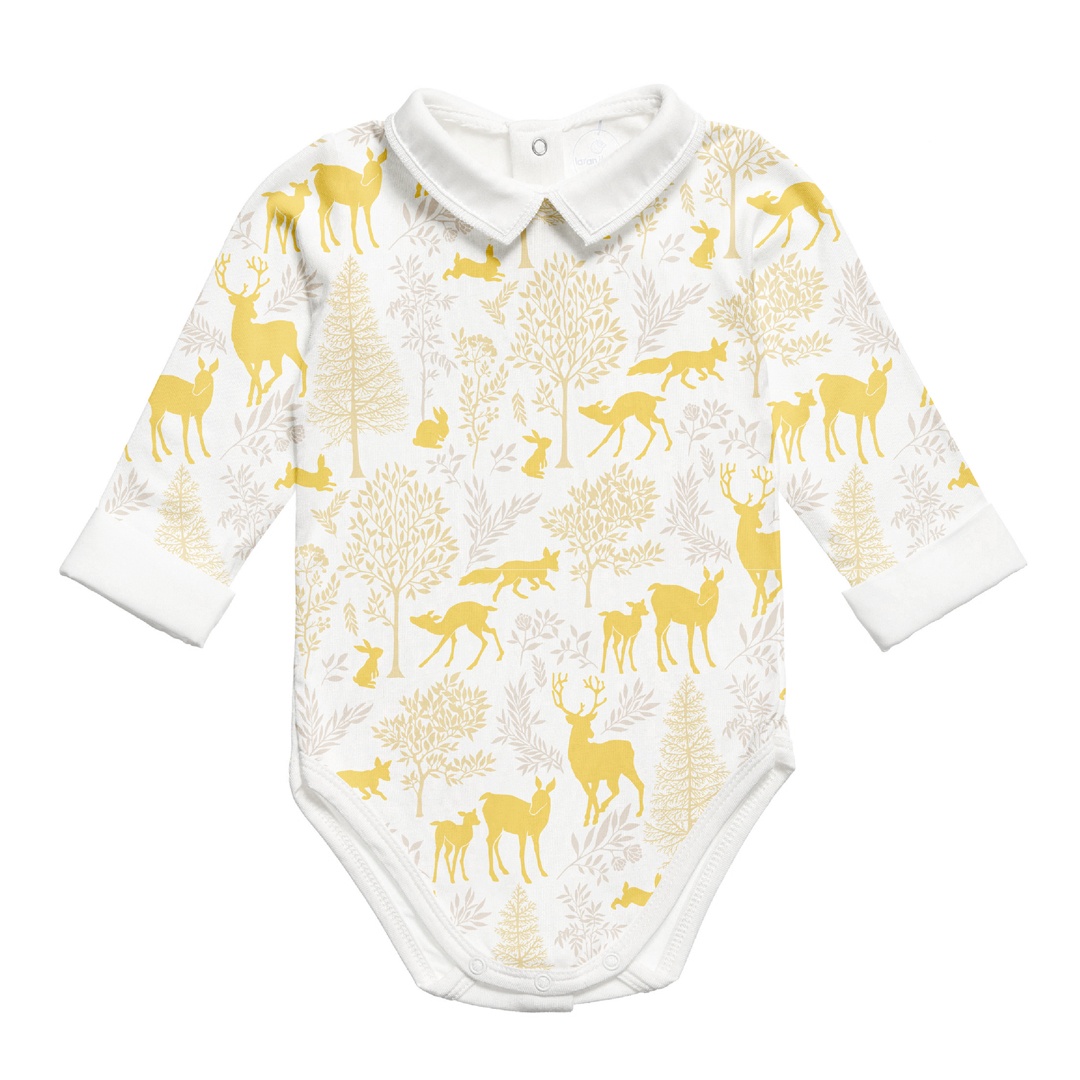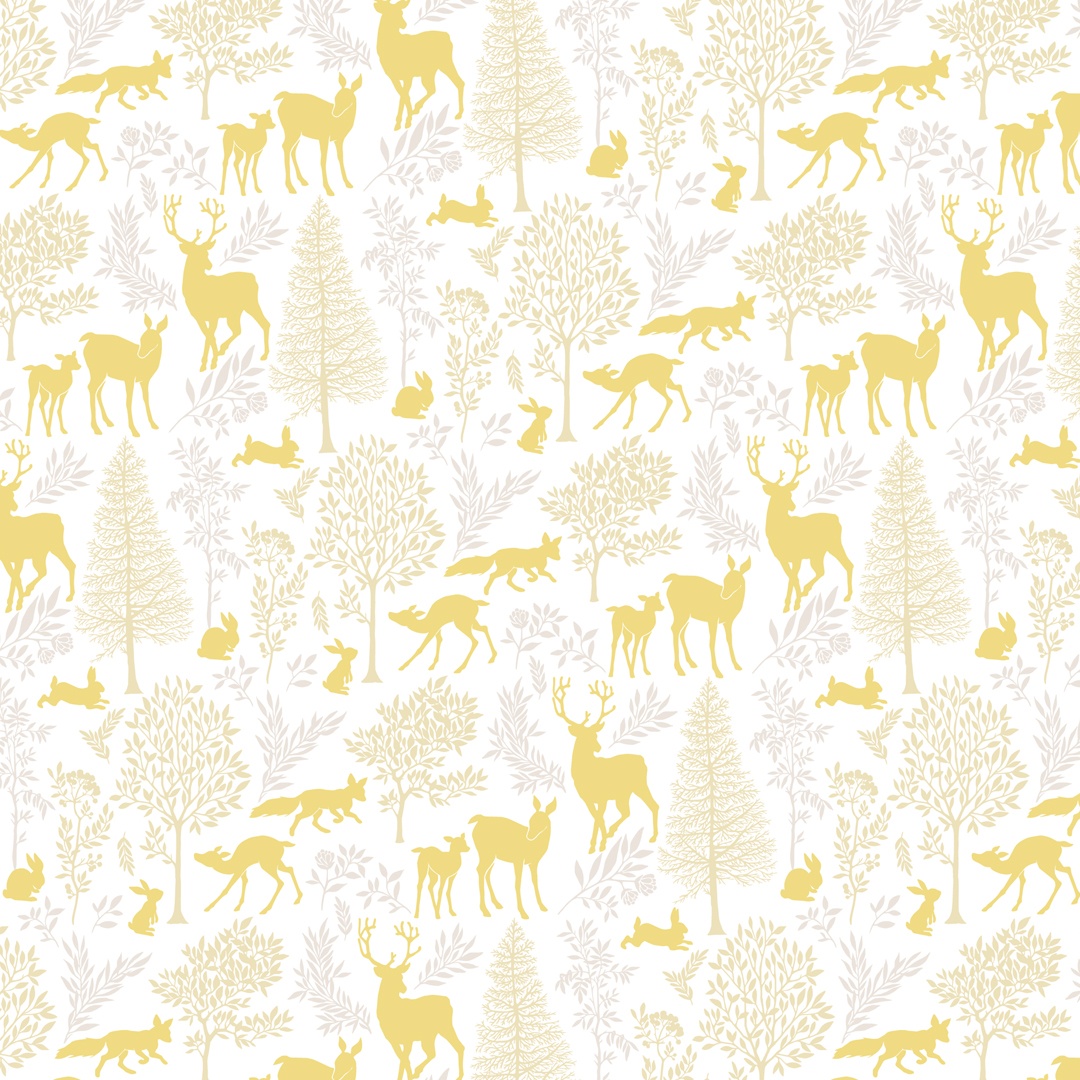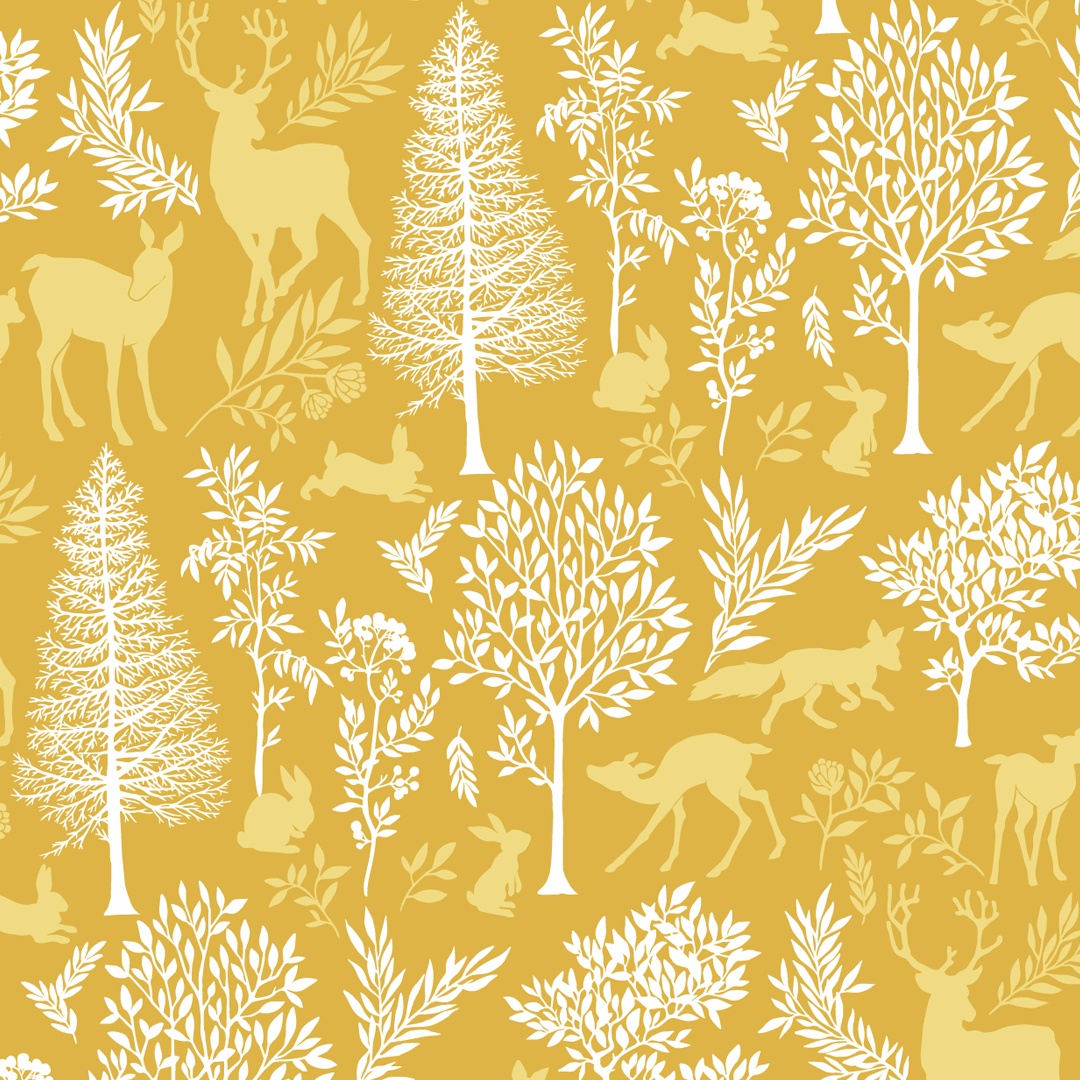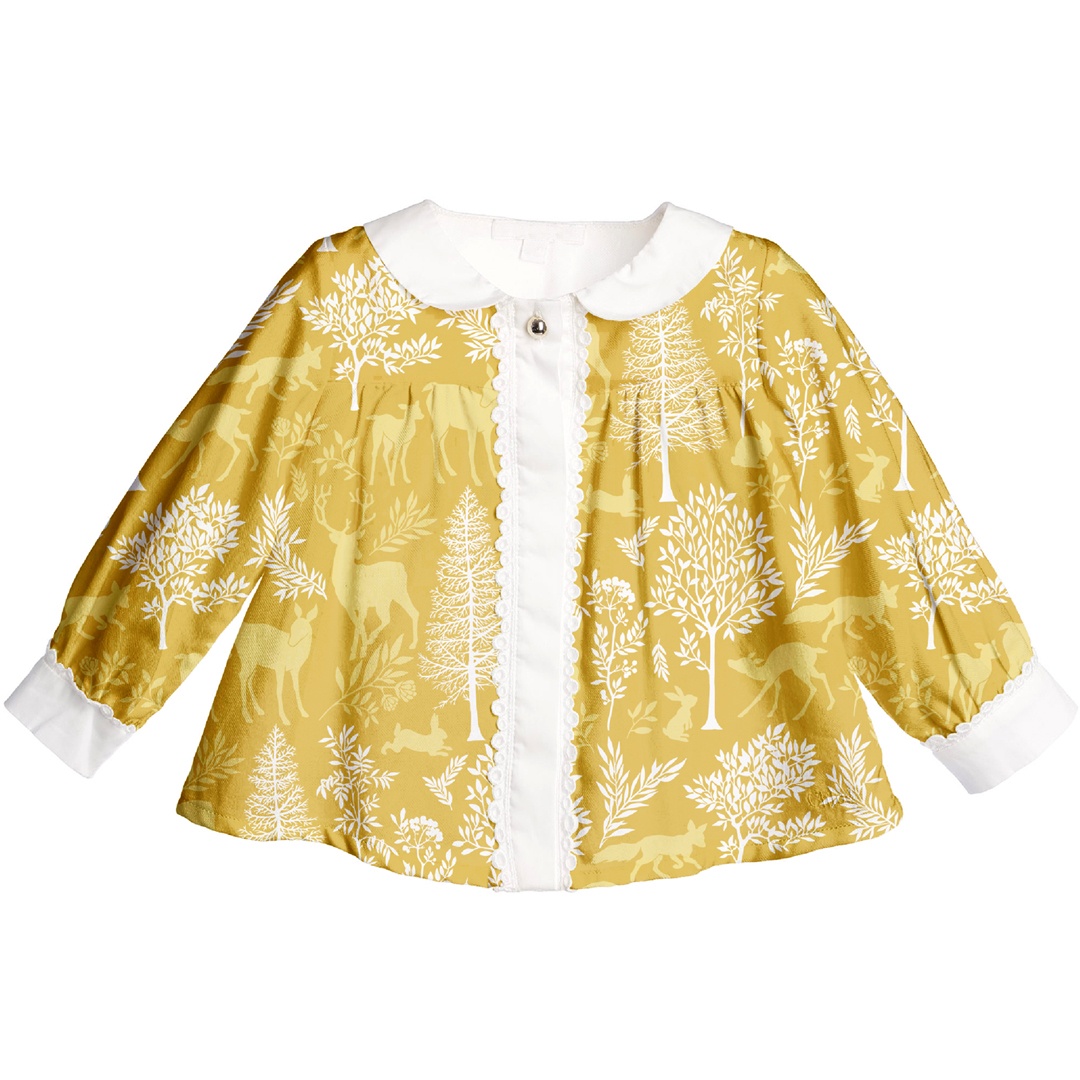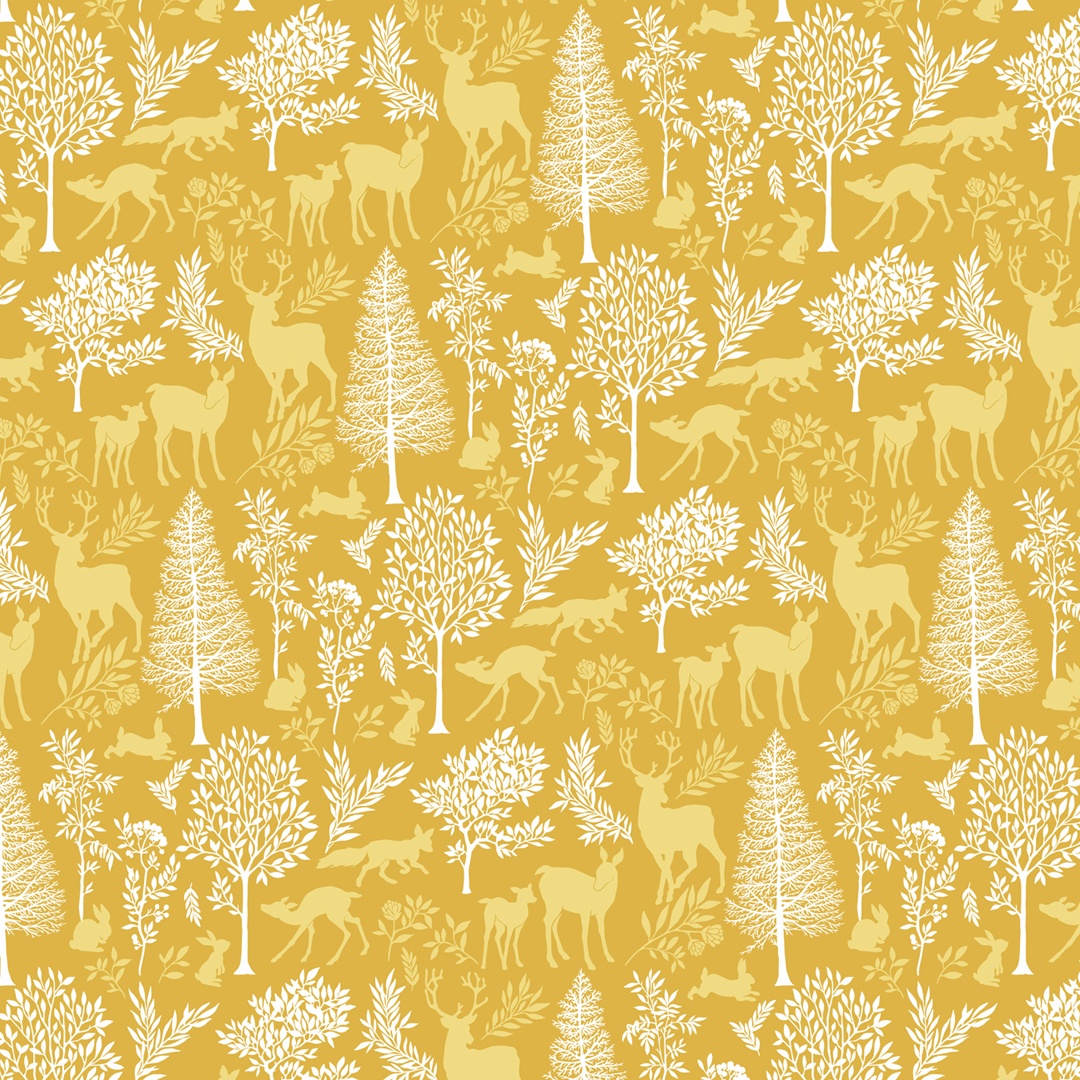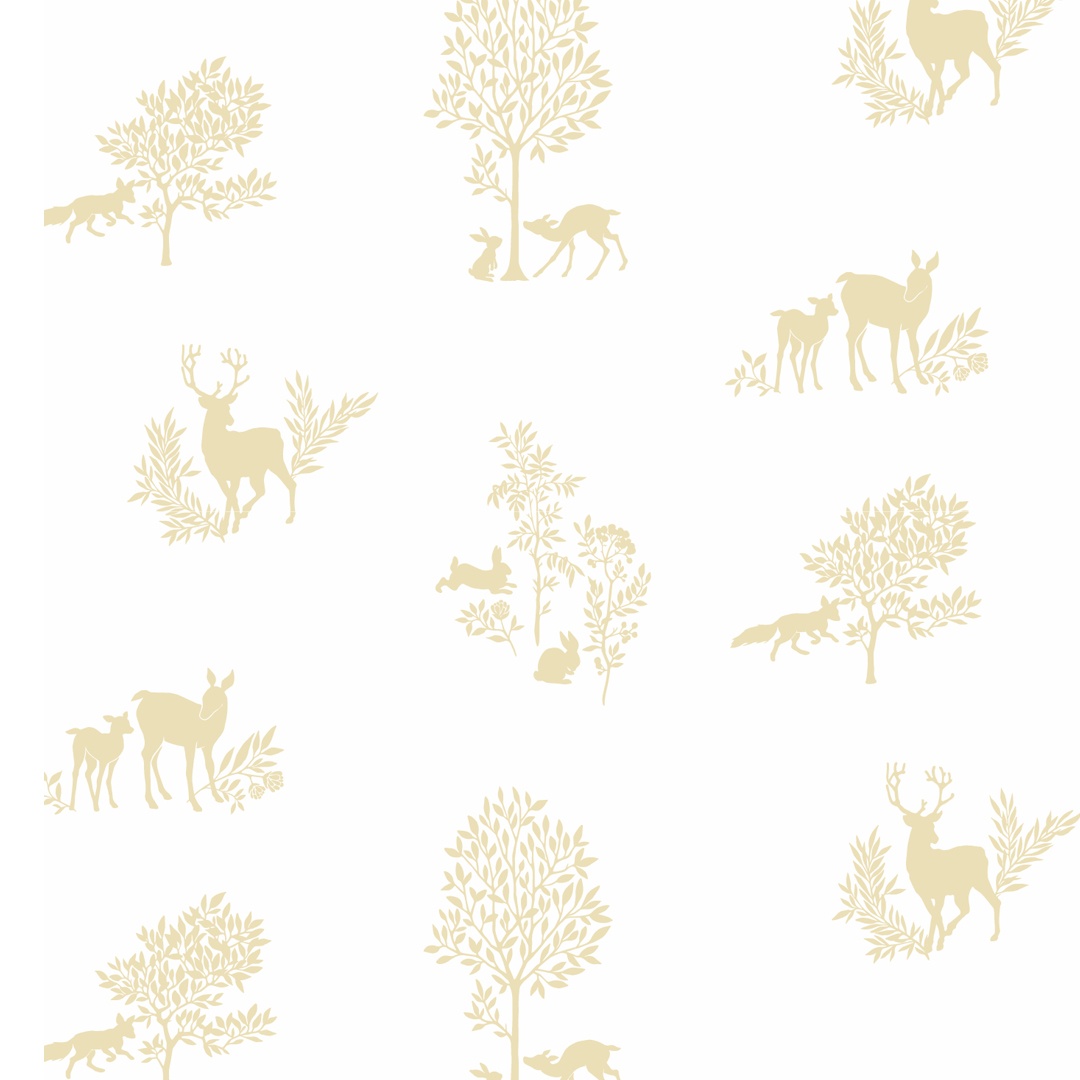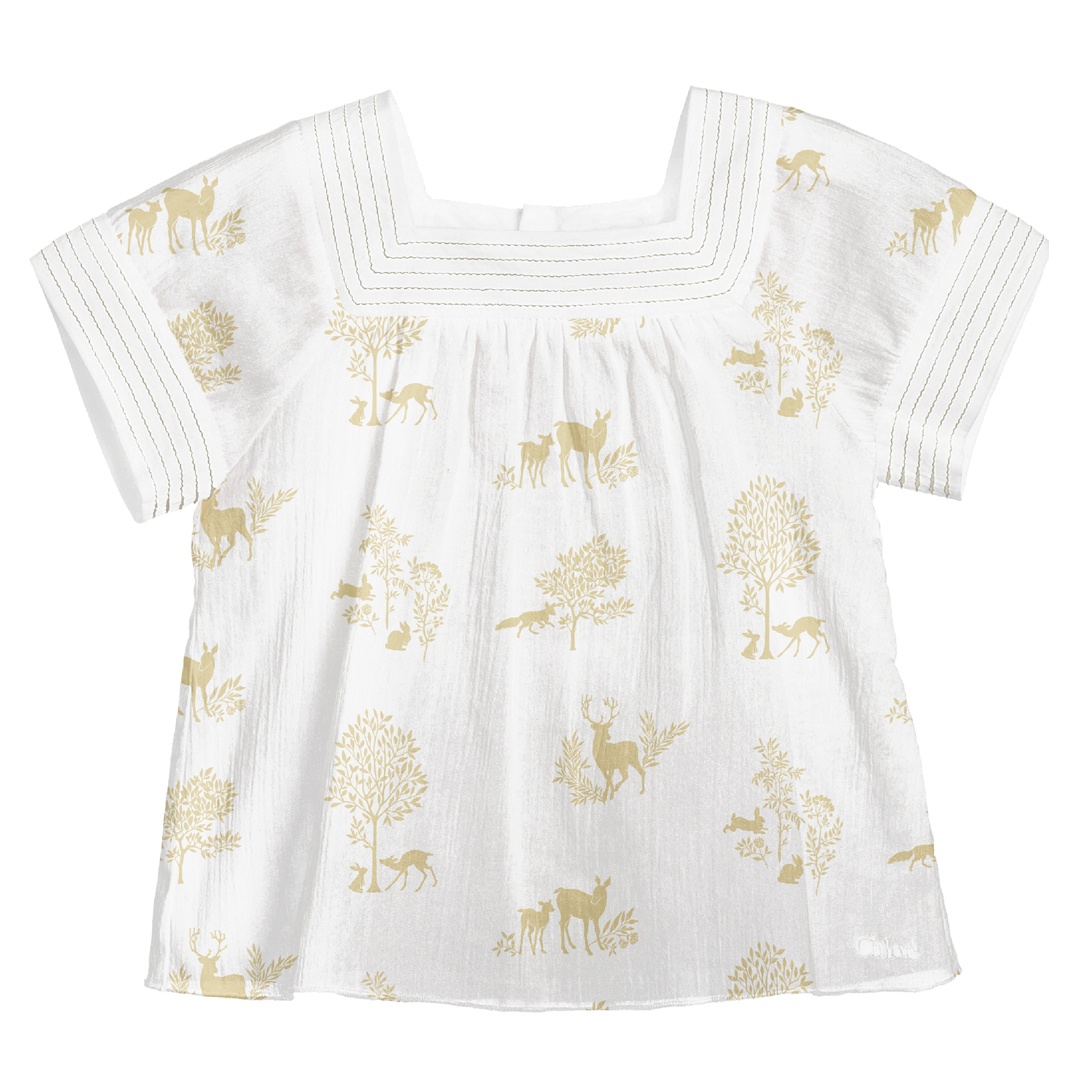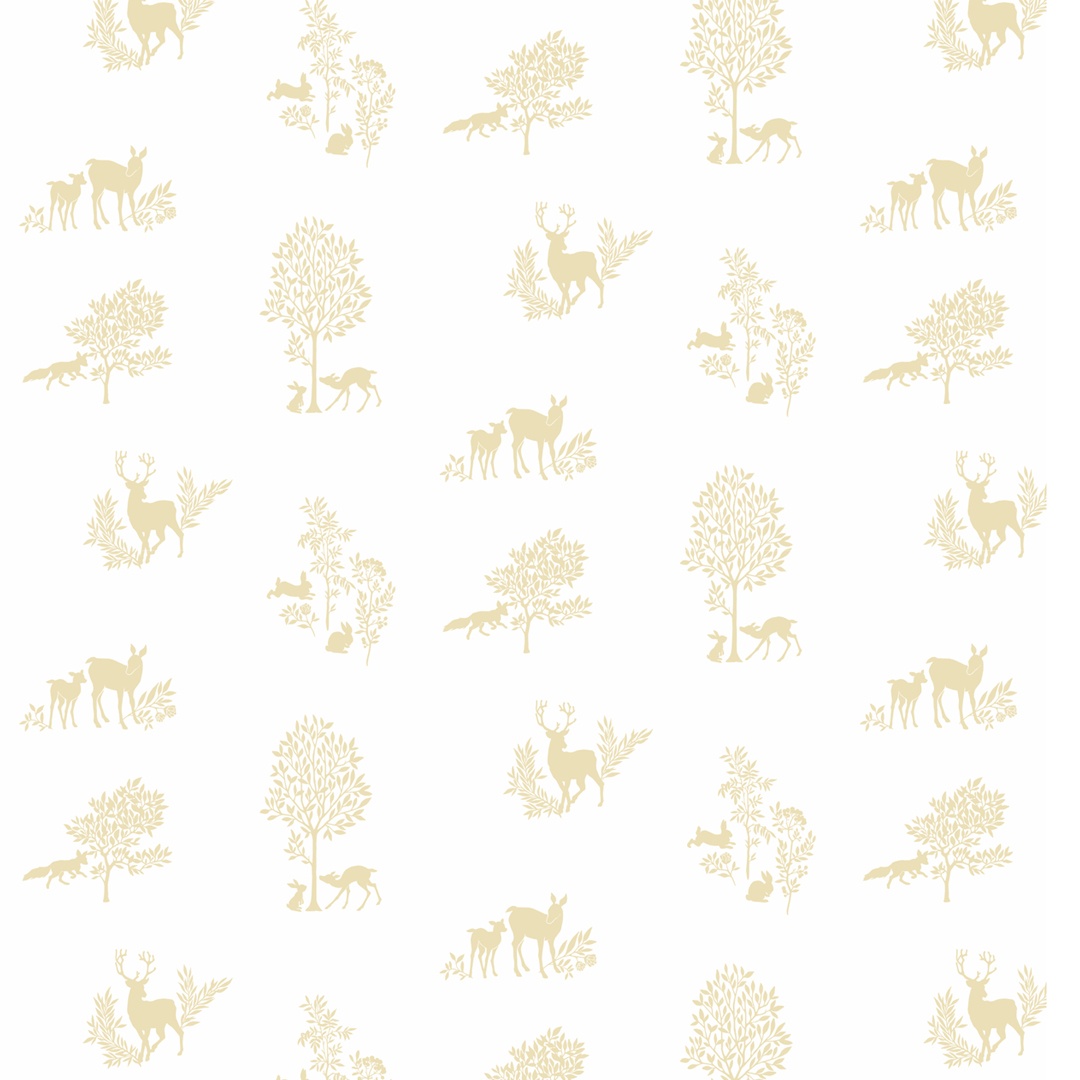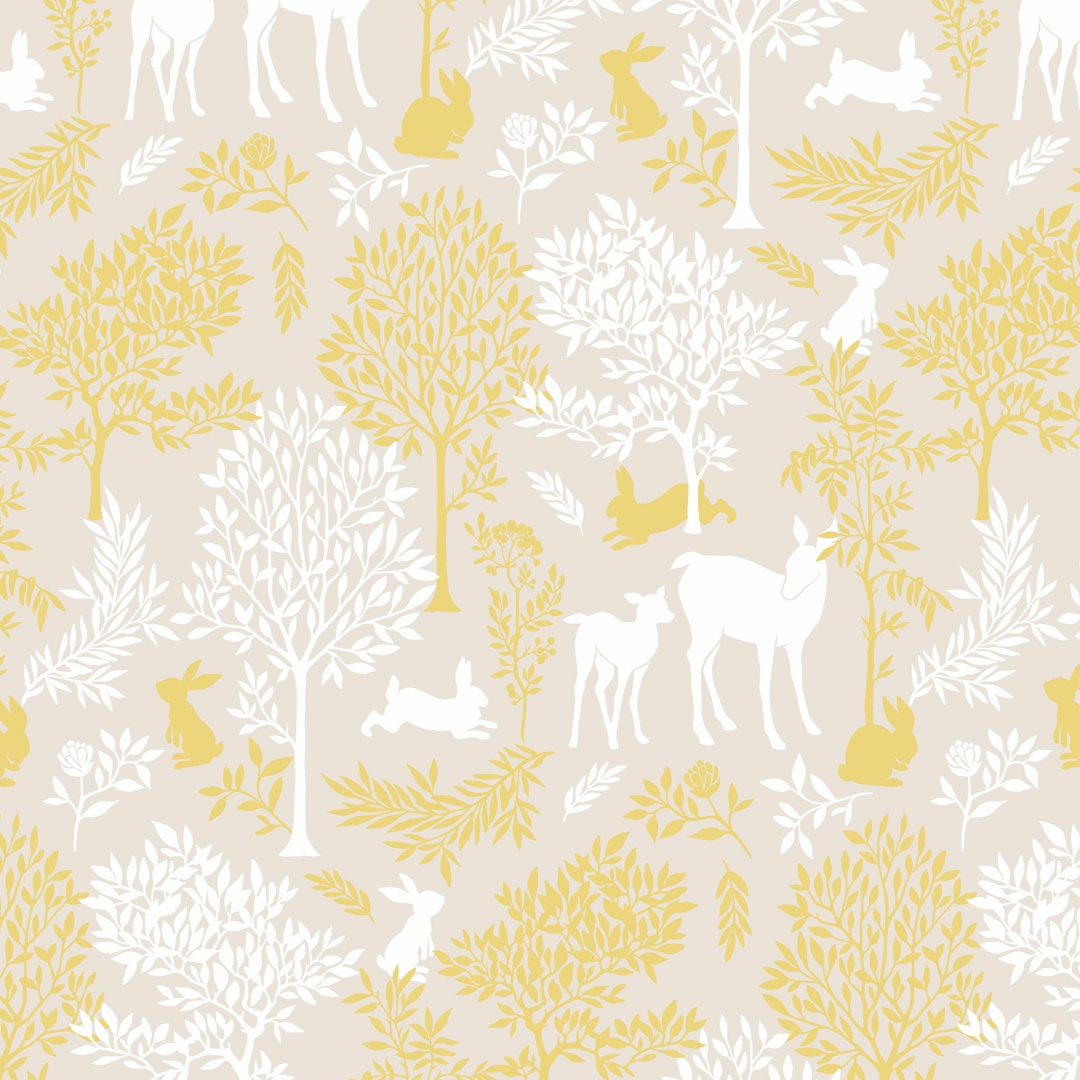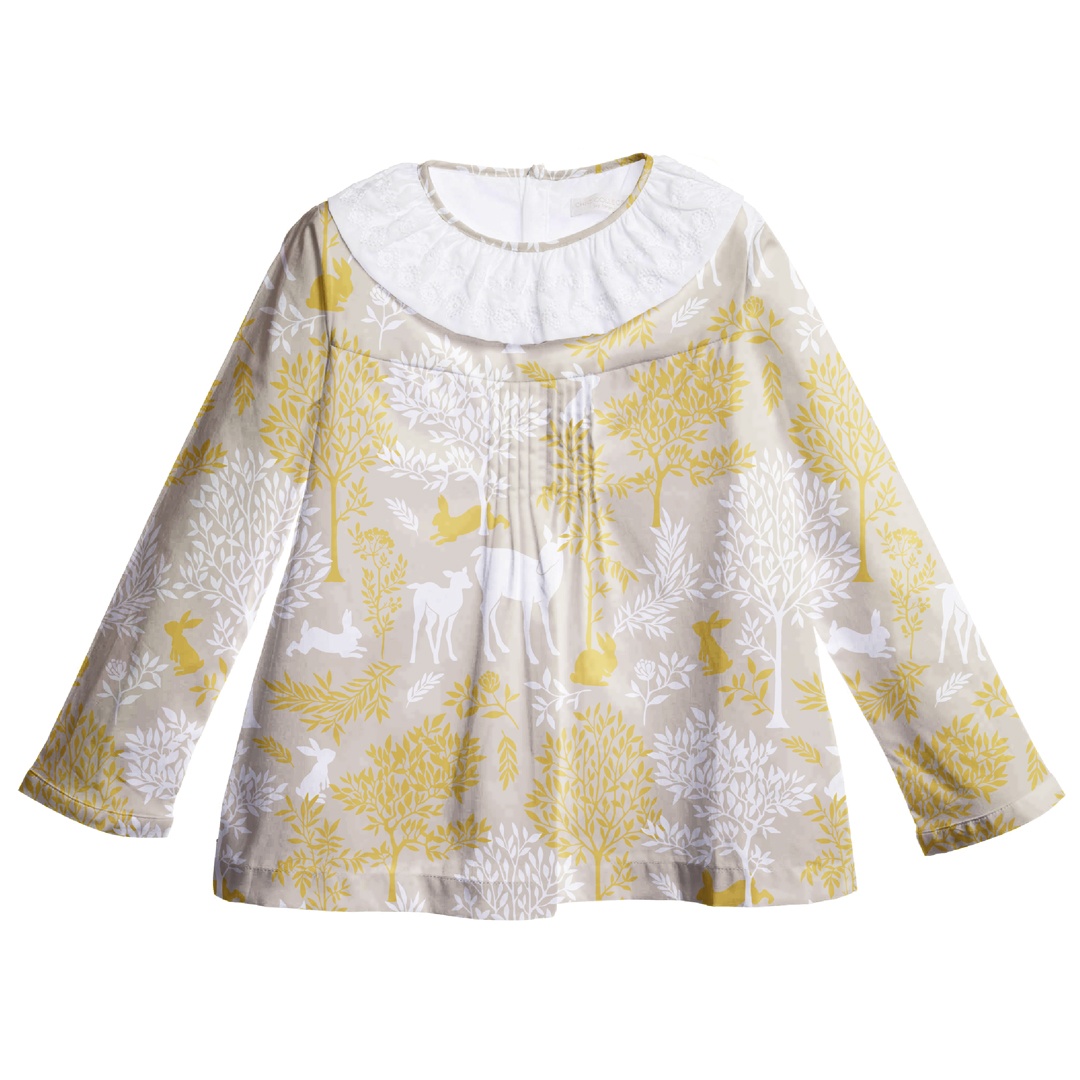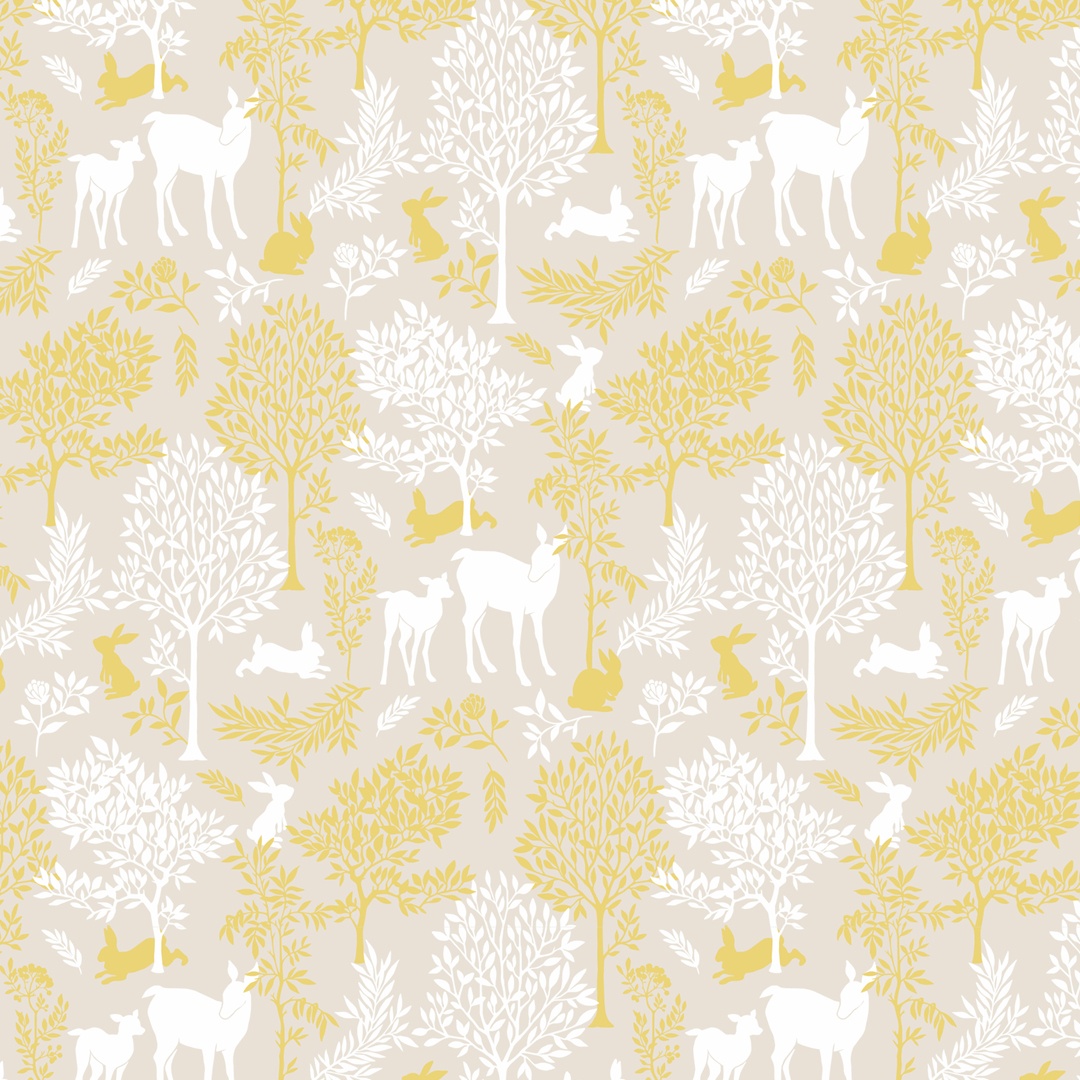 Printed Product
Here's the final, selec­ted, ver­sion of the « Woodland Scene » pat­tern prin­ted on the client's product ; in this case a hooded gilet. This body warm­er was included in their Kids Autumn-Winter col­lec­tion and was aimed at the 18 – 36 months age-group.
These images are provided cour­tesy of the cli­ent and are used for port­fo­lio pur­poses only.