A watchful rabbit finds shelter in a thicket of a berried shrub. It has made its burrow in a pocket of stillness amongst the teeming woodland.
Motionless, it delights in an unruffled respite from the outside hustle and bustle. Yet, it continues to listen in to any suspicious sounding noises, since the dusk is drawing in.
This pro­ject was a part of my ongo­ing col­lab­or­a­tion with Kidspattern. If you'd like to learn more about them please vis­it their web­site HERE. Alternatively, view the archive of our pre­vi­ous pro­jects HERE, in which I dis­cuss in detail the his­tory and nature of our work.
All cloth­ing-mockups presen­ted here are provided cour­tesy of Kidspattern and are used for visu­al­isa­tion pur­poses only.
This series is a briefed com­mis­sion for the client's Autumn-Winter Collection, for chil­dren aged up to 36 months old. The sep­ar­a­tion between boys and girls is dis­cern­ible by the affixed col­our palette, both com­posed by trend and col­our spe­cial­ist Kidspattern.
The boys' palette is a selec­tion of greys, jux­ta­posed with two tones of yel­low and mus­tard. Meanwhile, the palette for girls is based on the tints of tan, along­side a com­fort­ing cream. These were matched with a maroon and con­tras­ted with a deep, rich crimson.
Both palettes are made up from undi­luted rich shades apt for an Autumn-Winter Season.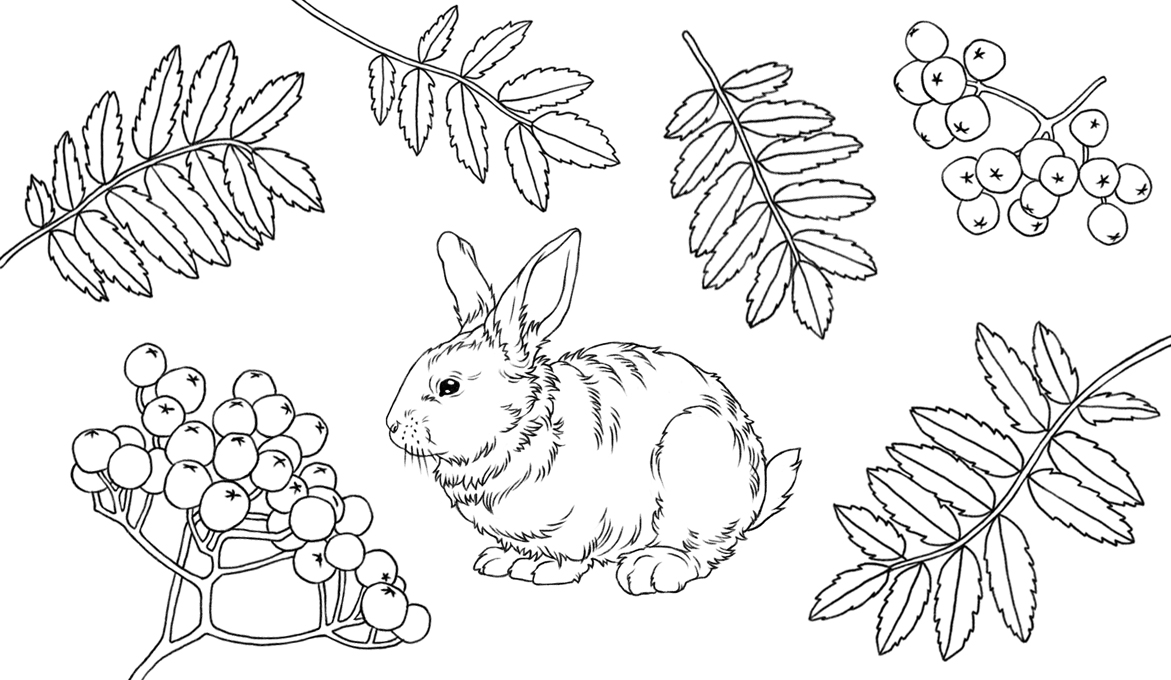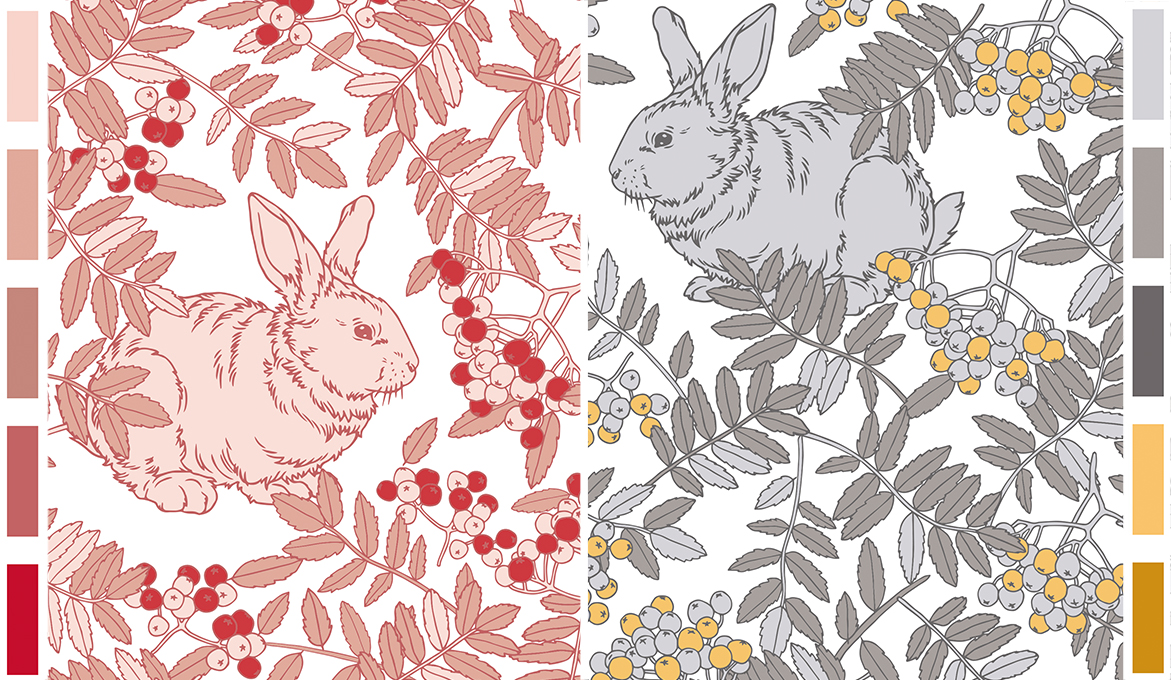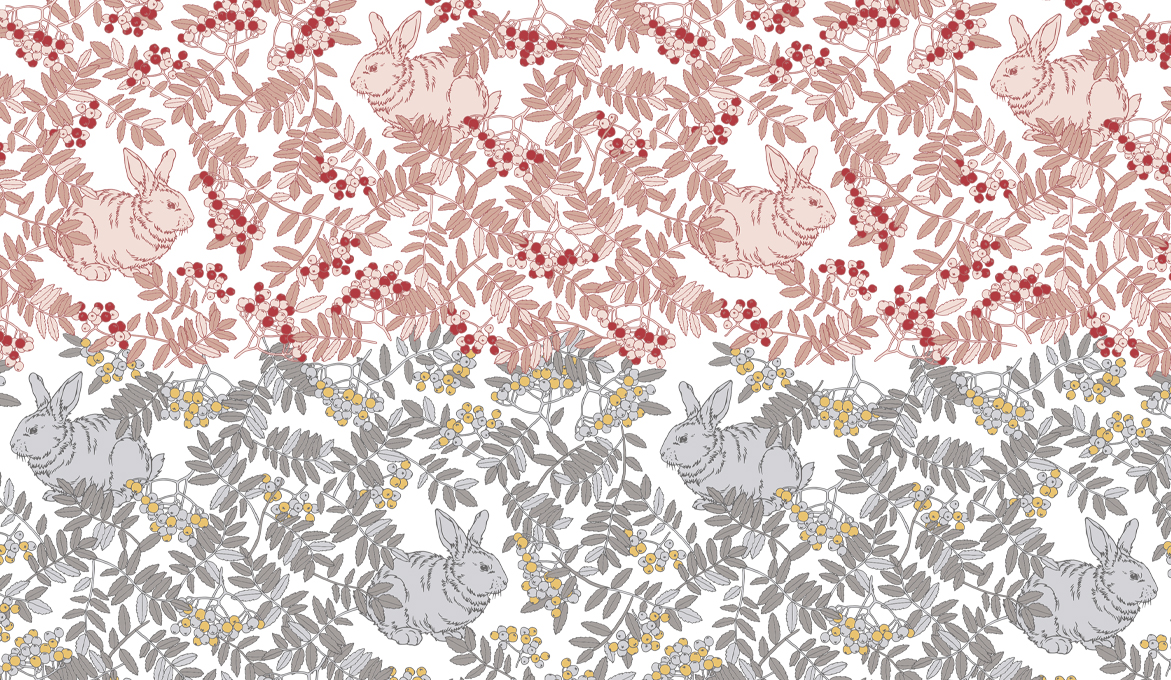 The ele­ments for this series were chosen based on a wood­land theme fit for Autumn. Berries are a sym­bol of har­vest — espe­cially Rowan ber­ries, which ripen into yel­low and red col­ours in tune with the respect­ive col­our palettes. Additionally, a rab­bit was intro­duced to act as a lively point of focus to help to break up the wall of leaves.
Swipe right to go through the stages of the devel­op­ment, from the ini­tial raw out­line hand draw­ing — which was later traced and filled in with flat col­our — to the fin­ished final mod­ule in both col­our schemes.
Separate ele­ments were later cre­ated to allow for flex­ible pat­tern arrange­ment, which had to be uni­ver­sal and uni­sex to be suit­able for both the male and female patterns.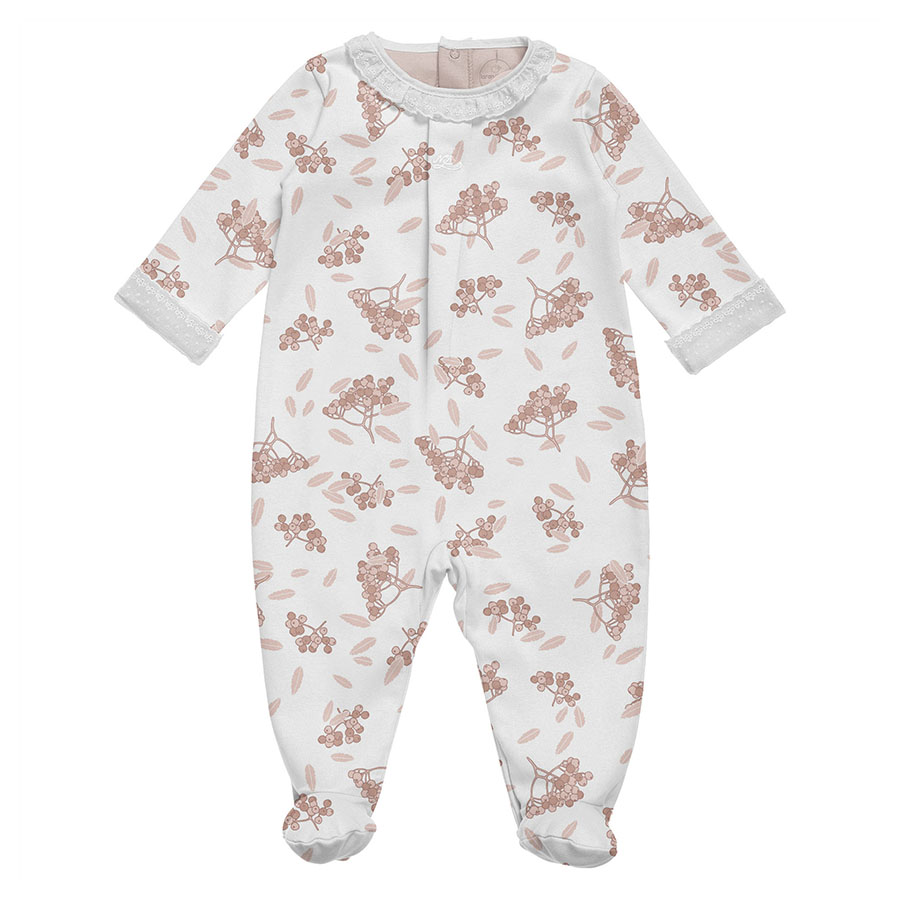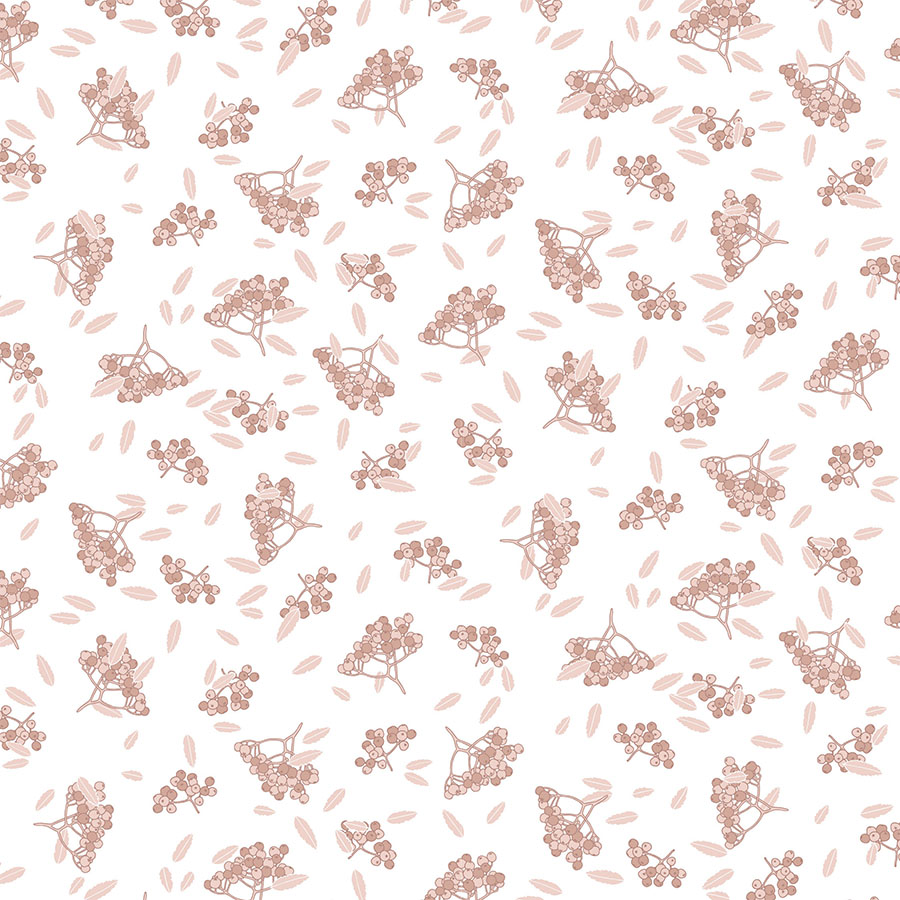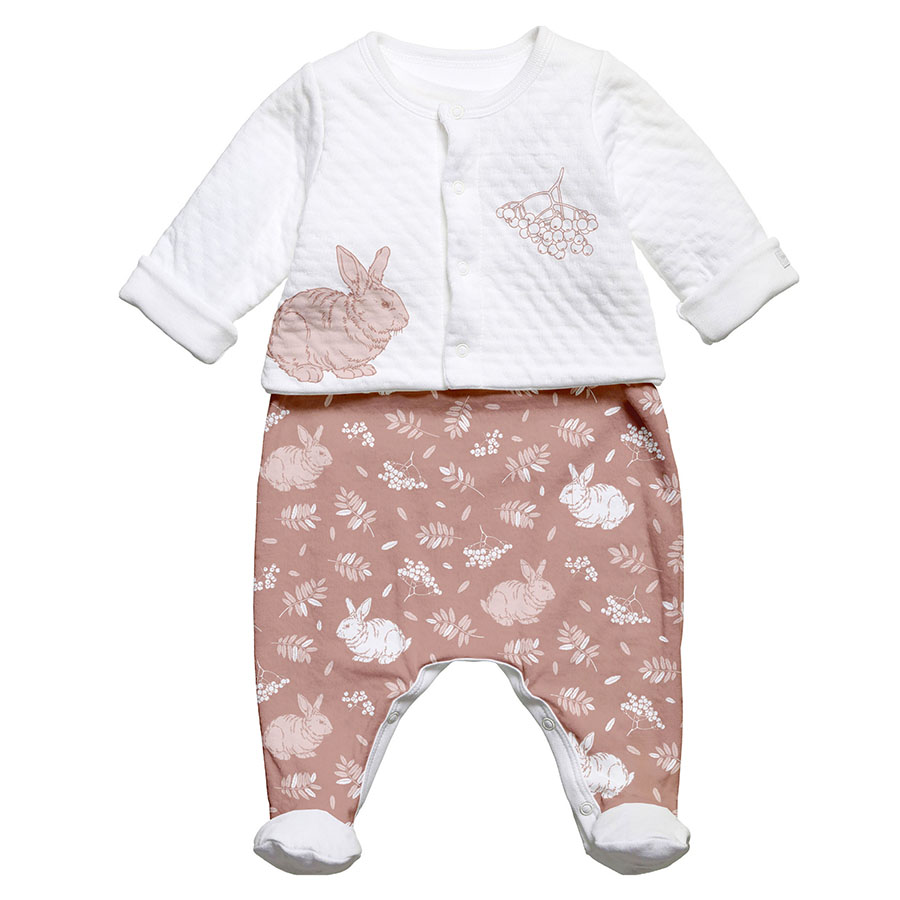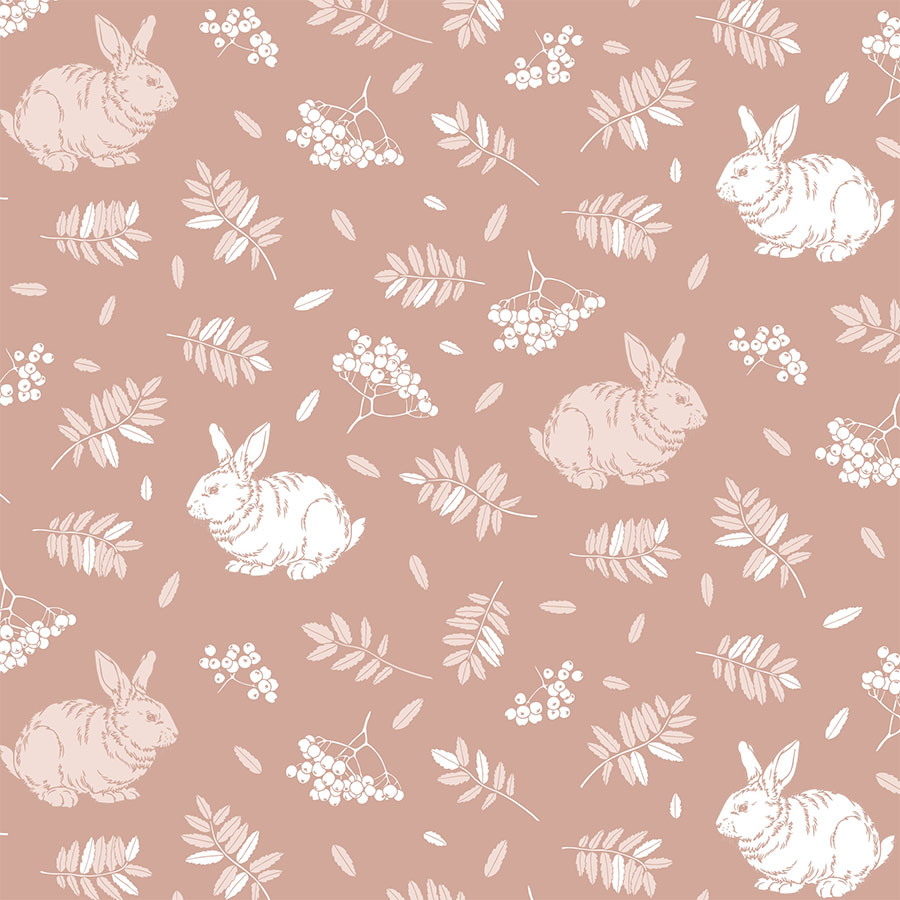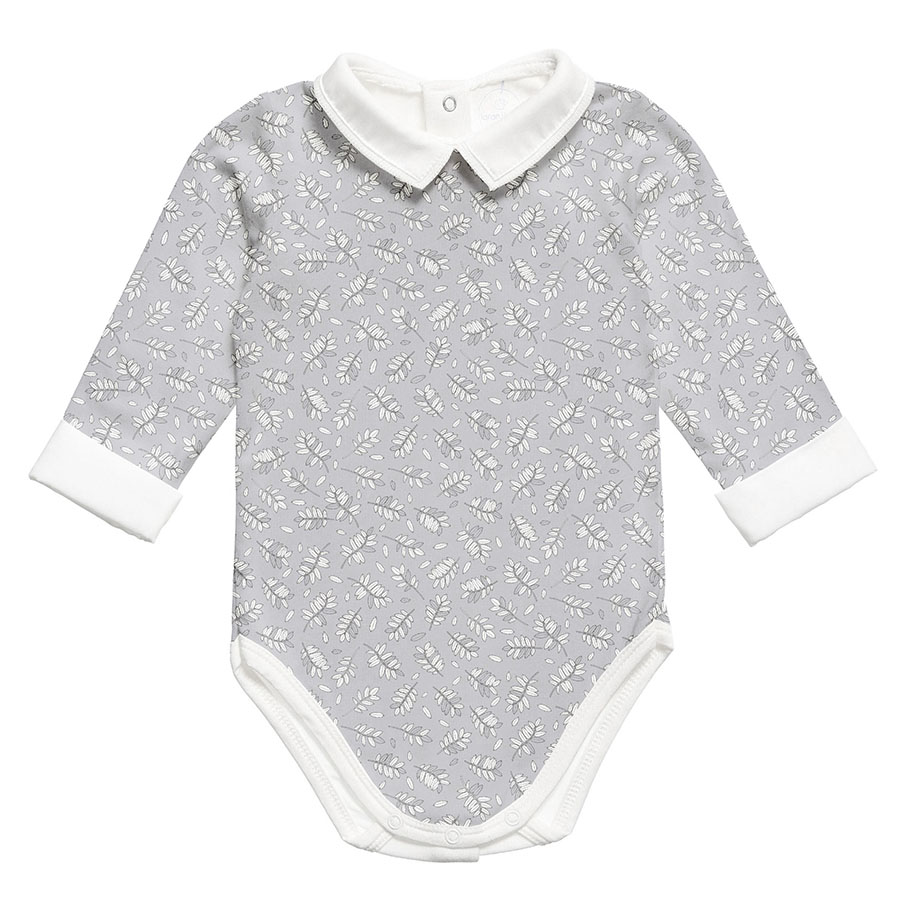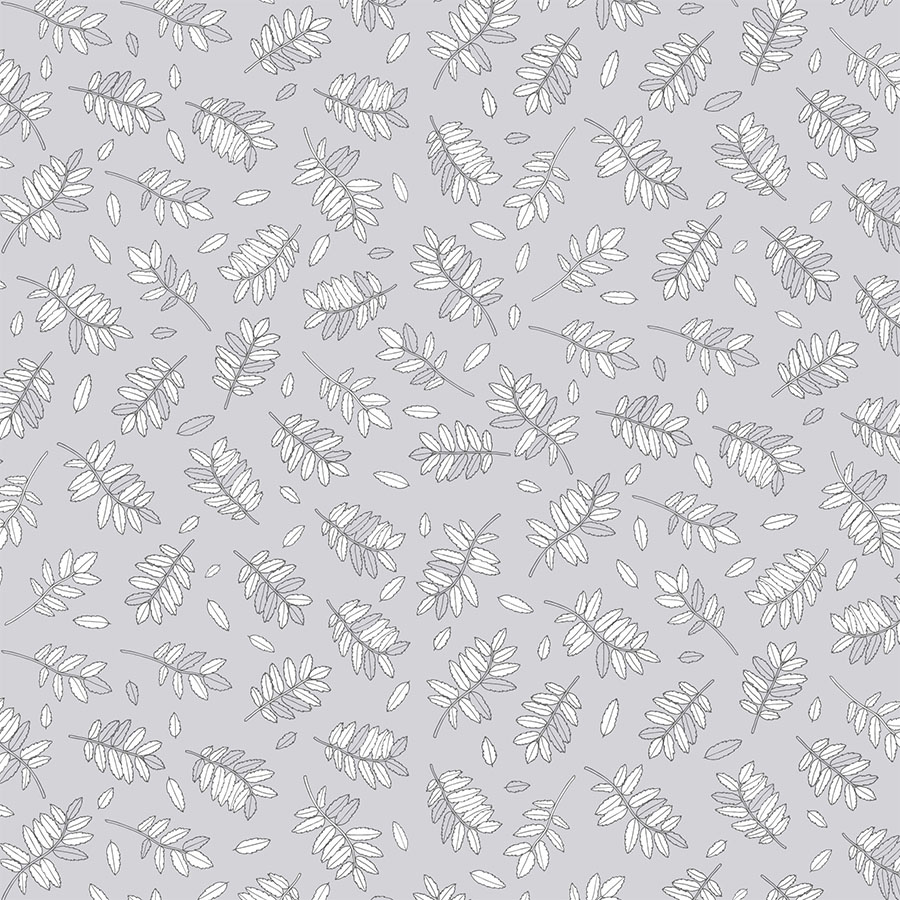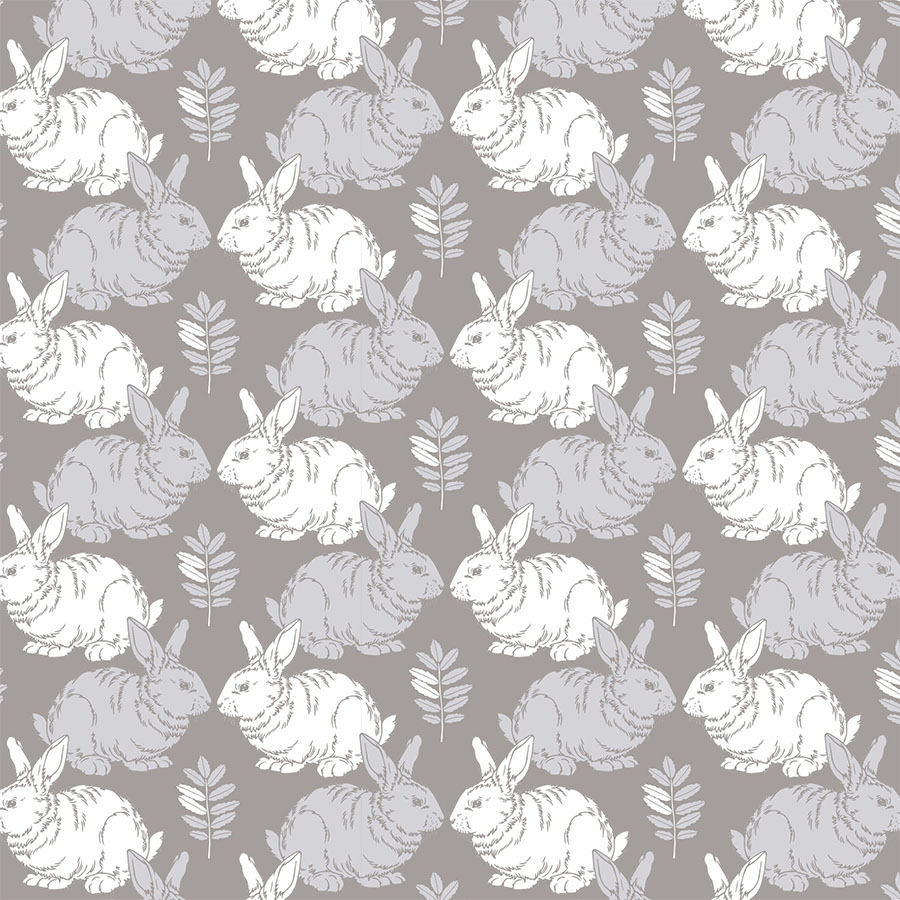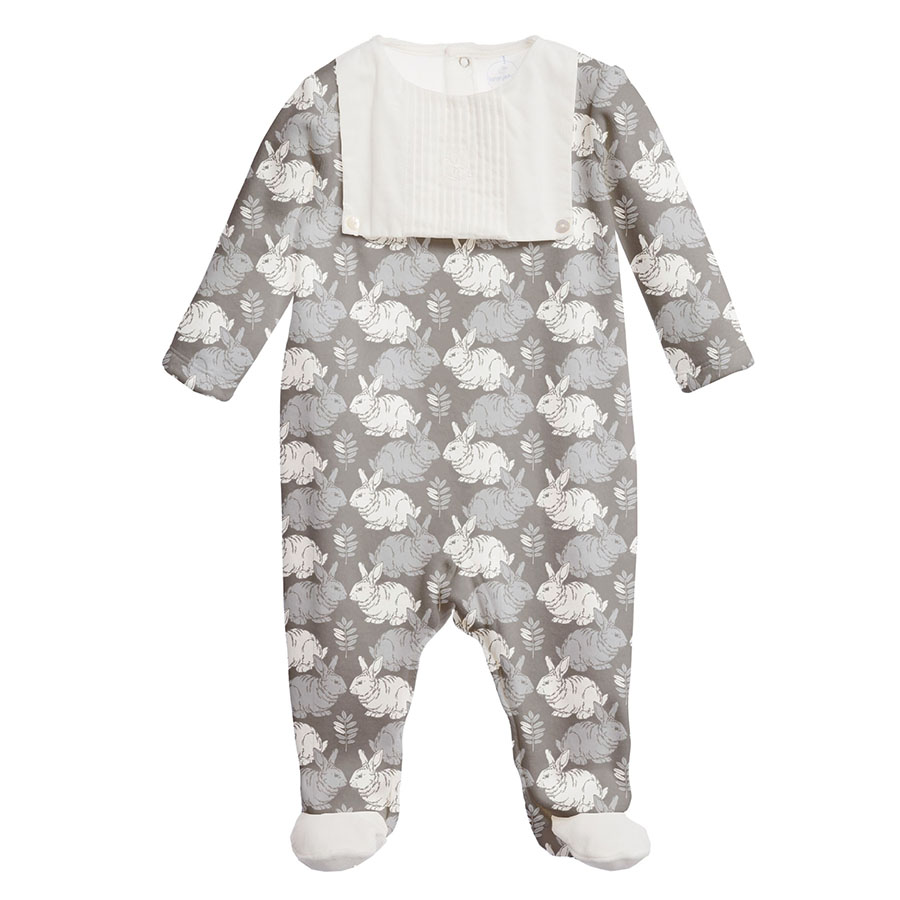 Here are some of the sim­pli­fied options cre­ated as com­pli­ment­ary designs, in keep­ing with a con­sist­ent, over­all theme run­ning across all the age groups.
First, the col­our­ing has been pared back, focus­ing on the more neut­ral and muted side of the palette, whilst the spa­cing between ele­ments is even and reg­u­lar and has been visu­al­ised in a lar­ger size. Additionally, some of the ele­ments have been pulled out from the pat­tern and used as a stan­dalone place­ment illustrations.
The design for boys uses only the row­an leaves, whilst a cor­res­pond­ing design ded­ic­ated to girls fea­tures just the ber­ries amongst small single, scattered leaves.
Below you may also view an idea for a pat­tern, which pays atten­tion solely to the illus­tra­tion of the rab­bit. Its mod­ern, over­size approach is par­tic­u­larly suited for baby accessor­ies such as a swaddle wrap blanket.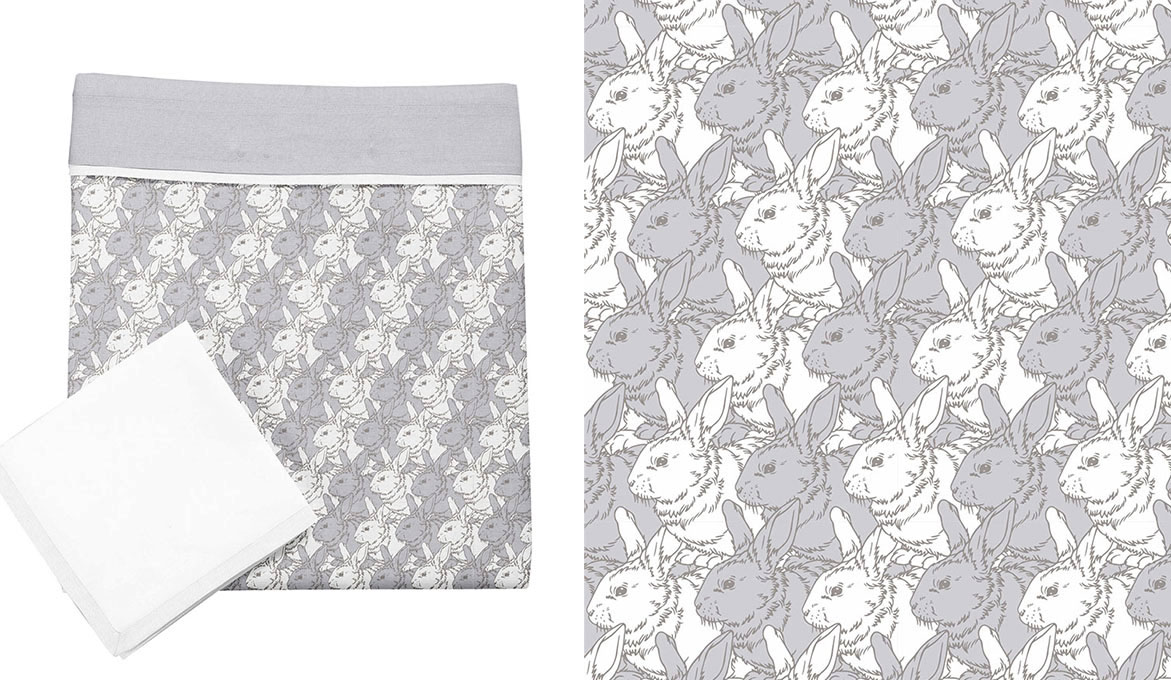 Full Print
Here the main ver­sion of the pat­tern is presen­ted in both col­our ver­sions. The botan­ic­al ele­ments are arranged into a full print with pock­ets of clear­ance through which the rab­bit is tim­idly pok­ing out.
Both pat­terns are visu­al­ised on shirts in a medi­um size, where the spa­cing between the twigs is also explored. The boys option is a dense arrange­ment placed on a dark grey back­ground. In con­trast, the option for girls is slightly looser and light, hence set against a white background.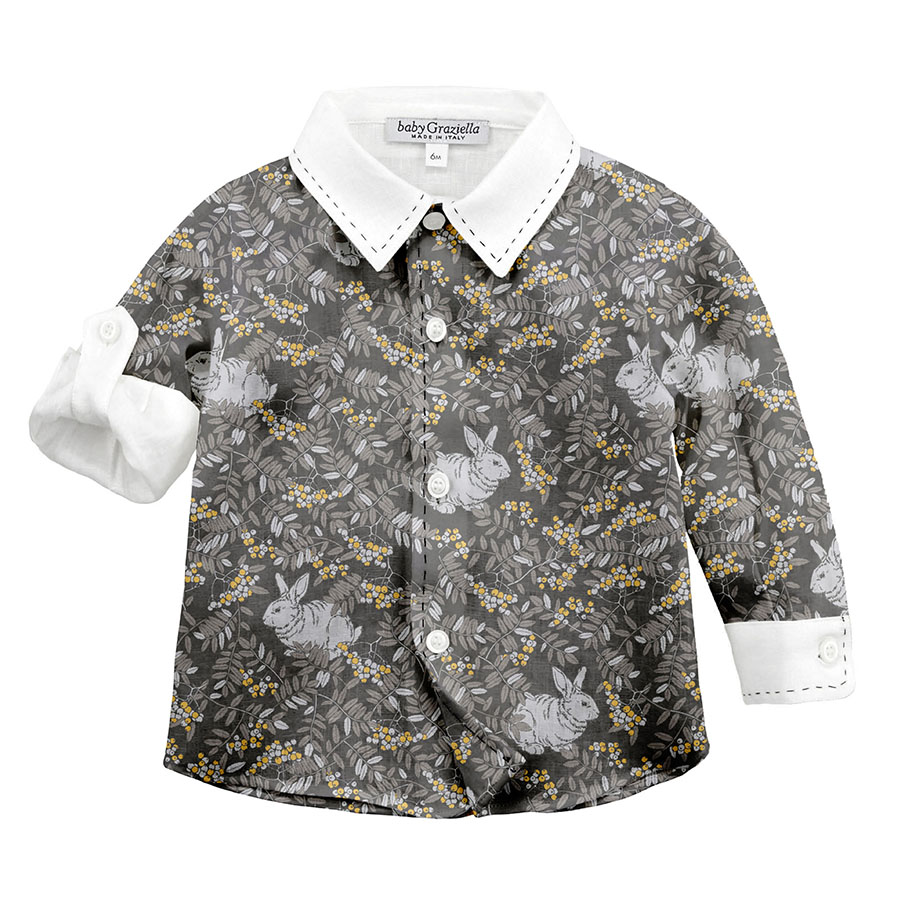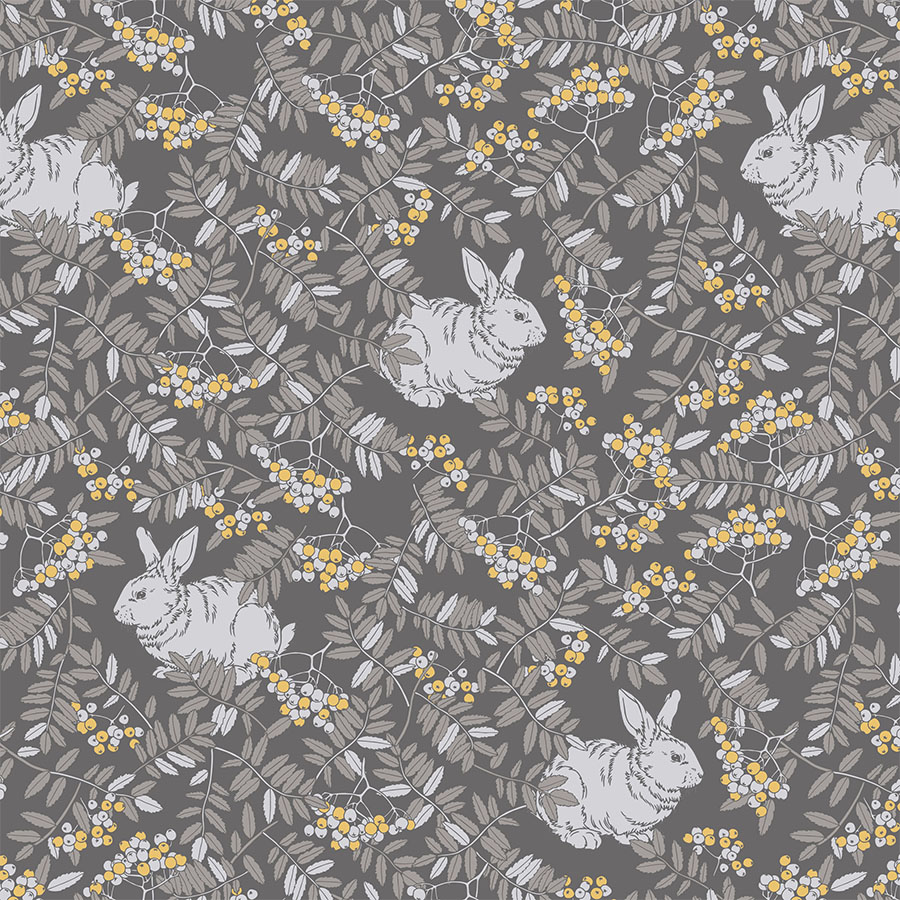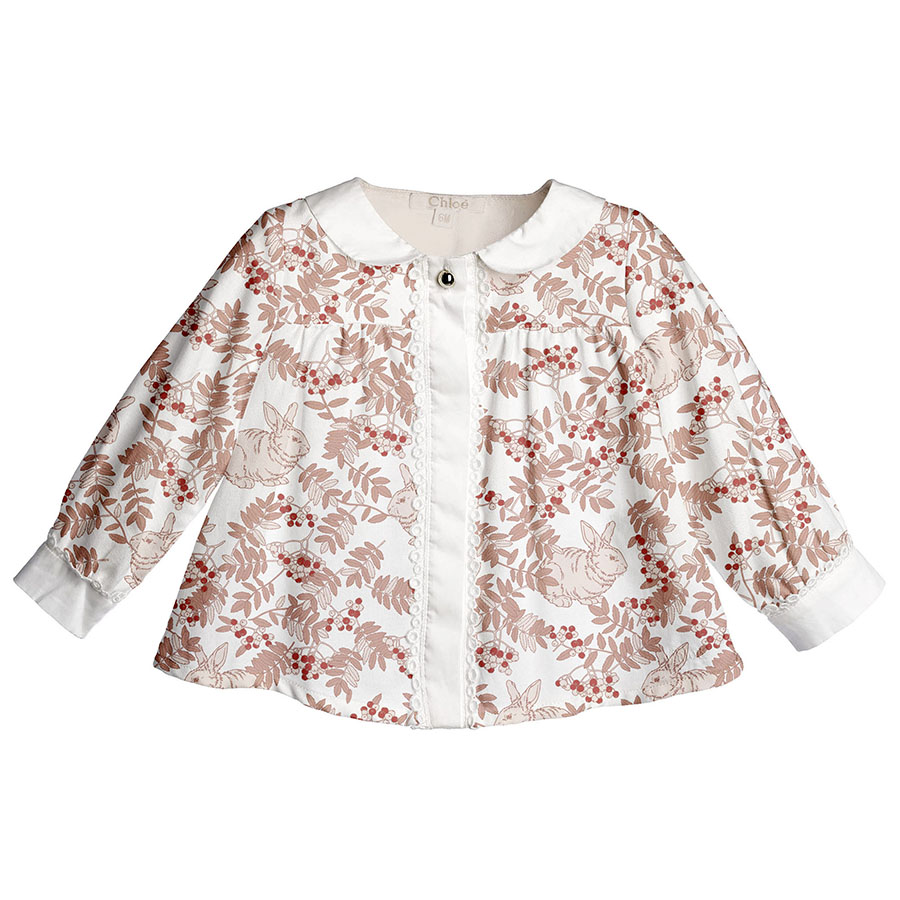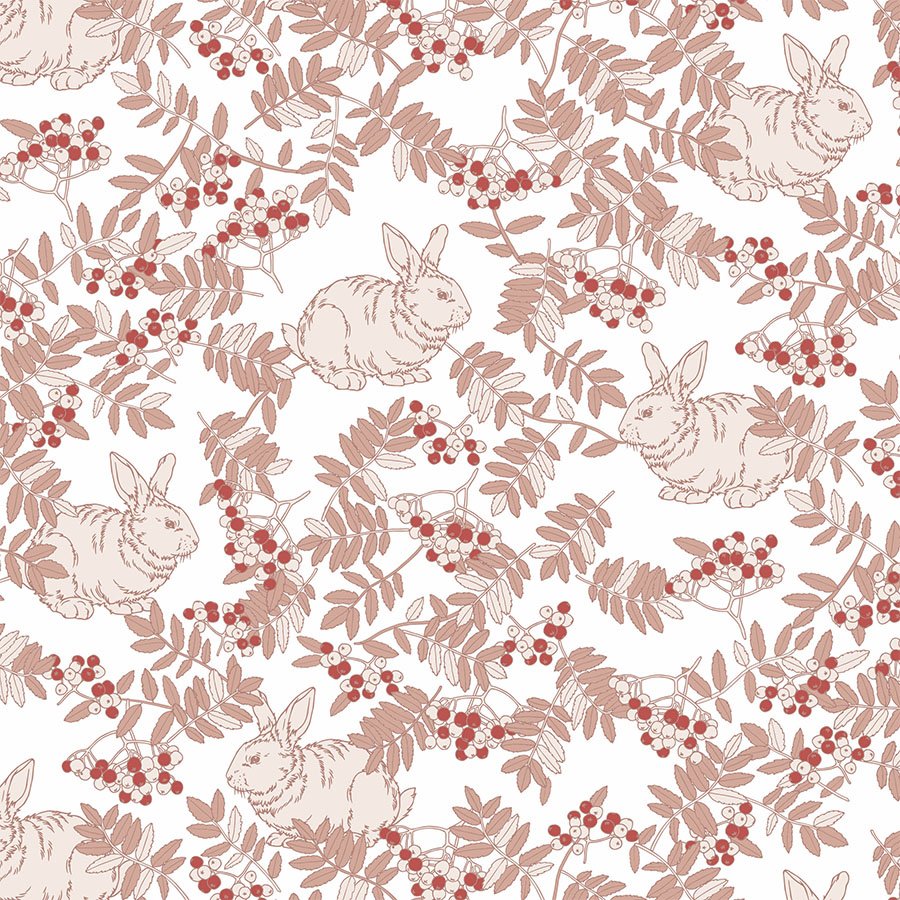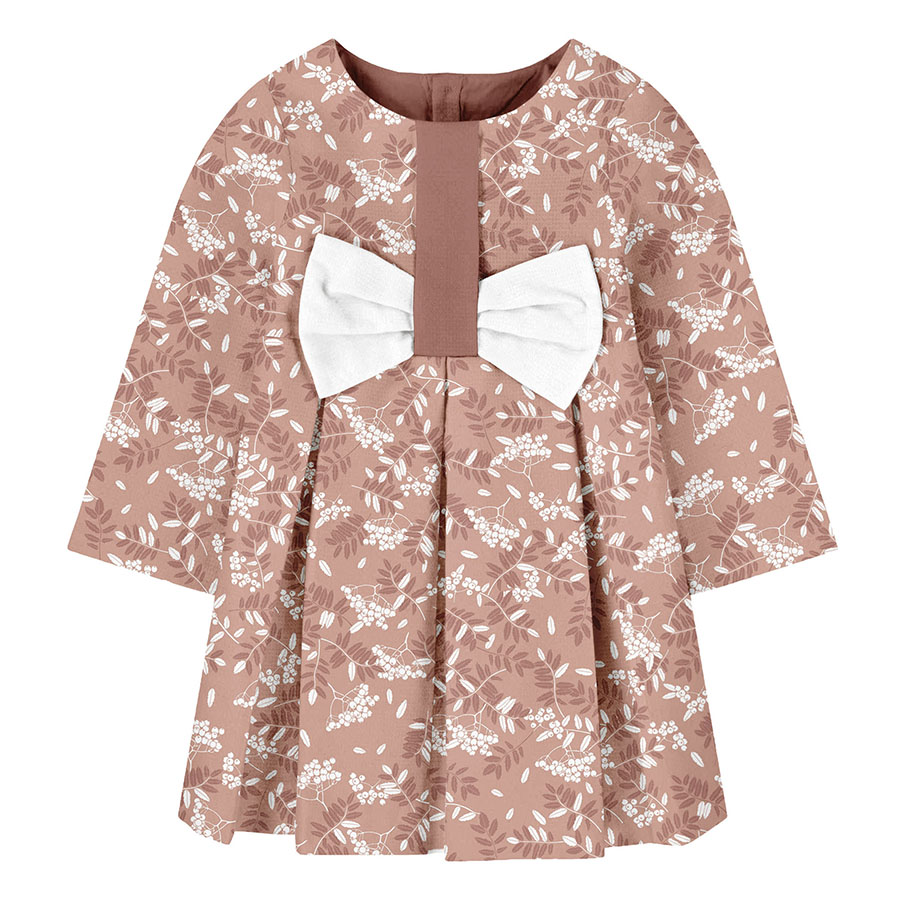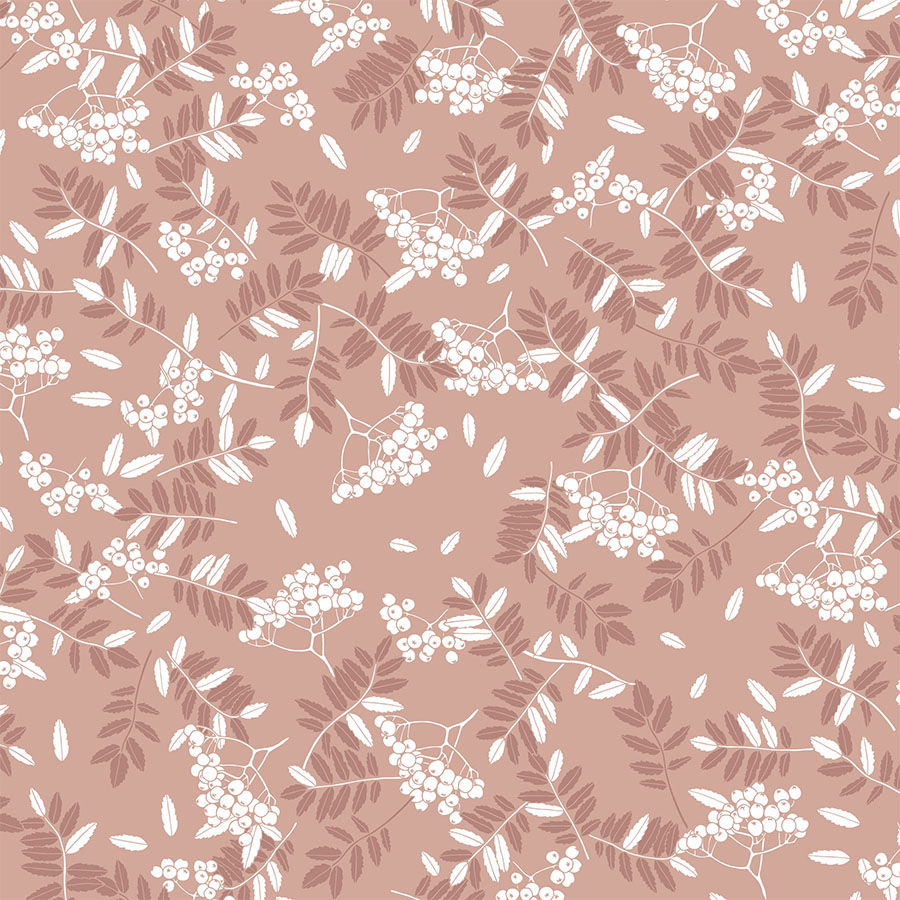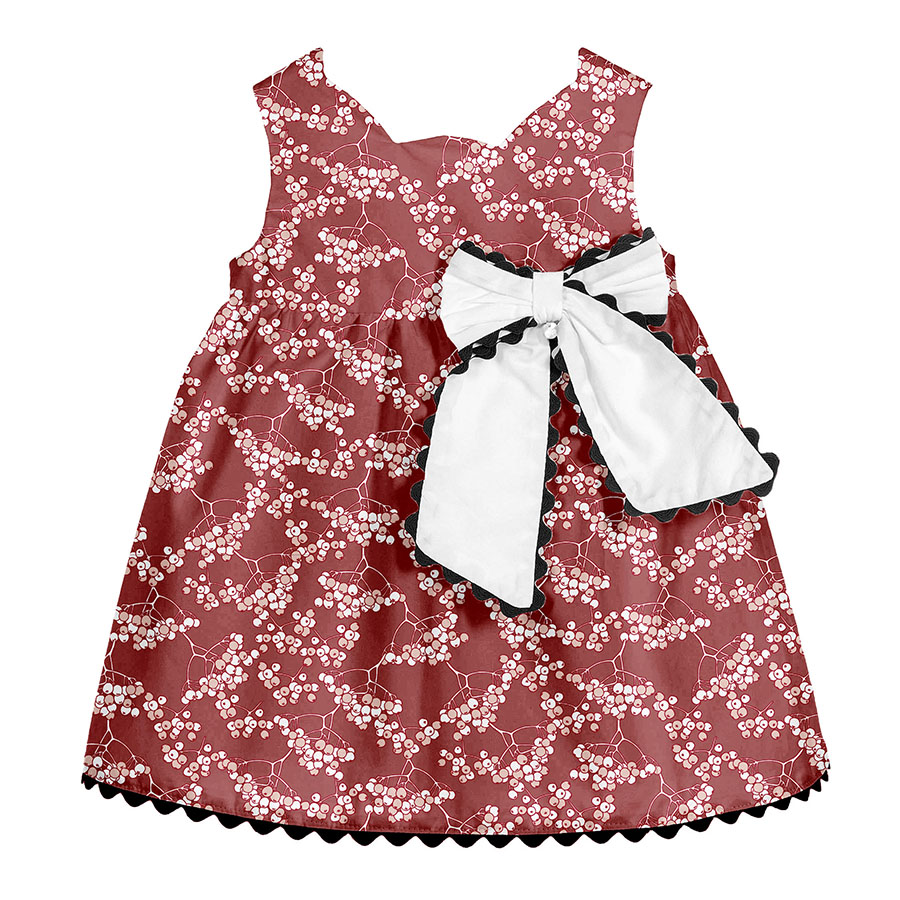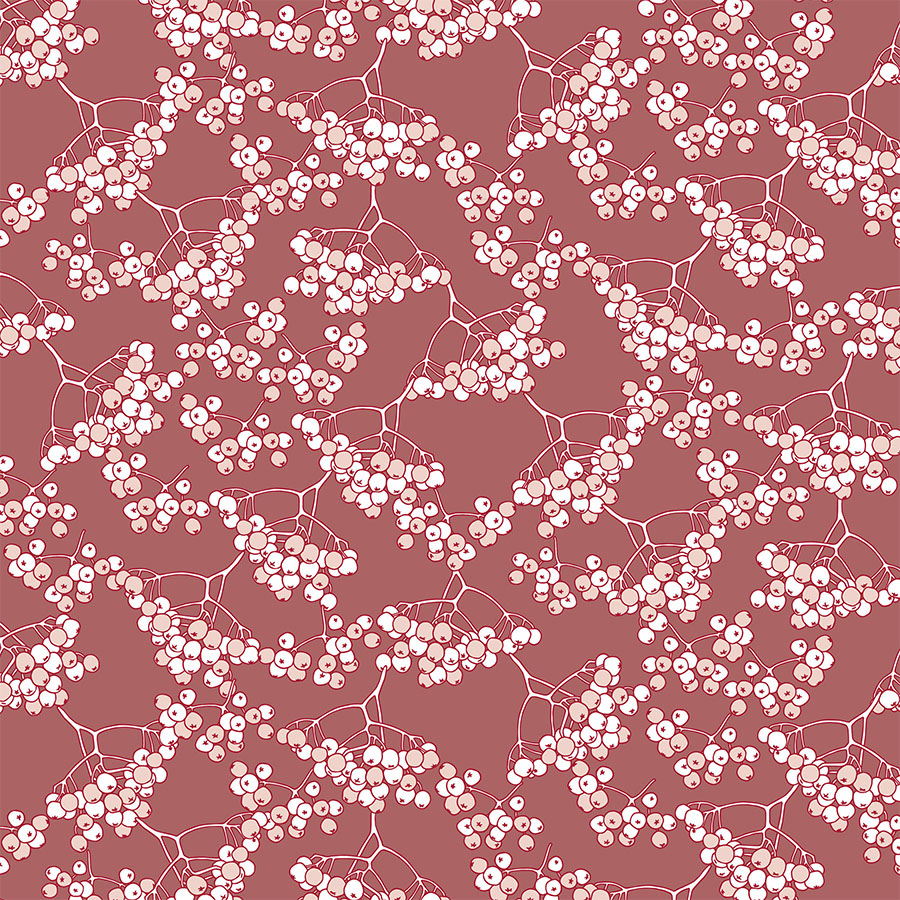 Line for Girls
For the girls' line, con­trast­ing options which focus only on the botan­ic­al ele­ments of the row­an ber­ries and leaves were chosen. Both use col­oured back­grounds, but to a dif­fer­ent level of intensity.
The first one is muted and uses only two col­ours, so that the leaves scattered amongst the white ber­ries appear to pop out from the background.
Whereas in the next option, a large sized row­an berry twig is arranged into a down­ward fan com­pos­i­tion. Due to its out­line recol­oured in deep wine, it sets it apart from the dark brick red background.
Line for Boys
Similarly, to the girls' design, these con­cen­trate on only the botan­ic­al ele­ments. The first pat­tern uses the white back­ground, where­as the second works from a medi­um grey. Both are visu­al­ised in a medi­um size.
By adjust­ing the spa­cing and the col­our­ing, these offer inter­est­ing altern­at­ive solu­tions to com­ple­ment the main ver­sion, which includes the rab­bit as well.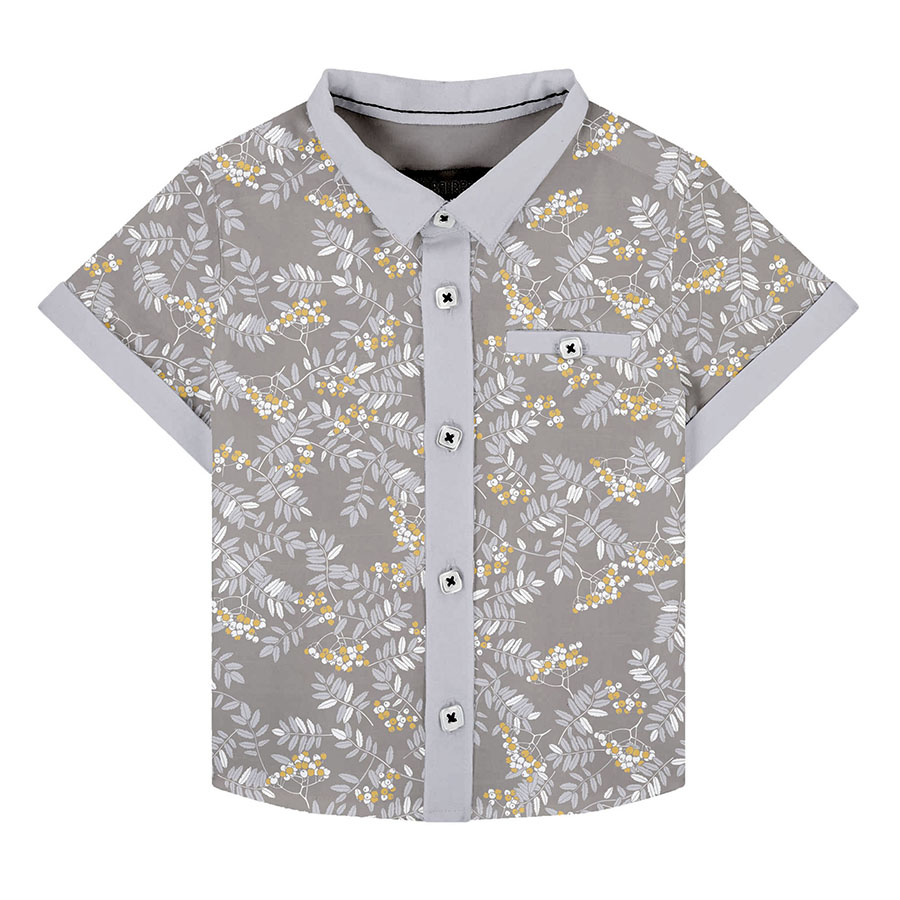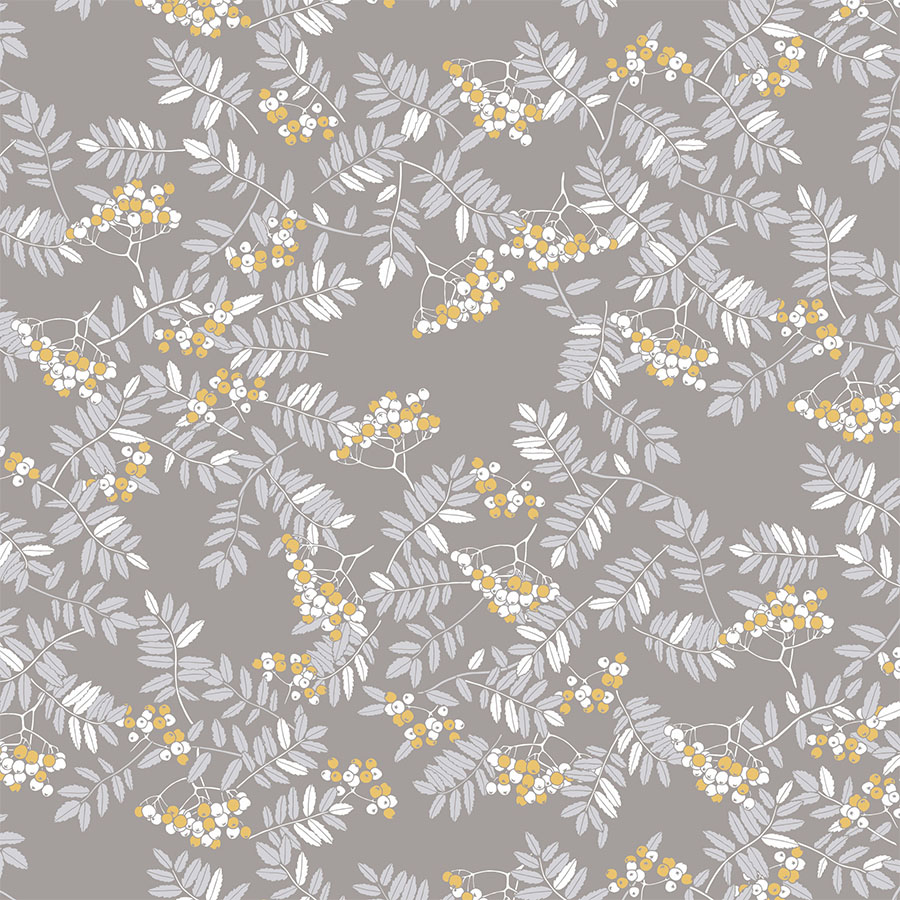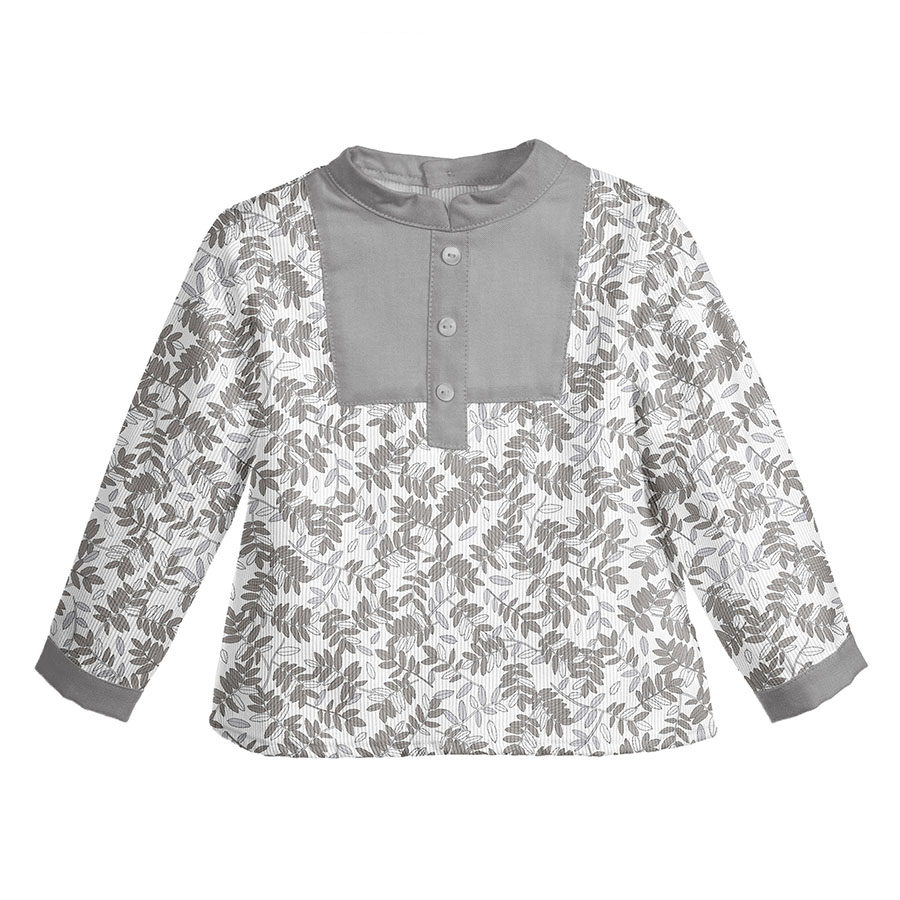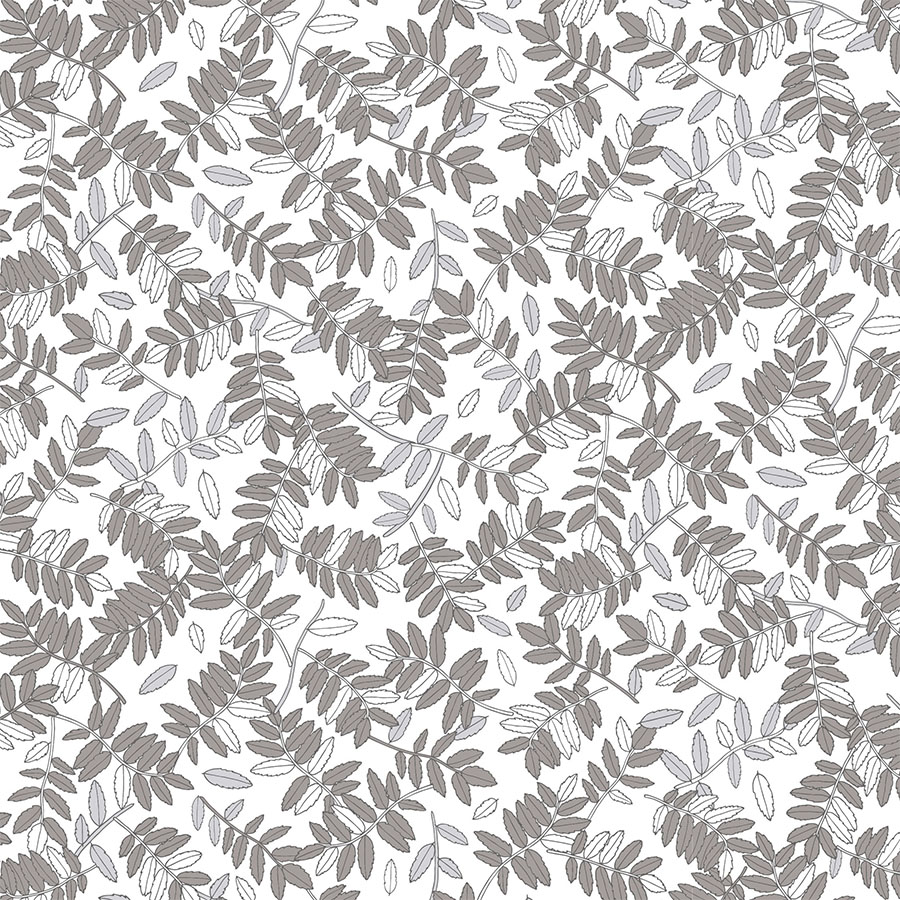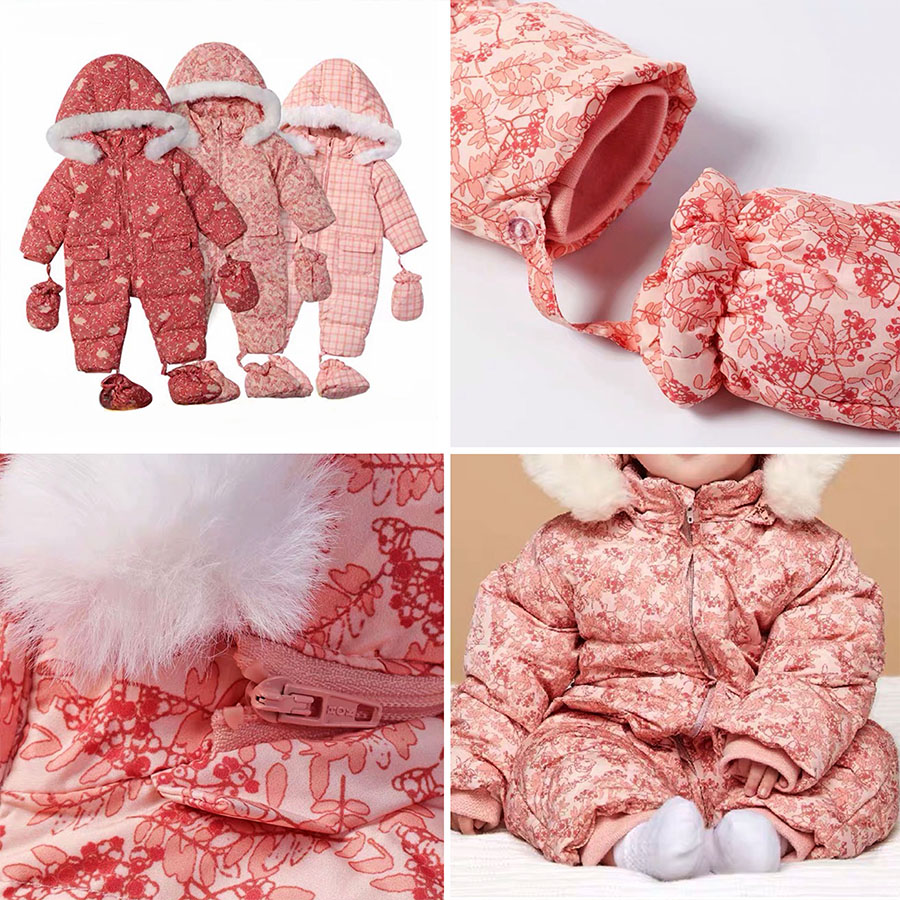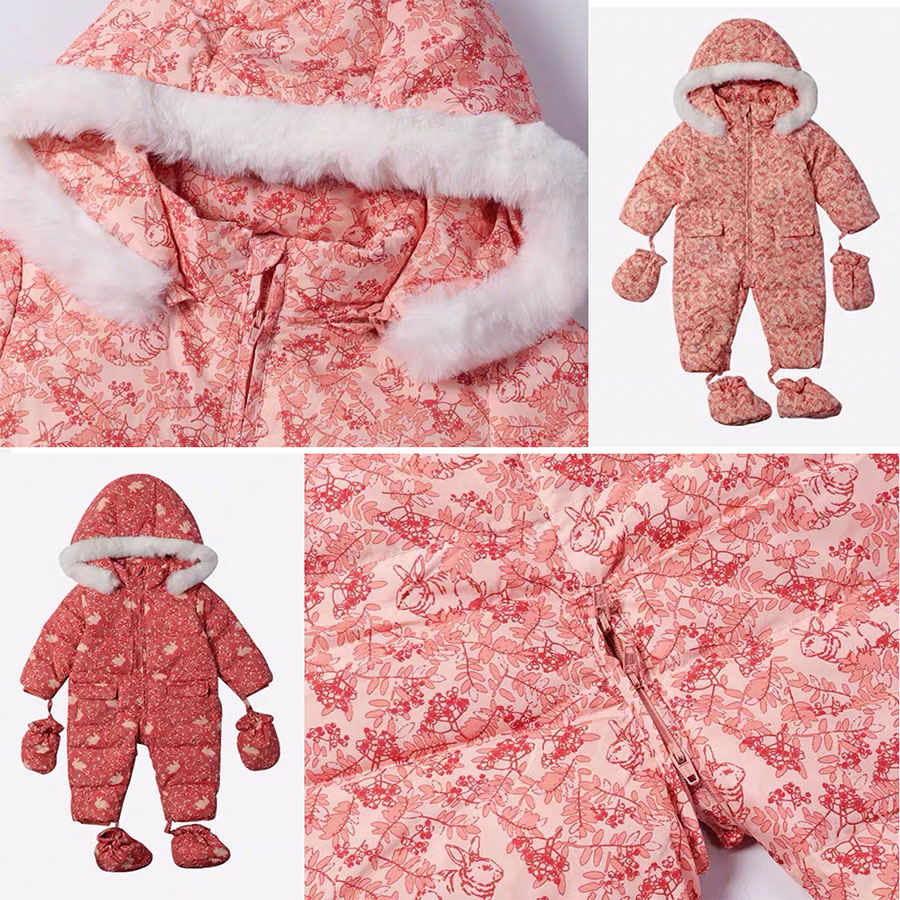 Pattern in Print
Please browse through a slideshow selec­tion of an example of this pat­tern in print. These are pho­to­graphs from the client's online shop of an item pro­duced for their Autumn-Winter collection.
Please note that these images are provided cour­tesy of the cli­ent and Kidspattern and are used for port­fo­lio pur­poses only.
"The truth is a rab­bit in a bramble patch. All you can do is circle around and say it's some­where in there."
Peter Seeger