An ongoing fascination with the motif of moths may have its root in their deep, symbolic meaning, which generally seems to be two-fold.
On one hand, these curious looking creatures are admired for their determination ; even when their efforts prove dangerous and futile, they are still madly driven toward light.
For the same reason, this trait is also considered a warning, as their often detrimental ending acts as a caution against the self-destructive tendencies of blind faith.
This pat­tern design pro­ject was a part of my ongo­ing col­lab­or­a­tion with Kidspattern. If you'd like to learn more about them please vis­it their web­site HERE. Alternatively, view the archive of our pre­vi­ous pro­jects HERE, in which I dis­cuss in detail the his­tory and nature of our work.
All cloth­ing-mockups presen­ted here are provided cour­tesy of Kidspattern and are used for visu­al­isa­tion pur­poses only.
This pat­tern devel­op­ment series was com­mis­sioned for a client's Spring — Summer Collection for boys, divided into three age groups : Newborn (0 – 9 months), Baby (0 – 18 months) and Kids (18 – 36 months).
Below you can view this struc­ture, reflec­ted in three respect­ive col­our palettes — with shades trans­ition­ing along with the age group they are indic­at­ive of. This frame­work was dir­ec­ted and com­posed by Kidspattern. The col­our scheme starts with light and neut­ral shades for the young­est and con­tin­ues to adjust with each age group, turn­ing a little dark­er and more vivid. Overall, these shades are an inter­est­ing selec­tion of pale lem­on, English mus­tard yel­low, taupe, dark navy and hazel­nut brown.
This pat­tern series is a response to a cur­rent trend fuelled by the mag­net­ising appeal of the butterfly's "ugly cous­in". In order to avoid scary con­nota­tions, these depic­tions were sim­pli­fied to keep them baby-friendly. All the ele­ments were hand drawn with a few slightly more com­plex ones for the older age group, which are placed on the right hand-side of the image below.
The first option has the moths in small size neatly arranged in a row. As a default these were placed on top of a white back­ground and recol­oured with spots of accent yel­low to intro­duce a little pop of col­our and break up the order.
The second pat­tern is visu­al­ised in a lar­ger size and placed against a col­oured back­ground in a shade of a pale lem­on. The ele­ments are now scattered and rotated. In addi­tion, small flat sil­hou­ettes were intro­duced for a touch of depth.
In this last pat­tern option, an extra back­ground tex­ture was added in the shape of a graph­ic mesh. It was cre­ated from two columns : one with diag­on­al and the oth­er with straight lines. The moths are layered on top in a reg­u­lar repeat in order to bal­ance out the visu­al busy­n­ess of the grid. Here it is presen­ted in two col­our ways with white and col­oured backgrounds.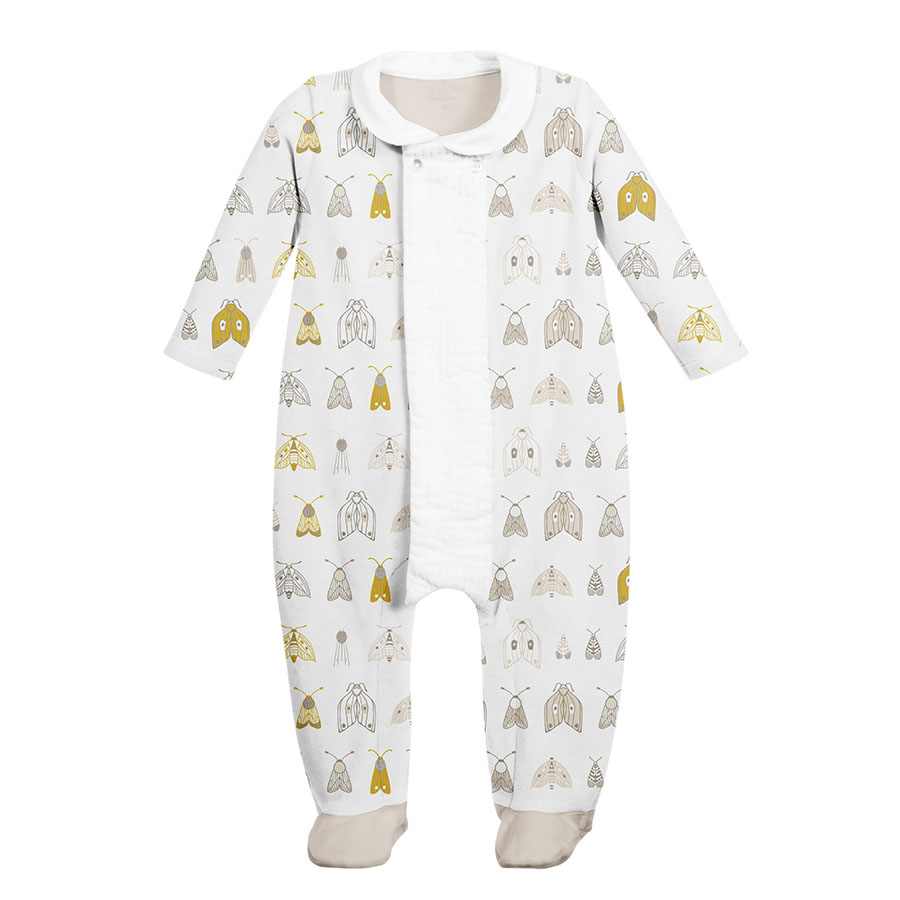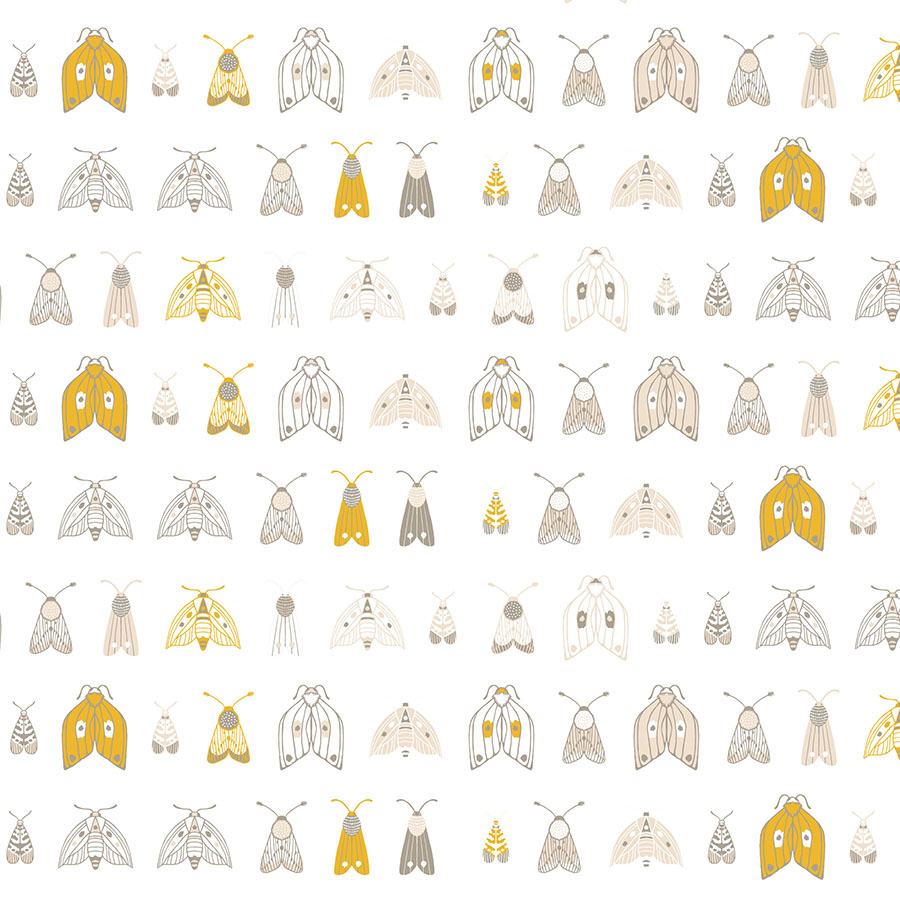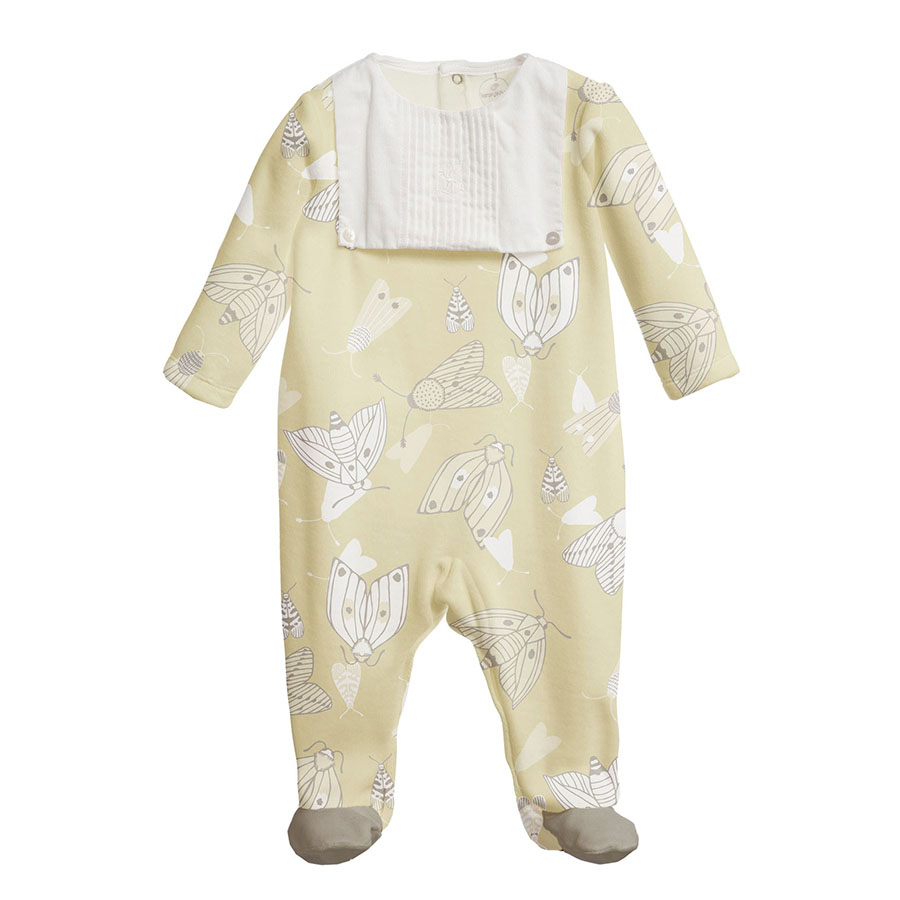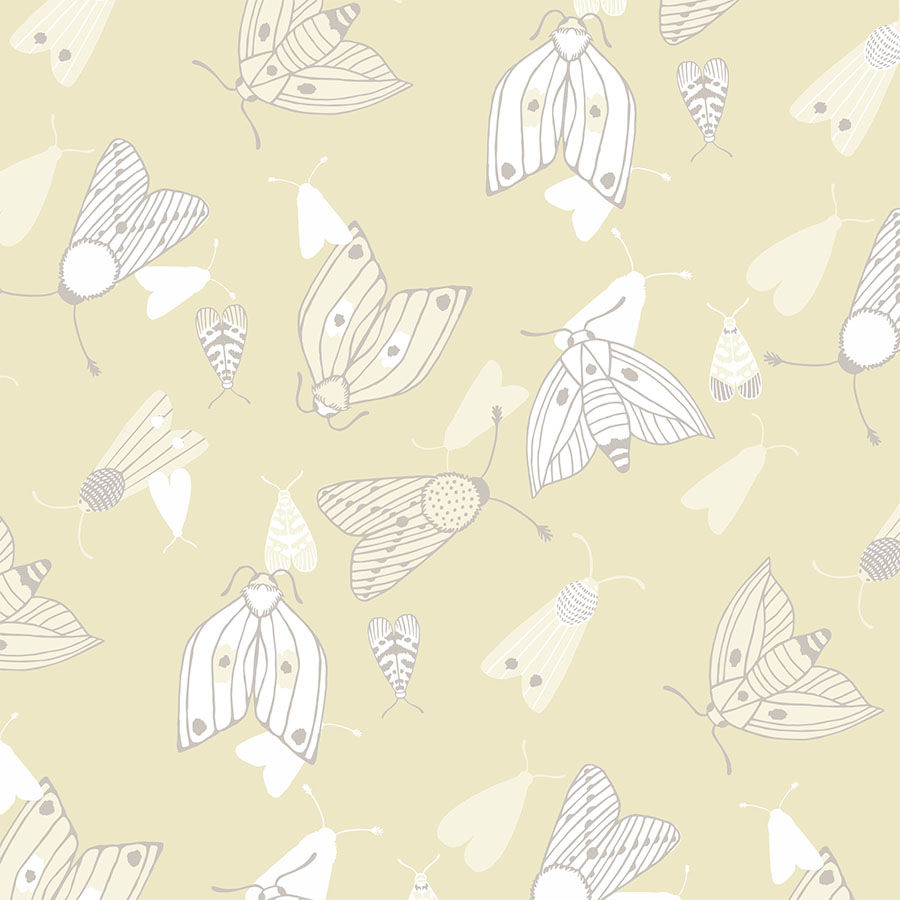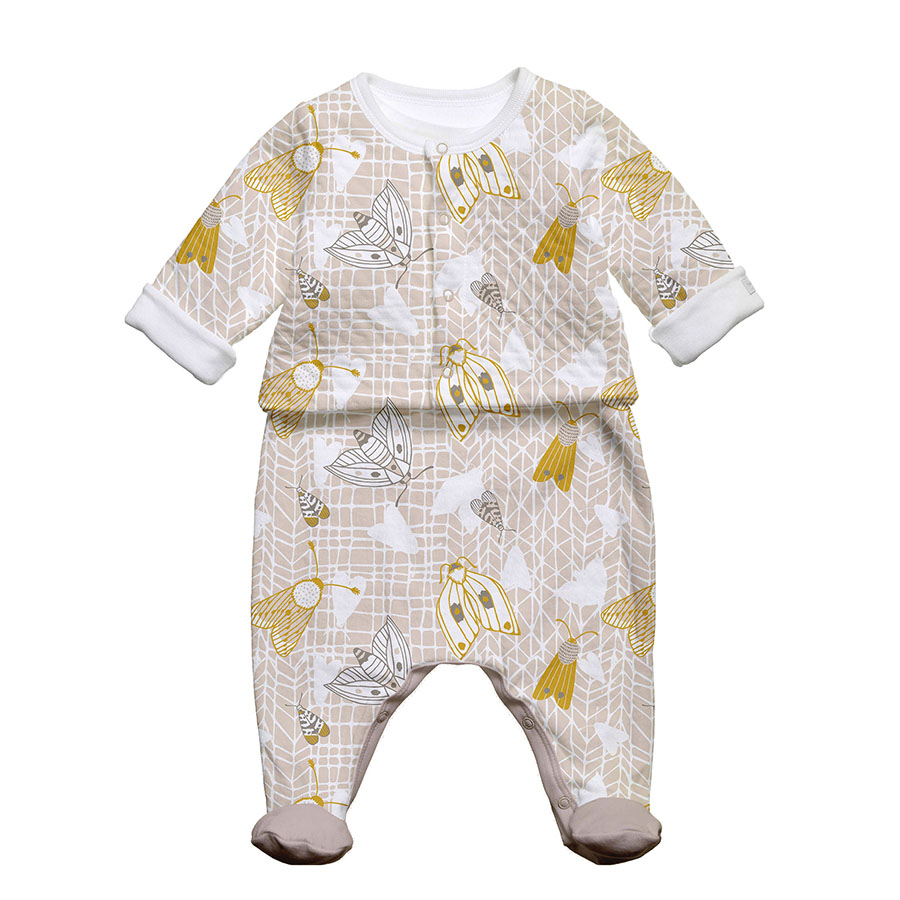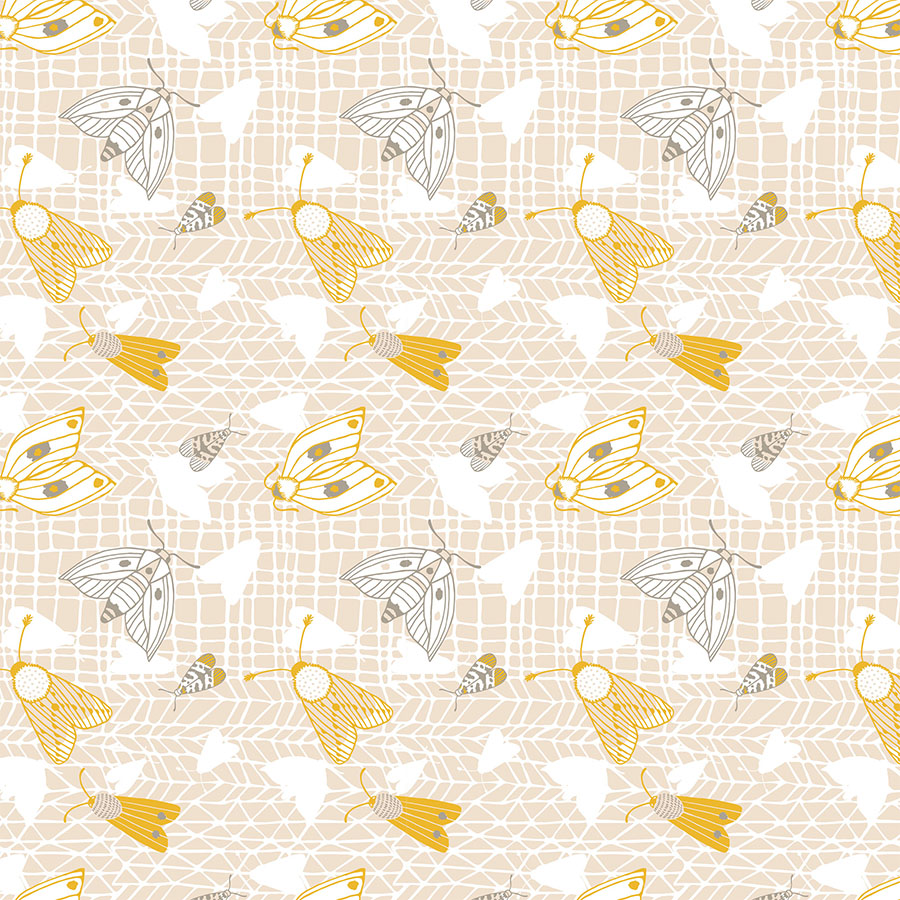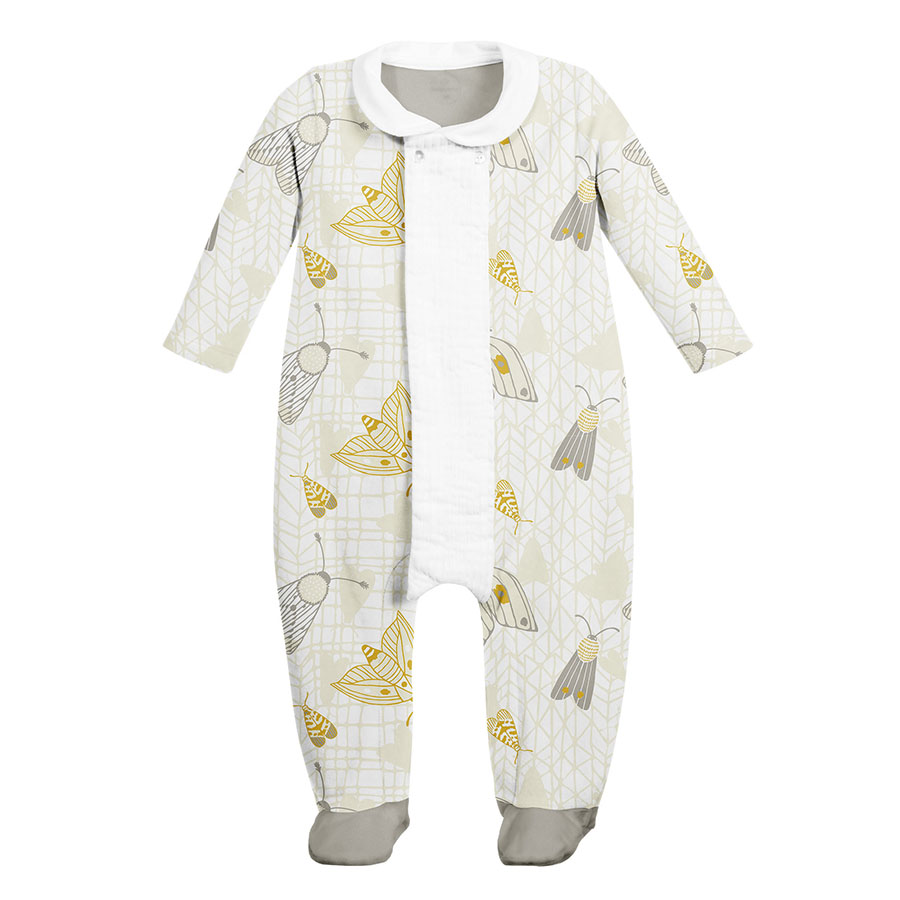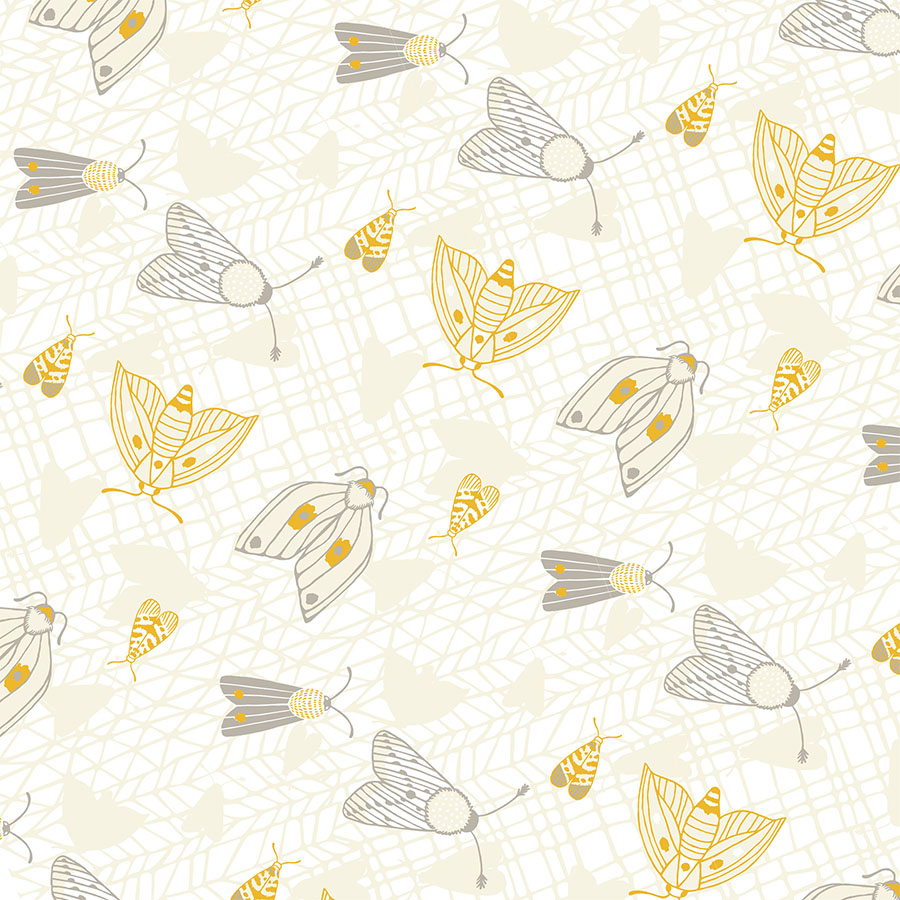 Baby Line
The pat­terns for the slightly older age group were advanced with the use of anoth­er type of com­plex grid sys­tem in the back­ground. Moths, which are layered on top are of vari­ous sizes, rotated and scattered irregularly.
Here, you can view the first col­our-way presen­ted in a light, pared back pat­tern with the mesh in white against a col­oured back­ground. Whilst, for a dark­er option, thanks to tint­ing of the col­our palette, a vari­ety of addi­tion­al inter­est­ing shades were expressed in this pattern.
These designs are also dis­tin­guished by the size they are visu­al­ised at.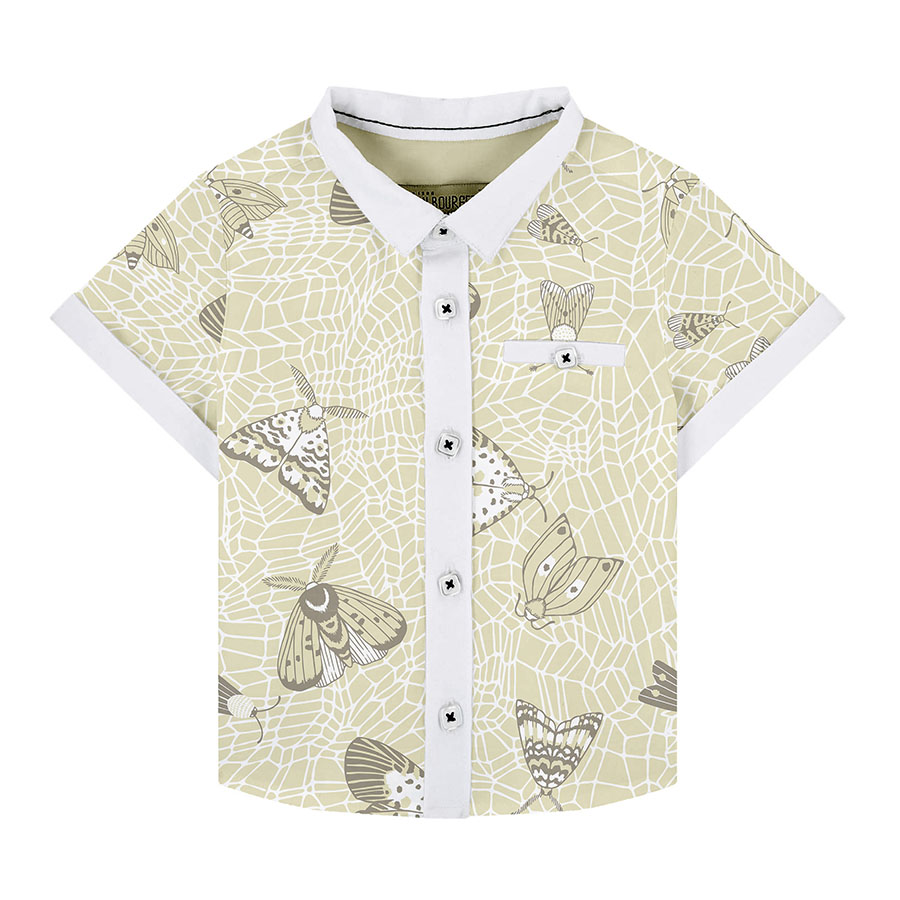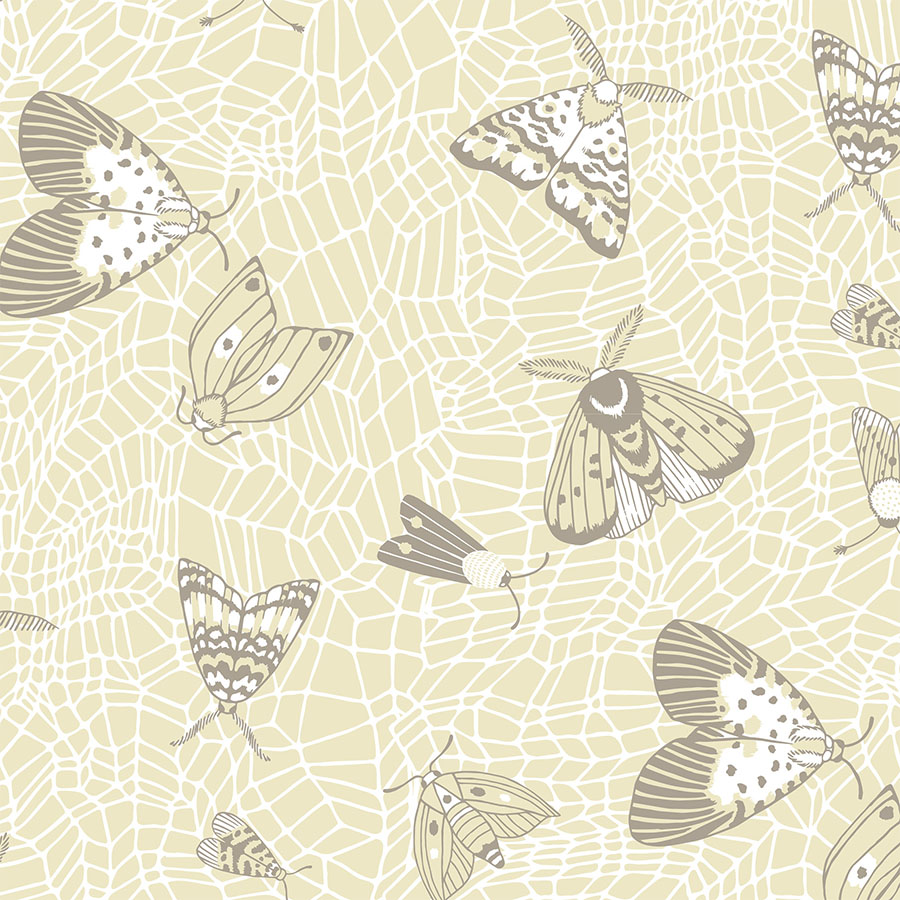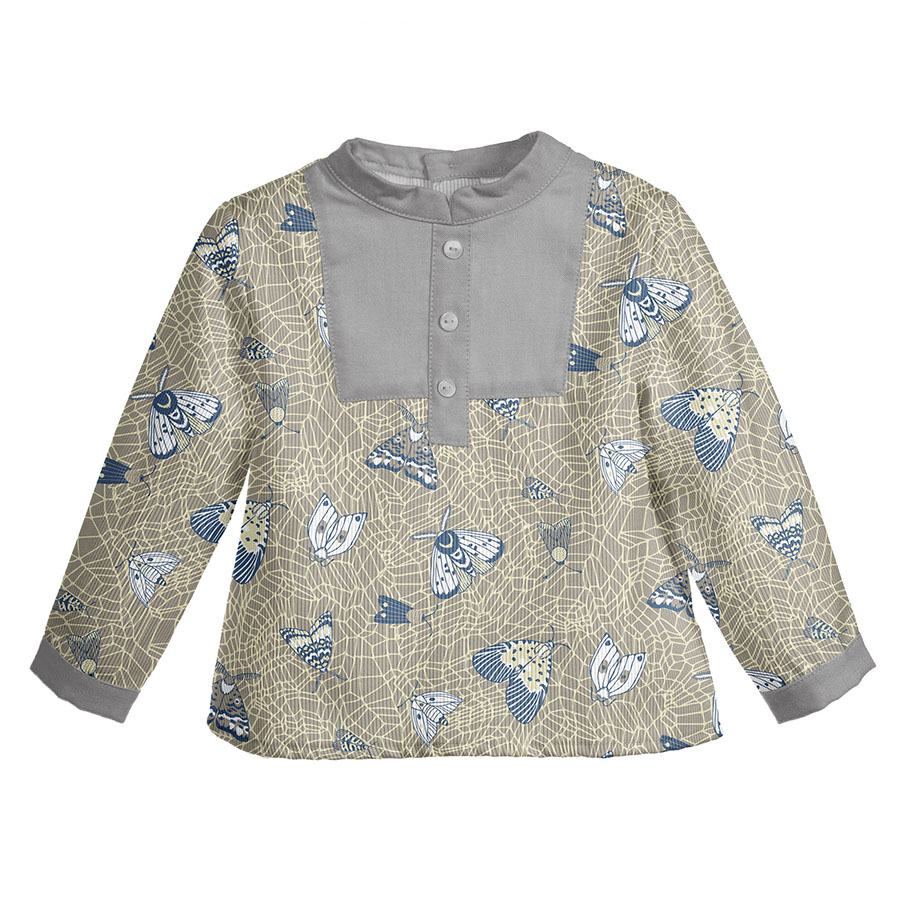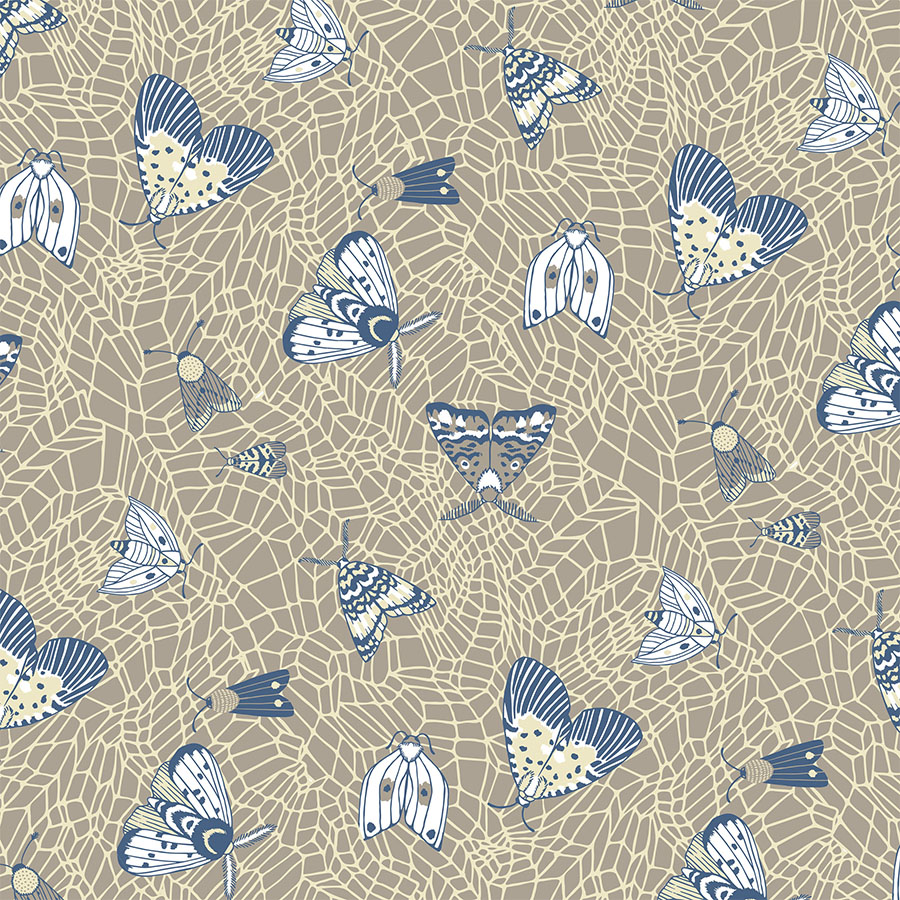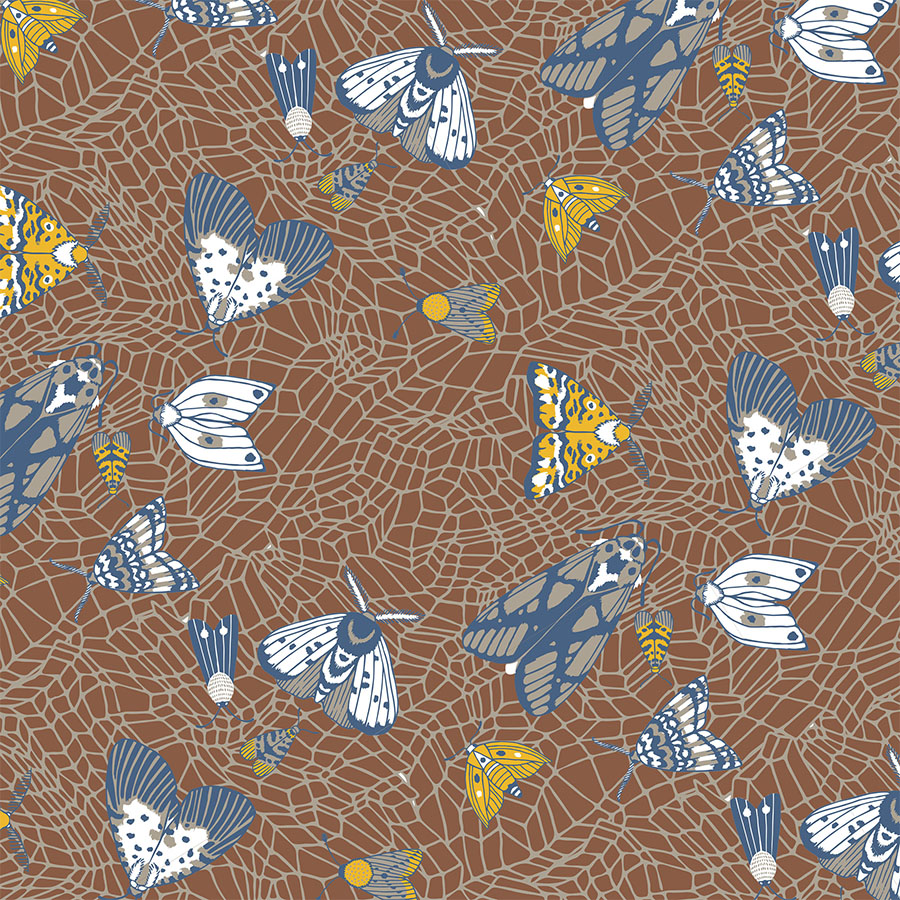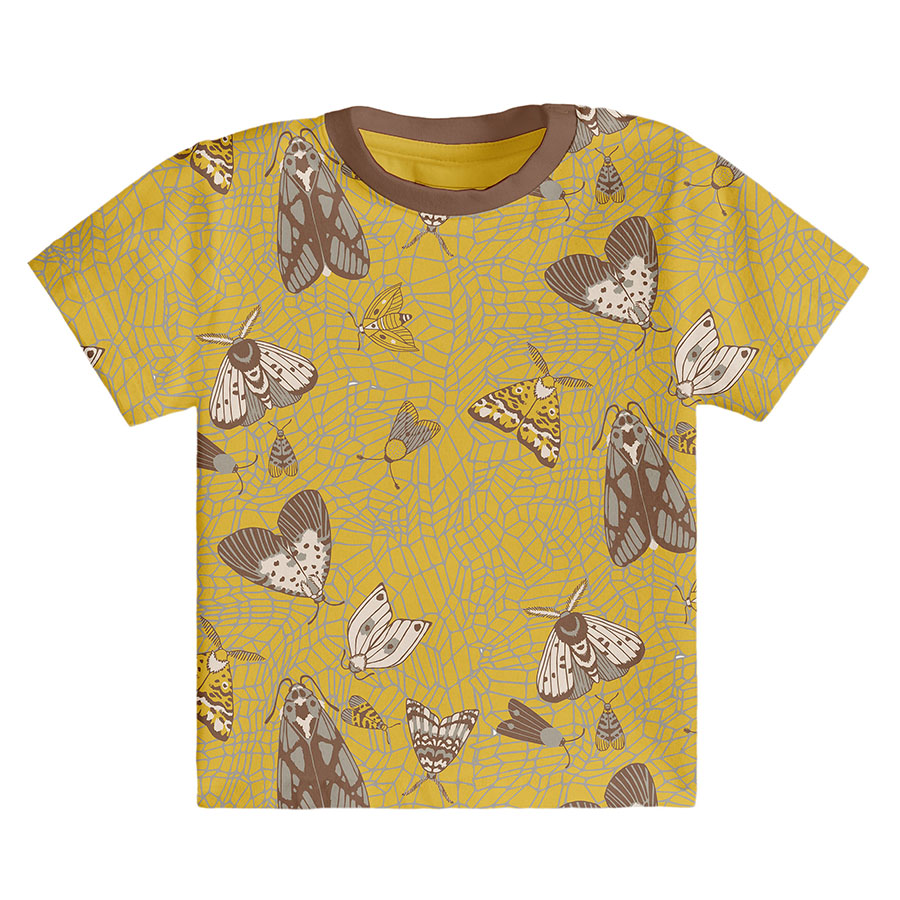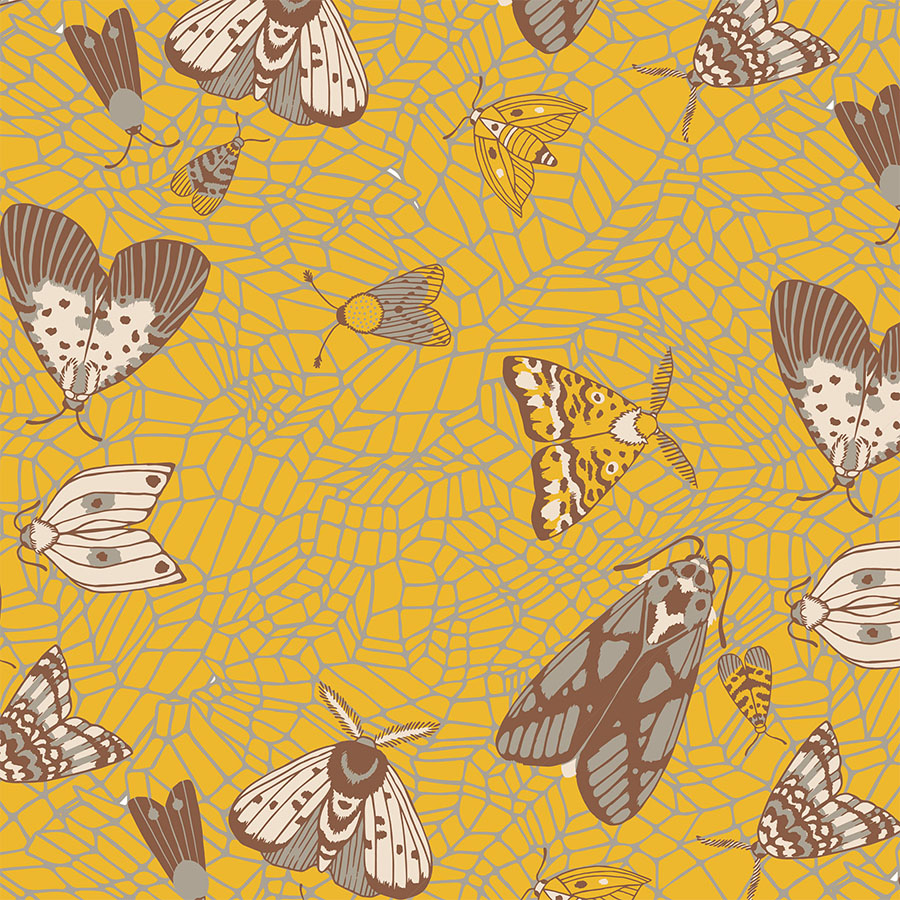 Kids Line
The sim­il­ar arrange­ment con­tin­ues in the old­est age group. The moths now vary in size and shape, roam­ing around in dif­fer­ent dir­ec­tions placed atop a net­work of a hand drawn graph­ic grid. Here these are recol­oured to match the dark and vivid back­grounds from the col­our palette.
The first pat­tern focuses on the brown back­ground by using the full spec­trum of the col­our palette and offers an idea for a bold state­ment print. Following this, is a com­ple­ment­ary, slightly light­er option with the mus­tard yel­low set as the back­ground. The emphas­is is placed on the match­ing beige and mush­room col­our aspects.
Monochrome Blue
The atten­tion in these pat­terns is placed solely on the blue aspect of the col­our palette. These mono­chrome and sim­pli­fied options use only two print­ing col­ours — com­ple­ment­ary tints of the dark navy.
As such, they provide a cheap­er to print, sec­ond­ary col­our-way to poten­tially add to a match­ing pat­tern set. Here they are visu­al­ised in two dif­fer­ent sizes, how­ever, it is in the smal­ler one that the web par­tic­u­larly stands out in as an eye-catch­ing tex­tur­al feature.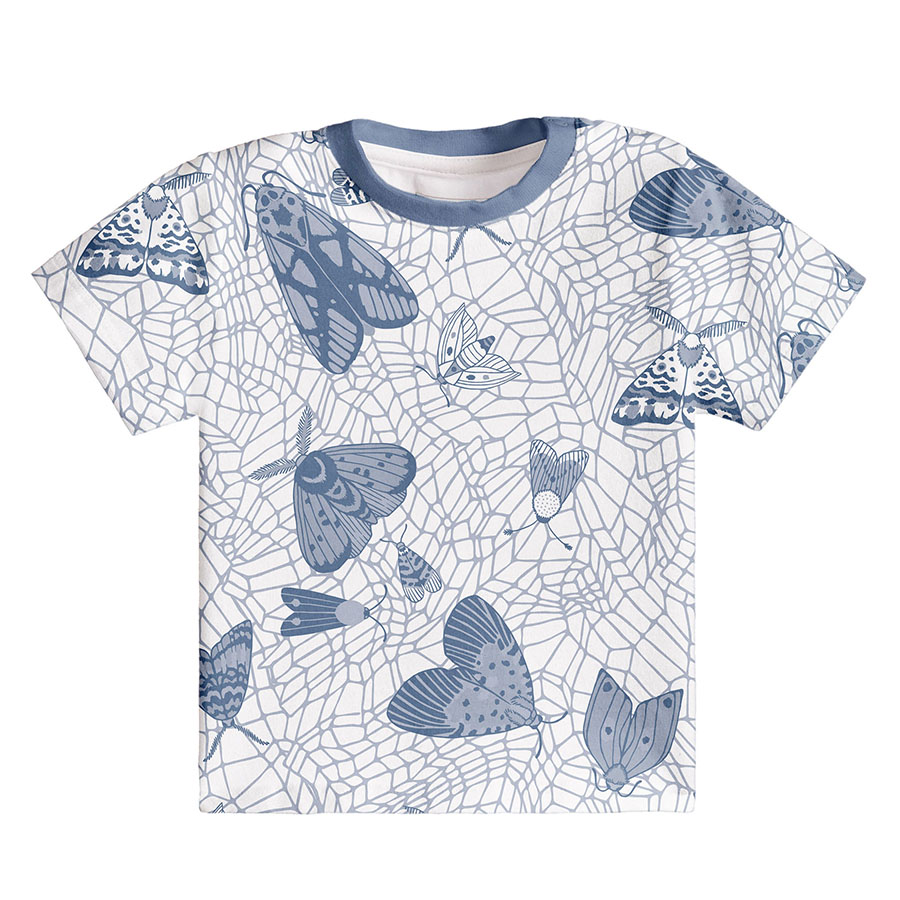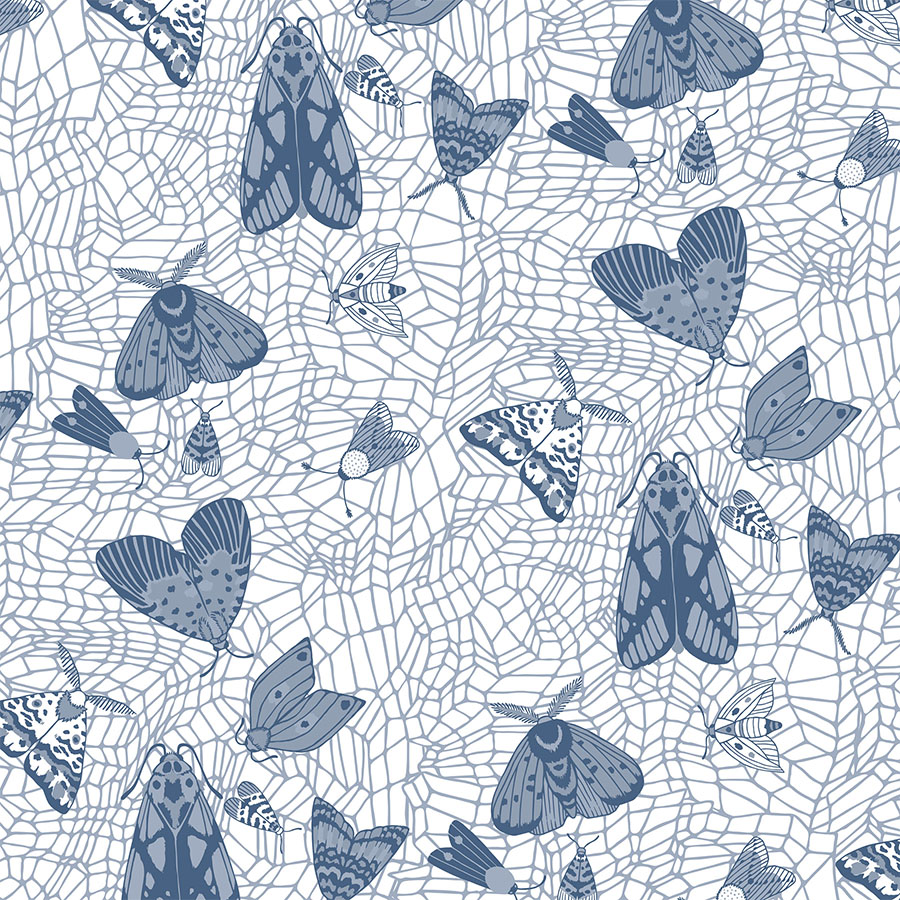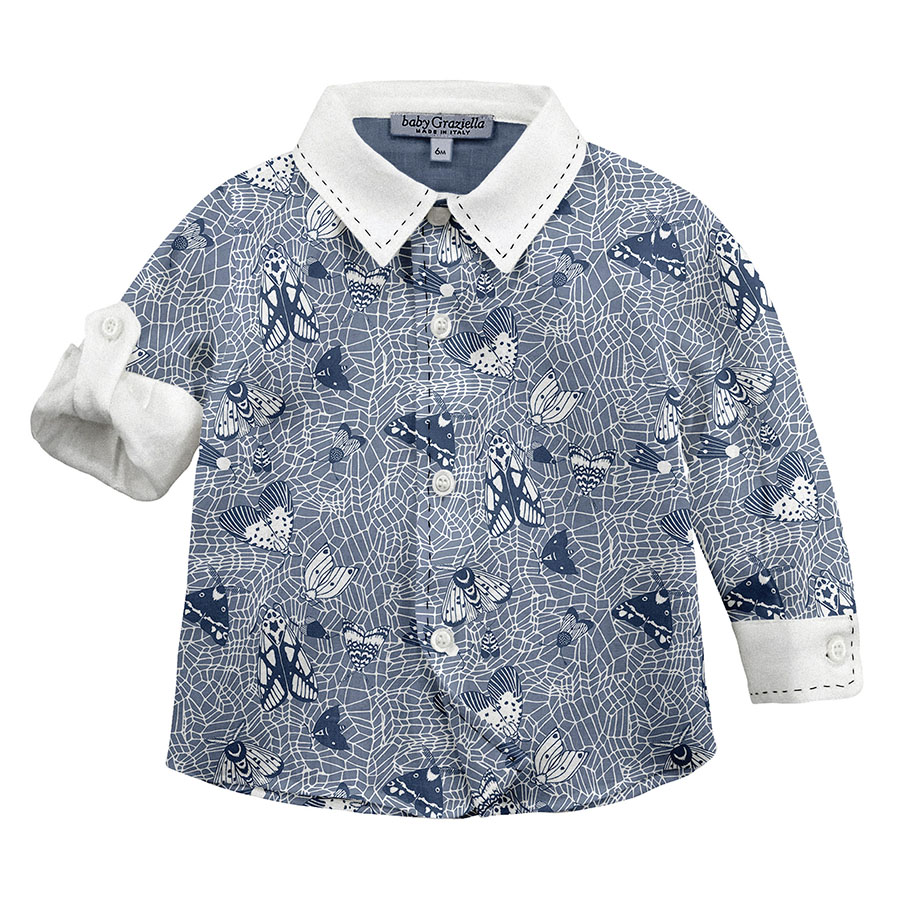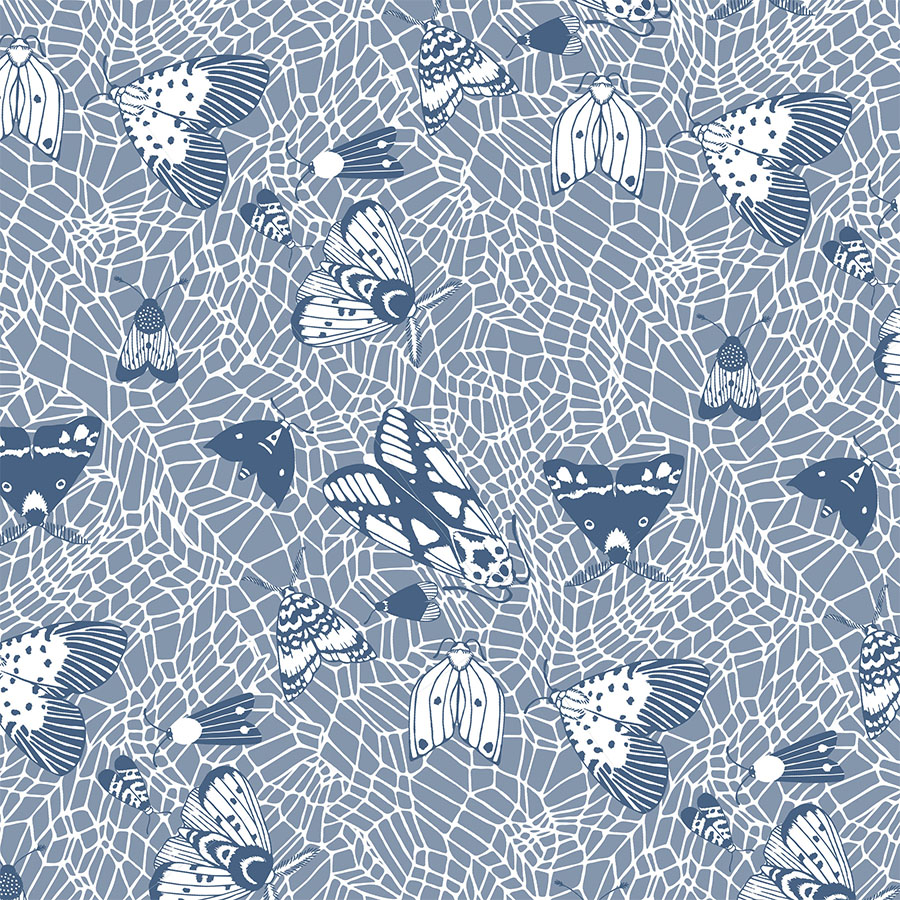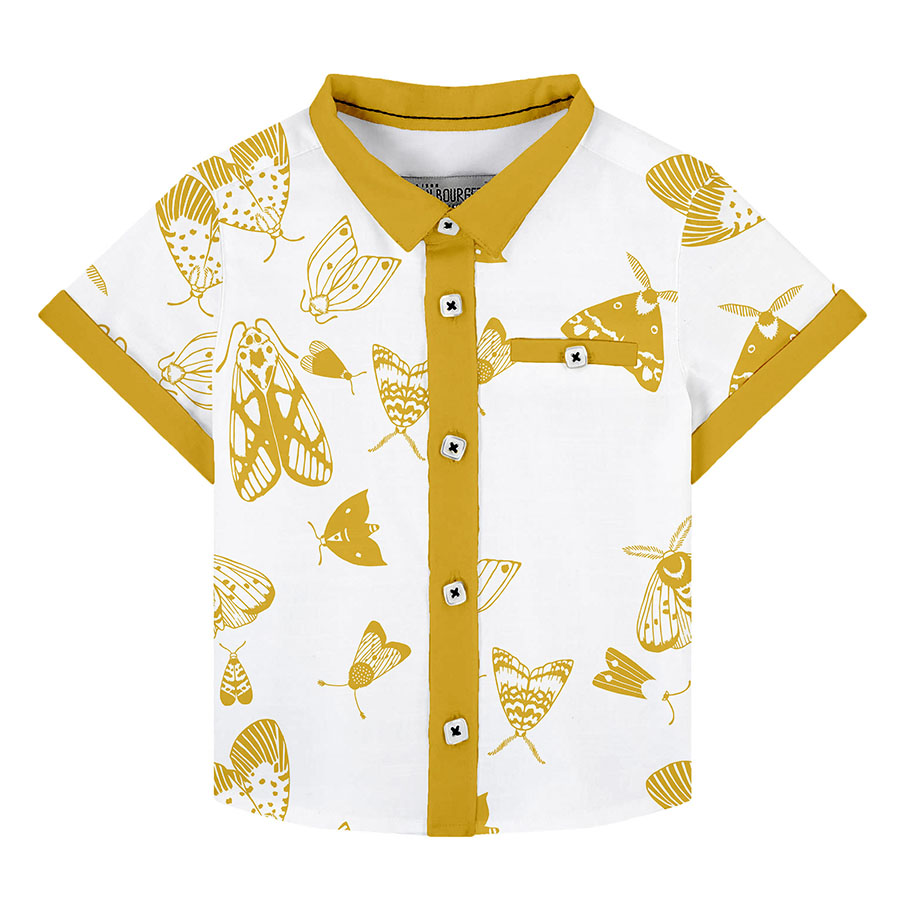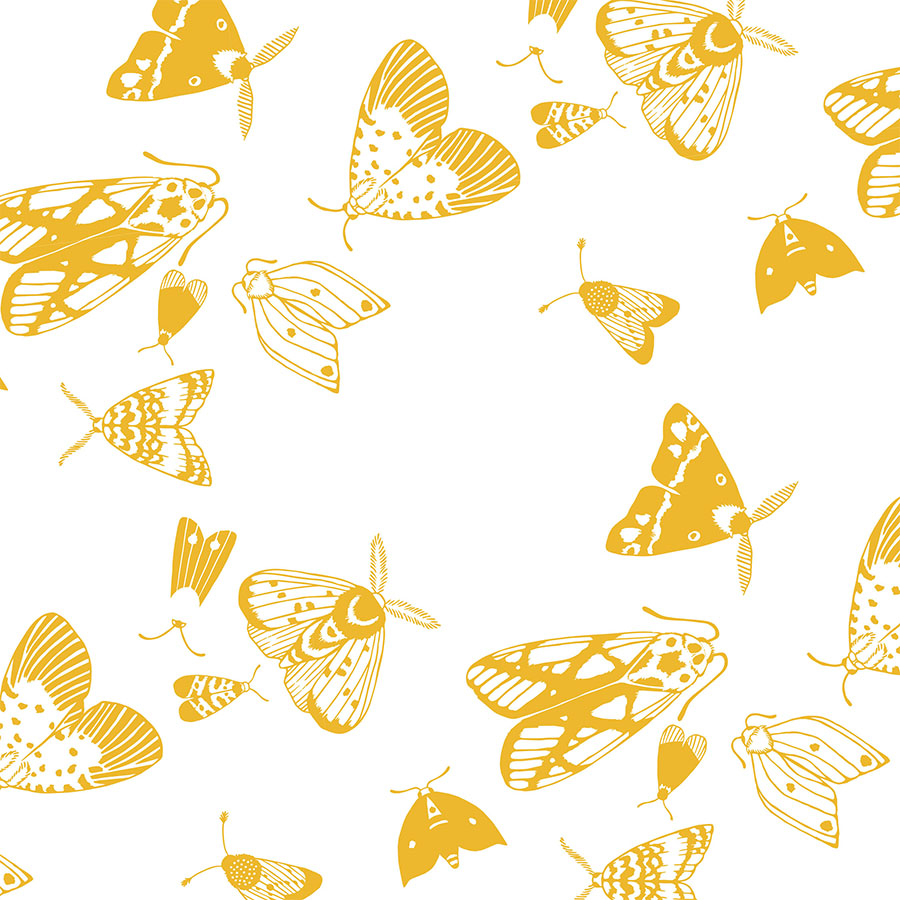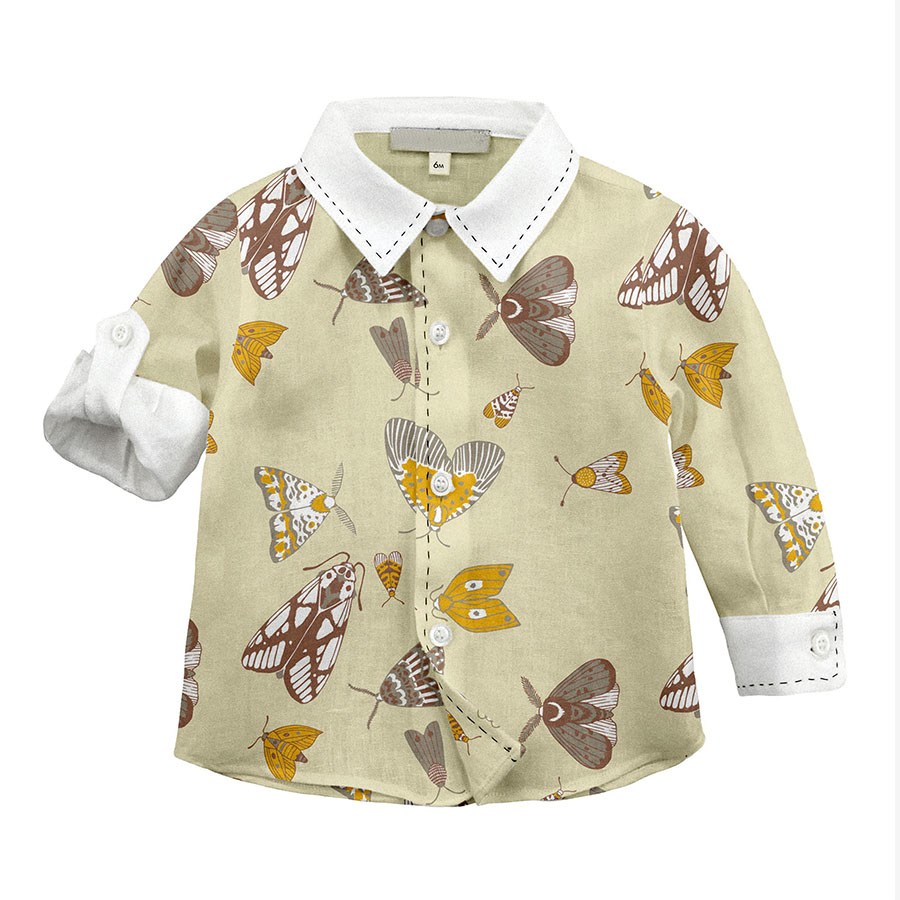 Plain Background
To com­plete the set, a pat­tern option was developed, which was stripped of the back­ground tex­ture. This refo­cuses back onto the illus­tra­tions of the moths, which are full of inter­est­ing pat­terns on their wings, which already draws the eye in.
Particularly inter­est­ing is a design lim­ited to the use of merely one col­our. The ele­ments were sim­pli­fied to graph­ic sym­bols and visu­al­ised in an over­sized man­ner. Recolouring these in a bright yel­low col­our makes for a con­tem­por­ary and strik­ing design.
"Judge the moth by the beauty of the candle."
Rumi