was the res­ult of a col­lab­or­a­tion between myself, TASTE Shop and Noo-Studio. It was pro­duced in TASTE Studio, dur­ing March 2014 res­id­ency and ran between the 11th of April and 13th of May 2014, in TASTE Shop's exhib­i­tion space in Tian Zi Fang (Shanghai).
The « MA » exhibition is based on the idea of complimentary contrasts :
Western and Eastern cul­tures and values,
ele­ments — lin­ear and shad­ing, mono­chro­mat­ic and gold,
tech­niques — hand drawn and digital,
art his­tory con­text — past and present,
com­pos­i­tion­al ele­ments — amor and hor­ror vacui.
Fusing both these east­ern and west­ern philo­sophies was a strong basis and meta­phor for the over­all res­id­ency and exhib­i­tion. Hence, I chose to study the concept of « MA » — a japan­ese word that trans­lates as « space » or « pause ». I employed this to influ­ence my aes­thet­ic and as a meth­od of con­struct­ing con­trast, weav­ing ‹visu­al inter­vals› into the com­pos­i­tion, which high­light oth­er care­fully selec­ted components.
The dir­ect inspir­a­tion for the art­work came from the video "Urban Butoh" per­formed by Butoh dance mas­ter Atsushi Takenouchi and dir­ec­ted by Jordi Arque. Choice of Butoh sup­por­ted the on-going theme of dance pre­val­ent in my work and com­pli­men­ted the study of "MA". With its› unique form of expres­sion and power­ful visu­al impact of its styl­ized ges­tures Butoh intro­duced fresh and fas­cin­at­ing themes to my practice.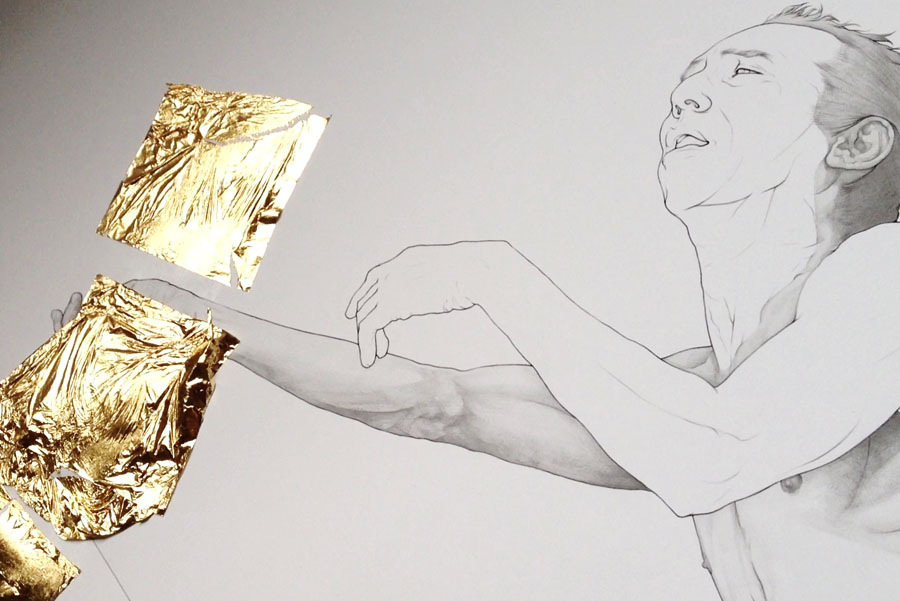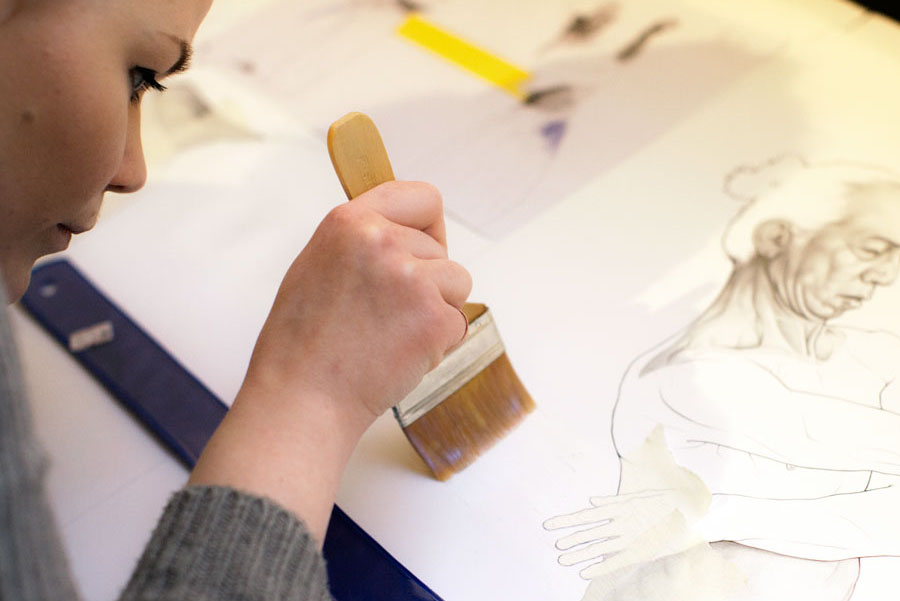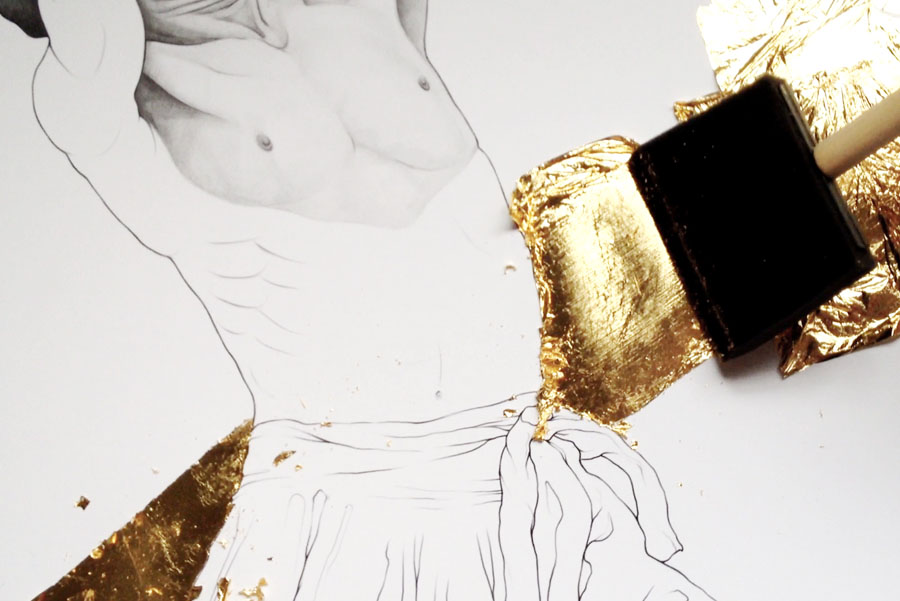 Specifically for TASTE exhib­i­tion I have developed a mixed media tech­nique incor­por­at­ing digit­al print and real gold leaves with more tra­di­tion­al pen­cil draw­ing. I've always been inspired by the Renaissance concept of beauty real­ised in the elab­or­ate depic­tions of human body. I jux­ta­posed these with a more con­tem­por­ary, digit­al medi­um reflec­ted in the pref­er­ence for a humble line. The human body got there­fore sim­pli­fied to strokes and shad­ows. The intro­duc­tion of gold was influ­enced by the desire to main­tain a mono­chrome palette, how­ever bring some tex­ture into the work. Gold leaf reflect­ing light­ing addd to the movement.
Side by side I placed the care­fully struc­tured draw­ing with the brush­strokes applic­a­tion of the gold leaves, con­trib­ut­ing dynam­ic, uncon­trol­lable, express­ive ele­ments to the art­work and rep­res­ent­ing abund­ance, strength, per­fec­tion and sophistication.
Furthermore, the col­our reflects the mas­cu­line energy present in the art­work and Butoh. Gold amp­li­fies the asso­ci­ation to the employed in the art­work divine prin­ciples of the golden ratio and basic shapes — tri­angle, diag­on­als and circles. In European cul­ture gold was primar­ily used in reli­gious rep­res­ent­a­tions of medi­ev­al altars and icons. In oppos­i­tion, in the Eastern stand­ards of Butoh the dan­cers per­form naked, stripped of all bound­ar­ies allow­ing full, pure, organ­ic expres­sion. Finally, the Han char­ac­ter for « MA » com­prises of sep­ar­ate Chinese marks mean­ing « Door of the Sun », again allud­ing to the use of gold leaf.I aimed to emphase this con­trast through the use of express­ive strokes covered in gold leaves against a mono­chro­mat­ic col­our range.