Lilac is considered a feminine and graceful colour. Its direct connection to the sweet-scented, charming flowers means it's often associated with innocence, youth and memories of the arrival of spring.
This pro­ject was a part of my ongo­ing col­lab­or­a­tion with Kidspattern. If you'd like to learn more about them please vis­it their web­site HERE. Alternatively, view the archive of our pre­vi­ous pro­jects HERE, in which I dis­cuss in detail the his­tory and nature of our work.
All cloth­ing-mockups presen­ted here are provided cour­tesy of Kidspattern and are used for visu­al­isa­tion pur­poses only.
Lilac Dream, forms part of a pat­tern devel­op­ment series com­mis­sioned for a client's Autumn-Winter Collection. The col­our palette was com­posed by Kidspattern, from a selec­tion of tin­ted sage greens, matched with a but­ter­scotch cream, purple puce and fresh lilac.
The selection of this theme for this series is a response to 'LILAC' Colour Trend. Since Ultra Violet became Pantone Colour of the Year 2018, Lilac, especially in its pastel shades, is enjoying a persistent resurgence in fashion and design.
This flor­al, sig­na­ture print series was pro­posed as an over­size, full digit­al print design, so that the details of the blooms, as well as the col­our trans­itions could be rep­res­en­ted well in a print form.
The ele­ments of the design, were based on manip­u­lated pho­to­graph­ic mater­i­al, recol­oured in a trans­ition­al man­ner, with col­ours from the full spec­trum of the col­our palette softly blend­ing into one another.
Furthermore, in each col­our option a lay­er of a hand draw­ing was added on top in order to define the details of the small flowers and bal­ance out the over­all contrast.
The main ver­sion of the pat­tern (shown above) has the lilac branch placed in a diag­on­al and reg­u­lar repeat on top of a white background.
Below you can view a selec­tion of stages from the devel­op­ment pro­cess, with the pat­tern recol­oured to fit mul­tiple col­our sets, vari­ous arrange­ment and size options.
Purple Puce
Both ver­sions focus on the ivory and maroon col­our com­bin­a­tions by set­ting each one as the back­ground. Moreover, both present a large size of the pat­tern to assist with print­ing and to bring out the details of the design.
Firstly, the smal­ler flor­al ele­ments, infused with tints from the col­our palette, are scattered around in a free flow­ing manner.
Next fol­lows a mono­chrome recol­our­ing which is more in keep­ing with the nat­ur­al lilac shade of the flower sprig, which is arranged diag­on­ally in a simple repeat.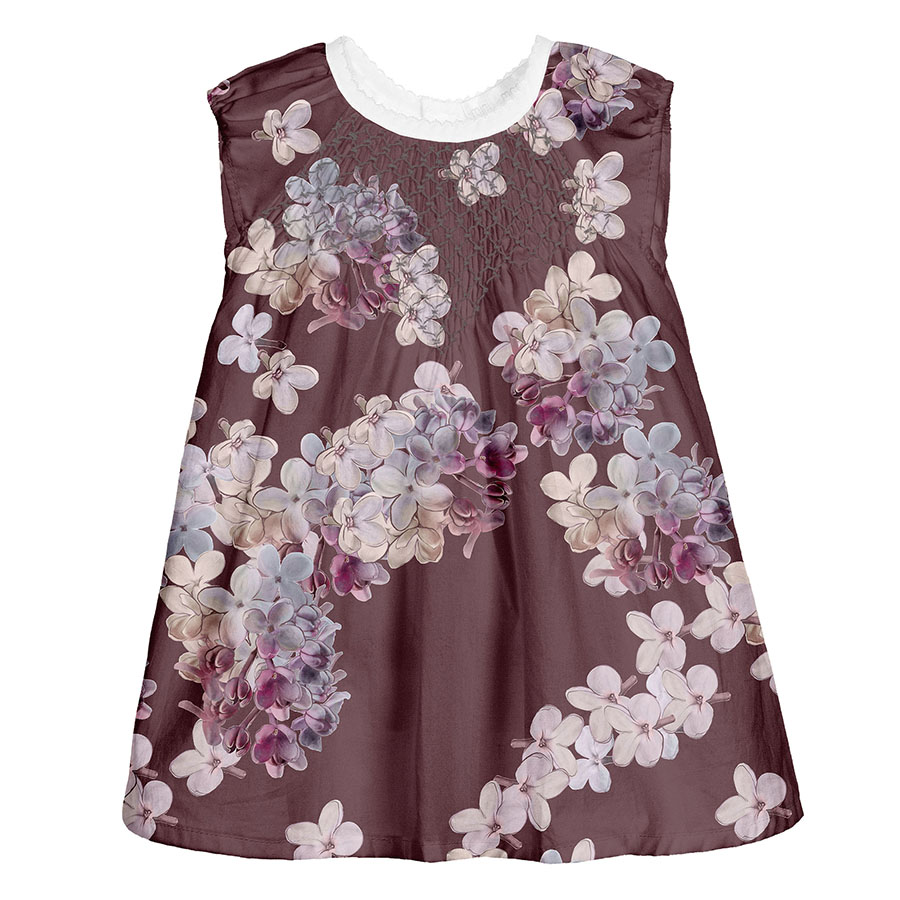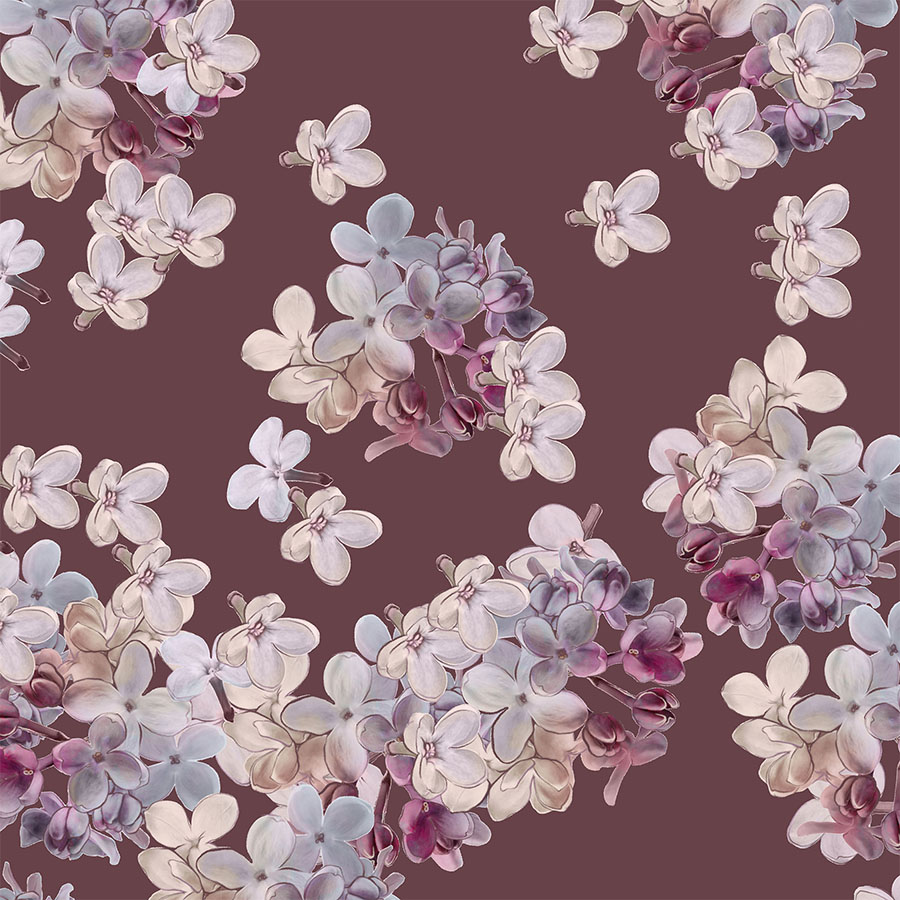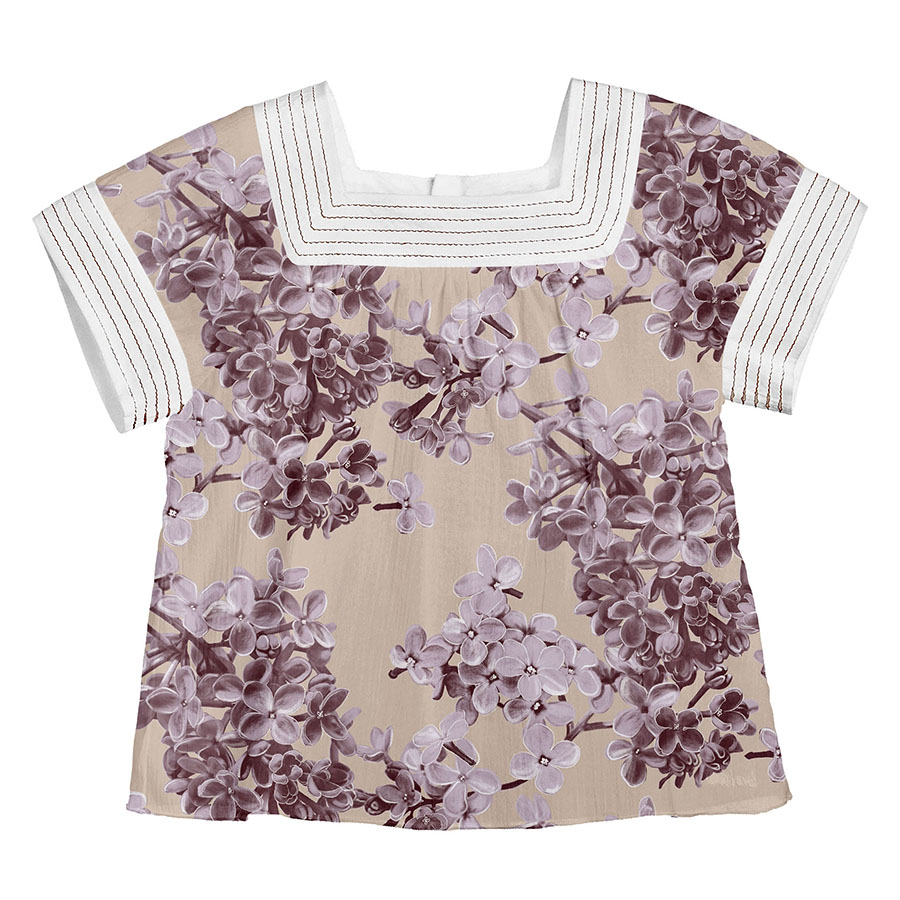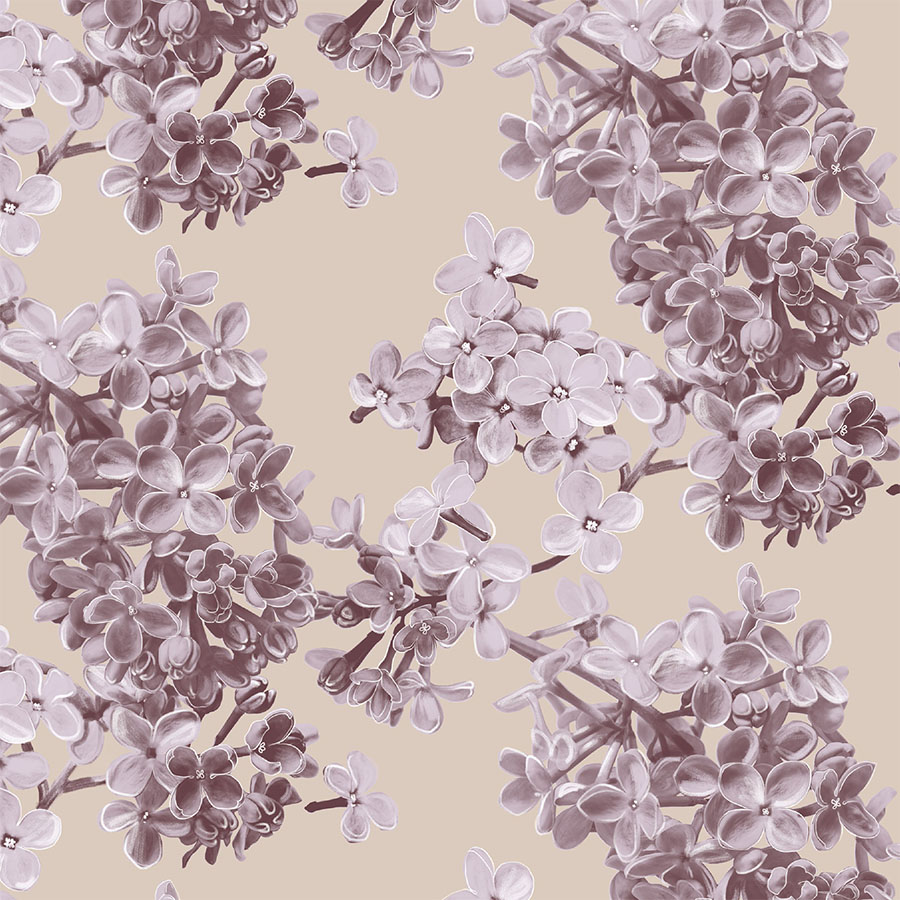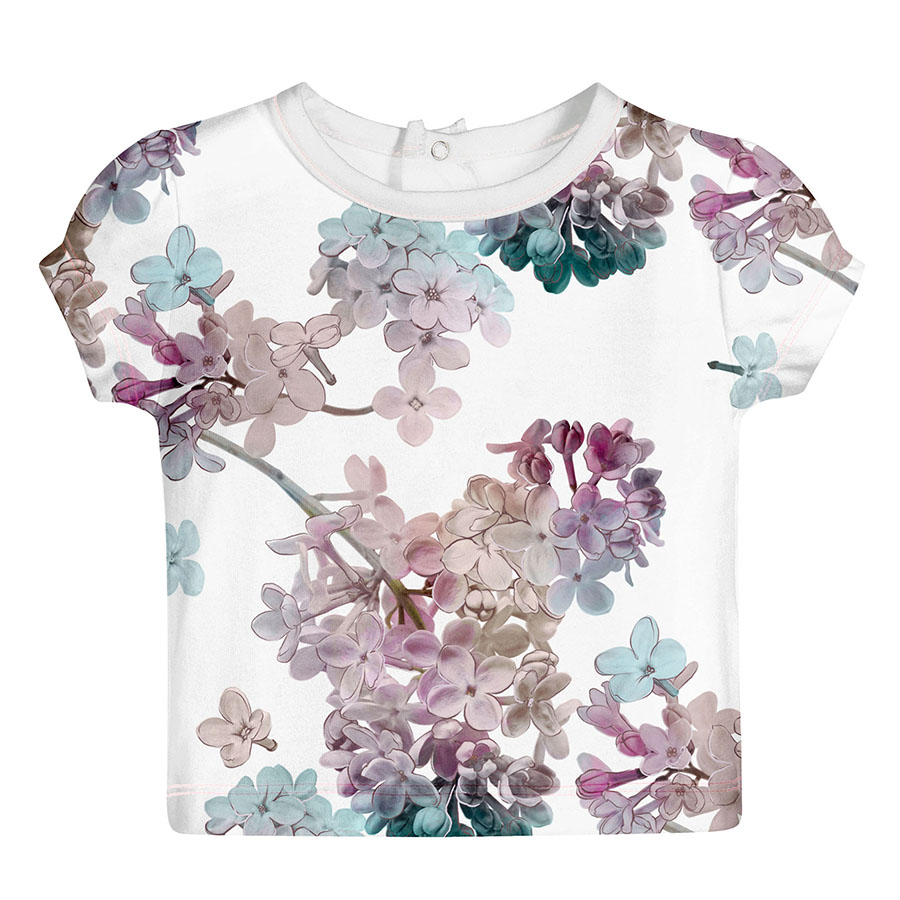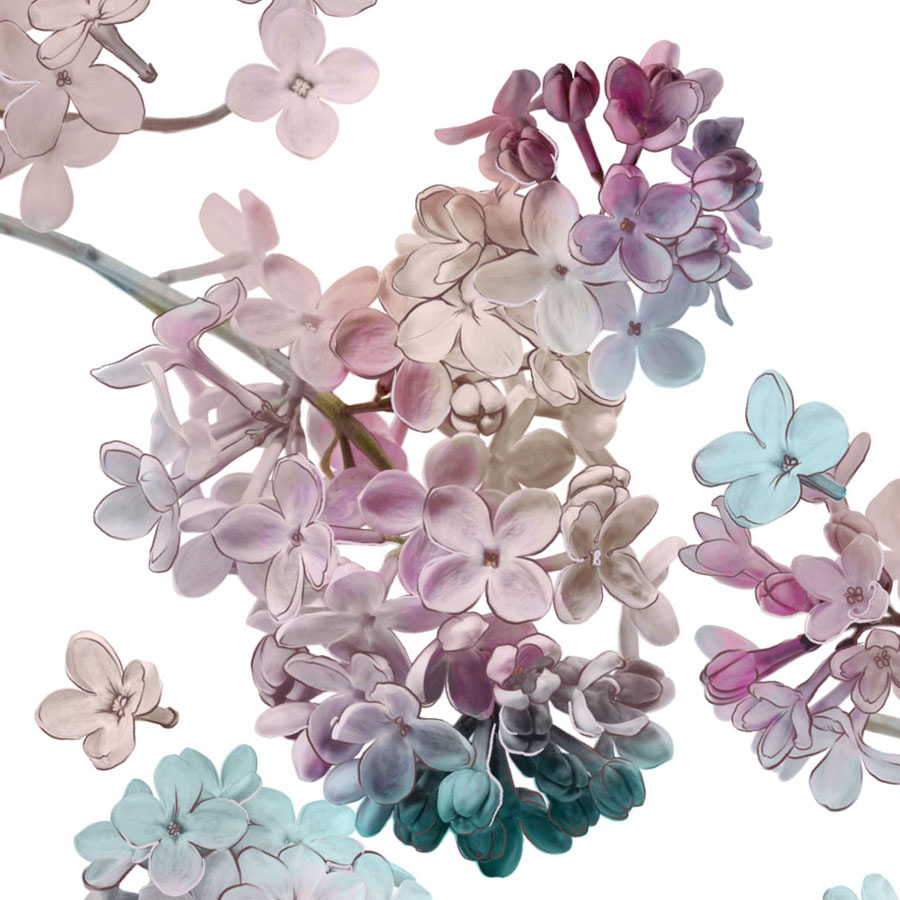 Magical Garden
By intro­du­cing a hint of an iri­des­cent char­ac­ter, the lumin­os­ity of the pas­tel col­our palette was amp­li­fied in order to offer a more con­tem­por­ary design.
This strik­ing ver­sion was pro­posed on a white back­ground in a large zoom with two dif­fer­ent spa­cing arrange­ments.
Dark Green
Focusing on the green side of the palette the ele­ments were reworked in mono­chrome with lay­er of white pas­tel draw­ing on top.
The dark­er cent­ral flor­al ele­ment is also repeated reg­u­larly amongst the loosely scattered smal­ler flowers.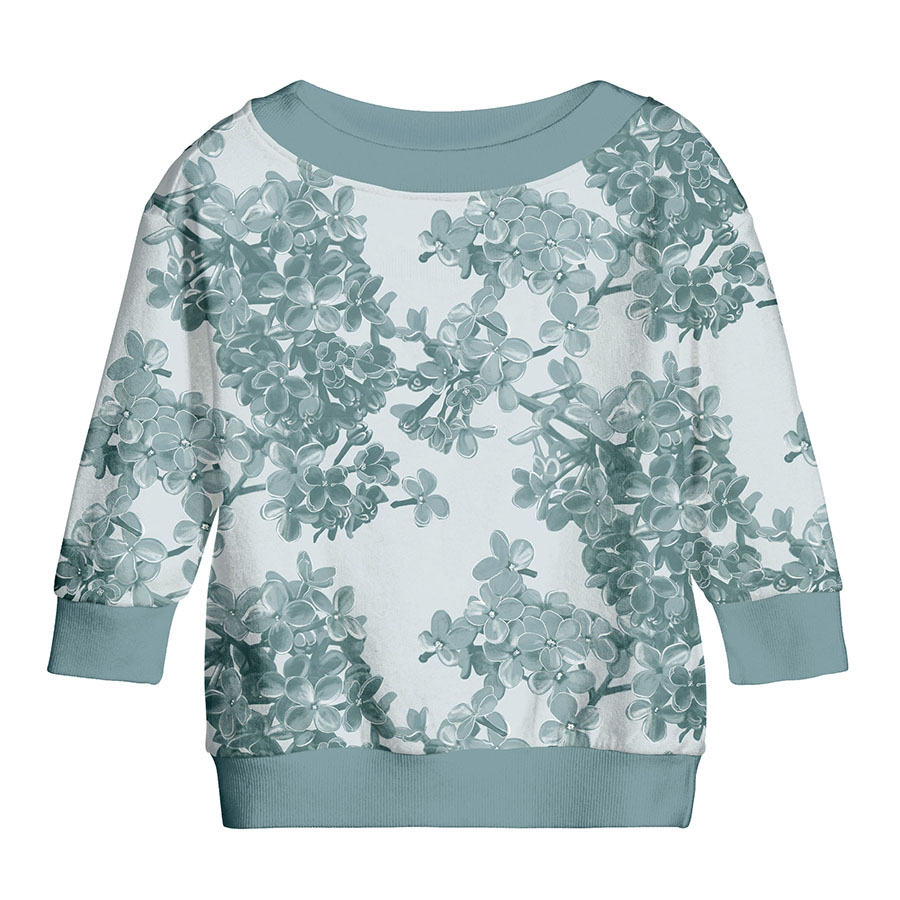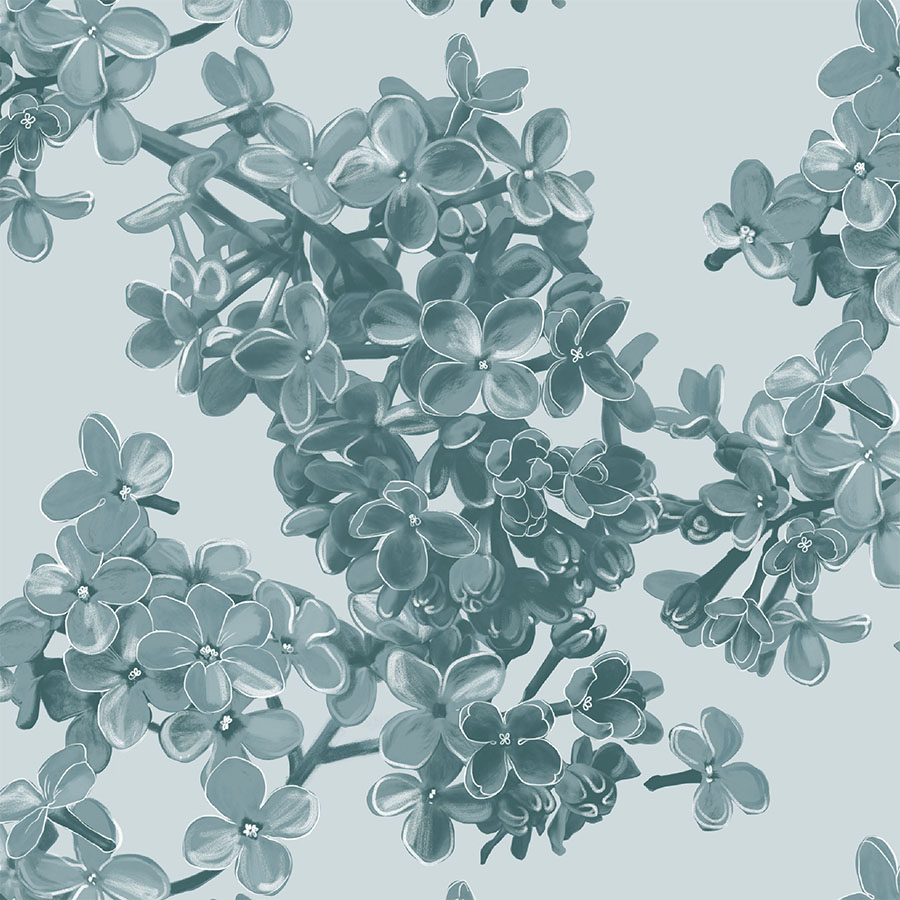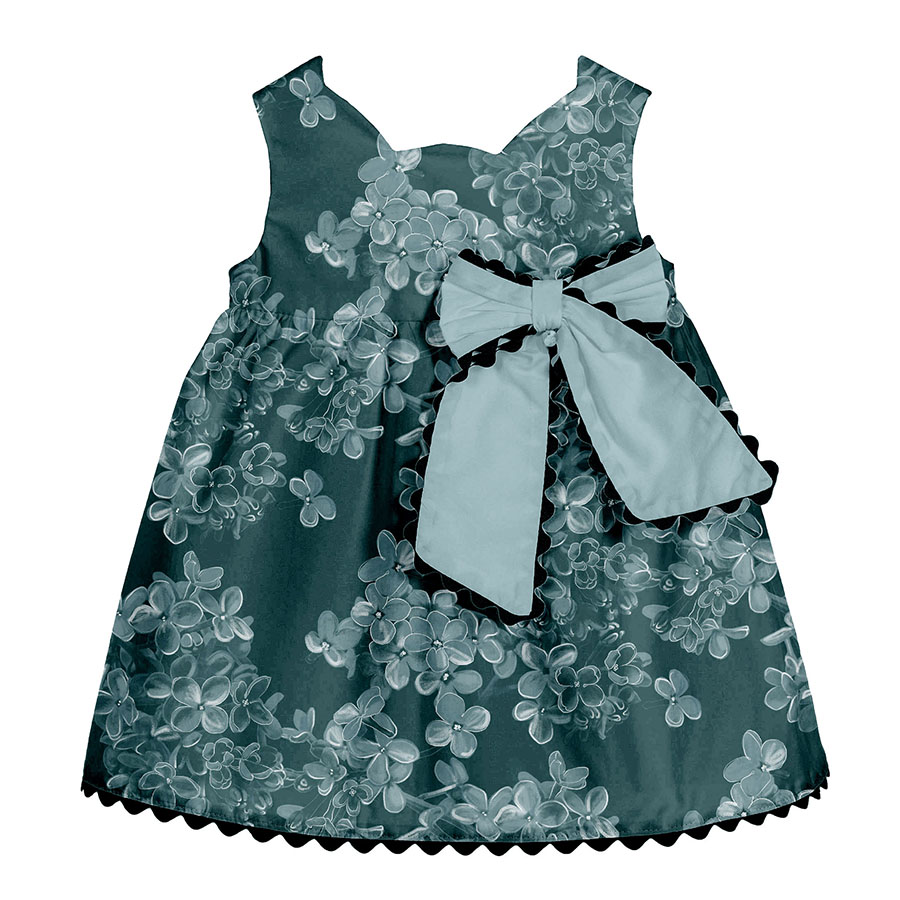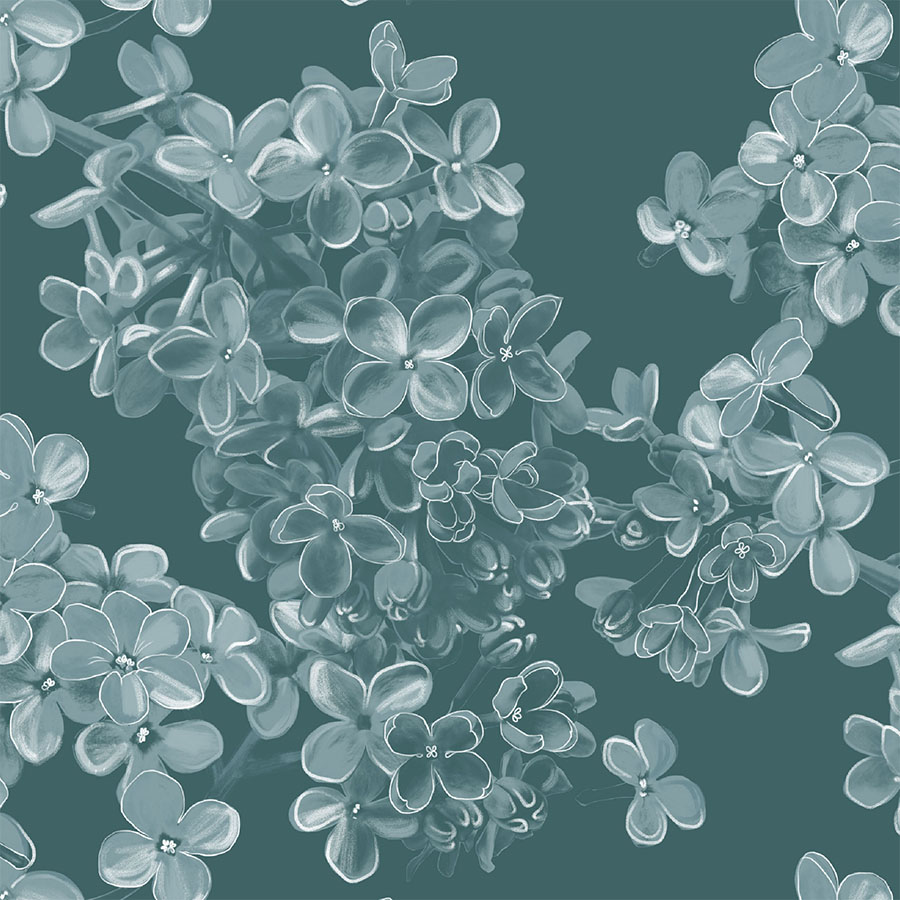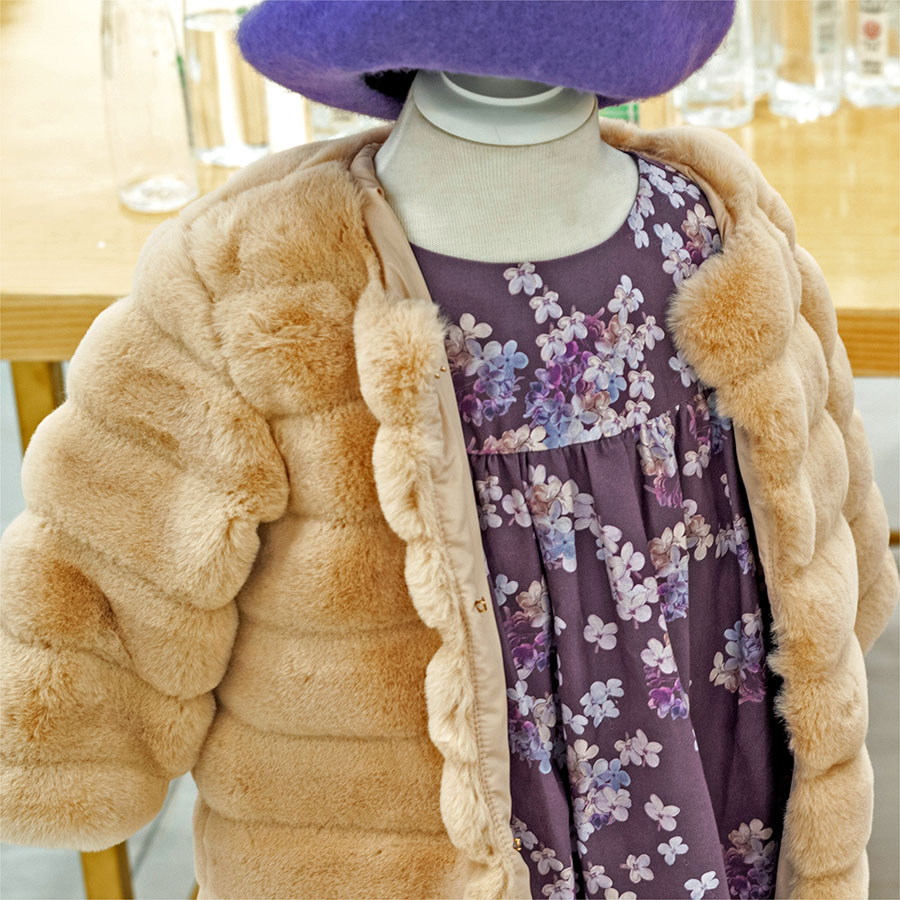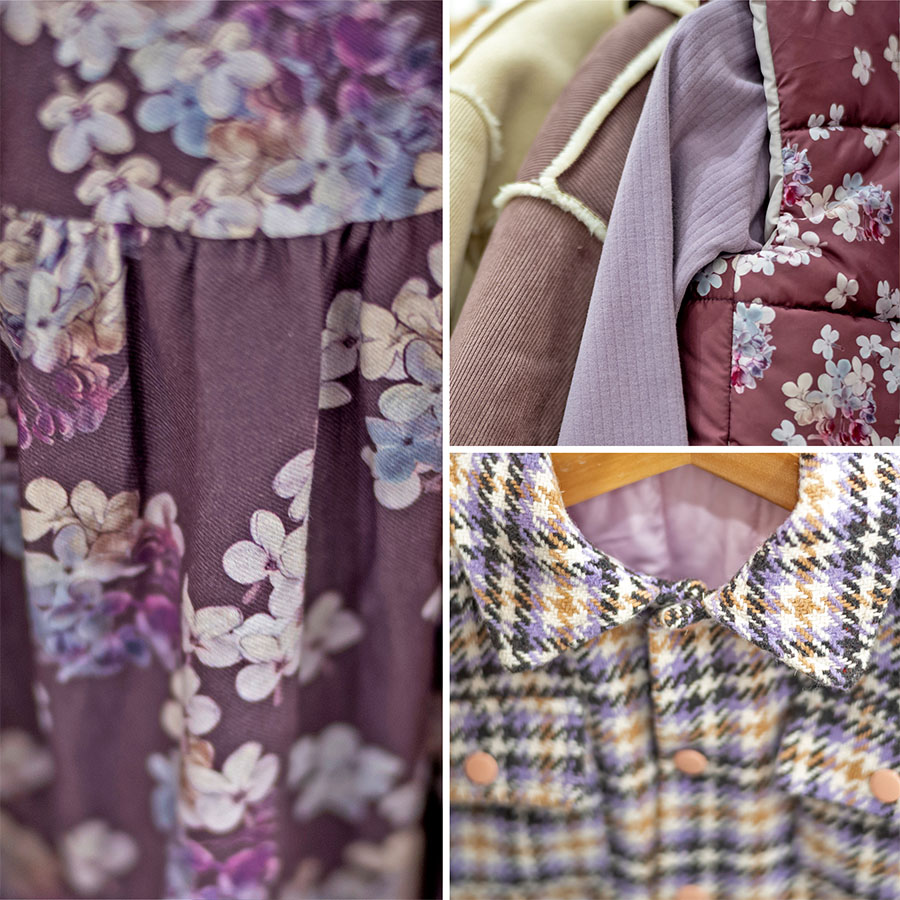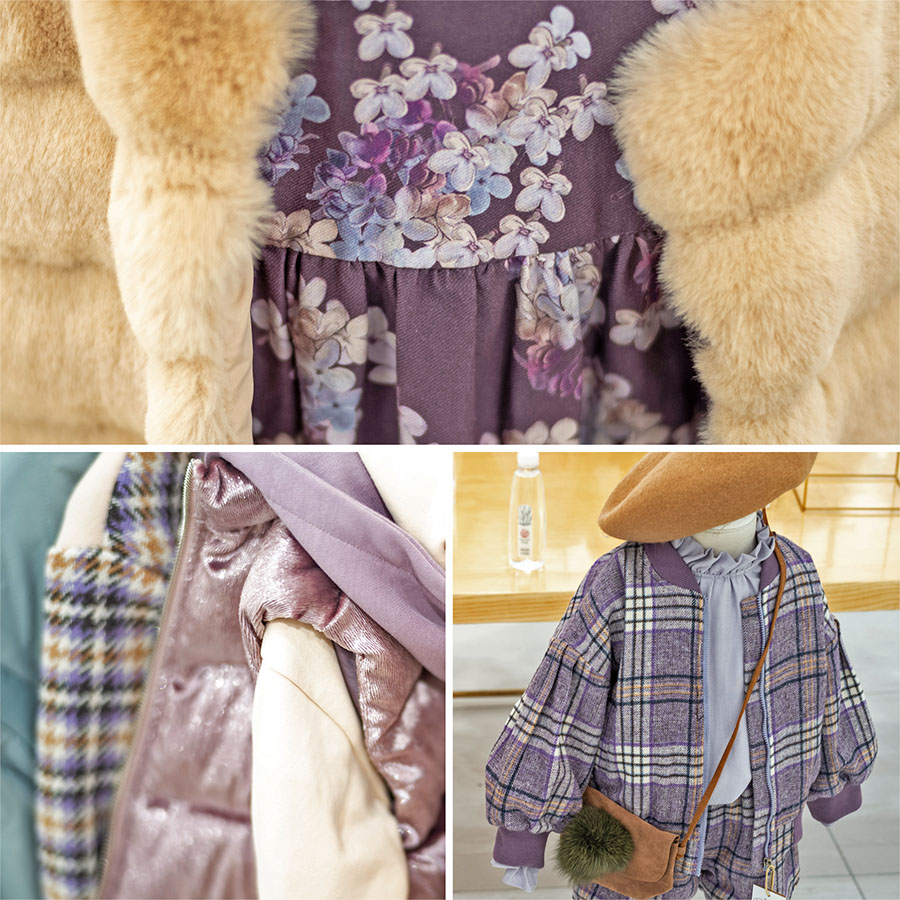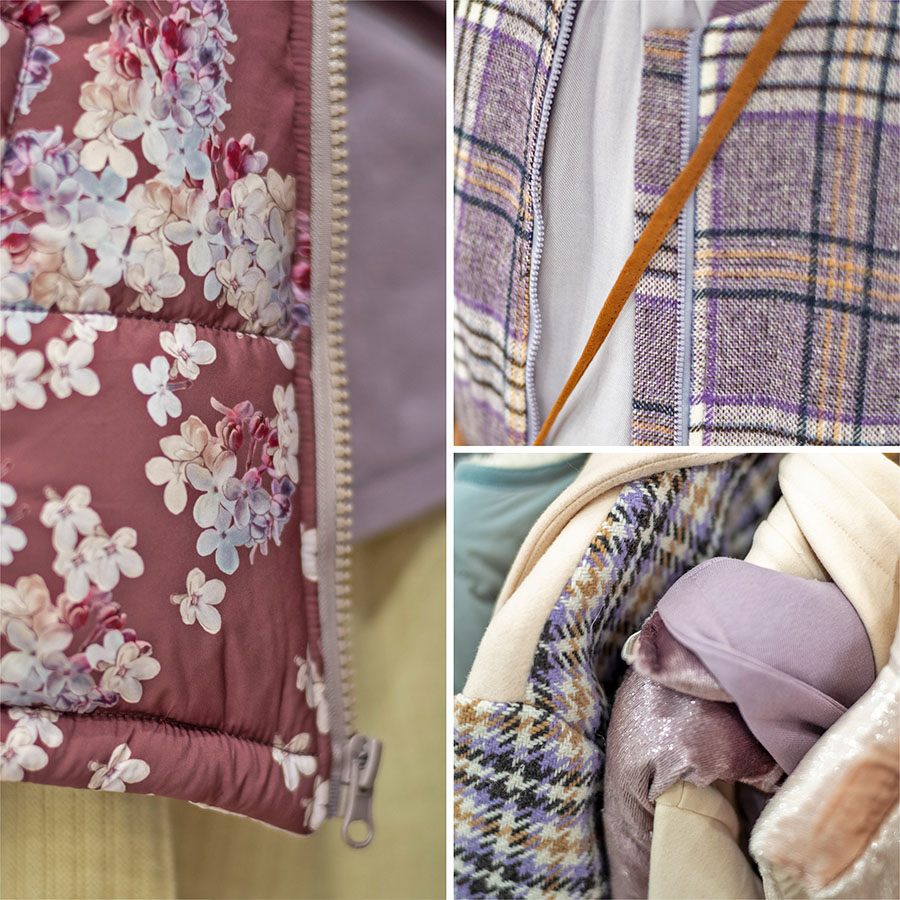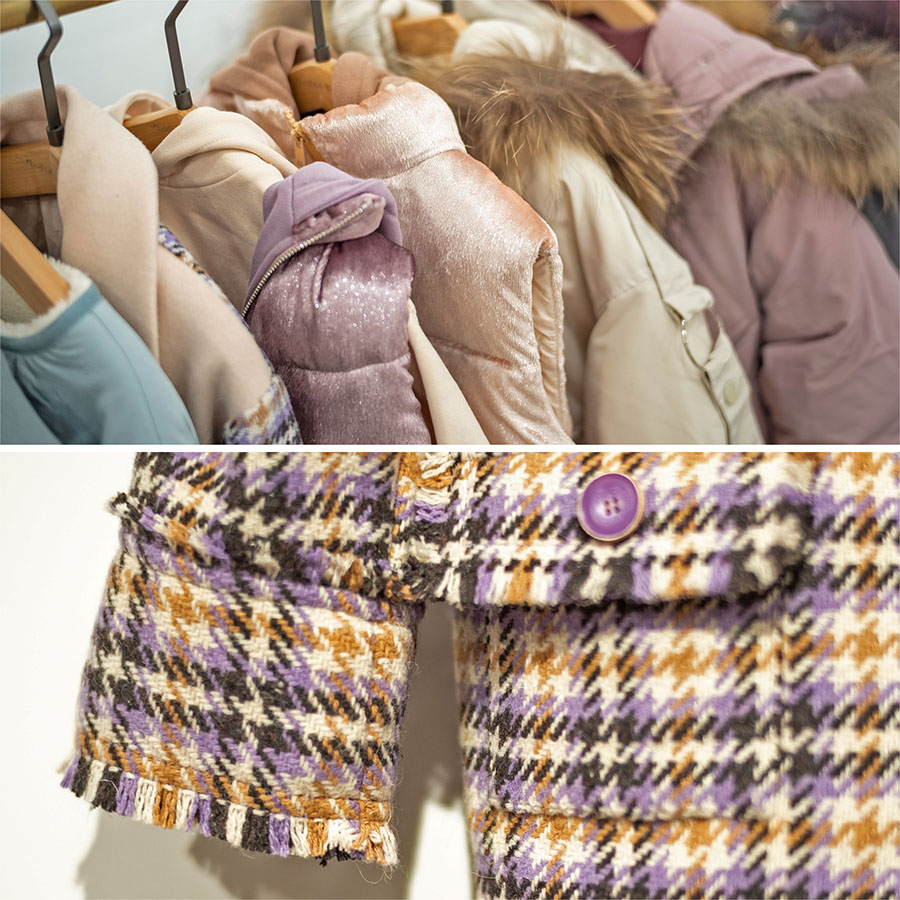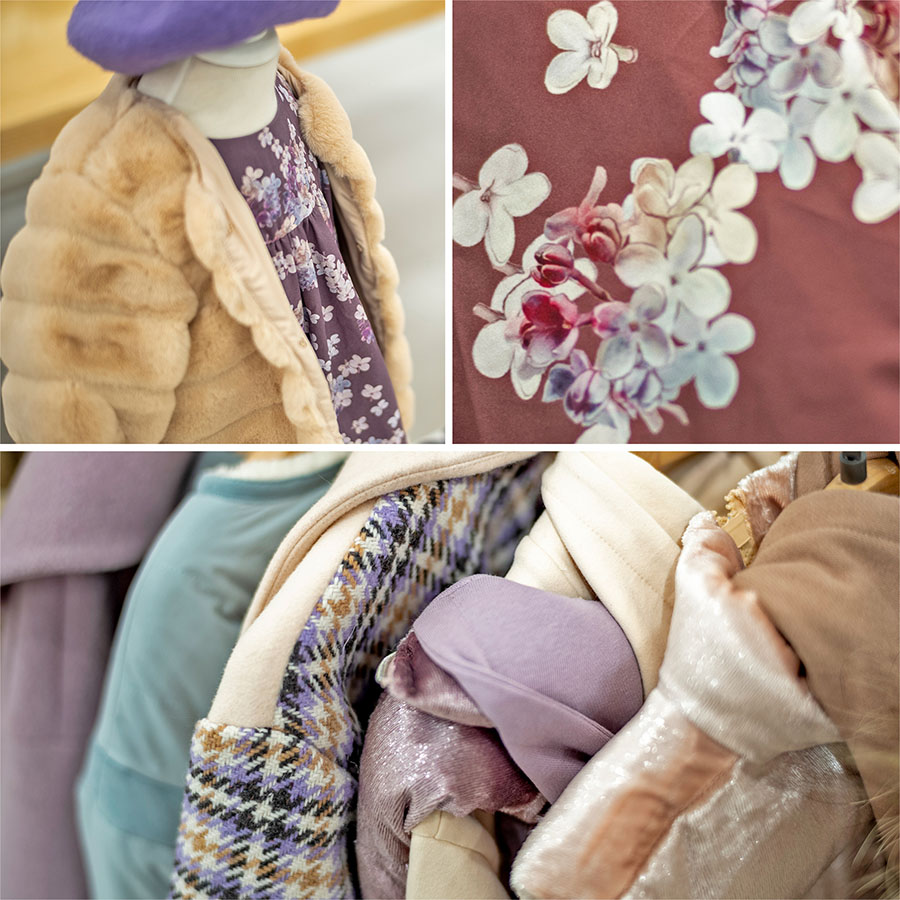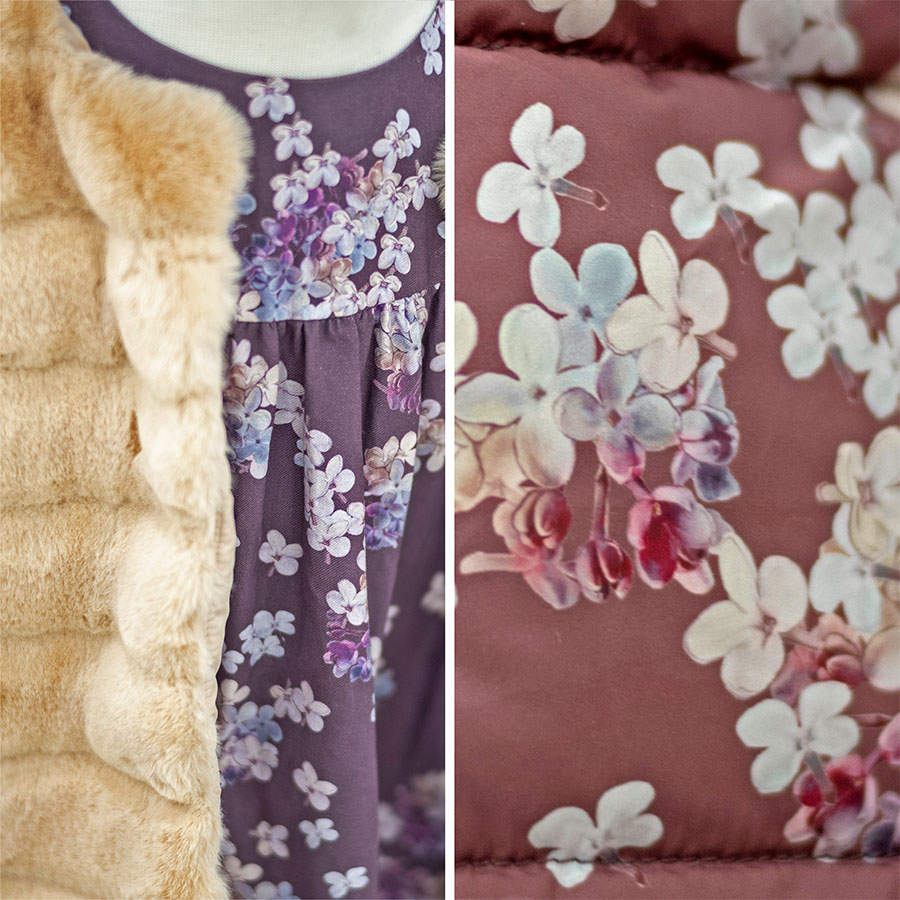 Pattern in Print
These are pho­to­graphs of the client's first cloth­ing samples pro­duced to dis­play at a trad­ing fair as a part of the launch of their over­all Autumn-Winter Collection. Here you may observe how the pat­tern was used and prin­ted across mul­tiple items and how it fits with­in the wider con­text of the collection.
Please note that these images are provided cour­tesy of the cli­ent and Kidspattern and are used for port­fo­lio pur­poses only.
"Winter is on my head, but etern­al spring is in my heart ; I breathe at this hour the fra­grance of the lilacs, the viol­ets, and the roses, as at twenty years ago."
Victor Hugo