This series continues to draw inspiration from a long-standing tradition of Decorative Arts. The aim being to create a modern reimagining of traditional folk motifs, based on stylised florals and botanicals. Brought up to date by using a fashionable coral palette and creatively merging diverse ornamental influences — this design offers a fresh interpretation of boho eclecticism.
This pro­ject was a part of my ongo­ing col­lab­or­a­tion with Kidspattern. If you'd like to learn more about them please vis­it their web­site HERE. Alternatively, view the archive of our pre­vi­ous pro­jects HERE, in which I dis­cuss in detail the his­tory and nature of our work.
All cloth­ing-mockups presen­ted here are provided cour­tesy of Kidspattern and are used for visu­al­isa­tion pur­poses only.
This detailed design was com­mis­sioned for a client's Spring Summer Collection aimed at girls (age 18 – 36months old). This series shares a theme as well as a col­our palette with anoth­er pat­tern design (see Ornamental Lacework). The range of cor­als, matched with accents of pinks was com­posed by col­our and trend spe­cial­ist Kidspattern. Additionally, this time it was con­tras­ted by an addi­tion of a space grey.
In all the presen­ted vari­ations of this pat­tern, the three main hand-drawn ele­ments are arranged in a spa­cious, reg­u­lar man­ner whilst the com­pli­ment­ary smal­ler ones fill the space in between them. The over­all design is placed on a vari­ety of col­oured back­grounds to make a full use of the col­our palette and offer a vari­ety of uses.
Creative Process
Where pos­sible, I like to begin by put­ting my ideas down on paper with ini­tial pen­cil sketches. Typically, I then scan them in and devel­op them fur­ther digit­ally. In this instance, the next stage involved clean­ing up the selec­ted shapes and work­ing out the details of the orna­ments in black and white. I figured, for the sake of sym­metry, I could work on only half of the orna­ment and then reflect it horizontally.
Below you can view the main, final ele­ments that make up the base repeat mod­ule, which was then recol­oured and reposi­tioned in vari­ous pat­tern options. On the side­bar, you can view the inten­ded col­our palette.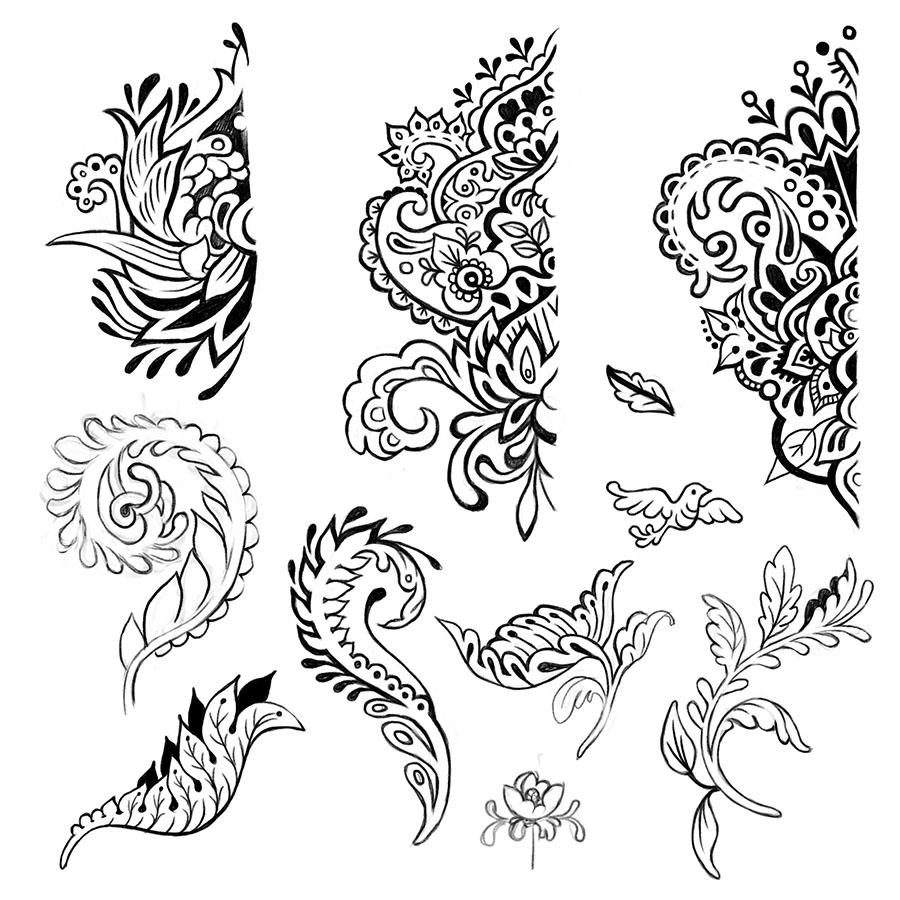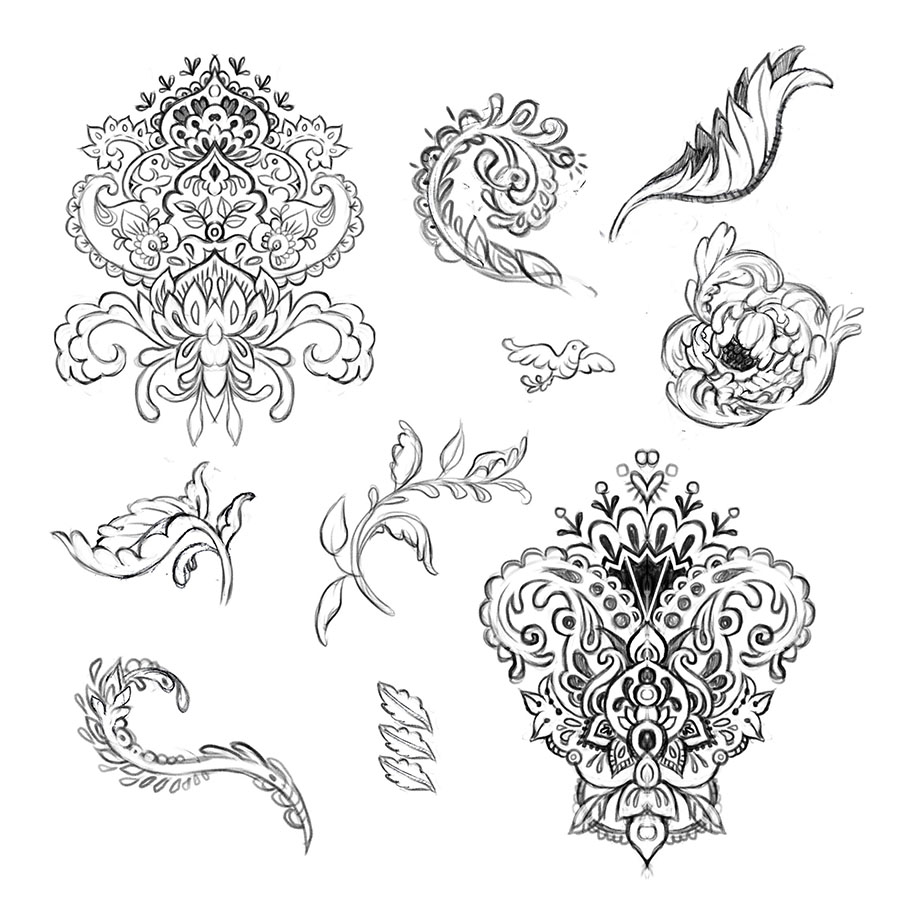 As this series con­tin­ued to draw upon a long-stand­ing tra­di­tion of Decorative Art, it offered a won­der­ful oppor­tun­ity to study vari­ous styl­ised botan­ic­al dec­or­a­tions from across the his­tory and vari­ous ethnicities.
Nowadays, cur­rent tend­en­cies are lean­ing towards boho trends, which among many oth­er things, also affirms that influ­ences are con­stantly drawn from the mix­ing of the cul­tures in mod­ern soci­ety. Hence, this design is a subtle remind­er for me to always stay curious.
Newborn Collection
Please browse through a selec­tion of designs pre­pared for the Newborn Line of the over­all Collection (age 0 – 9 months). This includes ideas for prints suit­able for baby hats, bibs and body­suits. Additionally, these pat­terns are matched with a Homeware Line that may be prin­ted on pil­lows, blankets and bedsheets.
Firstly, the small leafy ele­ments are scattered around in a simple arrange­ment, col­oured in a palette of light cor­als to keep it neut­ral and soft.
The fol­low­ing two ver­sions were made from shapes cre­ated by filling in the pre­pared orna­ments. Interlocking these with each oth­er in reg­u­lar repe­ti­tions allowed us to cre­ate this full cov­er­age design placed, as stand­ard, on a white back­ground. In this case, the focus was moved towards the pink side of the palette.
Next, these shapes were arranged in a reg­u­lar simple repeat. This elab­or­ate ver­sion takes advant­age of the full range of the col­our palette includ­ing all the pink and cor­al shades. The com­pli­ment­ary, lin­ear out­line made from the same orna­ment was visu­al­ised on a baby jump­er with a sug­ges­tion for an embroid­ery embel­lish­ment.
Lastly, an out­line motif was arranged into an intric­ate, del­ic­ate design. Its eclect­ic influ­ences evoke dam­ask and henna décor motifs.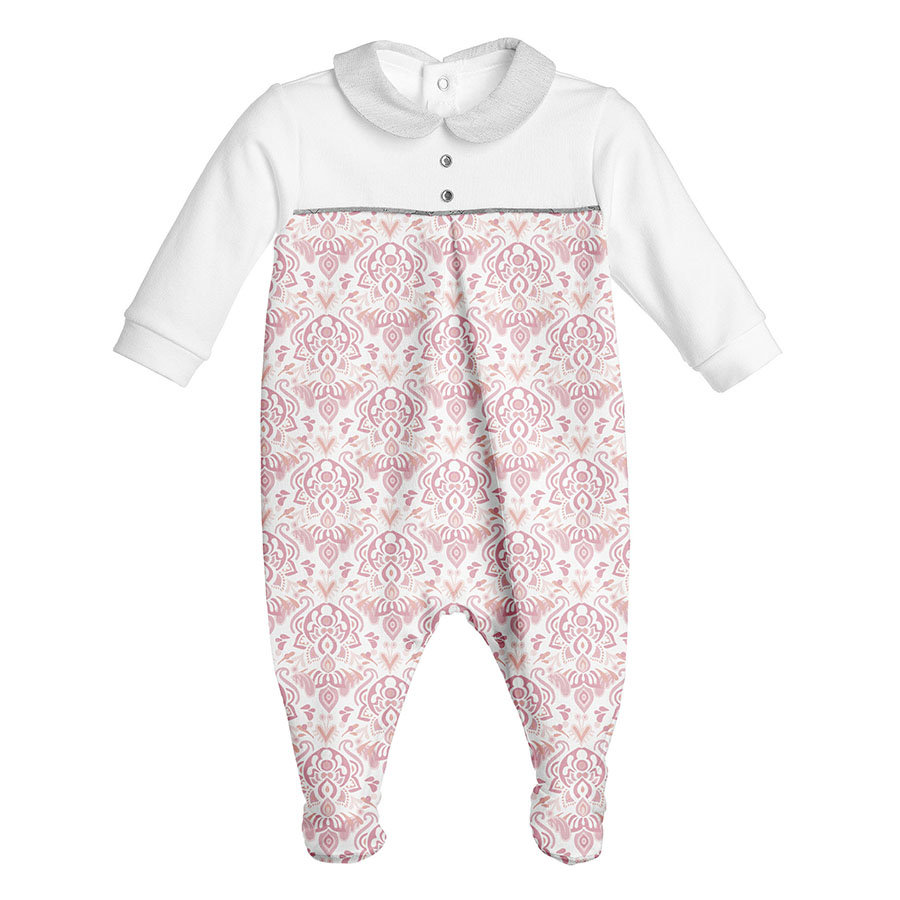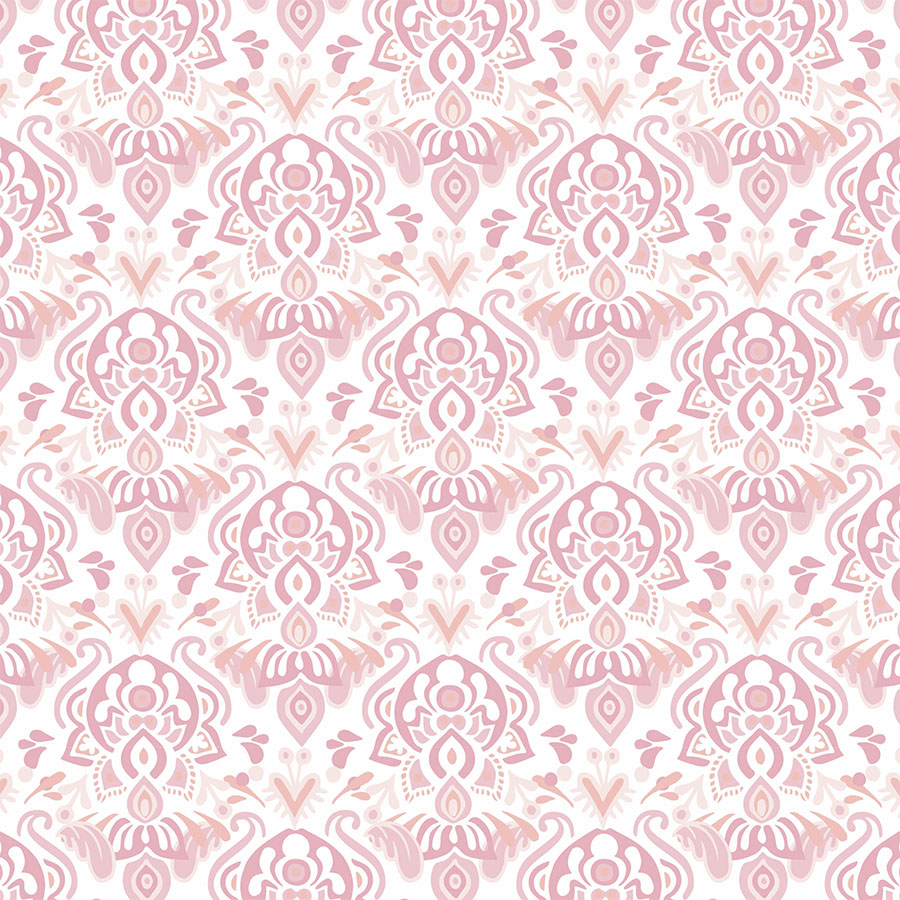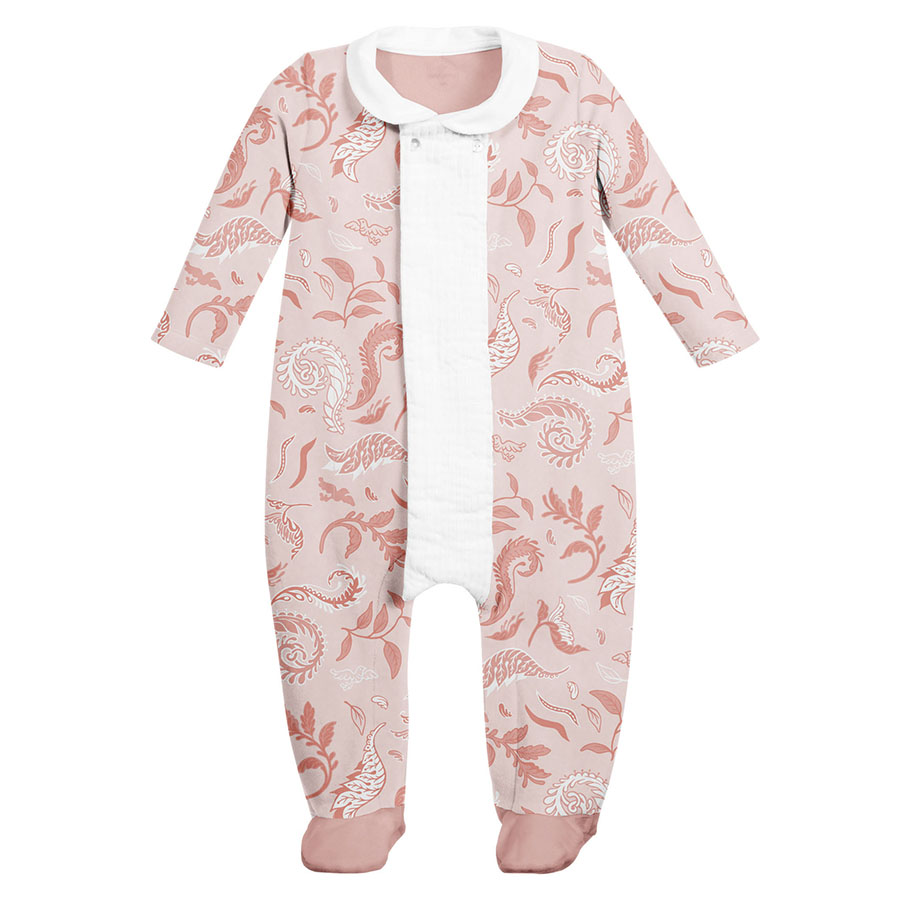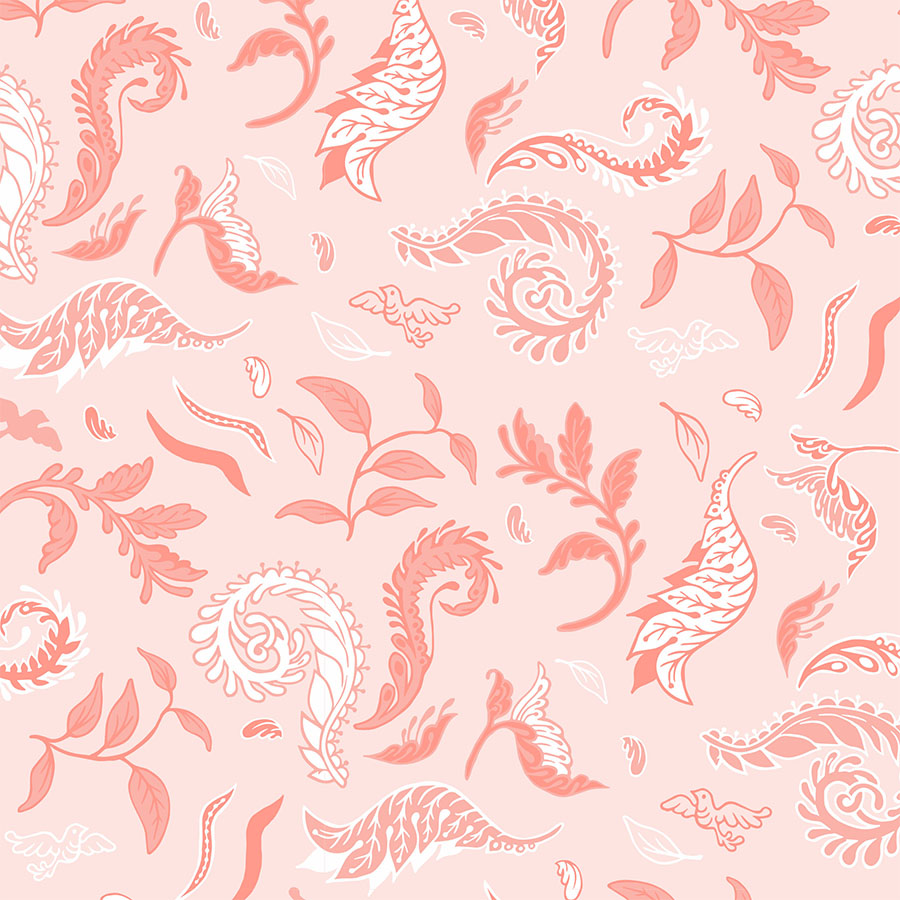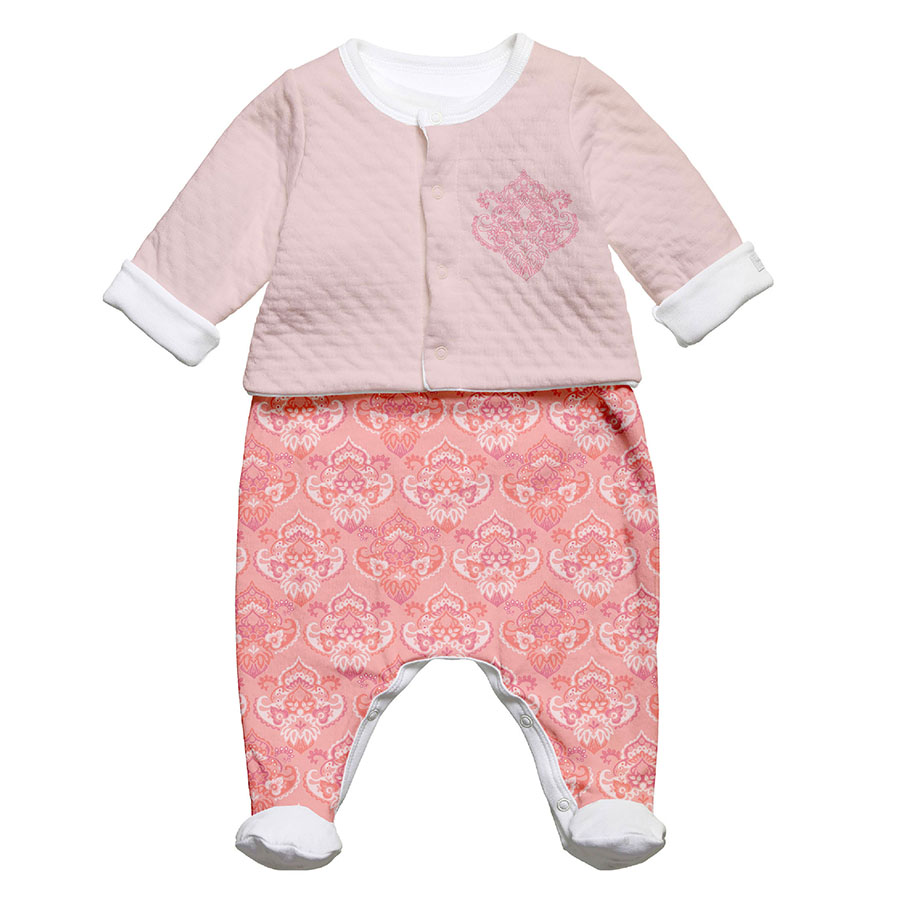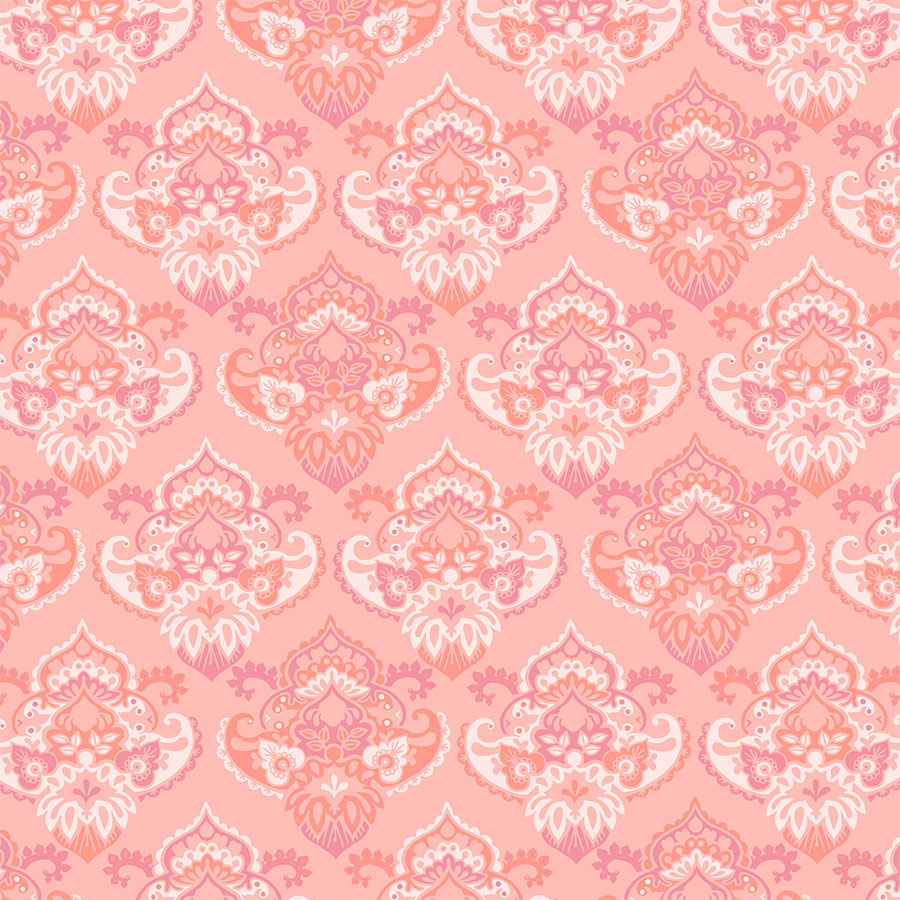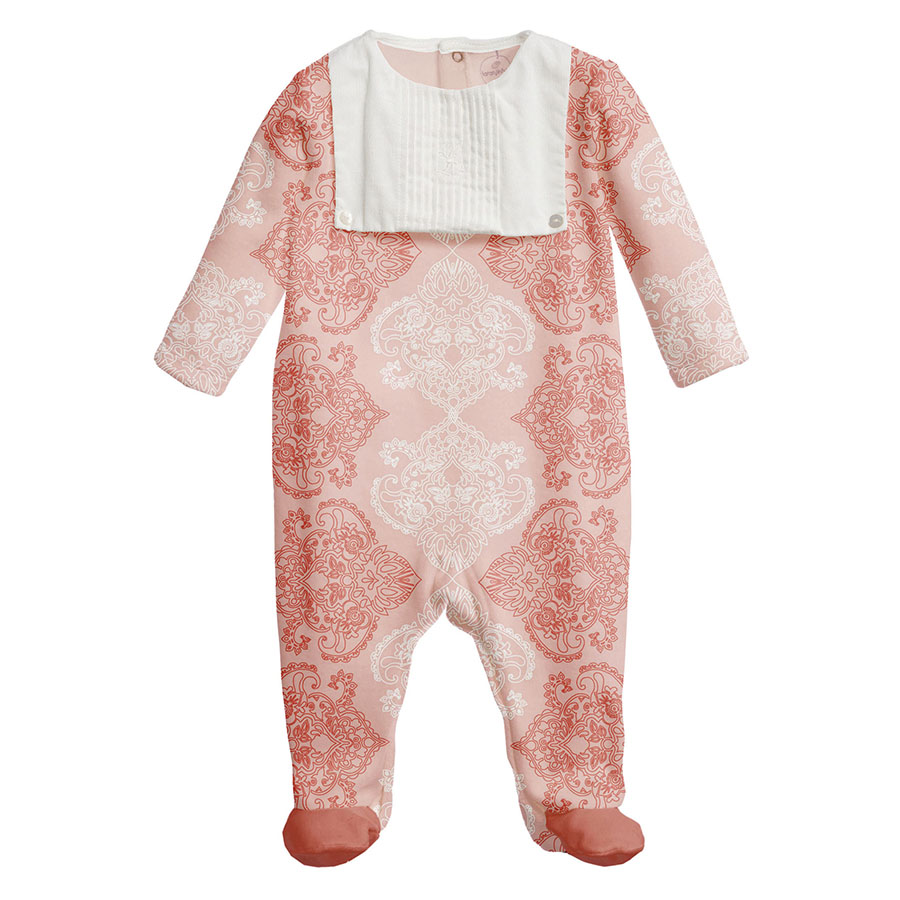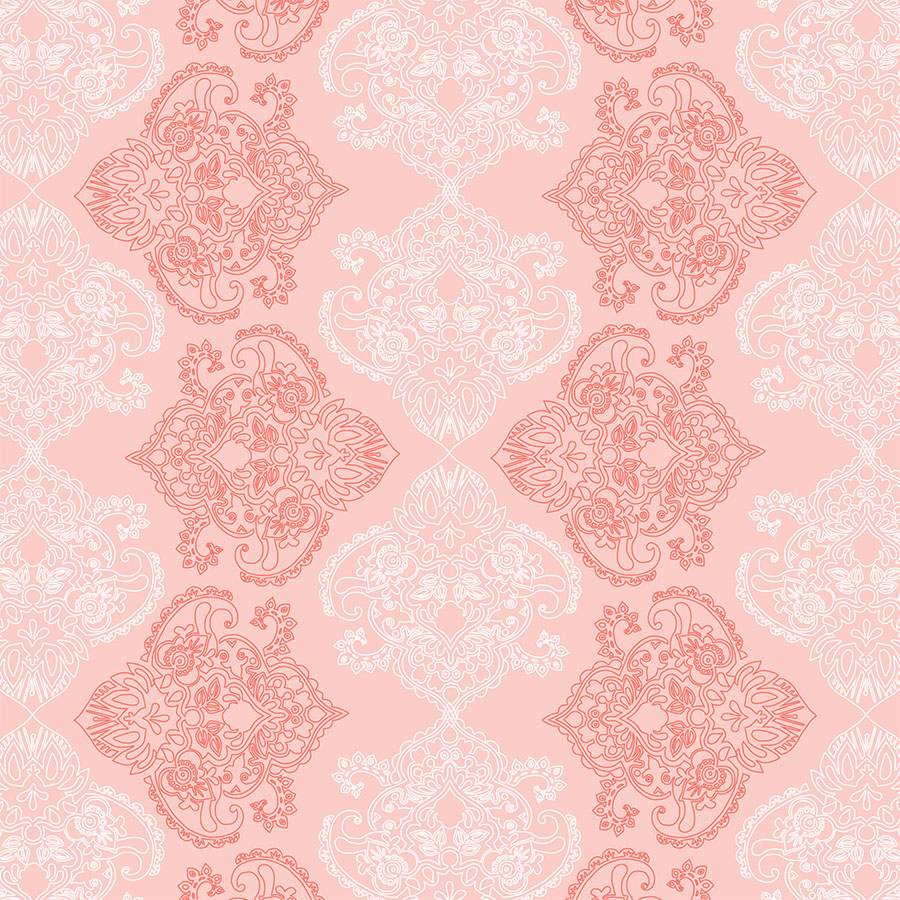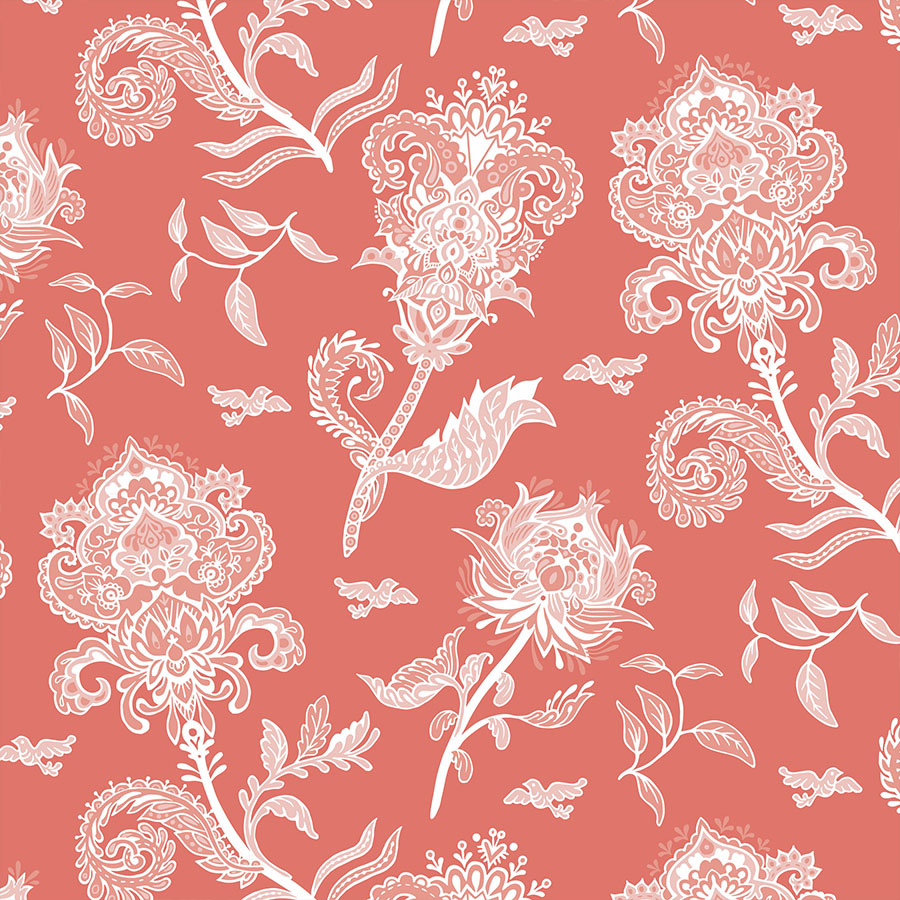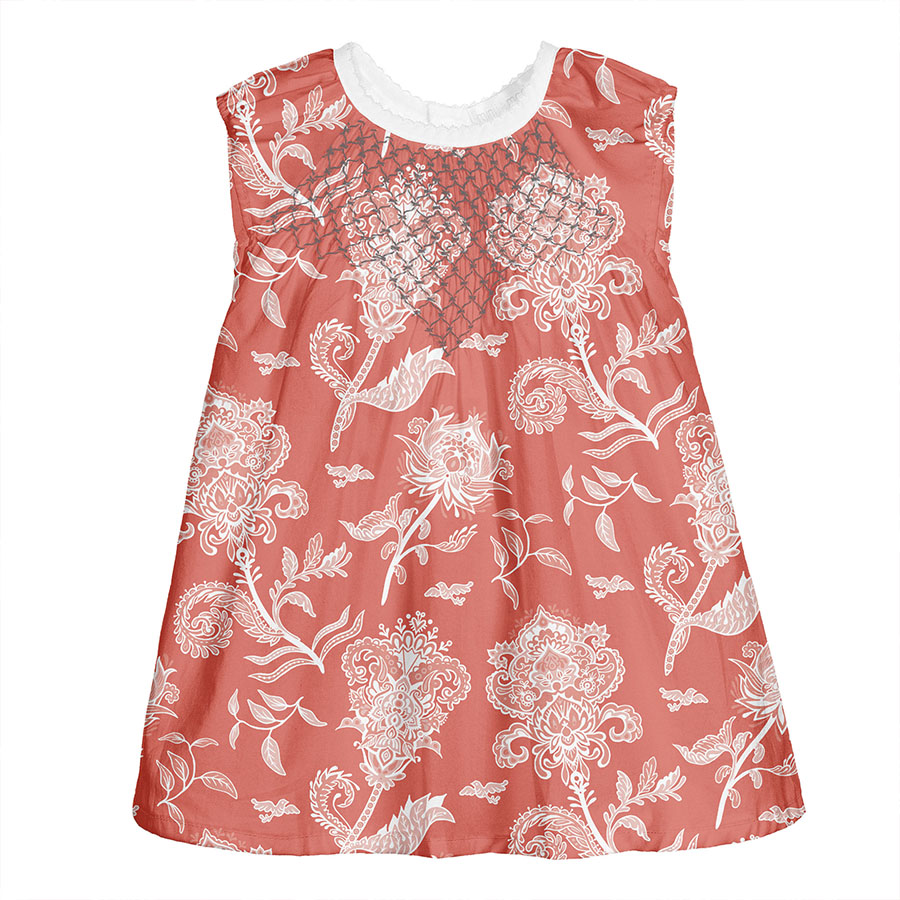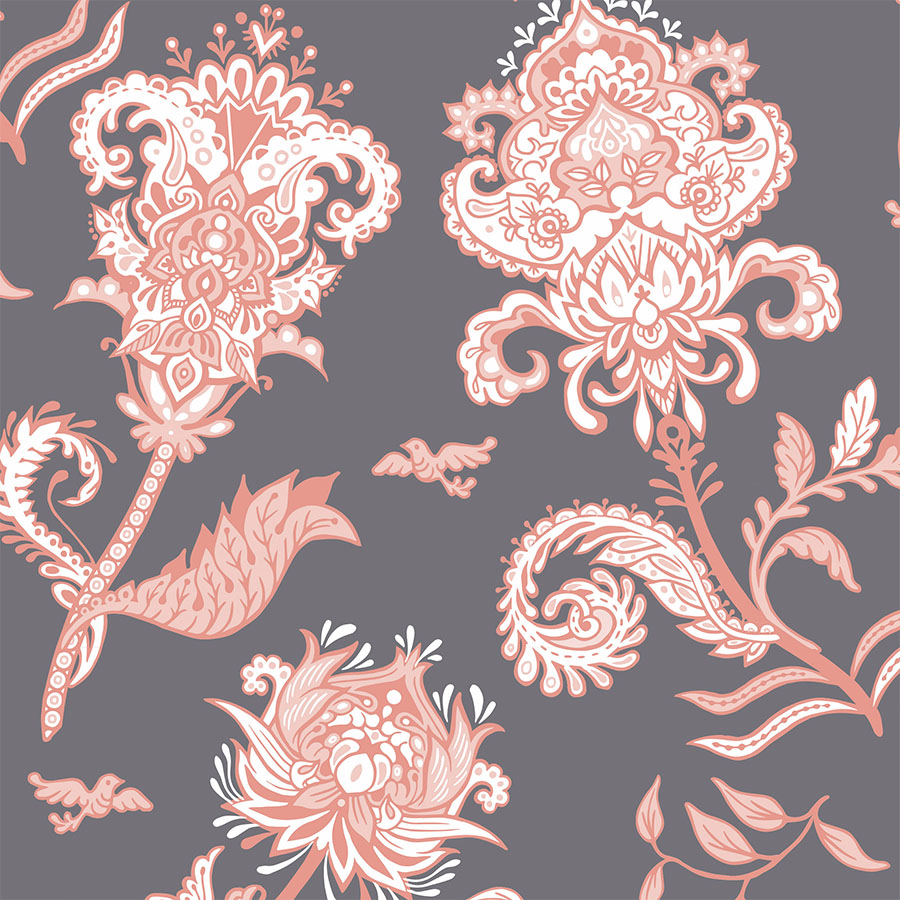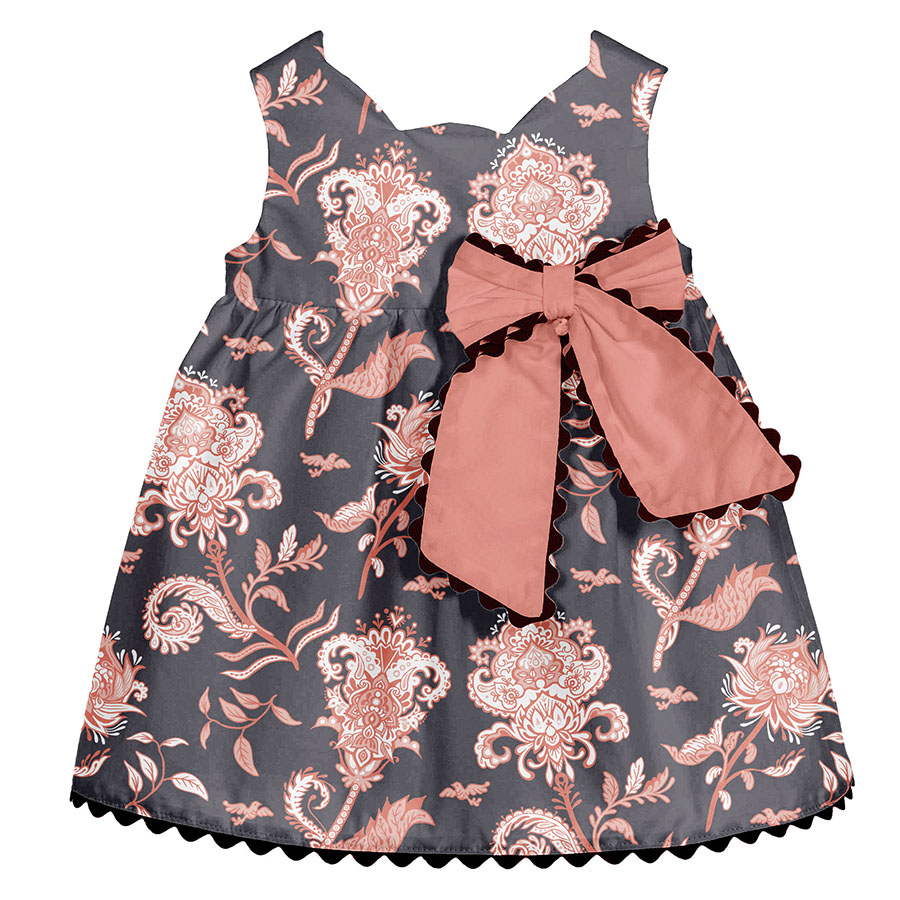 Dark Background
These ver­sions intensi­fy and deep­en the palette by pla­cing the dark­er of cor­als as well as the space grey in the back­ground. This now provides a lovely con­trast for the ele­ments col­oured in pas­tels and out­lined in white. These mod­ern, bold solu­tions were the ones to be selec­ted, pur­chased and prin­ted by the client.
Below, please view a selec­tion of quick snaps that should give you an idea of the final use of this pat­tern in print. These are our client's first cloth­ing samples, made to launch their Spring-Summer col­lec­tion and to dis­play at trad­ing fairs. On the right hand-side you may see examples of this print incor­por­ated into their Newborn Collection as well — prin­ted on items such as a bib and a baby grow.
Please note that these images are provided cour­tesy of the cli­ent and Kidspattern and are used for port­fo­lio pur­poses only.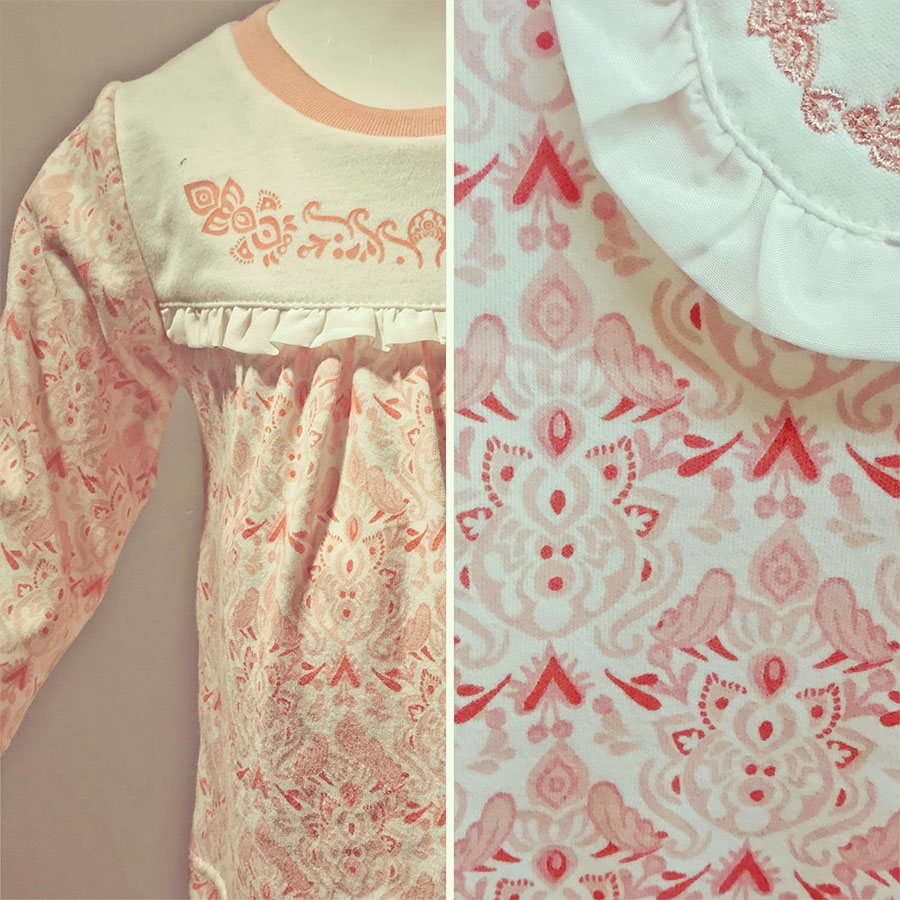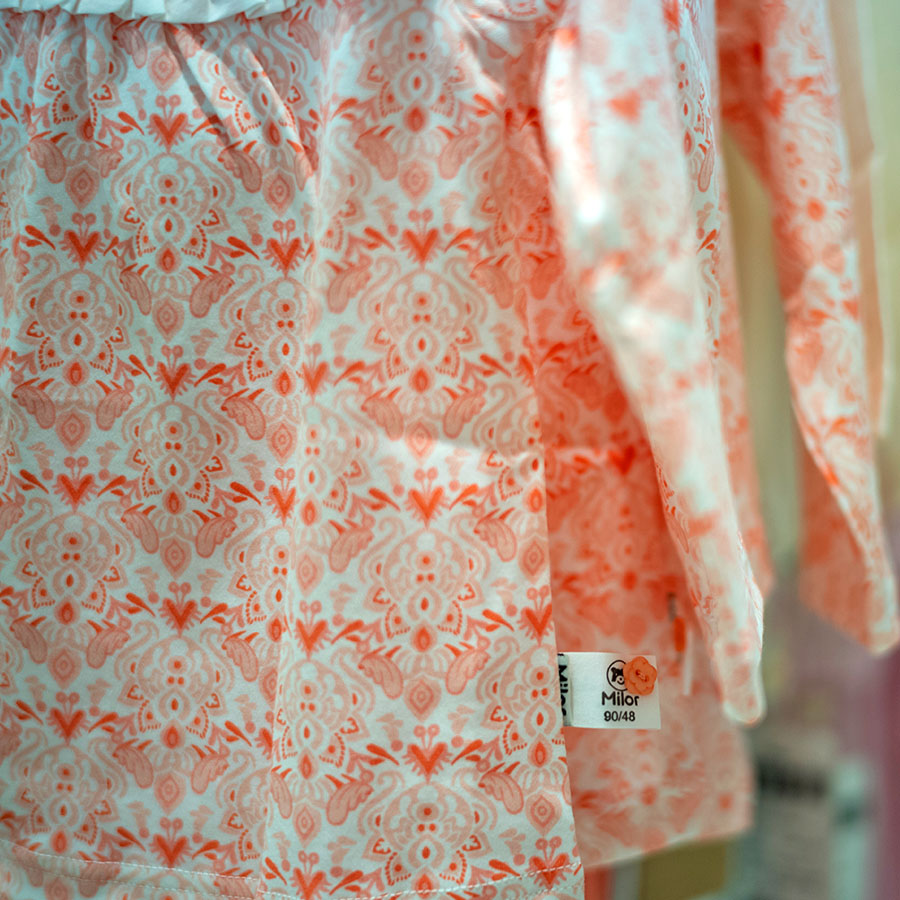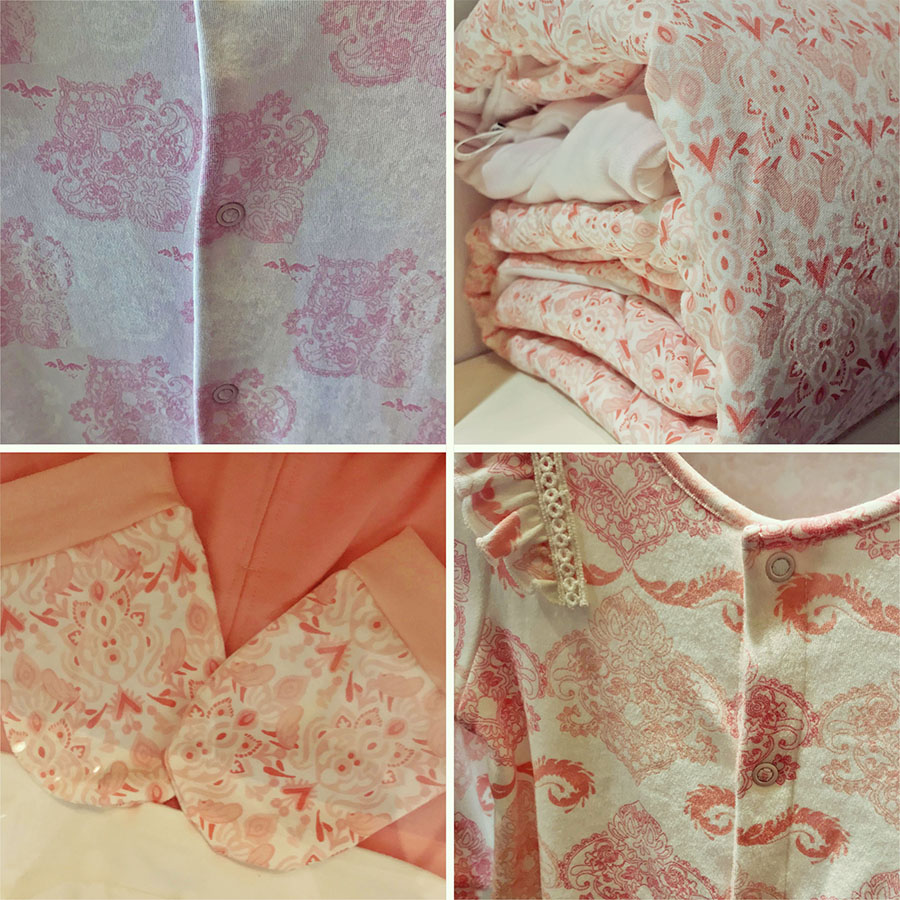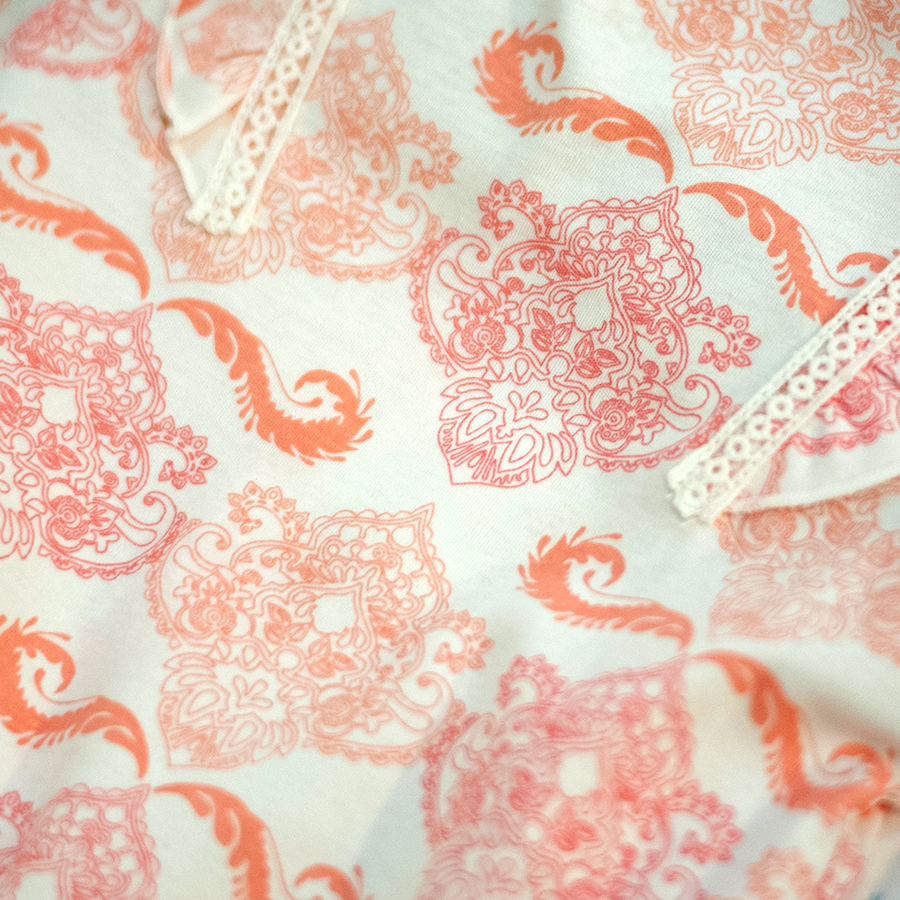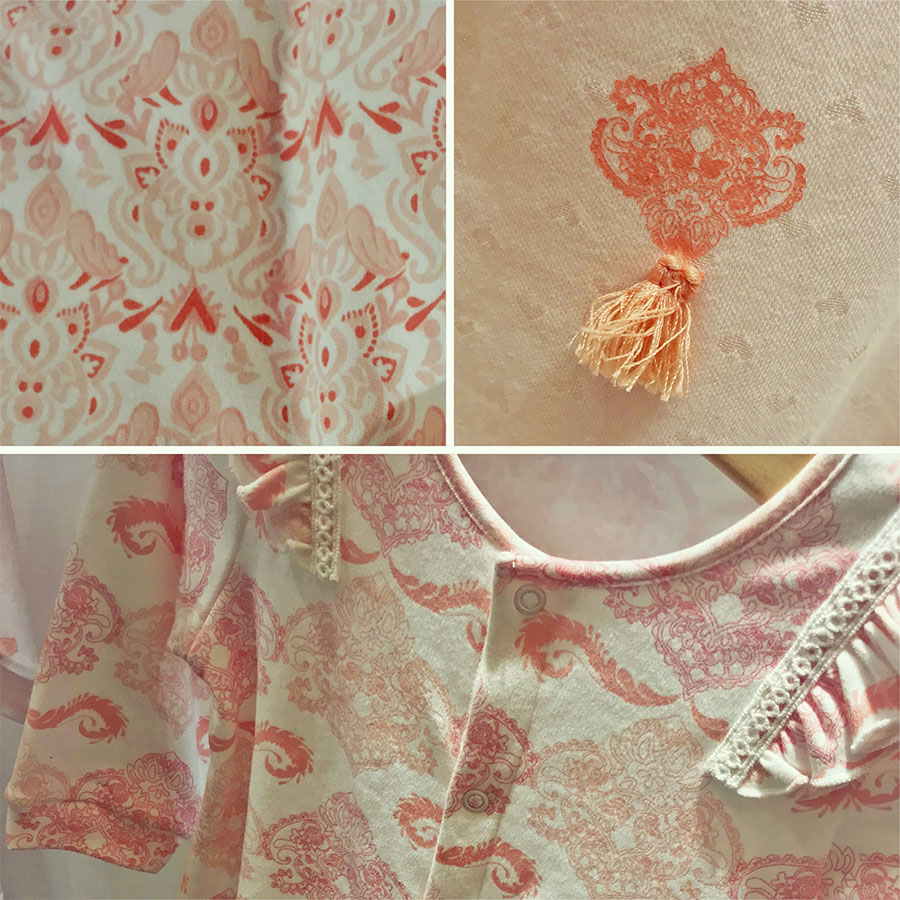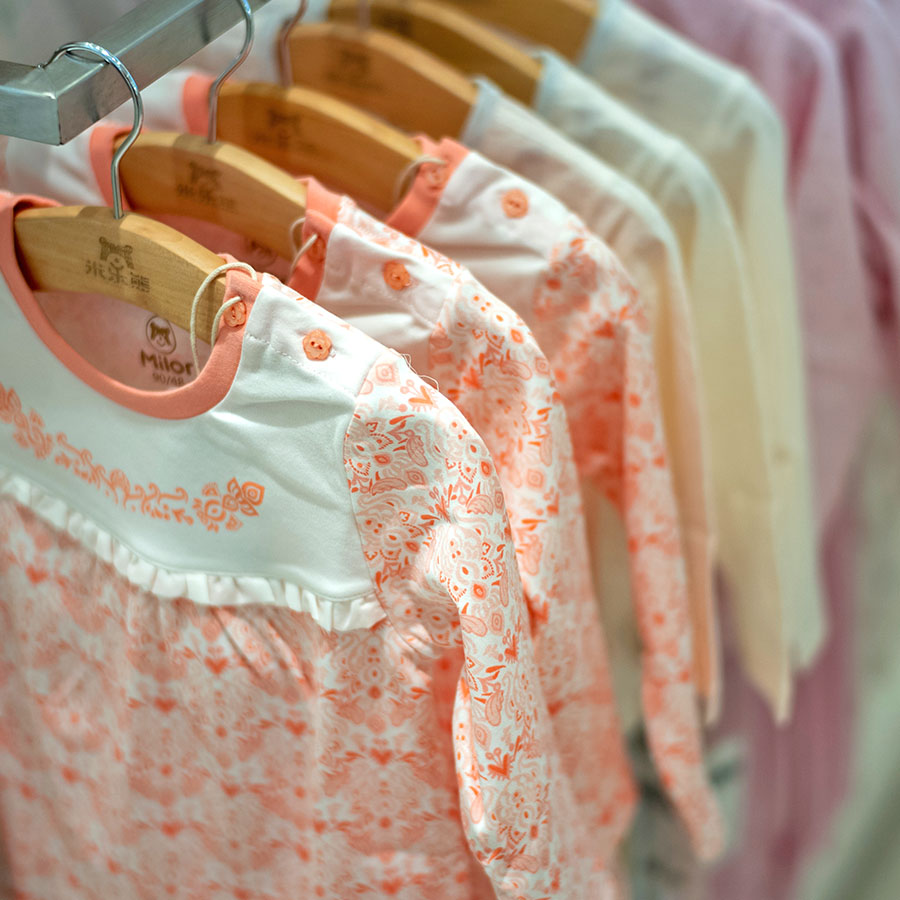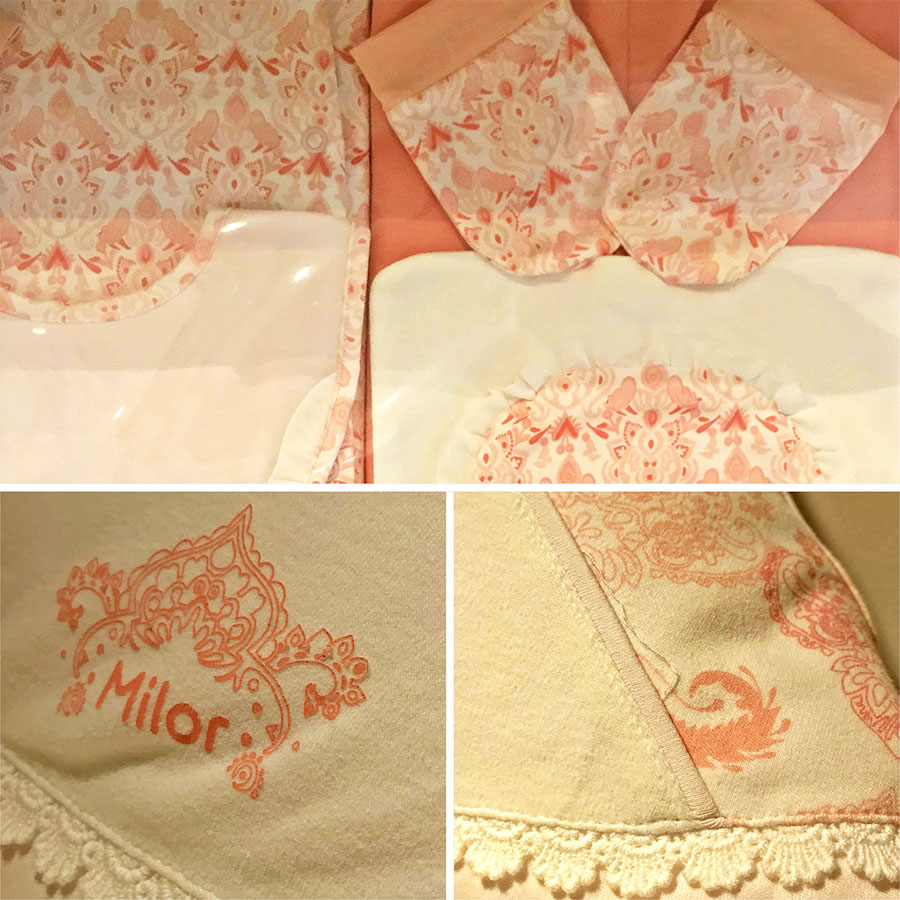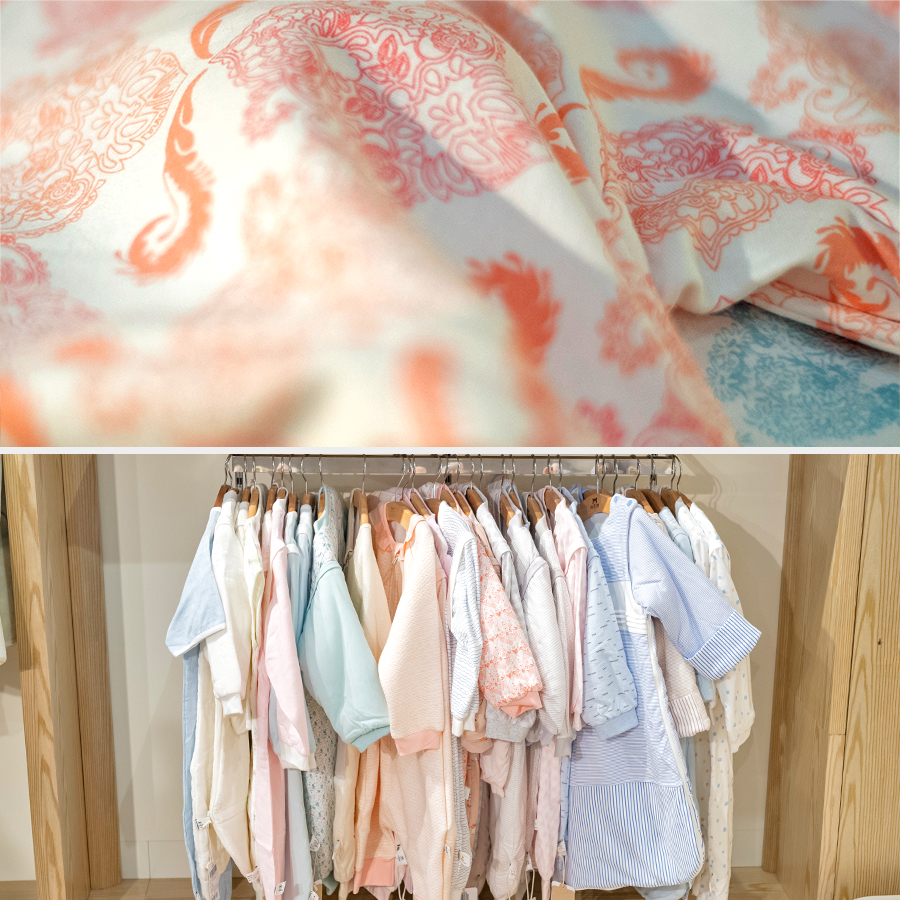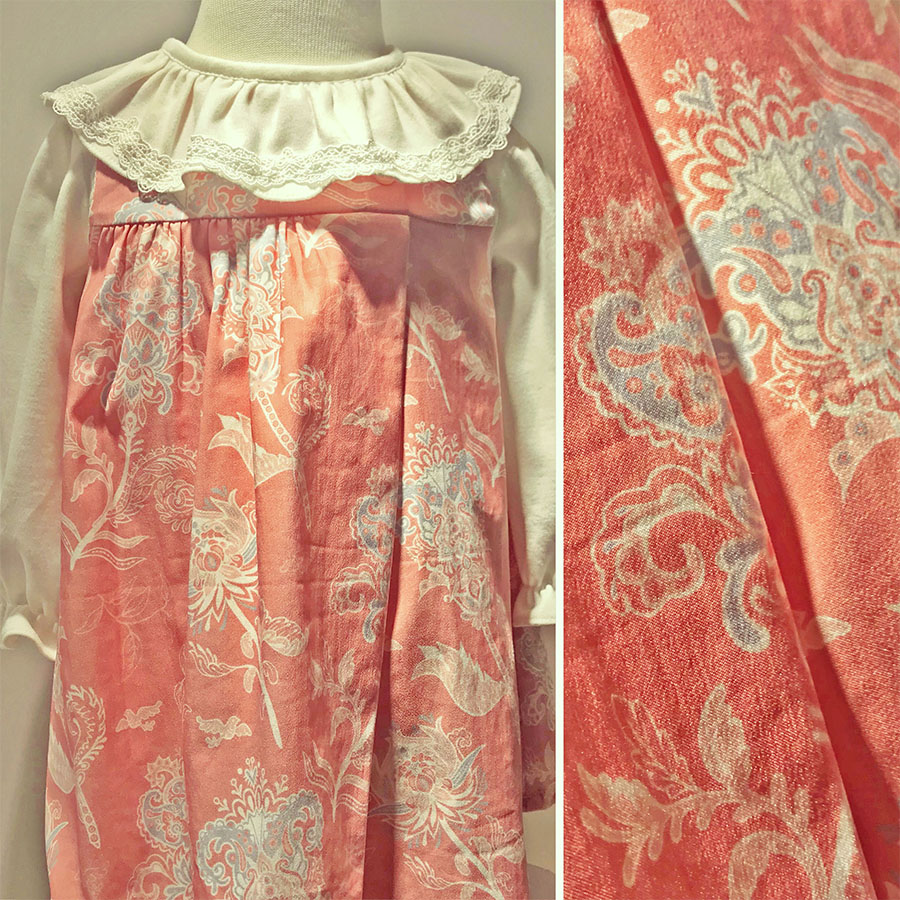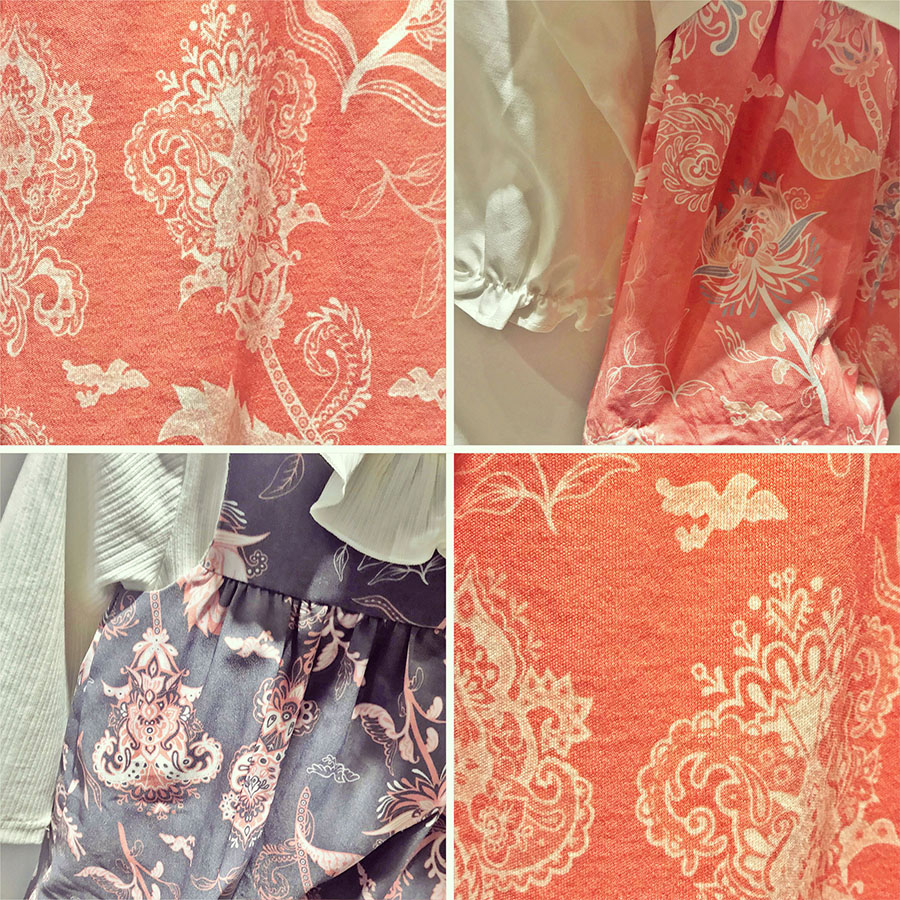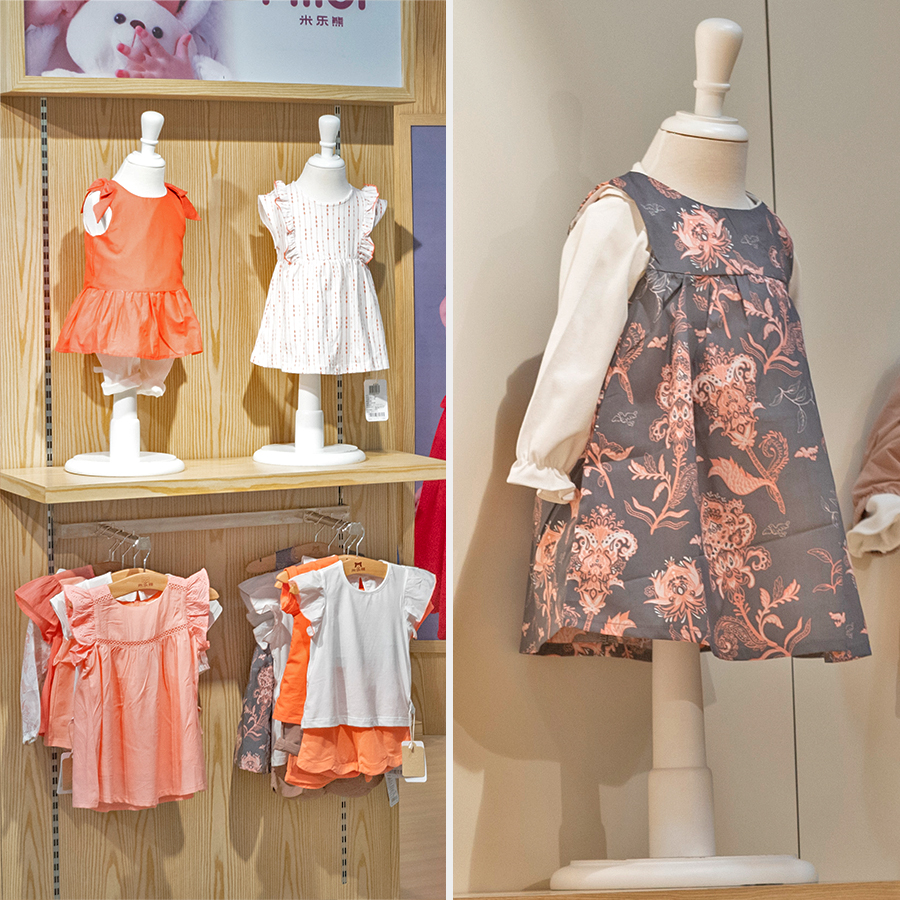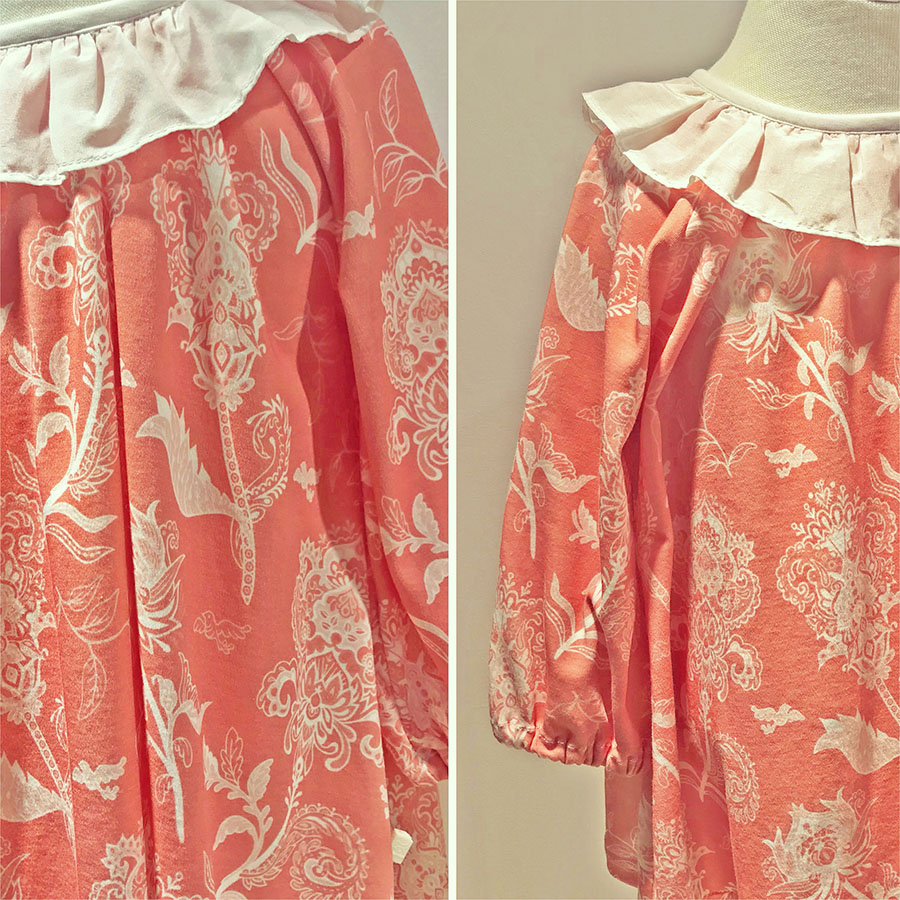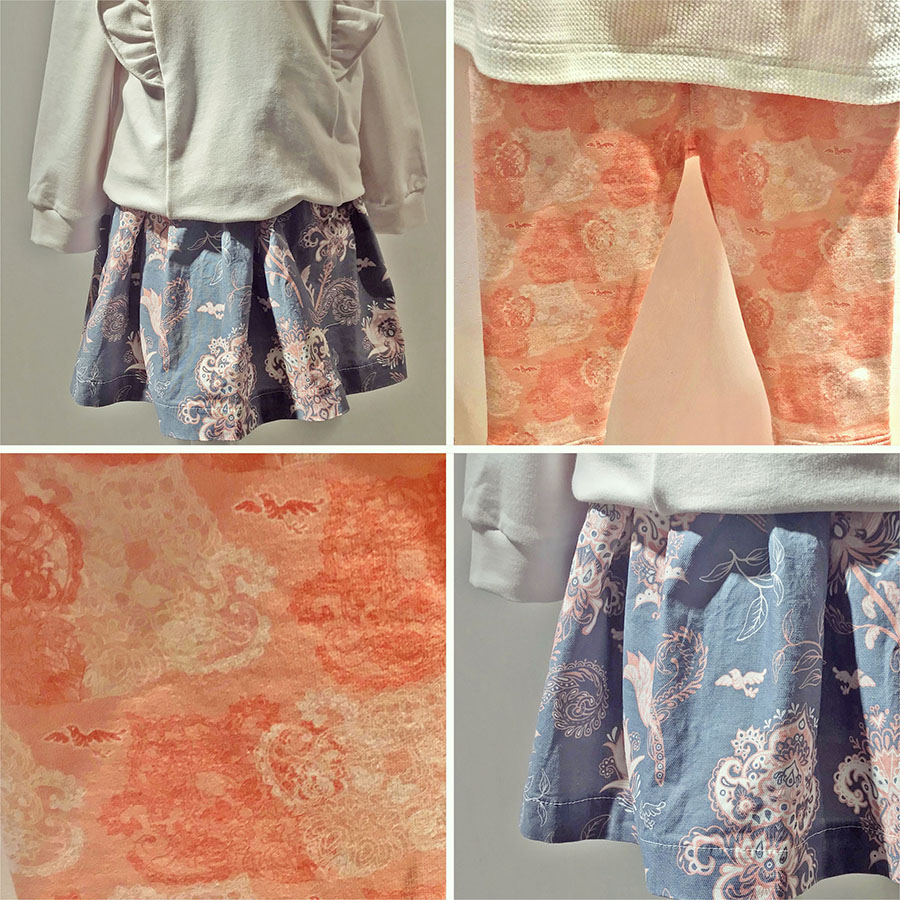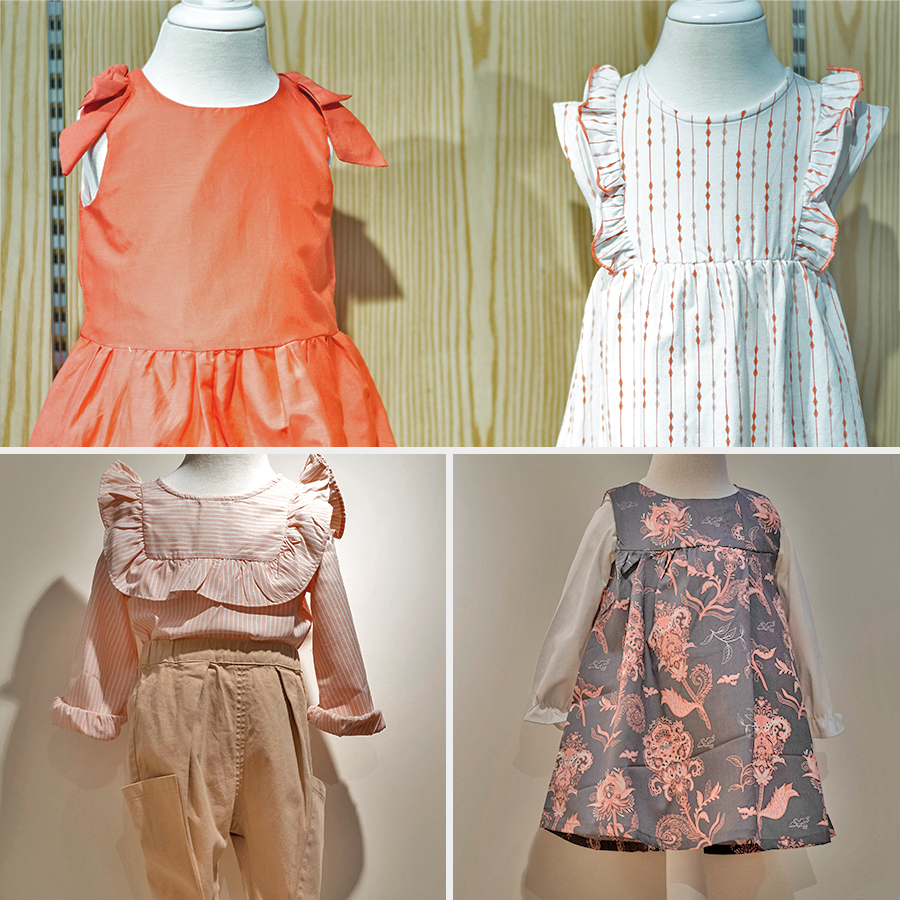 I have tried to be as eclect­ic as I pos­sibly can with my pro­fes­sion­al life, and so far it's been pretty fun.

Roland Barthes
French lit­er­ary the­or­ist, philo­soph­er, and semiotician.